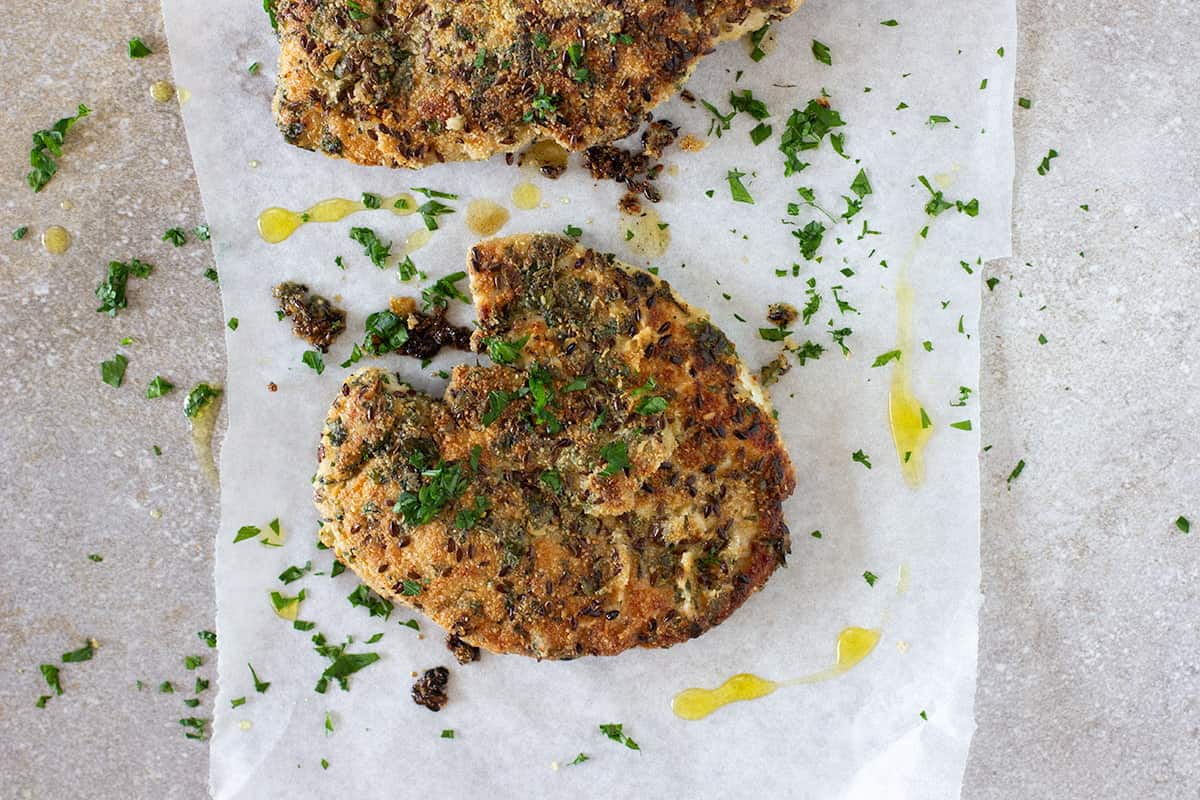 Who doesn't love a good schnitzel? How good is that succulent juicy meat encased inside that delicious crumbed crust? Schnitzel is all about the textures, biting through that wonderful crunch into a soft center with all of those lovely cooking juices. Perfection.
The traditional schnitzel is made with a wheat flour base and usually dipped in an egg mixture for wetting before being finished in breadcrumbs. With these delicious herby chicken schnitzels I have adapted them to be intolerances friendly by using alternatives to egg and wheat. Of course there is no compromise on flavour. If anything I think these herb crusted chicken schnitzels are even better than the original. Using a combination of seeds and oat flour gives a more hearty crust, while the herbs give bursts of flavour that compliment the chicken.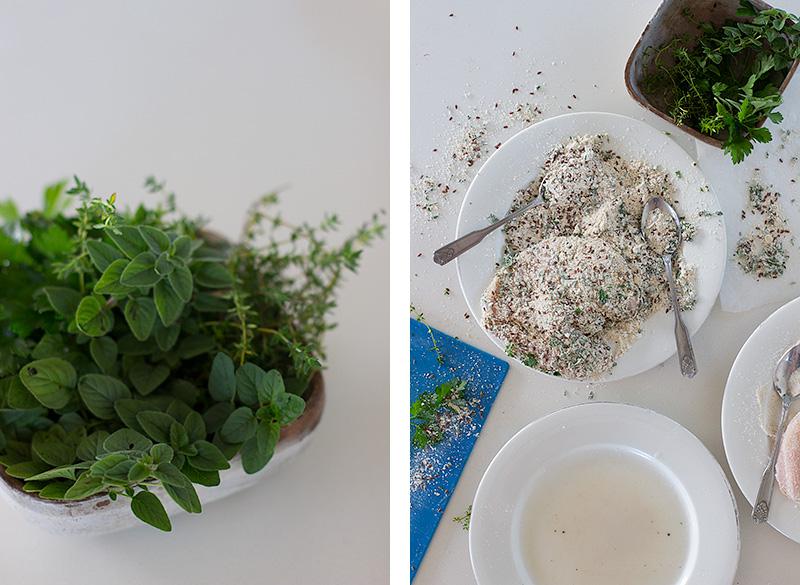 I adore serving this herb crusted chicken schnitzel with beetroot coleslaw and sesame seed & turmeric sweet potato wedges for the ultimate sides. I find if you have really good sized organic chicken breasts you can cut them in half and serve 4 people when you have these additional sides as part of your meal. As always, find what suits you and your family best here.
When sourcing chicken for this dish look out for really good quality free range organic chicken. The quality of life that a true free-range chicken lives is unquestionable better than the existence battery hen chickens lead. Free range organic chicken will also taste so much better, even more of a reason to make the swap over.  I source my chicken from Jason's Meats in Brighton for those living in Brisbane.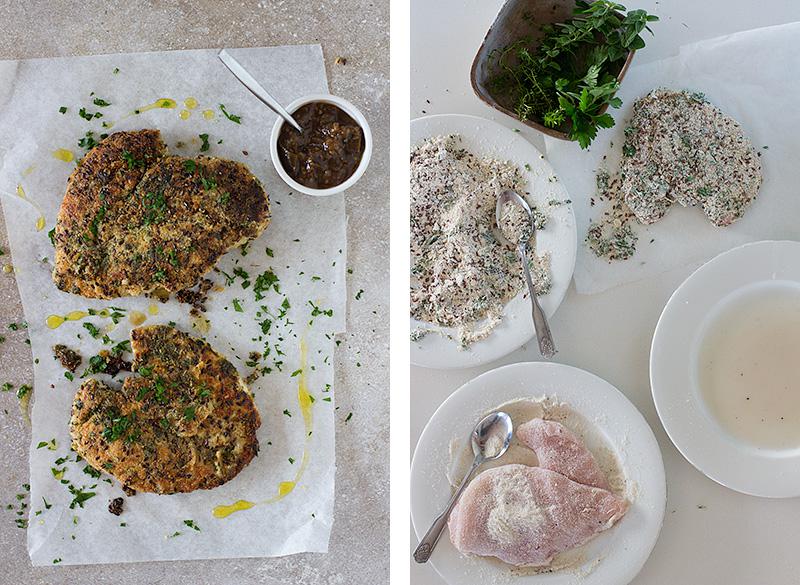 Chicken schnitzel is one those dishes that takes most of us back to our idea of 'comfort food' or 'hearty food'. When we fill our daily food intake with great wholefoods sometimes we can get hung up on the stereotypical dishes that automatically fall within these categories. Quinoa salads, baked fish and vegetables, lean red meat with sweet potato mash and broccoli. Of course there is nothing wrong at all with these meals, but it's also nice to think outside the box.
There is no reason one can't enjoy a good schnitzel or other foods usually put in the 'stodgy or hearty food' box. Think about a BLT for instance. When we rethink it a little we can easily make a BLT more wholefood friendly, therefore nutritious and suitable to being eaten more regularly as seen with this delicious BLT. All it comes down is thinking about how you can reconstruct some of your favourite dishes so you aren't missing out. Life's too short for missing out.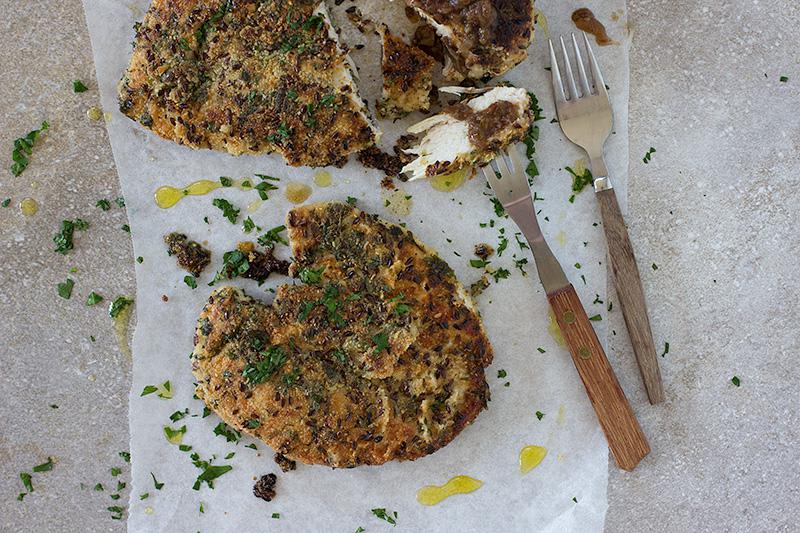 I'd love to hear from you in regards to what some of your favourite dishes and recipes are that you feel you can no longer enjoy, or eat regularly now you may be following a more wholefood lifestyle. Feel welcome to leave me some feedback below and perhaps I can help construct your favourite meals with a nutritional spin. I always love a good challenge in the kitchen!
.
herb crusted chicken schnitzel
serves

2 – 4 people, depending on side dishes

preparation time

15 minutes

cooking time

7 – 8 minutes
ingredients
2 free range, organic chicken breasts
1/2 cup brown rice flour
1/2 cup oat flour (or oat bran or polenta or quinoa flakes)
1/3 cup tightly packed fresh herbs ( I used parsley, thyme and oregano)
1/4 cup dairy free milk of choice ( I used rice milk)
2 tablespoons sesame seeds or flaxseeds (or a combination of both works well)
2 – 3 tablespoons high heat stable oil such as macadamia nut oil, coconut oil or unrefined rice bran oil.
sea salt and pepper
method
When choosing your herbs don't be afraid to play around with a variety of choices, depending what is in season. Think about rosemary, tarragon and sage for instance. Coriander would also be lovely with some basil and parsley for an asian spin. 
Start by taken your chicken breasts and placing them between two sheets of baking paper on a large chopping board. Get yourself a rolling pin and give the chicken breasts a good whack to flatten them out to and even consistency. You're aiming for about 1cm thick. Set chicken aside.
Now prep your ingredients for crumbing the chicken. Take three large plates and top one with the rice flour and season the flour with some salt and pepper. On the next plate place the coarsely ground oat flour (or oat bran/polenta/quinoa flakes) and toss through the chopped herbs and the flaxseeds (or sesame seeds). Season this again with salt and pepper. For the third plate simply pour on the milk of choice (ensure your plate works well for this, or otherwise use a bowl.
Now take your chicken breasts one at a time and start by placing it in the rice flour mix. Press it down well on one side, then turn it over and press down again. The aim is to make sure all the surfaces are covered with the flour. Now pick it up and place it into the milk allowing it to get wet all over. Don't leave it sitting in here for too long, just dunk it in then pull it out allowing any drips to fall off back into the milk. Lastly, take the chicken breast and place into the herby oat mixture and press down well to coat, repeating on the other side. Once this is well coated repeat with the next chicken breast.
Once all your chicken is coated you are ready to cook. Take a large frying pan and heat it to a good medium-high heat. Add in some high heat stable oil such as macadamia oil, unrefined rice bran oil or coconut oil. Once this is hot add in the chicken schnitzel being careful of any spitting oil. Allow the schnitzel to cook well on one side for around 3 – 4 minutes occasionally giving the pan a shake to make sure the oil is reaching under the surface of the schnitzel. When the schnitzel looks like it's a lovely golden brown underneath, turn it over to cook on the other side. Generally this side will take a little less time, around 2 – 3 minutes depending on how you like your chicken. Please note you may need to add a little more oil when flipping the schnitzel over if the pan is quite dry (the crumbs soak up the oil).
Once the chicken schnitzel is cooked remove it from the pan and serve while hot. I like to serve this chicken schnitzel with some of my eggplant, tomato and mango chutney, beetroot coleslaw and a side of sesame seed & turmeric sweet potato wedges.
nutritional information for herb crusted chicken schnitzel
These herb crusted chicken schnitzels provide a high amount of all essential amino acids. Combining this dish with some sweet potato wedges (carbohydrates) and coleslaw (fresh vegetables and some lovely fats in the dressing) makes this dish a complete, balanced meal.
As mentioned above chicken is a rich source of amino acids (protein). One cup of cooked chicken provides around 45grams of protein, close to 80% of our recommended daily intake (give or take individual needs). Chicken is also a rich source of B1, B6, phosphorus, selenium and iron.
These herb crusted chicken schnitzels can easily be made gluten free (as mentioned in the ingredients list). Just omit the oat flour and use polenta or quinoa flakes. Polenta is also one of my favourites to use as it gives a really great crust to the chicken. However, using oats or quinoa flakes will definitely give the dish more complex carbs for sustaining fuel.
Jessica Cox is a qualified practicing Nutritionist with a Bachelor Health Science (Nutrition) and over 15 years of clinical experience. She is the founder and director JCN Clinic, published author and established recipe developer. Jessica is well respected within health and wellness space for her no fad approach and use of evidence-based nutrition.