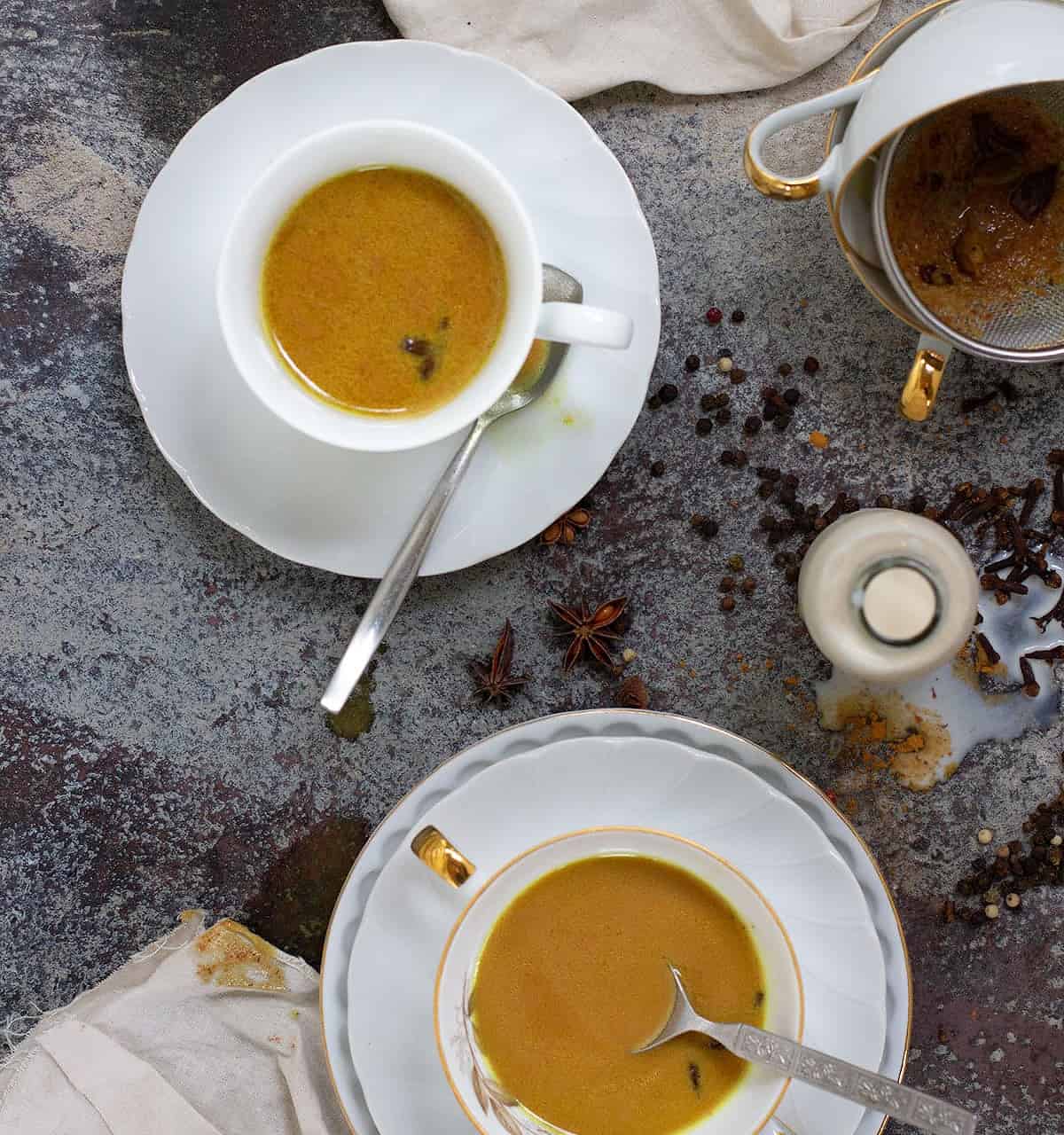 I have a real passion for chai tea, which runs through the Cox family blood. My sister and my mum are both fans of this sweetly spiced brew, and together we will seek out a well-made chai wherever we are. We always frown upon a syrup or powdered chai as we are 'real chai' snobs who actually want spices sitting in our teapot. Oh, and don't give my mum a tea bag either, she'll rant and rave like a possessed woman (sorry mum, but it's true!).
I've always enjoyed making a chai without the black tea component at home. I know technically this is breaking the chai tea rules, but leaving out the tea means that a spice only chai can be enjoyed at any time of the day for caffeine sensitive souls like me.  Unfortunately even the black tea in a strong chai brew will have me crawling up the walls and speaking gibberish at a hundred miles an hour.
The idea of this turmeric chai tea was to give it an immune boosting, antibacterial, antiviral spin as we go into the cooler months. Turmeric is getting a lot of attention (that it rightly deserves) in the media now, so seeing it pop up in a chai tea may not seem that unusual to you all. The fabulous aspect about adding the turmeric in with the spices is that the black pepper helps increase the bioavailability of the active compounds of the turmeric (a nutritional fact that sends nutritionists into their happy place).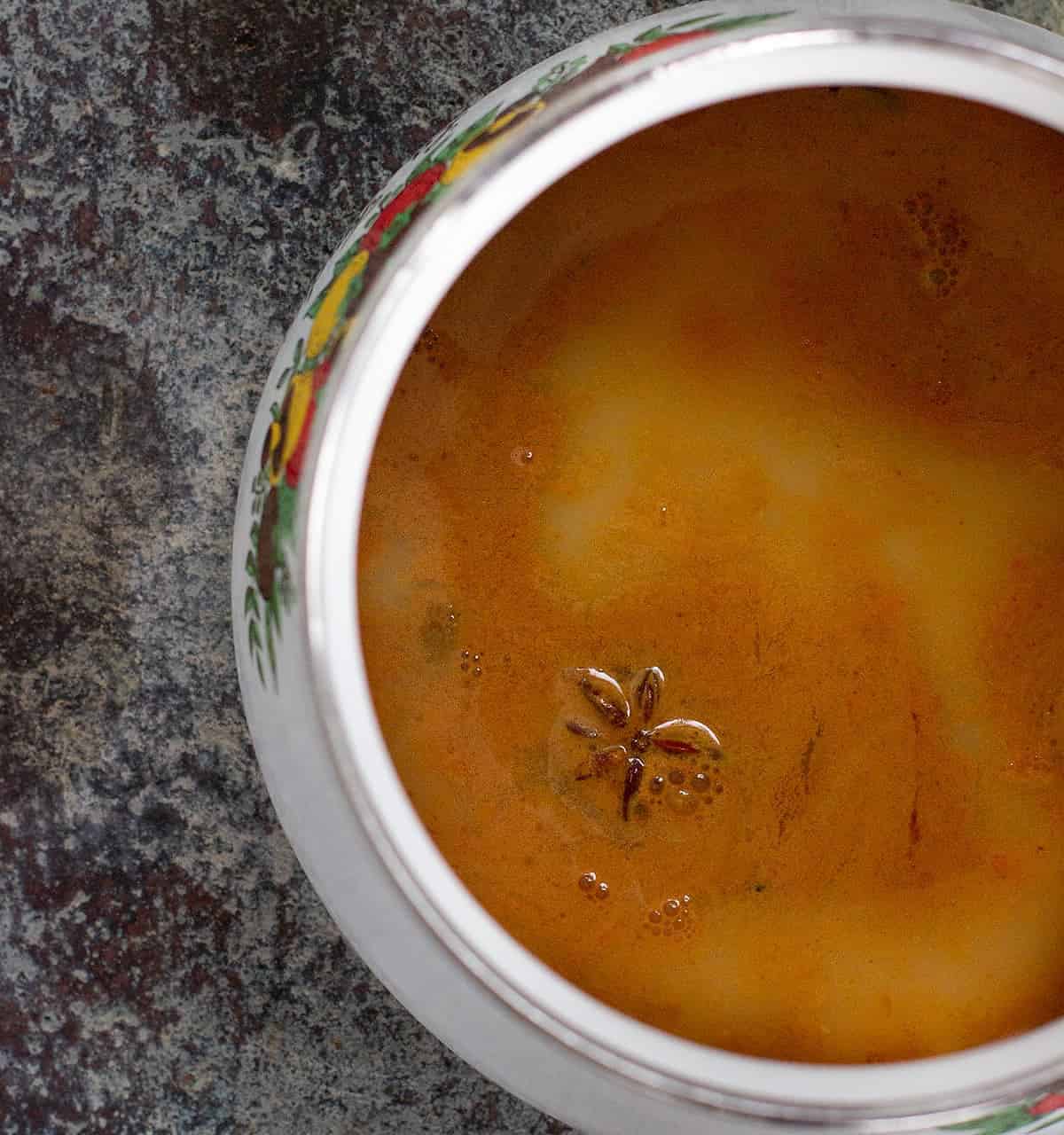 The spices in this turmeric chai tea also have strong anti microbial activity, which is useful for helping keep detrimental bacteria and parasites at bay. It would not be strong enough on its own if you had a serious infection, but it will work wonders as a preventative and adjunct healing agent.
I strongly suggest brewing up this chai on a cold morning or a chilly afternoon and snuggling up on the couch with it perched in your hands. Grab your favourite magazine (or Pinterest on your ipad if you're like me) and let its sweet delightful goodness envelope you, relaxing your mind, body and soul.
turmeric chai tea (an antibacterial tonic)
serves

1 serve

preparation time

1- 2 minutes

cooking time

10 – 15 minutes
ingredients
6 cloves
4 cardamom pods
4 peppercorns
2 star anise
1 teaspoon freshly grated turmeric (or powdered if unavailable)
1 teaspoon ground cinnamon
1 teaspoon raw honey (optional)
cup water
cup diary free milk such as organic non gmo soy/almond/rice/coconut
method
Place water and milk in a saucepan and add all of the spices. Bring to a simmer and let the chai infuse for around 10 – 15 minutes, depending on the depth of flavour you like.
When you are happy with the flavour, strain the chai as you pour it into a mug. Add the honey and enjoy while still hot.
nutritional information for turmeric chai tea (an antibacterial tonic)
Turmeric has been well studied for it's anti inflammatory, antiviral and antibacterial activity. It has also been studied in regards to it's ability to fight cancer. I personally use turmeric extensively in clinic due to these reasons. When taking turmeric as a supplement it must be in a bioavailable form to maximise absorption of its active compounds. Interestingly, when turmeric is traditionally used in curries and so forth it is often with oils and spices that naturally activate these processes.
Cloves, cinnamon and pepper have antibacterial activities that help fight detrimental bacteria, fungus and parasites.These compounds are found in their naturally occurring volatile oils. Star anise is rich in the volatile oil anethole traditionally used for digestive complaints such as stomach upsets, as well as being a carmative and anti spasmodic.
Black pepper is rich in a compound called piperine, which increases the bioavailability of curcumin in turmeric. Piperine has the ability to inhibit certain enzyme processes, stimulate intestinal amino acid transportation of substances. It also has the ability to inhibit removal of active compounds from cells leaving them more bioavailability for us. All of these activities in unison mean that curcumin shelf life is extended within our system. Bioavailability is also affected by the type of carrier system when taking turmeric as a supplemental form. It is important to ensure the supplements you by are formulated to deliver optimal intake. (2014, R. Jager et al, Comparative absorption of curcumin formulations)