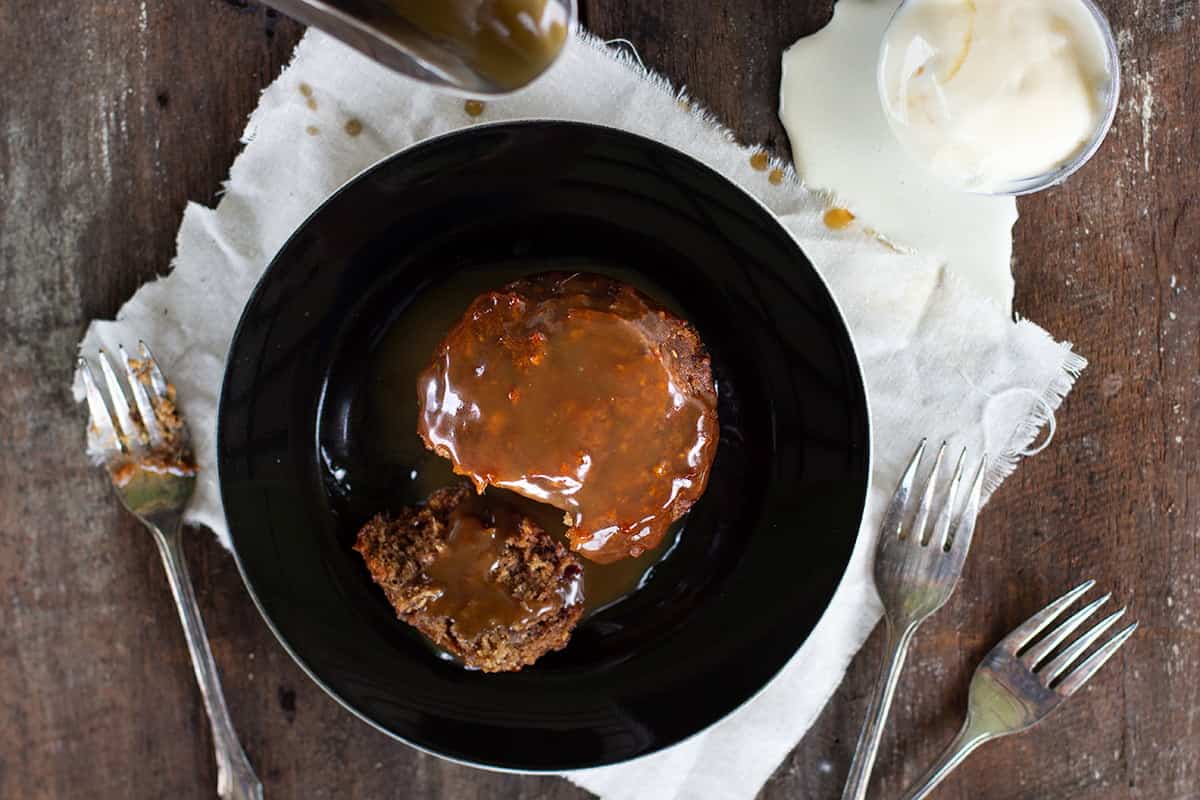 Coming up with this modified sticky date pudding was like hitting the foodie jack pot. I personally love a sticky date pudding. That luscious caramel and pudding like texture…divine. The problem is that most recipes are loaded with sugar, refined flours and bucket loads of cream and butter. For anyone struggling with food intolerances this is a nightmare dessert.
This sticky date pudding uses the sweetness of the medjool dates mixed with minimal amounts of rapadura sugar that results in lovely sweetness, without being too sickly sweet. The velvet like toffee sauce is coconut based which compliments the soft dates perfectly.
This is one of those desserts that's pleasure can certainly be measured by its ability to please a crowd. I have made this for many people afraid of 'food intolerance friendly' desserts, and they have enjoyed it thoroughly. My dad devoured two pieces after being already full from mum's homemade pizzas, which is always a positive sign.
Of course this sticky date pudding is still a decadent dessert, therefore it should be enjoyed in moderation. Sometimes I find that just because a dessert is labeled gluten free, then it is given a green light for going hell for leather. Gluten free and vegan desserts can (and usually do) have a high sugar and fat content so please keep this in mind regarding how regularly you indulge.
Personally I enjoy this pudding with a lovely dollop of whipped coconut cream, vanilla ice-cream or vanilla yoghurt. It is most definitely at it's best served warm on a cold evening snuggled under a blanket. Enjoy!
sticky date pudding recipe
serves

6 individual puddings

preparation time

20 minutes

cooking time

25 minutes
ingredients
225 grams fresh medjool dates, stones removed
1 teaspoon bicarbonate of soda + 3 teaspoons baking powder
85 grams dairy free butter or hard coconut oil
100 grams rapadura sugar
2 tablespoons chia seeds
170 grams gluten free flour ( I use even amounts of soy flour/arrowroot/white rice flour)
1/2 teaspoon ground cinnamon
4 tablespoons silken tofu
for the toffee sauce:
115 grams coconut oil (or dairy free butter)
115 grams rapadura sugar
140 ml coconut cream
method
Preheat your oven to 180ºC. Put the dates in a bowl with the bicarbonate of soda and chia seeds and cover with 200ml of boiling water. Leave to stand for a couple of minutes to soften.
Whiz the dates, chia seeds and liquid in a food processor until you have a rough purée. Add the silken tofu and blend in with the date mixture.
Meanwhile, beat together your dairy free spread or coconut oil and sugar. Add the date puree, then sift in the flour, baking powder and cinnamon and fold through.
Pour into  an individual greased, jumbo muffin tin and bake in the preheated oven for 25 minutes.
While the pudding is cooking, make the toffee sauce by putting the coconut oil, sugar and coconut cream in a pan over a low heat until the sugar has dissolved and the sauce has thickened.
To serve, pour the toffee sauce over the warm pudding.
Also lovely served with whipped coconut cream.
nutritional information
This sauce has a slight coconut flavour. If this is not desired you could use dairy free butter or vegan browned butter instead of coconut oil and creamy soy milk instead of coconut cream.
Rapadura sugar is a non refined sugar that is made from dehydrated cane juice. It is less sweet than white sugar, maple and agave. Rapadura still holds the same amount of calories of kj per teaspoon as sugar, however it has a better nutritional profile (minerals specifically) due to its raw form.
To make this sticky date pudding soy free, simply omit the silken tofu and use yoghurt or coconut cream.
This sticky date pudding could be modified to make other flavour combinations. Omit the dates and use dried figs or apricots for instance. Ideally use organic dried fruit as these will be sulphur free.
Jessica Cox is a qualified practicing Nutritionist with a Bachelor Health Science (Nutrition) and over 15 years of clinical experience. She is the founder and director JCN Clinic, published author and established recipe developer. Jessica is well respected within health and wellness space for her no fad approach and use of evidence-based nutrition.