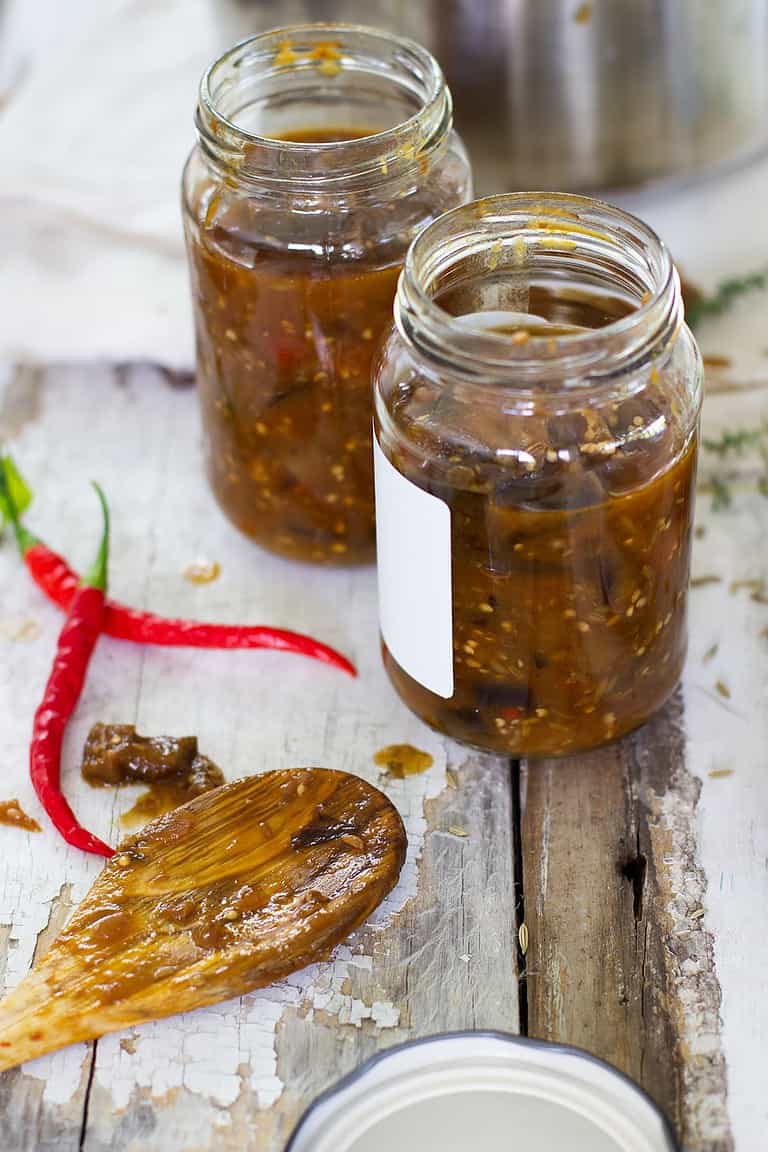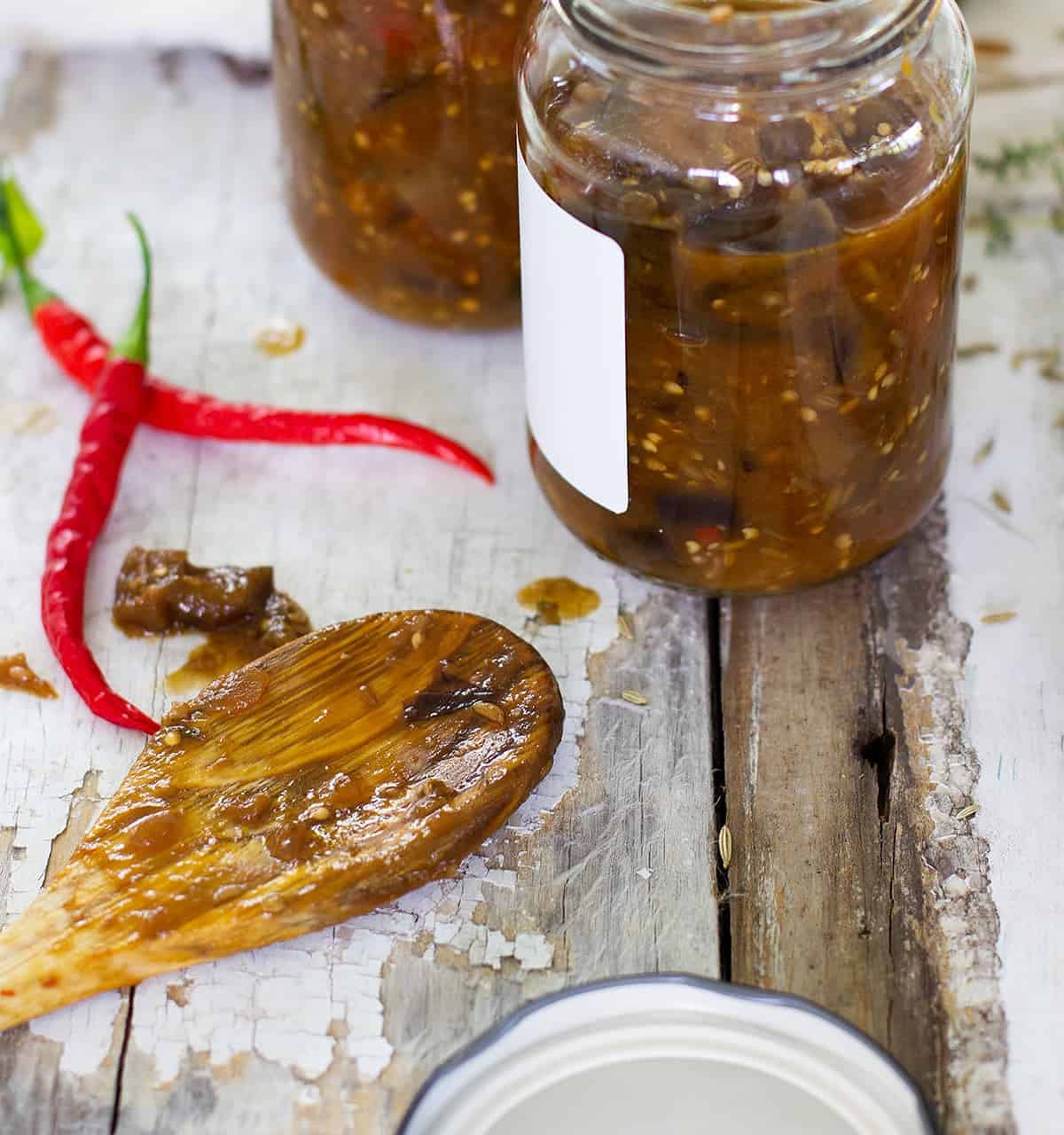 The majority of food that I post on the website is about being quick and easy. Making homemade chutney is not a quick process, however it is easy, and the rewards you reap are great. Not only will you have your own homemade eggplant, tomato and mango chutney to spoon onto all sorts of dishes, you will also have fabulous gifts for people you love.
This chutney uses the surplus of eggplants that are around at present. Our garden is literally rampant with them. This chutney came about due to being simply over chargrilled eggplant and babaganoush! I'd advice picking an afternoon were you really feel like being in the kitchen and enjoying the aromas of spices and sweet vinegars filling the house…and filtering through to the neighbourhood too!
eggplant, tomato and mango chutney recipe
serves

4 -5 jars

preparation time

30 minutes

cooking time

2 hours
ingredients
500gm tomatoes
1kg eggplant, diced into 1cm pieces
1 1/2 teaspoons fennel seeds
1 1/2 teaspoons cumin seeds
3 teaspoons salt
1/4 cup olive oil
1 red onion, finely chopped
2 cloves garlic, finely chopped
2 red long chillies, finely chopped (optional)
2 teaspoons thyme leaves
1 mango, cut into 1cm pieces
3/4 cup malt vinegar
3/4 cup palm sugar
x5 16oz jars
method
First, start with removing the skin from the tomatoes. To do so, place a saucepan of water on to boil. Once boiling drop in the tomatoes carefully and let them boil away for 30 seconds. Remove them carefully and make a small X cut on the bottom of the tomatoes. Pull the skin off starting from the X.   It should come off very easily. Roughly dice the tomatoes and set aside.
Heat the spices in a heavy based large saucepan for around 1 minute till fragrant. Remove spices and set aside. In the same saucepan add the oil, onion, thyme, chilli, garlic and salt and stir for 4-5 minutes.
Add the eggplant and thyme and stir to coat. Let simmer on medium heat stirring occasionally for 10 minutes until eggplant starts to collapse. Add spices, tomato, mango, vinegar and palm sugar. Simmer for around 2 hours or until all collapsed and thickened.
While the chutney is simmering start sterilising your jars. You will need around 4-5 16oz jars. Wash them well in hot soapy water then set aside to drain off.
Once you are happy with your chutney, heat your oven to 120c and place the jars with the lids separate in the oven for 20 minutes. When removing the jars be sure to use a tea towel or oven mitt.
Spoon the hot chutney into the hot sterilised jars then screw on the lid tightly. Store chutney for a minimum of 3 months for maximum flavour.
Note: The above method for sterilising is one that I like to use. If you have your own method then please use that instead.
nutritional information for eggplant, tomato and mango
This chutney uses a reduced amount of sugars than usual chutney recipes. The palm sugar gives the chutney a lovely caramelised flavour.
Spices such as fennel, cumin and thyme have wonderful digestive properties and are natural anti microbial.
Eggplants are abundantly rich in a nasunin, a phytonutrient that has been shown in studies to protect lipids in cell membranes. (thats the fatty structure around the outside of your cells). Cell membranes are vital for flow of nutrients in and out of the cell and protecting the cell from free radical damage.
Jessica Cox is a qualified practicing Nutritionist with a Bachelor Health Science (Nutrition) and over 15 years of clinical experience. She is the founder and director JCN Clinic, published author and established recipe developer. Jessica is well respected within health and wellness space for her no fad approach and use of evidence-based nutrition.