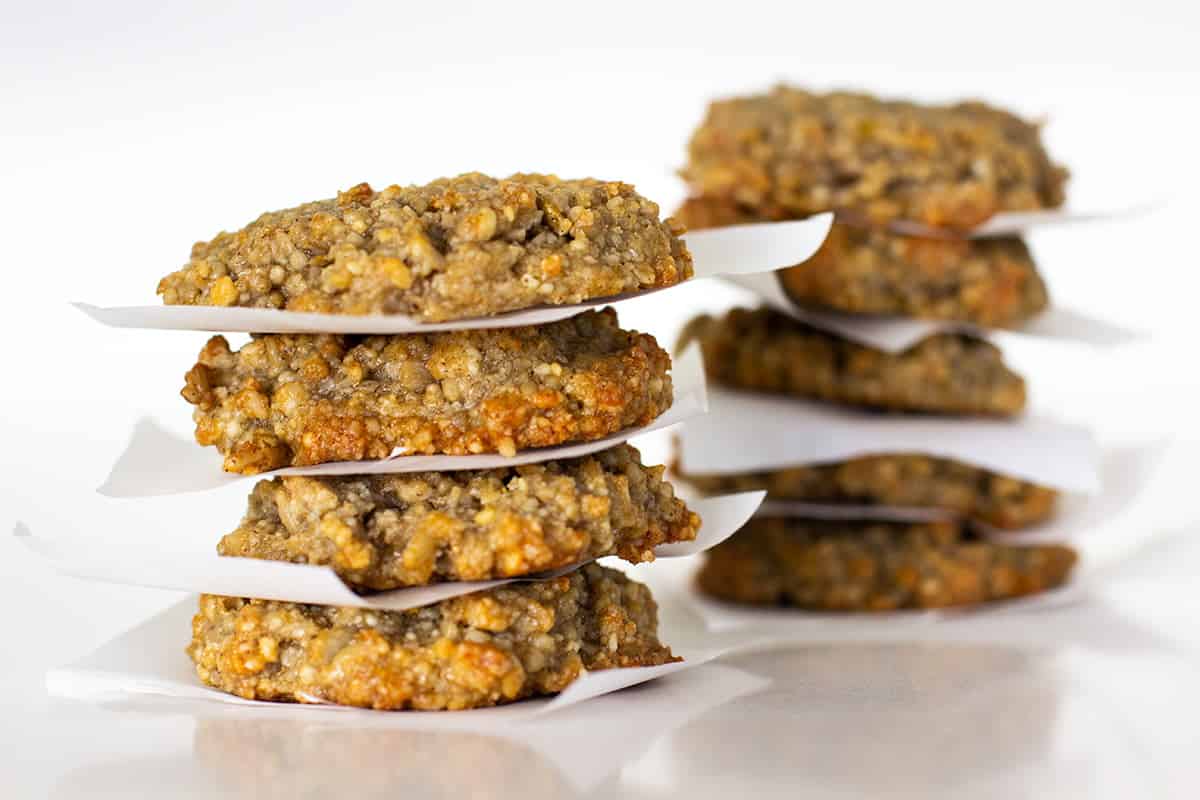 These nut, maple and vanilla cookies are deliciously moist and chewy. This moist texture comes from the fact that they are free from grains and filled with lovely ground nuts. If you choose to make these nut cookies with added seeds instead of the dried fruit option, you will have extremely low in sugar and natural high in protein. The perfect sweet snack!
nut, maple and vanilla cookies recipe
serves

10-12 cookies

preparation time

10 minutes

cooking time

7-9 minutes
ingredients
2 cups freshly ground nuts (almonds, macadamia and walnuts used here – use ground cashews for low salicylate)
1/2 teaspoon baking powder
1/2 teaspoon fine sea salt
1/3 cup macadamia nut oil (or cold pressed safflower oil for low salicylate)
1/3 cup maple syrup
1tsp vanilla extract
1 cup sunflower seeds (or organic dried fruit, finely chopped)
method
Combine all dry ingredients in a mixing bowl. Add wet ingredients and mix to a wet batter. Form into small 2-3cm balls and place on baking tray lined with baking paper. Push down to flatten cookies with a fork.
Bake in a moderate oven for 7-9 minutes. Allow to cool once removed from the oven as cookies are quite moist when hot. Transfer to wire wrack to cool. Store in the fridge in an air tight container.
nutritional information for nut, maple and vanilla cookies
The ground nuts in these nut cookies provide ample essentially fatty acids and fat soluble vitamins such as vitamin E.
Seeds can be substituted with the nuts to make a nut free version of these maple cookies. Use seeds such as pumpkin seeds (peptitas), sunflowers and flaxseeds.
Maple syrup can be substituted with honey or even molasses for a richer, malt flavoured finish.
Jessica Cox is a qualified practicing Nutritionist with a Bachelor Health Science (Nutrition) and over 15 years of clinical experience. She is the founder and director JCN Clinic, published author and established recipe developer. Jessica is well respected within health and wellness space for her no fad approach and use of evidence-based nutrition.