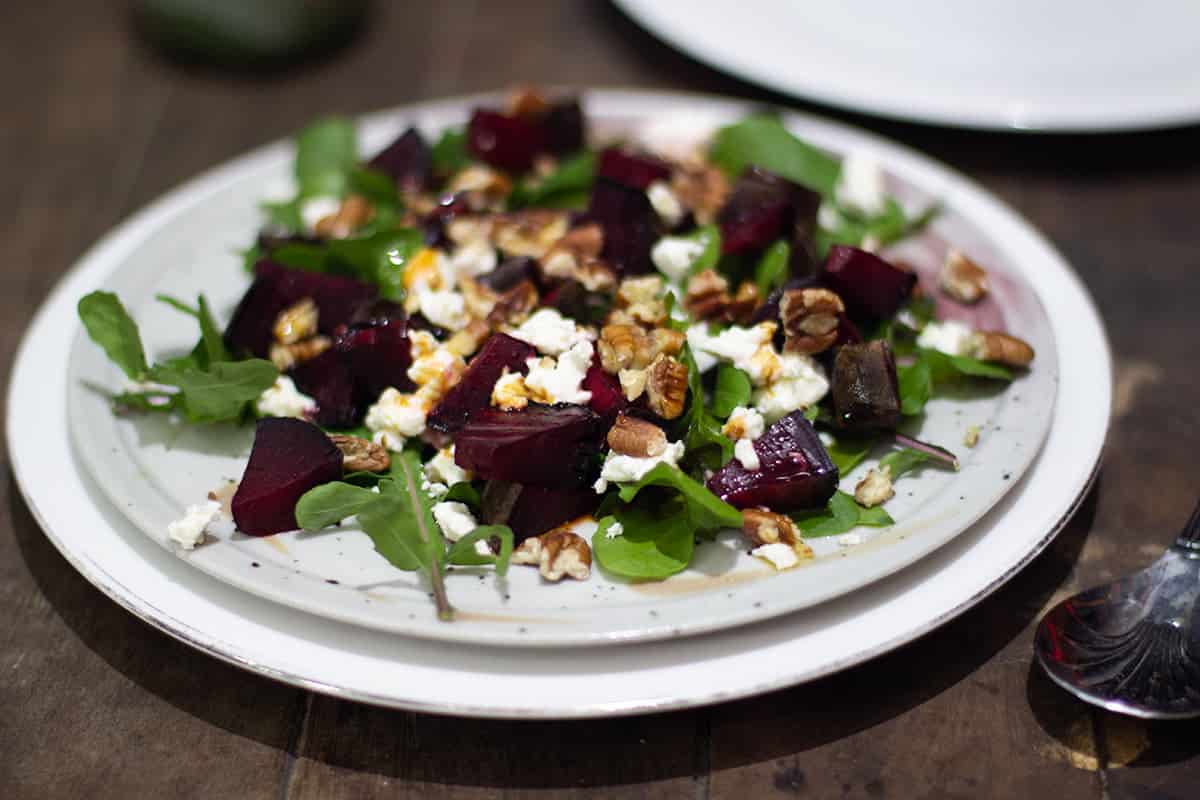 If you are yet to try pomegranate molasses, this is definitely the dish to try it with. The sweetness of the molasses works a treat with the earthy beets and the tangy goats cheese. If you cannot find pomegranate molasses you could use a drizzle of good balsamic vinegar instead, as this would work just as well. This roast beet, toasted pecan and goats cheese salad roast beet, toasted pecan and goats cheese salad is really a meal on its own, but complements meats such as lamb.
roast beet, toasted pecan and goats cheese salad recipe
serves

2 people

preparation time

10 minutes

cooking time

40 minutes
ingredients
1 large beetroot
1/2 cup pecan nuts
1/3 cup chèvre or other soft goats cheese
2 good handfuls of rocket leaves
juice 1/2 lemon
1 tablespoon pomegranate molasses
olive oil
method
Preheat oven to 200c. Place beetroot in oven and roast for around 40 minutes until tender. You should be able to insert a skewer into the beet and have it soft to the centre.
Meanwhile, heat pecans in a hot pan for 4-5 minutes tossing or stirring frequently to stop them from burning. Once toasted, remove and set aside.
Once the beetroot is cooked, remove from the oven and cut into bite sized pieces. Don't worry about removing the skin, there is plenty of goodness there that you don't want to throw away!
On a serving plate scatter the rocket and then top with the beetroot. Now scatter with pecans crumbling as you do so. Finish with crumbling over the chèvre. To dress, drizzle over the lemon juice, olive oil and finally the pomegranate molasses.
nutritional information for roast beet, toasted pecan and goats cheese salad
Rocket is part of the bitter green vegetable family which are great for aiding digestion and fat breakdown. Bitter greens promote bile flow which in turn helps emulsify fats. This makes bitter greens such as rocket useful for cholesterol reduction.
Beetroots are rich in polyphenols that offer significant health benefits due to their antioxidant activity. This includes anti inflammatory activity, reduction of blood pressure and potent anti carcinogenicity activity.
Pecans are a low salicylate nut making them a good choice for those sensitive to this natural food chemical. Pecans are a fabulous source of vitamin E.
Jessica Cox is a qualified practicing Nutritionist with a Bachelor Health Science (Nutrition) and over 15 years of clinical experience. She is the founder and director JCN Clinic, published author and established recipe developer. Jessica is well respected within health and wellness space for her no fad approach and use of evidence-based nutrition.