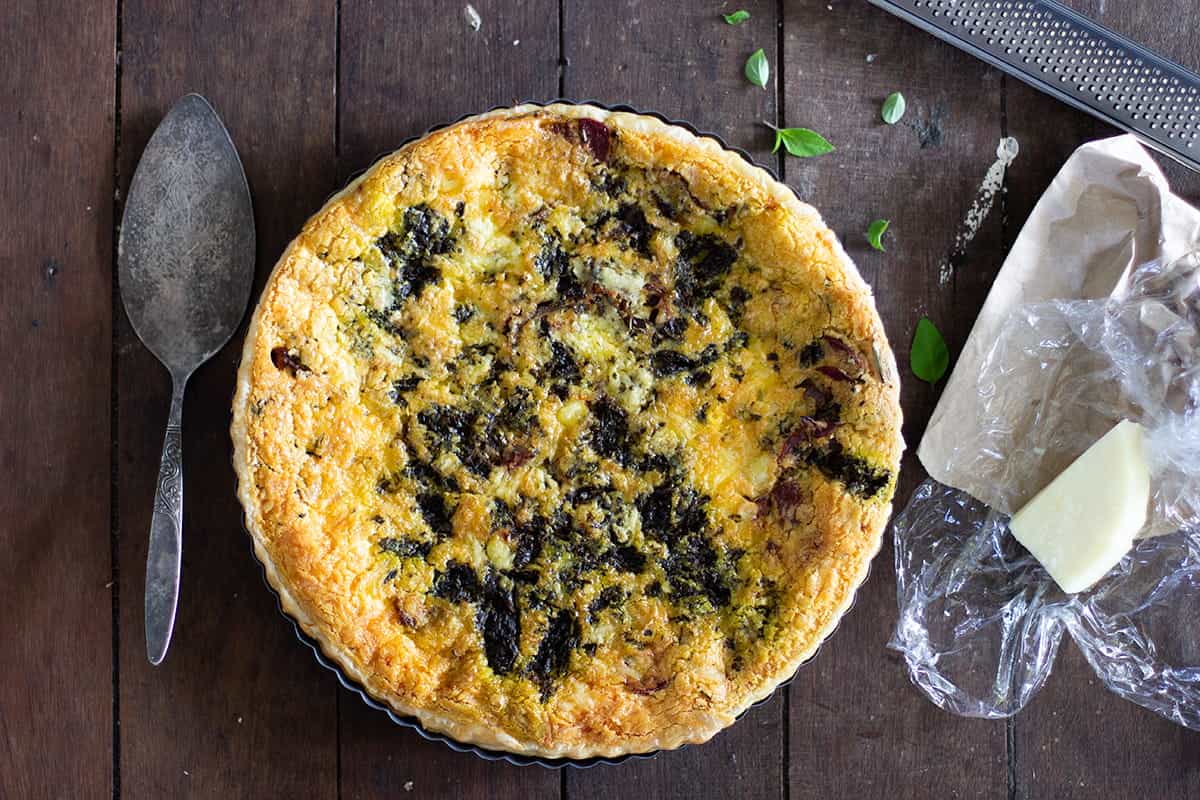 This caramelised onion, goats cheese & cauliflower quiche is a fabulous vegetarian dish that is loaded with flavour. The caramelised onions provide a lovely sweetness which works well with the earthy mushrooms. It can be cooked up for a warming dinner and served with a crisp side salad, or heated as left overs for a nourishing lunch.
caramelised onion, goats cheese & cauliflower quiche recipe
serves

6 people

preparation time

60 minutes

cooking time

40-45 minutes
ingredients
// pastry //
2 eggs
1 1/2 cups millet flour
1/4 cup extra virgin olive oil
1 tablespoon guar gum
// filling //
1/2 cup cauliflower florets
3 medium sized onions, finely sliced
8-10 brown swiss or button mushrooms
150gm goats feta or goats curd
1/3 cup plant based milk
6 eggs
method
Heat a frying pan on low heat and add the onions. Cook slowly to caramelised, which shall take around 20 minutes.
In the mean time, make pastry by combining millet flour, salt and guar gum. Make a well in the centre and add 2 eggs and oil. Combine well with a wooden spoon then kneed mixture for a minute or two. If the mixture seems too dry then just add a few tablespoons of cold water until it comes together. Place in the fridge wrapped in cling wrap for around 30 minutes. Whilst the pastry is in the fridge, steam cauliflower until just tender
Heat oven to 180c fan forced, or 200c gas. Take out the pastry and roll out with a rolling pin until about 3mill thick. Place in a baking or pie dish and then blind bake for 5-6 minutes. Remove from oven and scatter in pastry shell mushrooms, caramelised onions, steamed cauliflower and feta or goat's curd.
In a separate bowl beat remaining 6 eggs and stir in milk of choice. Pour mixture into tart shell over vegetables. Bake in the oven for 40-45 minutes or until golden brown and set into the middle. The tart will have a slight wobble yet should not be runny when cut.
Serve with a crispy green side salad whilst still warm.
nutritional information for caramelised onion, goats cheese & cauliflower quiche
The onions in this quiche provide quercetin, a potent phytochemical with anti viral activity.
Mushrooms also help boost the immune system and provide a vegetarian source of iron.
The pastry in this quiche is gluten free. If you like it can be substituted for a regular pastry or even puff pastry, however puff pastry will not provide the lovely wholegrain nutrients that the millet flour brings to the quiche.
By omitting the goats cheese this quiche will be dairy free.
Jessica Cox is a qualified practicing Nutritionist with a Bachelor Health Science (Nutrition) and over 15 years of clinical experience. She is the founder and director JCN Clinic, published author and established recipe developer. Jessica is well respected within health and wellness space for her no fad approach and use of evidence-based nutrition.