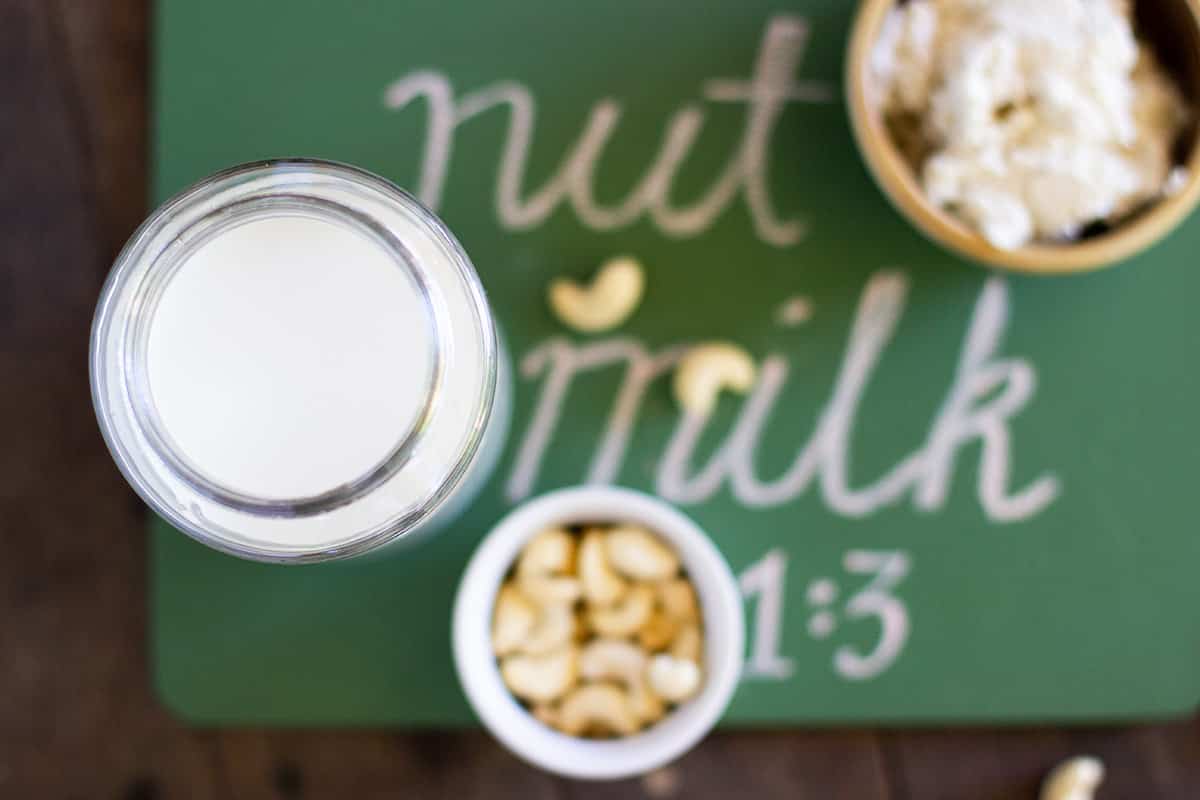 It really is amazing what you can use to make a milk. My partner would say it's only milk if it comes from a cow and you can't "milk" a grain of rice. Well this cashew nut milk proves him wrong I'd like to think. Nut milks are easier to make than expected, a rich source of minerals, creamy and delicious. A homemade nut milk is also free of added sweeteners that you will find in commercial nut milks.
cashew nut milk recipe
serves

4 cups or 1 litre

preparation time

5 minutes, plus 12 hours soaking time (or overnight)

cooking time

nil
ingredients
1 cup raw cashew nuts
water for soaking, plus 5 extra cups of water
small pinch salt
method
Place cashew nuts in a bowl and cover with water. Leave to soak overnight.
The next day, drain the cashew nuts and rinse. Place the nuts into a blender with the 5 cups of water and pinch of salt. Blend really well until all the nuts have been broken down to form a white, smooth frothy milk.
The milk can now be kept as is, or you can strain the mixture to remove the pulp, however this is usually not needed with cashew milk and a good hi-speed blender. If you do want to strain your cashew milk, simply strain the milk through a fine sieve or nut milk bag and squeeze out the excess moisture. Place the milk in a bottle and keep in the fridge for up to 3-4 days. Shake before using.
Any excess milk can be stored in a glass jar with sealable lid in the freezer. Just pull out the night before for using to allow to defrost. Give the cashew milk a good shake and it will be ready to use again.
NB: The nut pulp (if straining) can be used for a variety of dishes such as muffins, cakes, biscuits, nut creams and dips.
nutritional information for cashew nut milk
Cashew nut milk is high in minerals such as magnesium and manganese. Magnesium is vital for muscle relaxation therefore reducing tension related muscle spasms, aches and tension headaches. Manganese plays a pivotal role in liver detoxification.
Cashew nuts can be substituted with other nuts of choice. Try almond milk for a alkalising blend or hazelnuts for a coffee like flavour. You could also use seeds for a nut free milk.
This is a basic nut milk blend. You can add sweetness if desired by adding a few dates to the blender, or try adding some vanilla or cinnamon.
Jessica Cox is a qualified practicing Nutritionist with a Bachelor Health Science (Nutrition) and over 15 years of clinical experience. She is the founder and director JCN Clinic, published author and established recipe developer. Jessica is well respected within health and wellness space for her no fad approach and use of evidence-based nutrition.