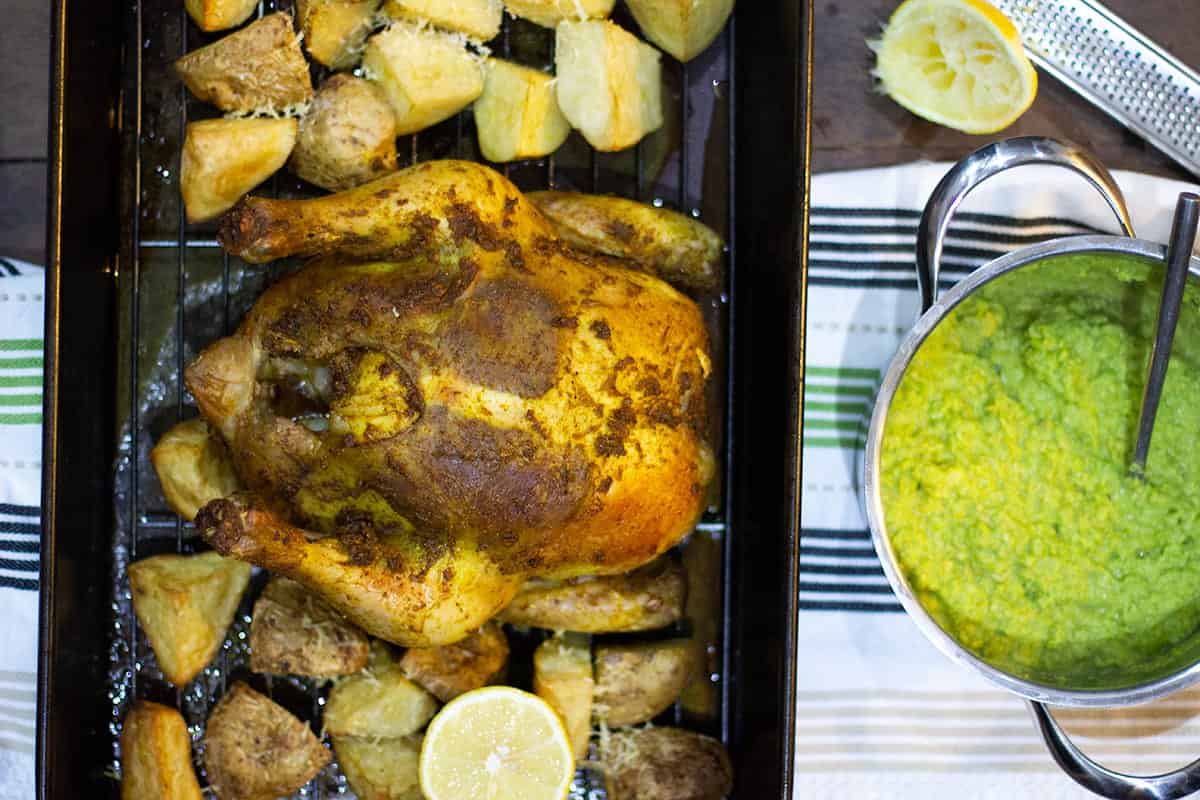 This moroccan roast chicken with zingy pea smash and pecorino potatoes is a spin on the traditional roast. Essentially it provides protein, starch and green vegetables, yet in a different and more flavour packed way. The zingy pea smash can be used for a variety of dishes. It is lovely with pan seared salmon or grilled lamb chops and also beautiful with grilled haloumi on crusty bread.
moroccan roast chicken with zingy pea smash and pecorino potatoes recipe
serves

4 people (with left over chicken)

preparation time

15 minutes

cooking time

60 minutes
ingredients
1 free range chicken
2 tablespoons of moroccan spice blend
1 clove garlic
zest and juice 1 lemon
2 cups frozen peas
4 medium potatoes
1/3 cup grated pecorino
salt and pepper for seasoning
olive oil
method
Preheat the oven to 200c. In a mortar and pestle pound up the clove of garlic, half the zest of the lemon, spice blend and a good lug of the olive oil to create a paste. Rub over the chook well. Place the chook in a roasting dish.
Chop up the potatoes into quarters, pop in a bowl and rub with any remaining spice mix. Toss the potatoes with pecorino and season. Place the potatoes around the chicken in the roasting dish and put into the oven to bake for around 1 hour. You may want to raise the chicken with a rack to stop the potatoes from going soggy with the chicken juices.
While the chicken and potates are cooking, prepare the pea smash. In a blender, mix up the peas, remaining lemon zest, lemon juice, lug of olive oil and seasoning. Once blended put pea smash mixture into a saucepan ready to heat.
About 5 minutes before the chicken and potatoes are done, heat the pea smash on a low to medium heat. Taste and add extra seasoning if required. Once the chicken is cooked and the juices run clear, remove from the oven and allow to sit for at least 5 minutes before carving.
Serve the chicken on top of the pea smash with a side of crispy pecorino potatoes.
nutritional information for moroccan roast chicken with zingy pea smash and pecorino potatoes
Lemons are rich in phytochemical naringenin, a flavonoids that has been shown to have have antioxidant activity. Naringenin acts as a free radical scavenger, anti-inflammatory, and immune system modulator.
Pecorino is a sheep milk based sheep cheese. You could also use parmesan if tolerant of cow's milk.
The potatoes can be omitted from this dish if you require a lighter meal. You could also try blended some chickpeas into the pea smash for extra fibre.
Jessica Cox is a qualified practicing Nutritionist with a Bachelor Health Science (Nutrition) and over 15 years of clinical experience. She is the founder and director JCN Clinic, published author and established recipe developer. Jessica is well respected within health and wellness space for her no fad approach and use of evidence-based nutrition.