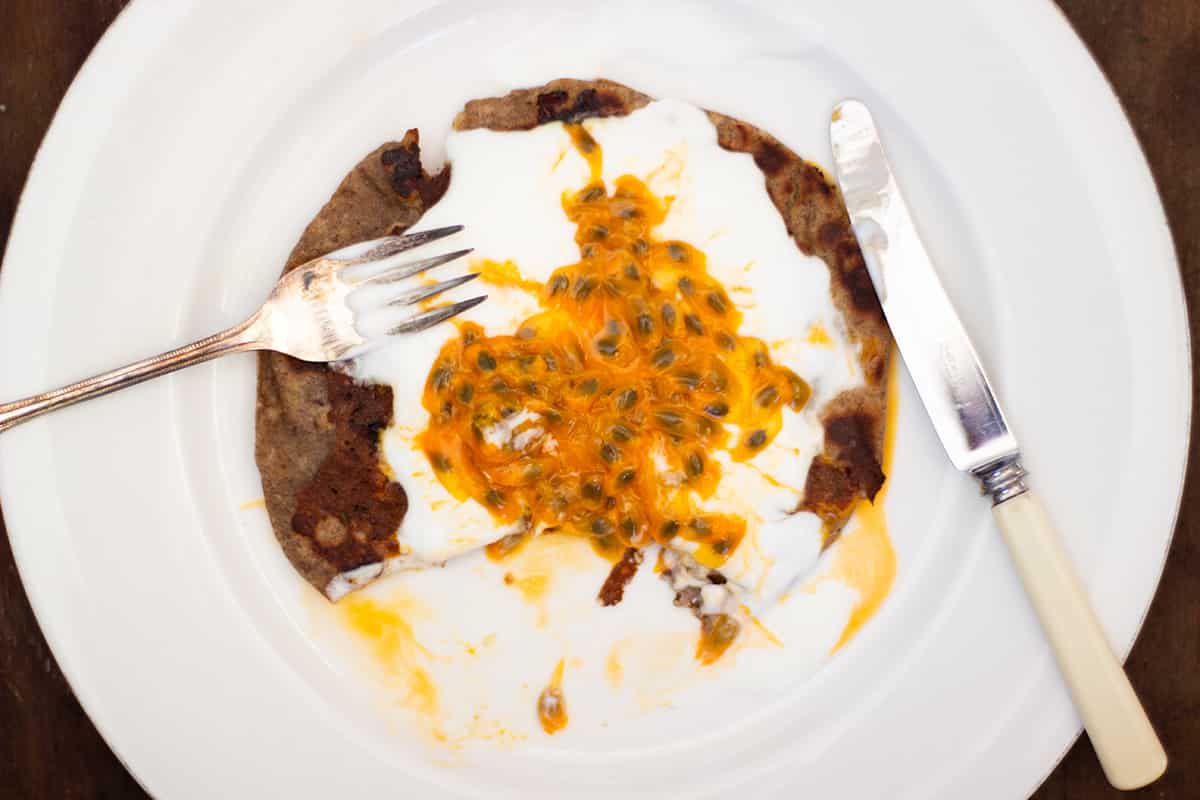 Pancakes have a reputation for being a weekend affair. Who has times for pancakes mid week? Well, me…and you too if you use this recipe. This pancake is the ultimate mid week fast food for breakfast. It literally takes the same time as warming some oats or constructing a bowl of muesli with a few toppings. It is so diverse in how it can be adapted, from savoury to sweet to dressed up on weekends for a more extravagant affair.
As an avid pancake fan, I use this base recipe at least 3 – 4 times per week. I love adding in mashed fruits and zests from lemons and limes for some sweet pancakes as done here with this banana buckwheat pancake, or turmeric, celery seeds and nutritional yeast for a savoury pancake. I post these pancake adaptions on Instagram regularly and they are always popular because not only do the look mouthwatering as pancakes always do, they are just so quick and easy.
If you want to experiment with different flours, I suggest you stick with high protein flours such as besan or even oat flour as an alternative. High starch flours such as rice flour and also flours such as coconut flour will not work. I've experimented like crazy with this formula and I always come back to buckwheat as it just works so well. Oh, and one last hint. If you use soda water or mineral water instead of plain tap water you will get a bit of rise in your pancake. It's not essential, but it is a lovely adaption.
buckwheat pancake recipe
serves

1 person

preparation time

2 minutes

cooking time

3 minutes
ingredients
3 tablespoons buckwheat flour
1/2 tablespoon cold pressed safflower oil, extra virgin olive oil or coconut oil
water to bring to thick pancake batter
// toppings & serving suggestions //
iceberg lettuce, tahini and smoked salmon
soft crumbled feta, banana, maple syrup
sunflower seed spread and sliced fig
spreadable goats cheese and mung beans and and parsley pesto
method
Combine the flour, oil and enough water to bring to a thick pancake batter. Heat a frypan and add a splash of rice bran oil or alternative oil to the pan. Pour batter into pan and cook until golden brown on one side, then flip and cook through on other side. Serve pancake with toppings of choice.
nutritional information for buckwheat pancake
Buckwheat is a great source of lysine, an amino acid that has anti viral properties. Buckwheat is a 'pseudo grain', meaning it is not actually a grain, but has the nutritional composition of a grain. Buckwheat is actually a seed from a fruit related to rhubarb.
Rice bran oil has anti microbial activity, thanks to its gamma-oryzanol derivatives. Choose un refined rice bran oil, or go for other oils that work well in high heat cooking such as macadamia nut oil or grape seed oil for neutral flavours.
Add a mashed banana to the batter for a banana version of this pancake. Banana will add fruit sugars and potassium making this a great option for a post cardio work out snack.
Jessica Cox is a qualified practicing Nutritionist with a Bachelor Health Science (Nutrition) and over 15 years of clinical experience. She is the founder and director JCN Clinic, published author and established recipe developer. Jessica is well respected within health and wellness space for her no fad approach and use of evidence-based nutrition.