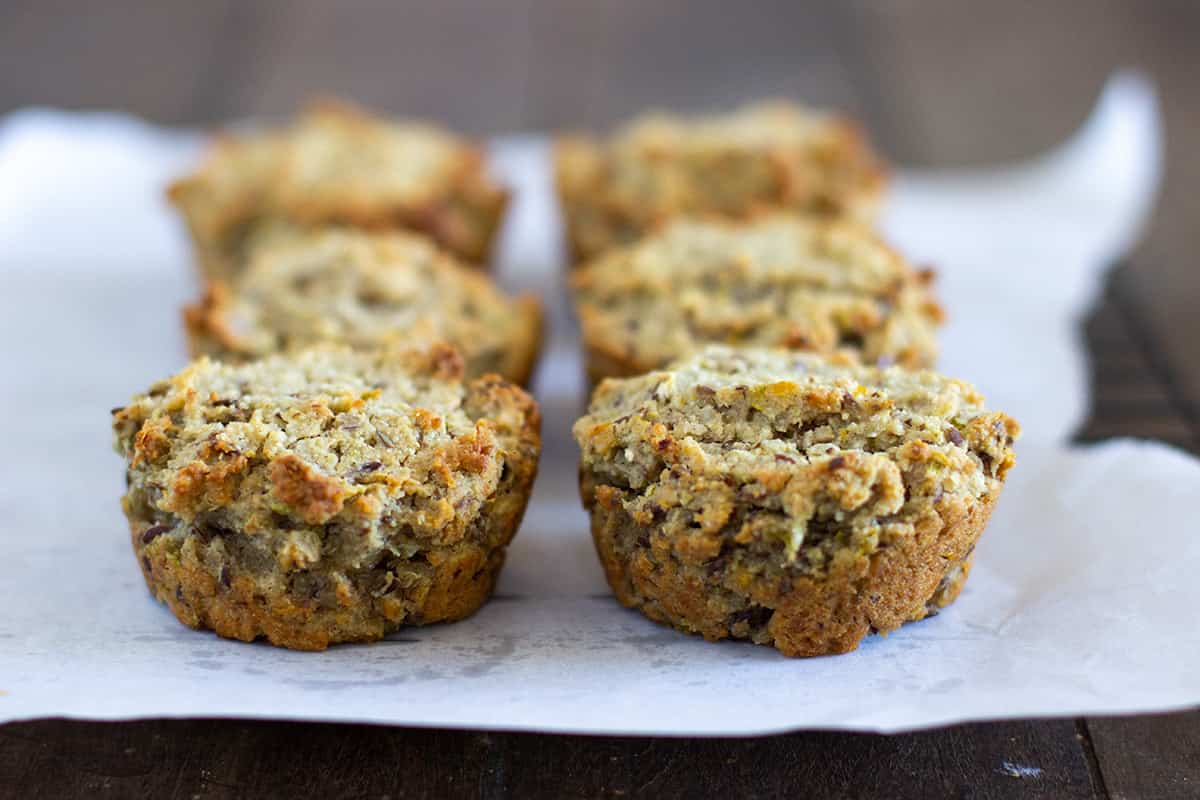 These apple, ginger and walnut muffins get their sweetness from the apples and the fruit juice. There is no added sugars which makes them a great little snack. They can be wrapped up and frozen which makes them handy for when you need something quick and easy.
apple, ginger and walnut muffins recipe
serves

makes 6-7 muffins

preparation time

15 minutes

cooking time

25-30 minutes
ingredients
1 1/2 cups brown rice flour
1/4 cup almond meal
1/4 cup quinoa flakes
3 teaspoons baking powder
1 cup tinned apple in natural apple juice, chopped
1/4 cup crystallised ginger, chopped
1/4 cup chopped walnuts
1/3 cup cold pressed macadamia nut oil
1/2 cup pure apple juice (from tin) or 100% pear juice
1 teaspoon vanilla extract
2 eggs
1/2 cup plant based milk
method
This recipe is adapted from Jude Blereau's Wholefood Cookbook.
Preheat oven to 180c. Grease muffin tray to hold 6-7 muffins.
In large mixing bowl combine dry ingredients. Add in the nuts, apple and ginger and stir through. Combine and make a well in the centre.
Now mix together wet ingredients in a separate bowl. Add to the dry mixture and stir through until just combined. Try not to over mix the batter. Allow batter to sit for 5 minutes,  adding extra milk if needed as batter should be nice and moist.
Place into greased muffin tray and bake in oven for 25-30 minutes or until golden brown on top. You should be able to insert a skewer into the centre of the muffins and have it come out clean.
nutritional information for apple, ginger and walnut muffins
The ginger in these muffins can be increased or decreased to taste. Ginger is a natural digestive aid and helps sooth nausea.
These muffins are high in complex carbohydrates and fibre due to the use of wholegrain flours and brans. This makes them the perfect mid morning or afternoon snack.
Feel welcome to chop and change these muffins as you like. Change the fruit for fructose friendly choices or try mashed banana or pineapple. Freshly chopped dates or figs will also give a lovely texture and sweetness to these muffins.
Jessica Cox is a qualified practicing Nutritionist with a Bachelor Health Science (Nutrition) and over 15 years of clinical experience. She is the founder and director JCN Clinic, published author and established recipe developer. Jessica is well respected within health and wellness space for her no fad approach and use of evidence-based nutrition.