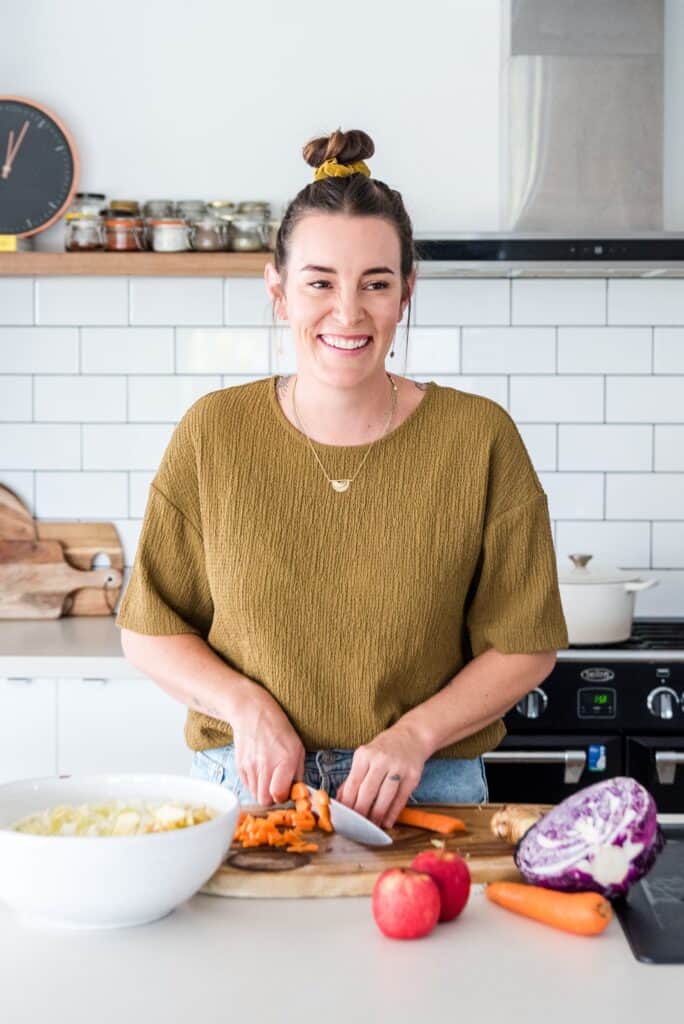 Meet Eloise! JCN Clinic Brisbane Nutritionist
Meet Eloise Hyne, the newest member of The JCN Clinic Nutritionist team! Eloise has an  Advanced Diploma in Nutritional Medicine. Akin to our other JCN Nutritionists, Eloise is super passionate about treating hormones and their relationship with underlying digestive issues. Eloise also enjoys children health, the pre & post natal space and pregnancy. We are super excited to have Eloise join our team here at The JCN Clinic. 
As always, we want you to get to know Eloise, so let's take this opportunity to formally introduce her to the JCN team…
Hi Eloise! Tell us a bit about yourself and where you are from.
Hi I am Eloise originally from Clovelly a beautiful beachside town in Sydney's Eastern Suburbs. 12 years ago my husband and I moved to Lennox Head in Northern NSW to raise our children in a similar way we were – by the ocean and nature! I have a large family with 6 to feed each night and using my 14 years in the health world definitely assists in not only my children lives but with our large extended family!
What drew you to a career in health and nutrition?
I have to say initially my mother, she was diagnosed with Rheumatoid Arthritis in her early 20's but has managed this beautifully through diet and lifestyle for the last 50 years. However my own personal experience in my early 20's experiencing hormonal complaints was the driving force to my studying. I started out studying Naturopathy, I absolutely loved this experience but the focus on the science behind how nutrients were used in the body intrigued me deeply so I therefore finished as a Nutritionist.
As a Nutritionist, what does 'healthy eating' mean to you?
Eating foods that bring joy and harmony to the body. Someone people need assistance to find that harmony within their body and that's where Clinical Nutrition comes in, we help to assist and bring that joy to you! Health eating to me is a style of eating that is sustainable long term and joyful at the same time.
Like what you're seeing? Subscribe for new recipes and nutrition tips every week!
What are you super passionate about in the nutrition space? Is there a niche area in particular that absolutely fills your cup?
I love working with women and their hormones, as a woman we have hormonal phases and they all need different support. As someone who has experienced symptoms myself supporting other women is so rewarding. A focus on digestive health is often overlooked but this plays a crucial role in my clinical focus in this area!
Need personalised nutrition advice catered to your needs?
If you are after personalised nutrition advice and dietary planning individualised to your health and dietary needs then contact us at The JCN Clinic with your enquiry. We are always happy to answer any questions you have!
What are three staple ingredients you can simply cannot live without in your pantry/kitchen?
Ohhhh! A tough one, 1. Spices + fresh herbs. 2. Olive oil. 3. A beautiful crunchy Apple!
What is your favourite meal?
Again I have so many! But Kitchari is a favourite of one mine with simple spices, a side of sautéed vegetables + yoghurt sauce and while giving you a nourishing a hug at the same time.
Do you have a cooking idol? Someone who inspires you in the kitchen…
I cook watch cooking shows all day! I obviously love Jessica's recipes : ) and Teresa Cutters. Jamie Oliver for simplicity and lastly my mother, her dishes are so abundant with goodness and nourishing.
What are your interests outside the JCN Clinic?
Exercise and eating for me is life! They are two components that are a passion just like my job as a Nutritionist. We are an active family so after sport it is always exciting to plan what we can eat ! We live at the beach so having a quiet weekend where we can enjoy our surrounds is heaven!
Where can we find you on social media & join in on everything that you have shared and inspire us with?
You can find me on Instargram @thenutritionist_kitchen. Look forward to meeting some new faces!
---
We are super excited to have Eloise join our team here at The JCN Clinic, Eloise is available for consultations at The JCN Clinic on Wednesdays with bookings online here . Alternatively you can contact us at The JCN Clinic reception with any queries or questions.
Jessica Cox is a qualified practicing Nutritionist with a Bachelor Health Science (Nutrition) and over 15 years of clinical experience. She is the founder and director JCN Clinic, published author and established recipe developer. Jessica is well respected within health and wellness space for her no fad approach and use of evidence-based nutrition.