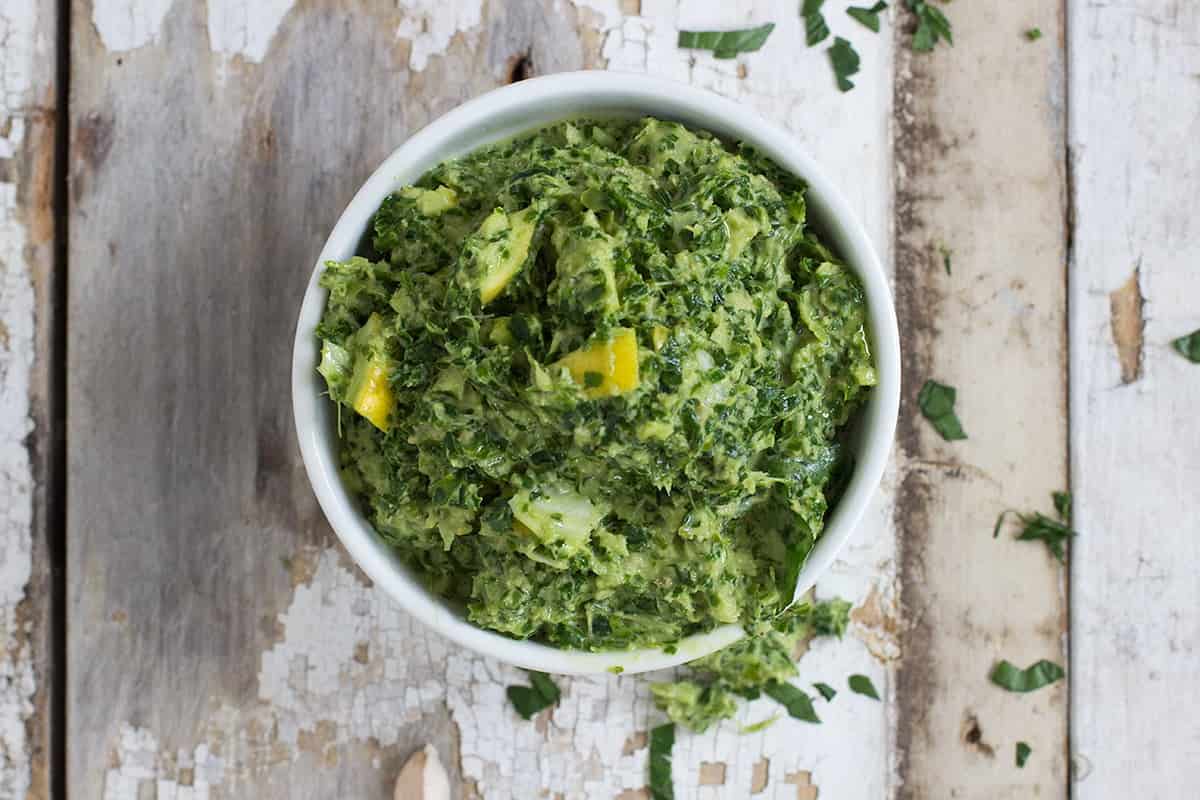 I'm writing this post after having this Kale, Lemon & Olive Pesto in my fridge for a week. As a result, I can confidently say that it is marvelously versatile. It has been such a delicious accompaniment to many dishes, especially liberally spooned onto a salmon steak.
Pesto's are a very smart way to not only give your meals a punch of flavour, but additionally spruce up your antioxidant intake. As soon as we start adding in loads more fresh herbs and citrus to our diet, our consumption of free radical fighting antioxidants goes up.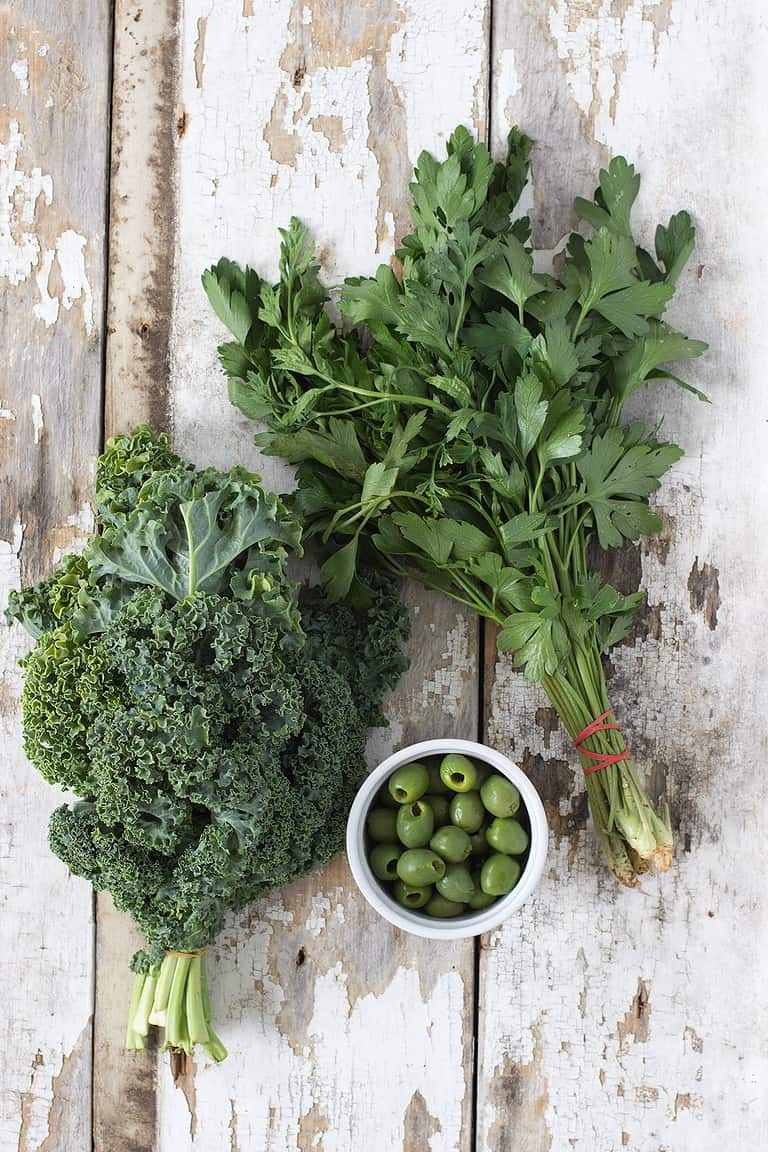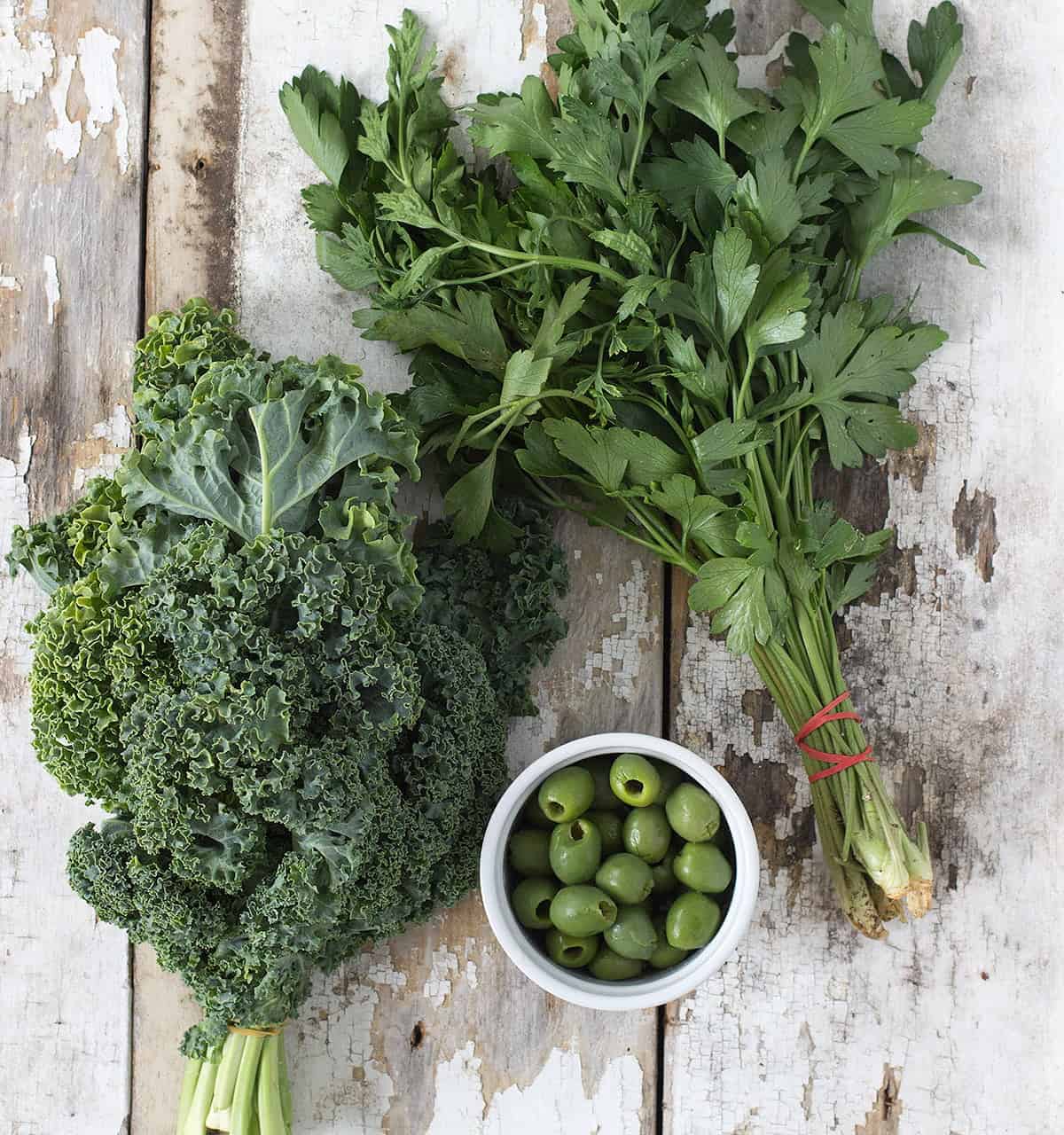 You will notice that this Kale Lemon & Olive Pesto recipe uses the entirety of the lemon, pith, skin and all. Please do not shy away from this. There is so much nutritional value in the skin and pith (which you can read about below), and the flavour is dialed up significantly.
I was actually taught to add the whole lemon to pesto's by the chef who used to run Workshop Co in Redcliffe. He came over one afternoon with the intension of us sharing and swapping ideas, but realistically he wowed me with his cooking and I just stood back in awe. I mean when someone turns up at your door with a slab of wagu you can feel a little intimidated.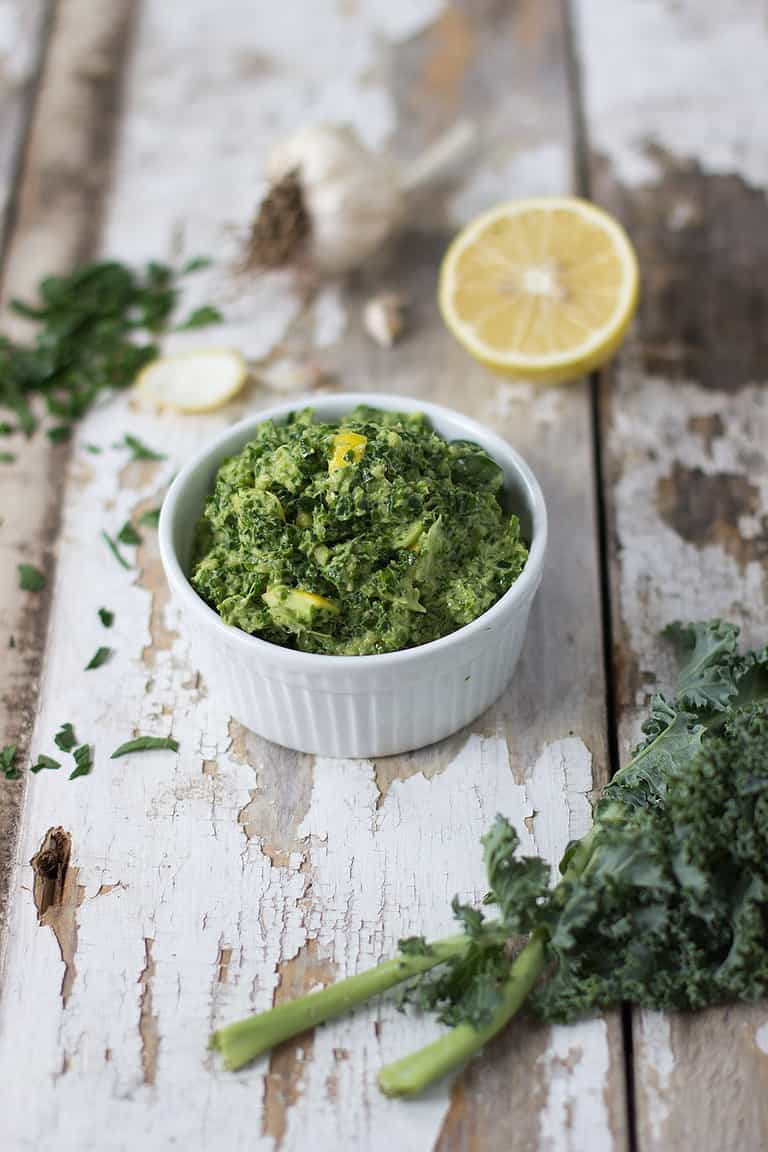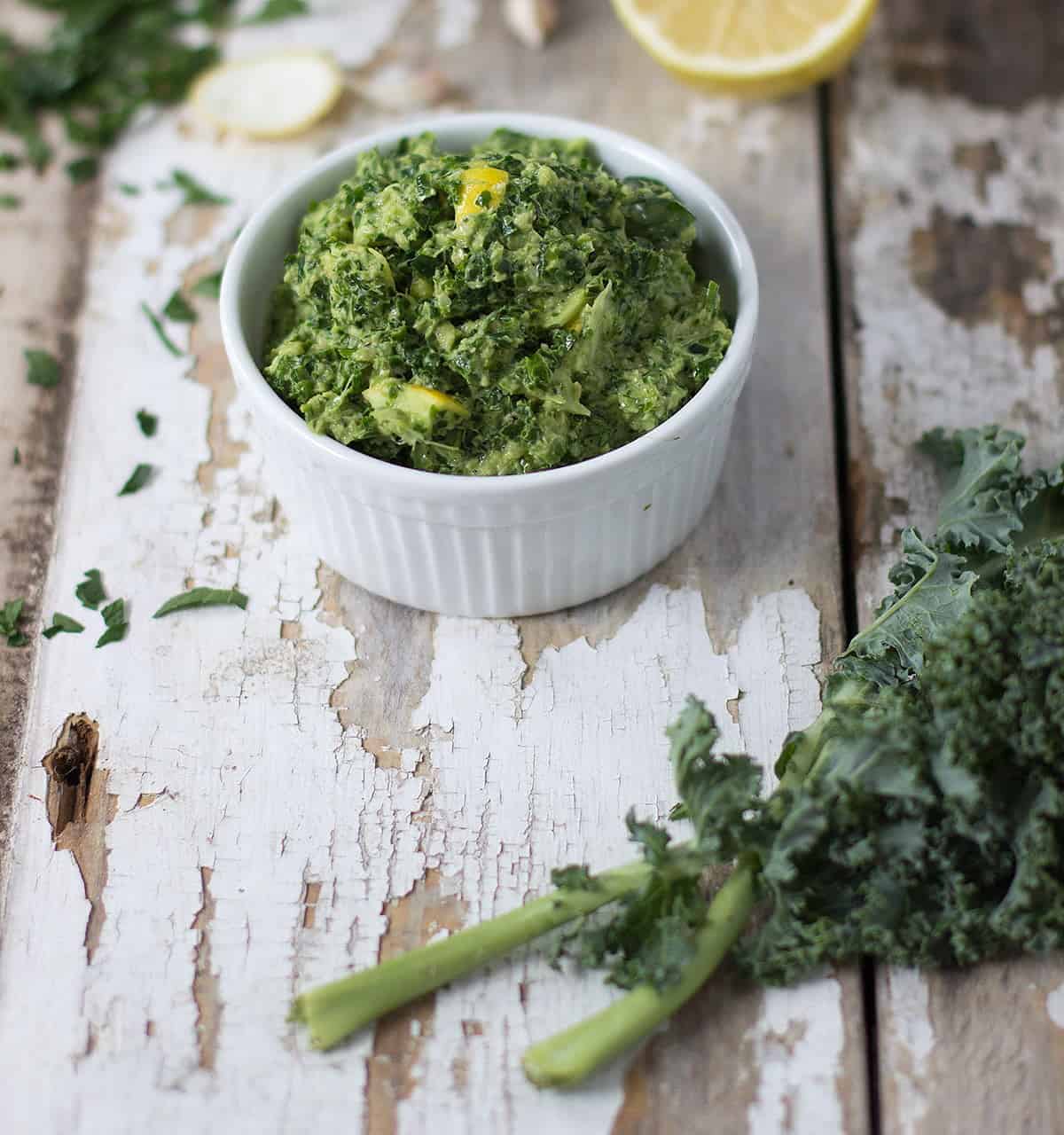 I am also not the cleanest of cooks. Chefs are really meticulously clean and orderly, which again can have me a little unsettled. All that wiping down of surfaces, stacking things in lines and handles all facing in the same direction. It makes me nervous. My sister gets up me for always having the handles of saucepans poking off the edge of the stove and says that its 'so dangerous', but I continue to do it without a fleeting thought to this continuous habit. Don't even ask my slightly OCD husband either about his thoughts on my kitchen 'tidiness'. Seriously don't.
For me I work best in a sea of controlled chaos. I like being surrounded by ingredients, jars, bags, boiling pots and food scraps falling on the floor. For some reason it feels just right. I know my sister in law feels the same, as I've seen what that lady can do to a kitchen.
As for this pesto, well it can be a messy occasion or a clean one. I'll leave that part up to you. Do make it though and use it up in multiple ways. From spooned onto meats, to piled onto eggs, to stirred through pasta or used as a dip. It's a pesto for all occasions.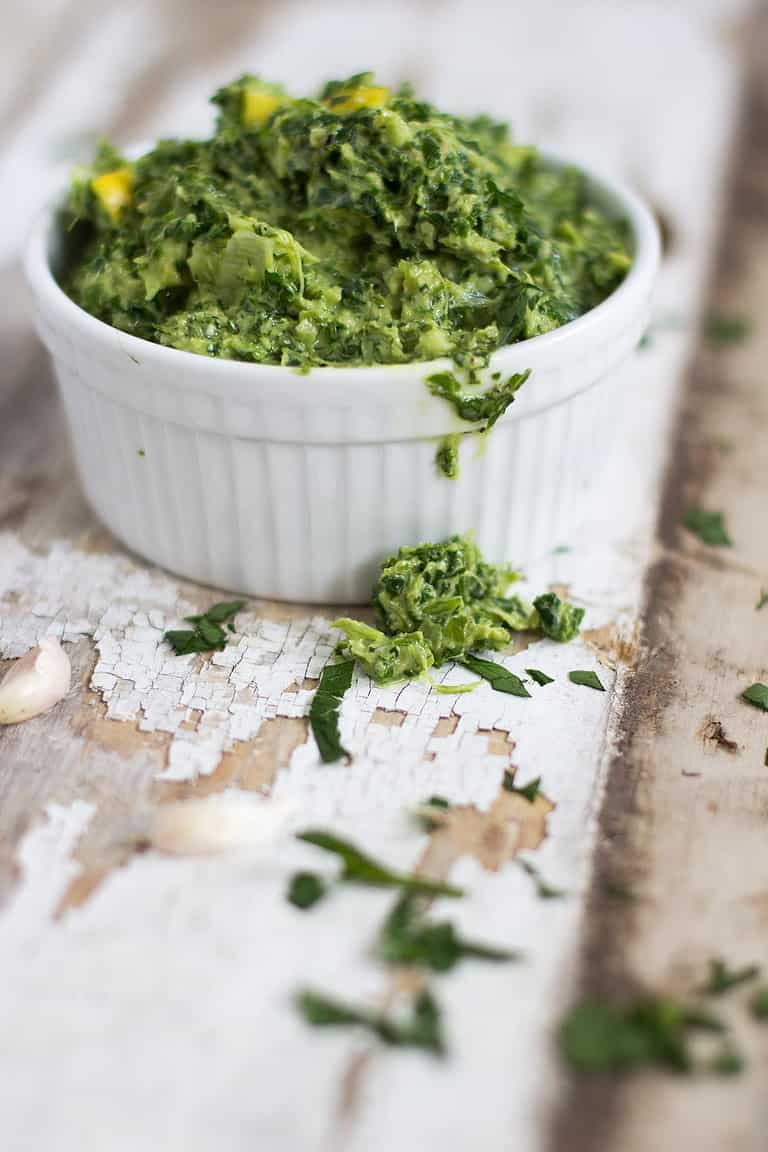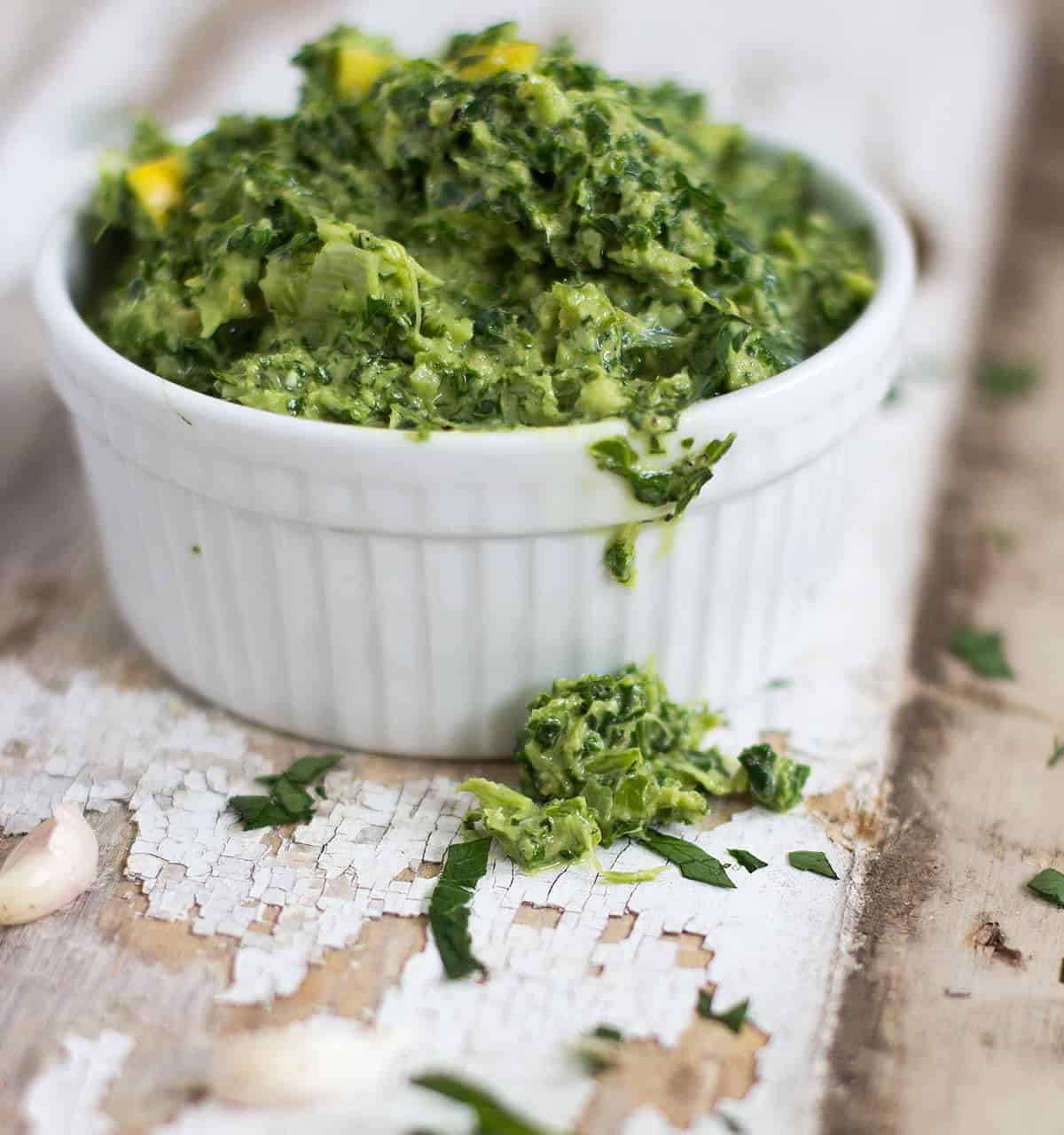 kale, lemon & olive pesto
serves

makes 2.5 cups

preparation time

5 – 10 minutes

cooking time

nil
ingredients
2 and 1/2 cups chopped kale, tightly packed
1 cup chopped, tightly packed parsley
1 clove garlic, roughly chopped
1/2 tsp pepper
1 lemon, pips removed and roughly chopped
1/3 cup extra virgin olive oil
1 cup sicilian olives, pitted
method
Place all ingredients in a blender and blend on a low setting so that the pesto stays nice and chunky. Spoon out into a container and cover. This pesto will keep in the fridge for 5 – 6 days, after then it is best frozen for freshness.
Enjoy spooned onto meats, with eggs or tossed through pasta. Also makes a great antipasto accompaniment.
nutritional information
Lemon rind is a potent source of bioflavonoids, a collective of antioxidants that help keep our arteries and capillaries healthy, provide natural antimicrobial and anti inflammatory activity and enhance the biochemical activity of Vitamin C. Bioflavonoids are also a potent natural antihistamine, often used in natural formulas to down regulate allergy responses. The are also wonderful for supporting lymphatic flow due to the majority of aforementioned reasons. Ideally source organic lemons as the rind and pith will retain a significant amount of chemicals if used within the growing process.
Kale has had so much attention this last year past. It would have to be the food of 2015 as far as superfood attention goes. The reason kale gets such a good wrap is due to its abundance of vitamins, minerals and antioxidants. Kale is high in Vitamin A, C and K along with providing a good source of manganese, potassium and calcium. Kale is also rich in fibre and antioxidants lutein and zeaxanthin, which help keep our eyes health warding off macular degeneration. Kale is also rich in the phytochemicals isothiocyanates, made from glucosinolates which have been shown to play a role in reducing metastasis.
Jessica Cox is a qualified practicing Nutritionist with a Bachelor Health Science (Nutrition) and over 15 years of clinical experience. She is the founder and director JCN Clinic, published author and established recipe developer. Jessica is well respected within health and wellness space for her no fad approach and use of evidence-based nutrition.