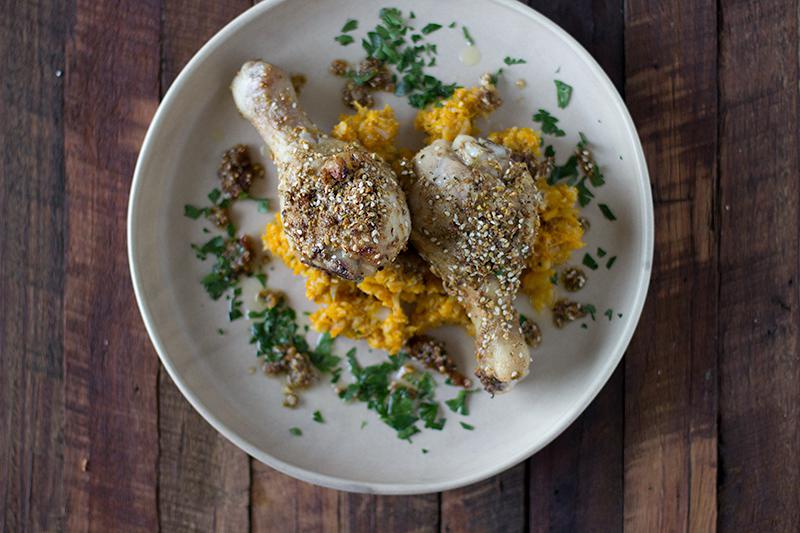 This recipe first appeared in Nourish magazine as part of a 'beauty food' segment. It's actually a really common midweek staple in our household that can be whipped up in no time at all. There is minimal fuss and ingredients, yet the finished result is flavoursome and nutritious. Deservant of ticks all round.
After going vegan for a week we are definitely not consuming as much meat as we did previously, however when we do, chicken drumsticks are high on the list. I adore them as they have so much more flavour than breast meat and they get all that crunchy, sticky skin when you bake them. Oh, and of course there is the pick them up and eat them with your hands thing, lets not forget about the pleasure of that. If Carissa or myself ever have meat on the bone for our lunch we will often eat it 'politely' down stairs in public view, then when we are back up stairs in the seclusion of our office kitchen we rip into the meaty bone leftovers to get all the best bits.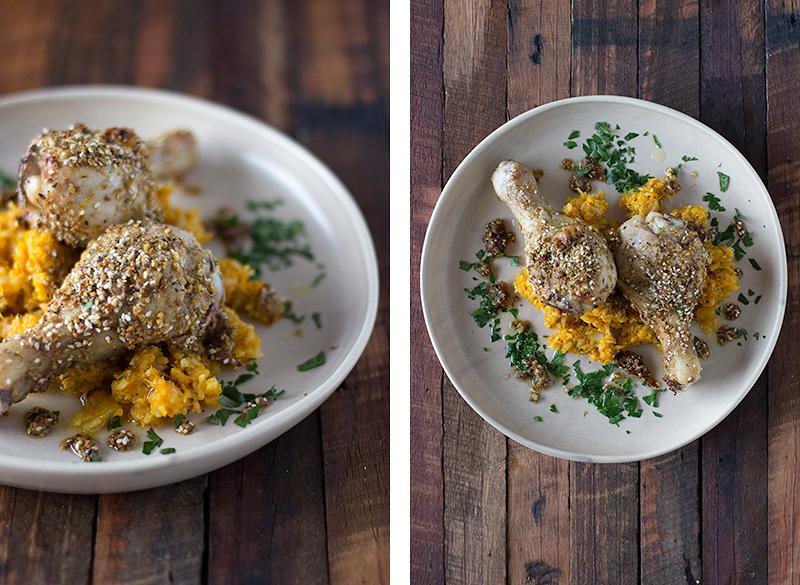 Occasionally I am asked about whether one should remove the skin from chicken. The answer is always a resounding no! I mean for one, why take all the pleasures out of life. How drab to have no crispy skin on the meat we eat. Nutritionally though to back up my taste buds, chicken skin is a great source of saturated and monounsaturated fats.  When sourced from free range and ideally organic sources in conjunction with being part of a well balanced diet, this type of fat is imperative for healthy hormones and nervous system function. Nature fundamentally packages the meat this way. The skin on chicken is part of the parcel, like the yolk in the egg. Why remove part of a perfectly provided natural unison?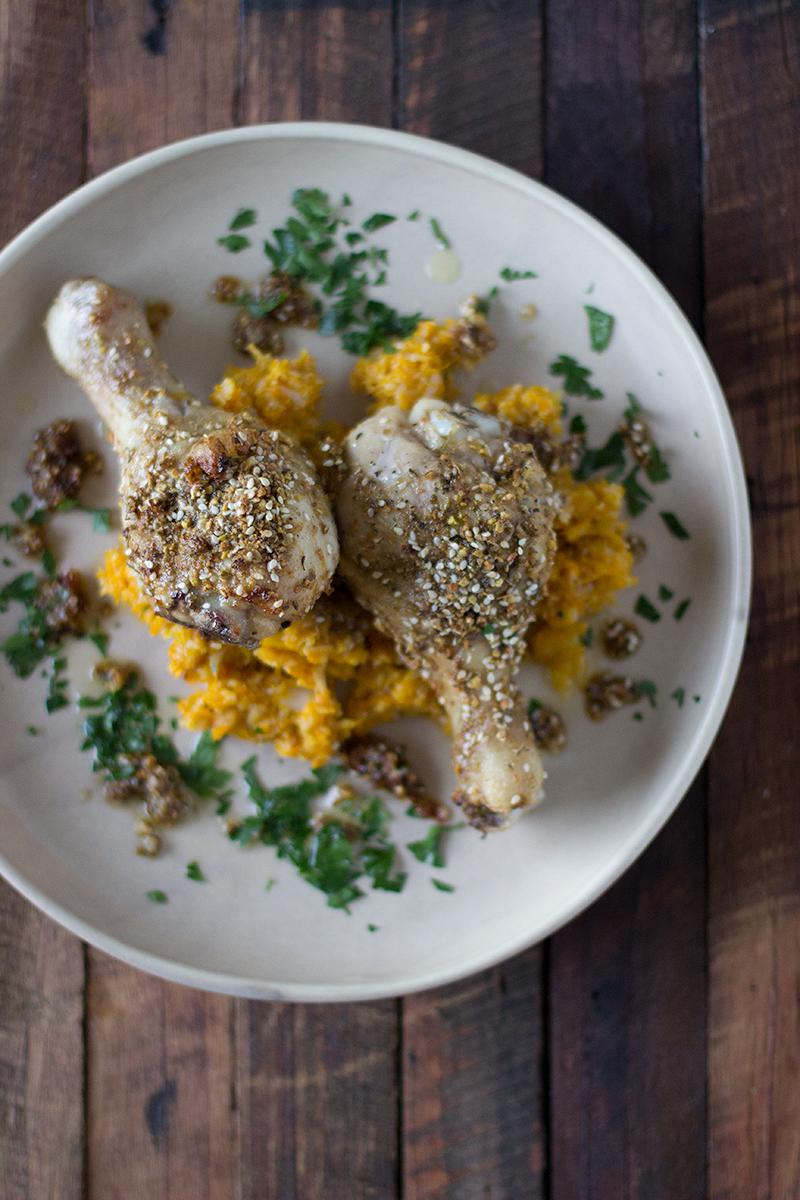 I should clarify; I am talking about home roasted chicken skin here. I am not talking about the supermarket-roasted chickens that are basted in about 20 ingredients unknown to humankind. Have you ever looked at the ingredients list of a bought cooked chook from the supermarket? I thought it would just say 'chicken', 'salt' and maybe 'oil', but no. The list goes on and on and on with ingredients that make your head spin. If you are eating these cooked chooks regularly I'd suggest avoiding the skin. That's probably the only time I'd be advocating this action.
I hope you love this recipe as a quick mid week option. I do often give you parts of meals (like a salad or the meat component) instead of a whole meal here on the website, so this is a bit of a change up. Enjoy it and make sure you eat the drumsticks with your hands for me. It tastes better. x
dukkah & lemon roast chicken drumsticks w cauliflower + pumpkin mash
serves

serves 2 as part of a meal

preparation time

10 minutes

cooking time

30 minutes
ingredients
4 medium sized free range chicken drumsticks
3 tablespoons dukkah
2 tablespoons extra virgin olive oil or coconut oil
zest of 1 lemon
200 grams cauliflower, broken into florets with stems
250 grams pumpkin, skin removed and cut into rough cubes
salt and pepper to season
2 tablespoons chopped parsley (to serve)
method
Preheat your oven to 200c, fan-forced. In a small bowl combine dukkah, oil and lemon zest and season with salt and pepper. Rub all over drumsticks then place the drumsticks on a baking tray with the pumpkin. Pop the tray in the oven to bake for 30 minutes, turning the chicken over half way.
In the interim, steam the cauliflower till tender. Once the chicken and pumpkin are ready, make your mash by mashing the steamed cauliflower together with the roasted pumpkin and any roasting pan juices. Season the mash well with salt and pepper and a generous drizzle of olive oil.
To serve, divide the mash between plates and top with the chicken drumsticks. Lovely finished with some freshly chopped parsley.
Jessica Cox is a qualified practicing Nutritionist with a Bachelor Health Science (Nutrition) and over 15 years of clinical experience. She is the founder and director JCN Clinic, published author and established recipe developer. Jessica is well respected within health and wellness space for her no fad approach and use of evidence-based nutrition.