Here's how this recipe came about. Earlier this week while getting ready for bed and brushing my teeth I asked my husband 'what recipe do you think I should make for the website?' through a mouth full of foaming toothpaste. He answered from the shower 'dhal'. Therefore, Pumpkin & Mung Bean Dhal was born.
Over the weekend my husbands vegan hairdresser called asking for details on how to make dhal. Consequently it got me thinking how much I used to eat it in my 20's and how much I missed a good dhal. Mind you, a lot of the dhal I ate in my early 20's was pretty god-awful. Between my 3 roommates and myself we really didn't know how to make a good curry at that point. My housemate (and still dearest friend to this day) used to make a version called 'Nana Strong's dhal', where she mashed banana into it and stirred through sultanas. It was….ghastly interesting.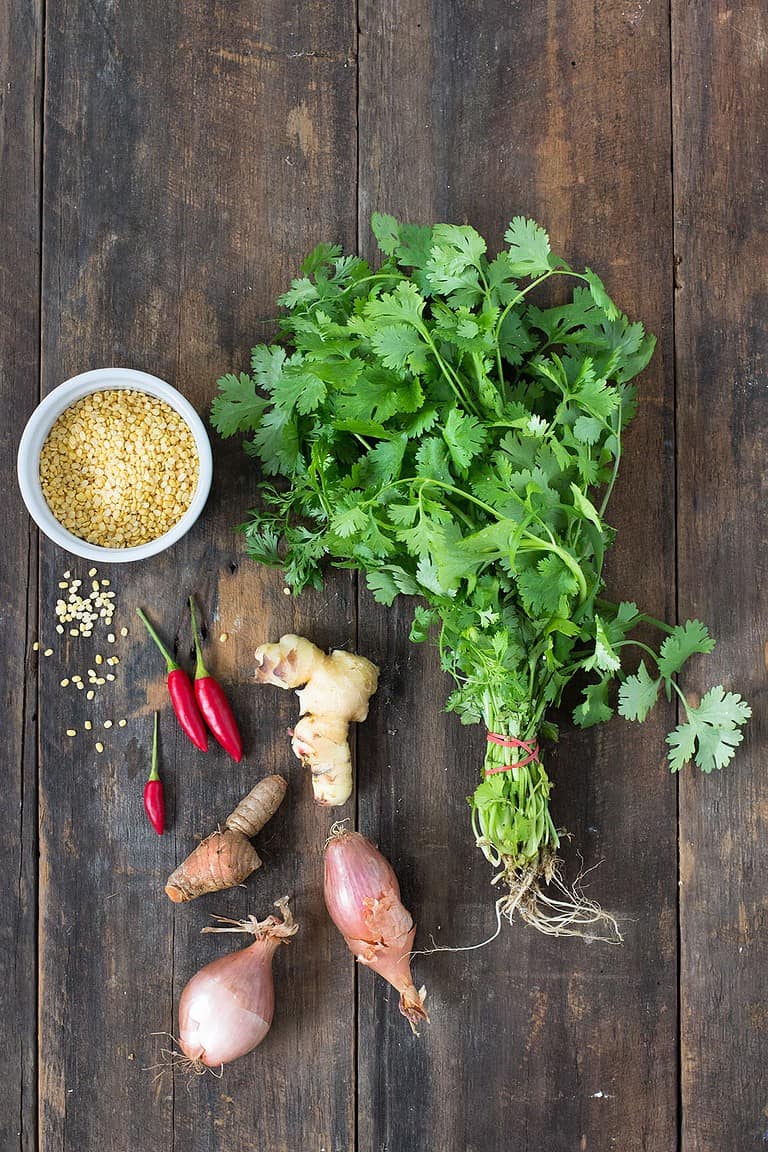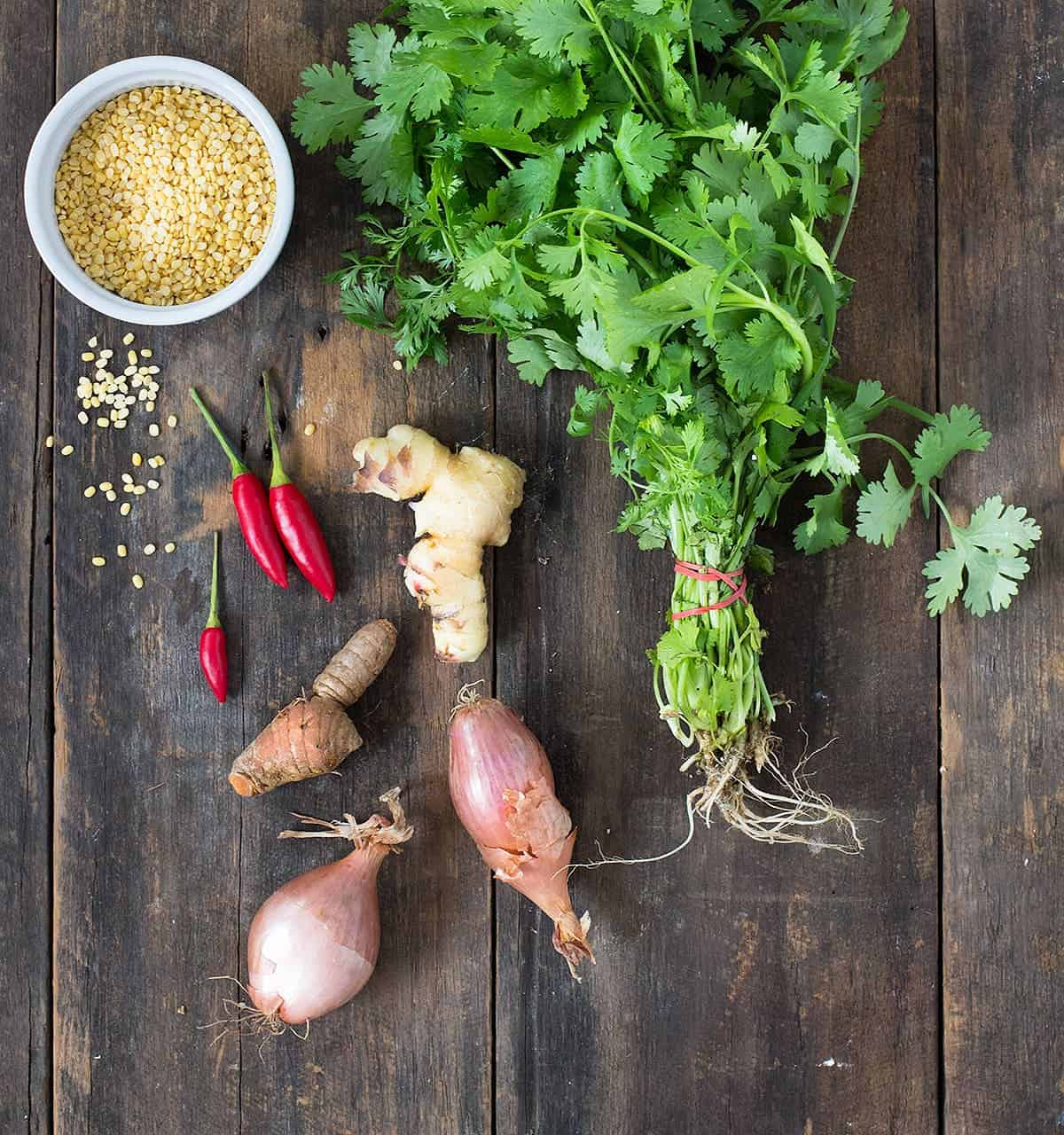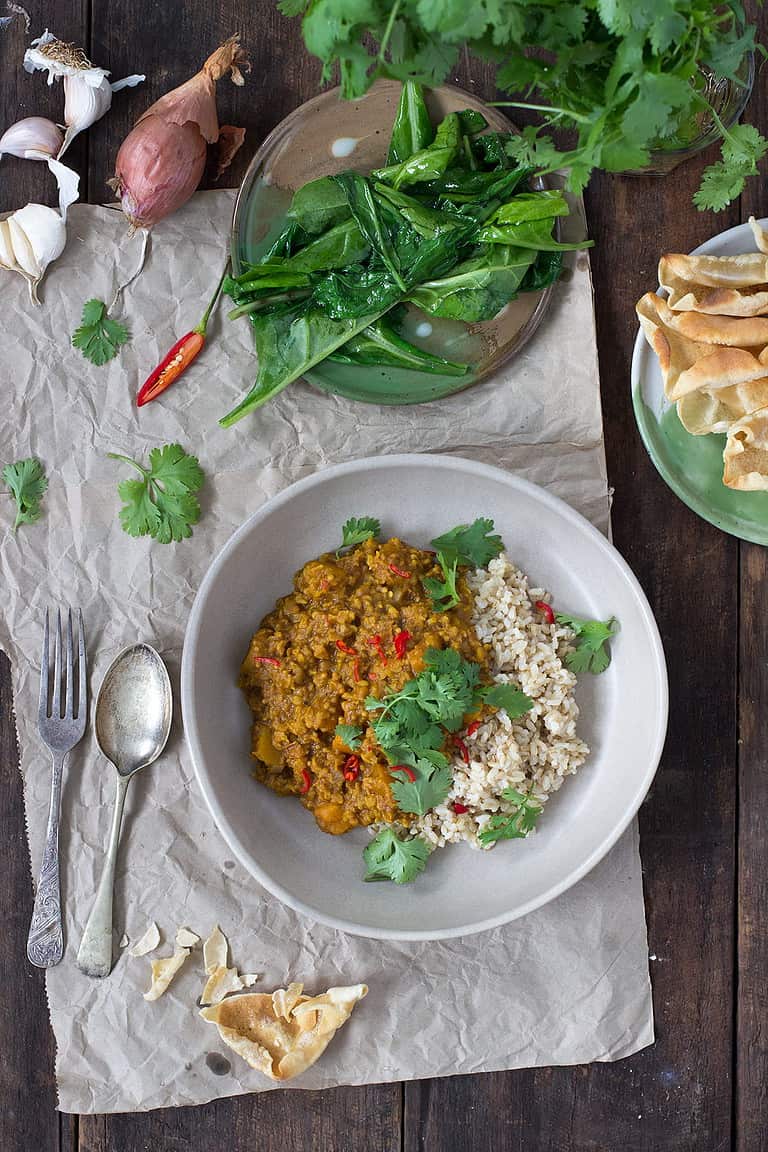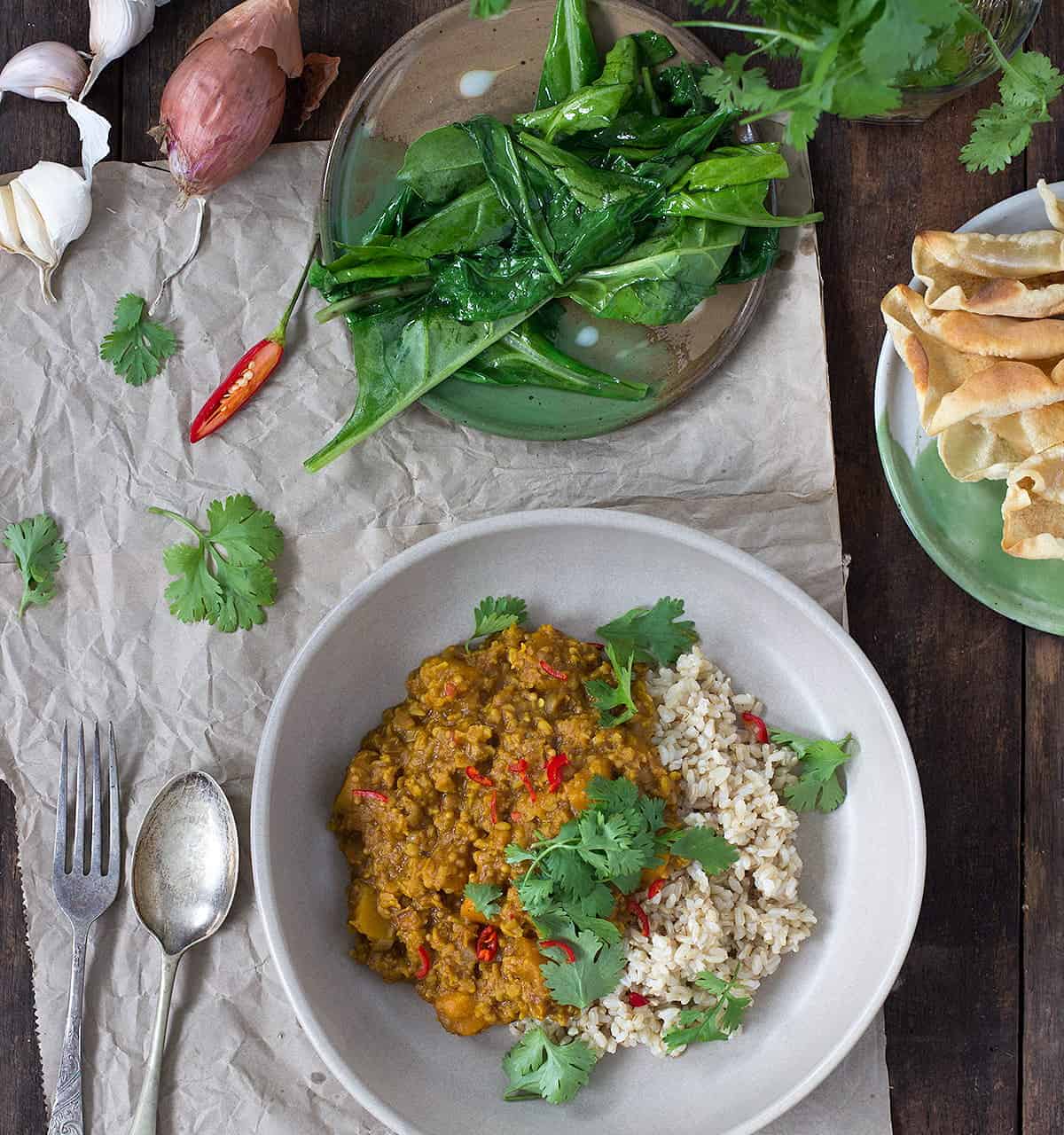 For this pumpkin & mung bean dhal recipe I have broken a hell of a lot of traditional rules. First off I am using split mung beans instead of lentils. I like that the split mung beans have a bit more texture and do not break down completely like red lentils.
I also had some of the split mung beans left after trying to soak them overnight like I had been doing with my other legumes of late. The enterprise of soaking split mung beans provided a lesson worth learning, I can tell you. The day after the split mung beans were put down to soak for a good 24 hours in a warm place, my hubby came home to a nasal assault. He said that when he opened the door the smell basically punched him in the face and was a mix between baby poo and vomit. When I got home I tried washing them thinking it was just the water, but the legumes themselves stunk! I put them back in the jar with fresh water in the fridge to contemplate what to do. After thinking about it and also getting some advise from the guru's at Grown and Gathered I decided to turf them. One entire week later they went out in the garden. I turned the jar upside down, held my breath and then I ran!
This time round thanks to the learnings above the split mung beans were just rinsed well before being cooked into the dhal, definitely a much more pleasurable and less offensive experience.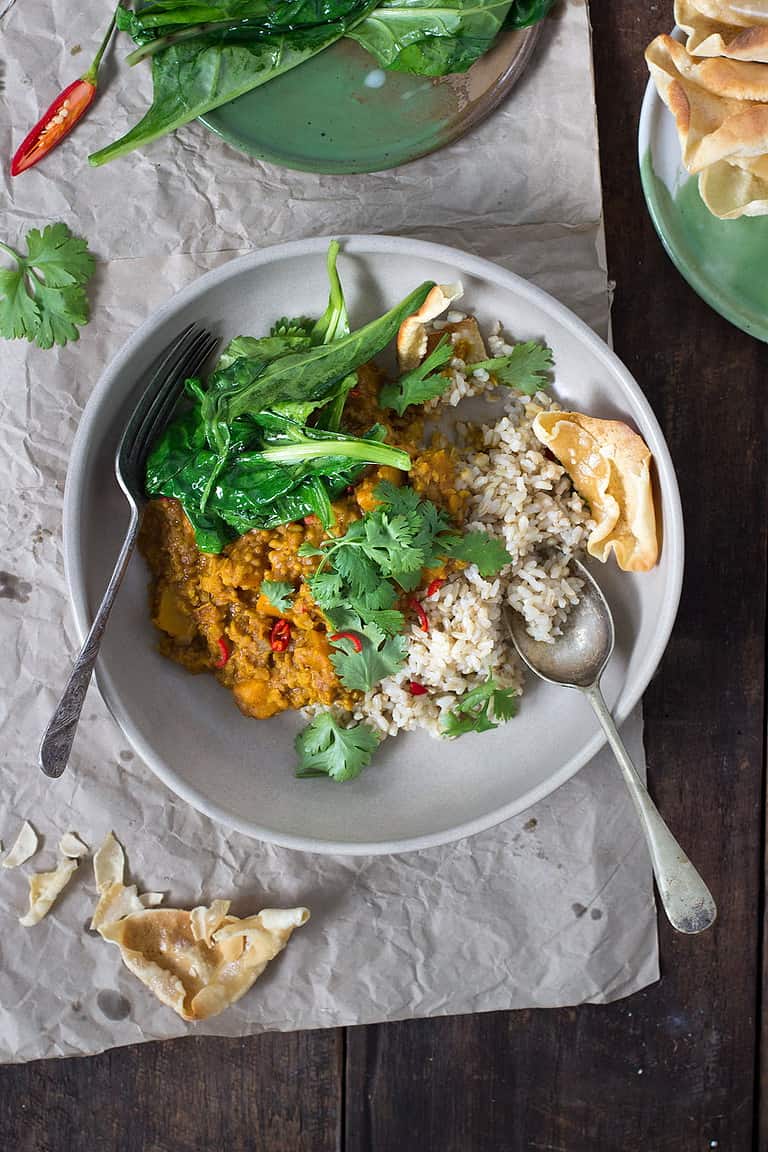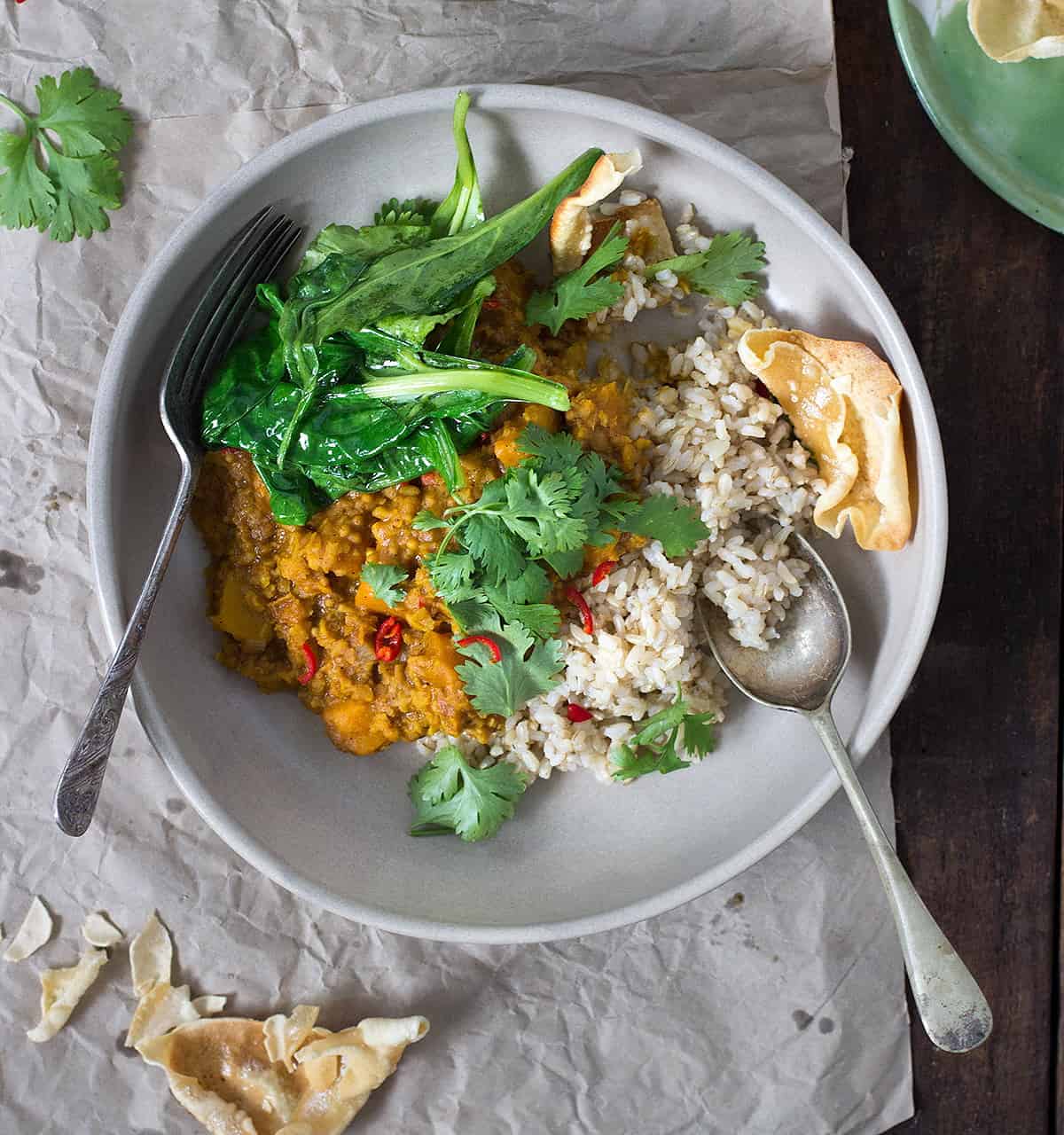 Other rules I have broken here include adding pumpkin of course. Traditional  dhal would never include pumpkin. Then there is using passata and stock instead of tomatoes and water. I was never one to stick to rules anyway when cooking. If I can see a place for gaining more flavour then I will always take that road rather than stay inside the box. As a result of my dhal rebellion I'm super confident that this recipe (although breaking tradition) is delicious and definitely worth while replenishing the spice cupboard for to create.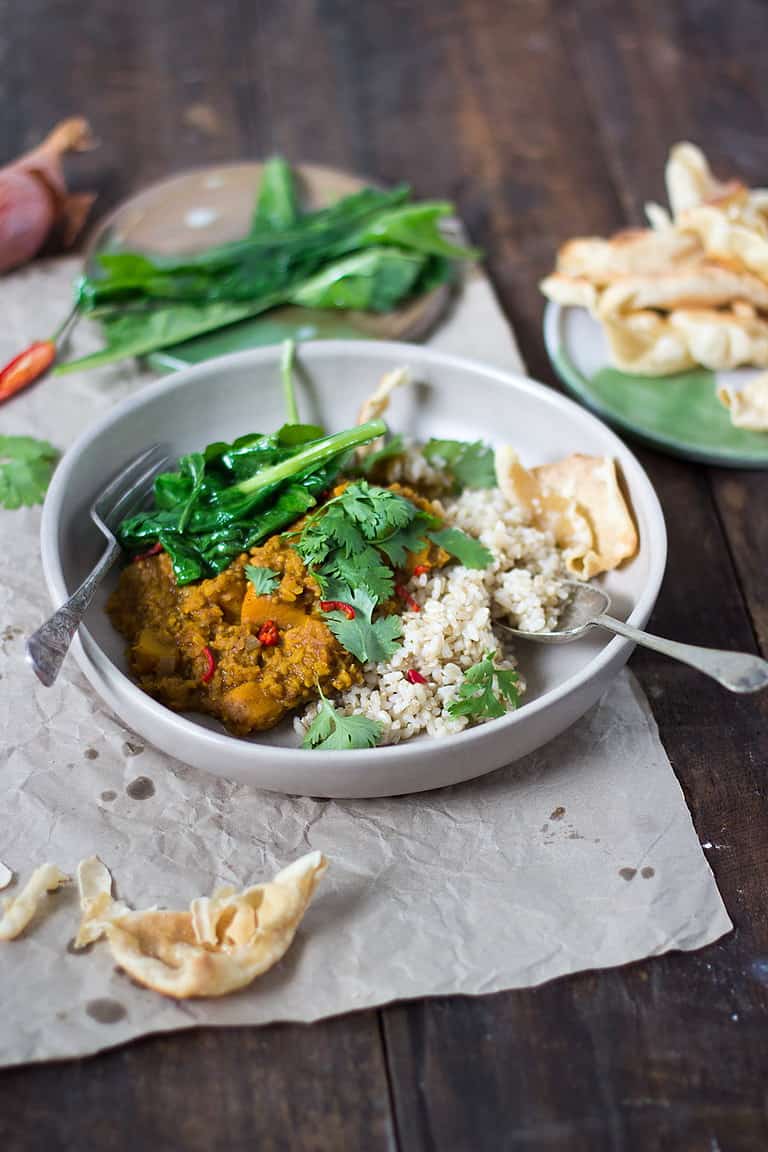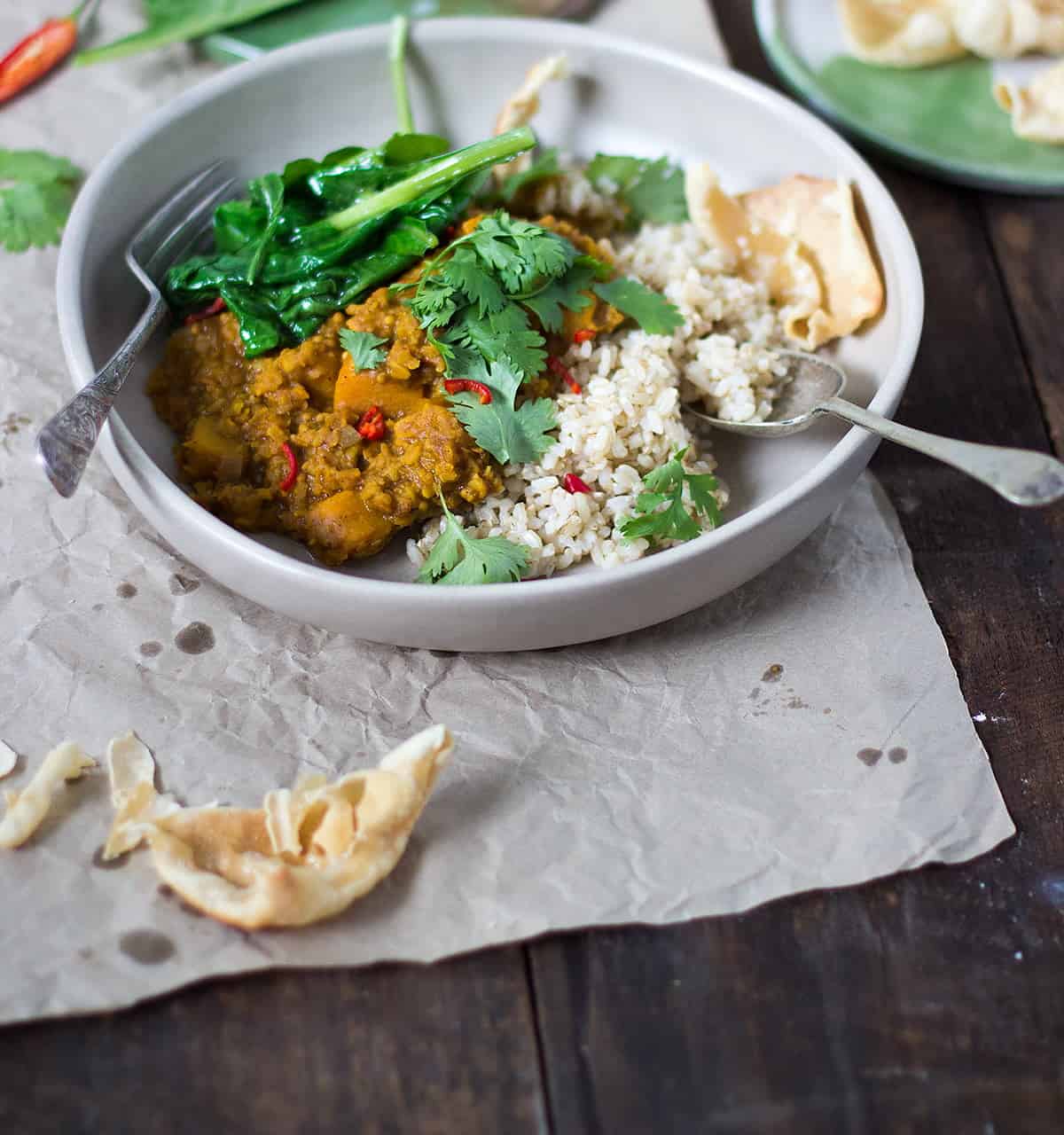 pumpkin & mung bean dhal
serves

makes 4 serves

preparation time

10 minutes

cooking time

40 minutes (including cooking of spices at start)
ingredients
1 small finger size stem of fresh turmeric (or 2 teaspoons ground turmeric)
1/4 cup extra virgin olive oil (or ghee if dairy tolerant – lucky you!)
3 teaspoons cumin powder
2 small red chillies, finely sliced
3 teaspoons yellow mustard seeds
1 shallot, diced
4 garlic cloves, crushed
2 teaspoons garam masala
2 teaspoons ground coriander
1 heaped tablespoon of finely chopped coriander roots
1 thumb size piece of freshly grated ginger
100 mls of passata (or 3 diced truss tomatoes)
2 teaspoons apple cider vinegar
250 grams pumpkin, skin removed and cubed
1/2 teaspoon each of salt and pepper
150g split mung beans
500mls quality sugar free, yeast free chicken or vegetable stock
1 bunch of fresh coriander to serve
method
Start by bringing a large saucepan to a low – medium heat. Add in the extra virgin olive oil and then add in the turmeric, ginger, cumin, chilli, mustard seeds, gara masala, ground coriander and coriander roots. Stir continuously coating all the spices and the root herbs with the oil for a good 2 -3 minutes till really nice and fragrant, being careful not to burn them.
Add in the diced shallots and garlic and stir through allowing them to cook down and soften. This will take only a few minutes. Now add the passata (or chopped tomato), apple cider vinegar plus the salt and pepper, stirring through well and continuing to do so for a few minutes.
Now add the pumpkin and the mung beans and stir through coating them well in all the spices. After a few minutes add the stock. Bring the dhal to a boil then turn it down to a very low simmer. Leave to cook for around 30 minutes until the mung beans are soft and the pumpkin has broken down into the dhal.
Serve with brown rice and topped with lots of fresh coriander, papadams and pan seared spinach.
nutritional information
There is an abundance of spice in this dish that really brings it alive. I do suggest using fresh turmeric and ginger if you can as the nutritional content of these fresh is just superb. Ginger for example is well known for its potent anti-bacterial potential due to its gingerol content, along with anti inflammatory properties. It is also used as a digestive stimulant and natural digestive aid within the parameters of nutritional medicine. Studies have also shown that ginger is effective against Streptococcus mutans, Candida albicans, and Enterococcus faecalis (2013, Giriaju, A, Yunus, GY)
The beauty of the added pumpkin is not only in the sweetness that it brings to the dhal, but also in the fact that it provides some starchy carbs that allows you to eat this dhal on its own without any rice if you really wanted to. Such a good option for leftovers!
Mung beans pack a load of nutrition for a little legume. 100grams (roughly half a cup of mung beans) contains a wonderful 15 grams of fibre and has close to a 2:1 ratio of complex carbohydrates to protein (per 100grams thats 24 grams protein and 60 grams carbohydrates). This natural ratio is so wonderful sustaining for energy levels due to the combination of the slow release fibre dense carbs and the protein in the mung beans. Mung beans are also rich in B vitamins, especially thiamine and folate. They are also quite abundant in minerals providing high amounts of iron, magnesium, magnesium, phosphorus, potassium and calcium.
Jessica Cox is a qualified practicing Nutritionist with a Bachelor Health Science (Nutrition) and over 15 years of clinical experience. She is the founder and director JCN Clinic, published author and established recipe developer. Jessica is well respected within health and wellness space for her no fad approach and use of evidence-based nutrition.