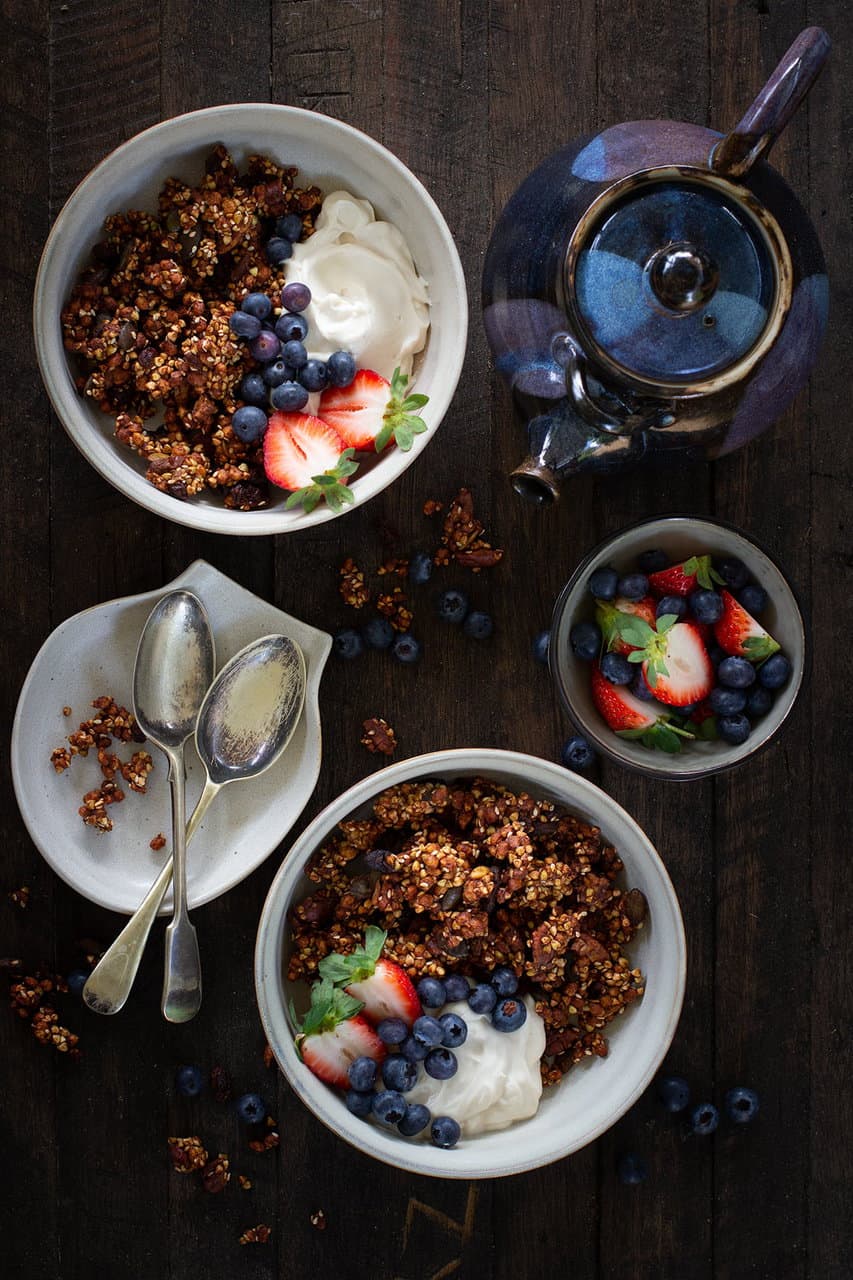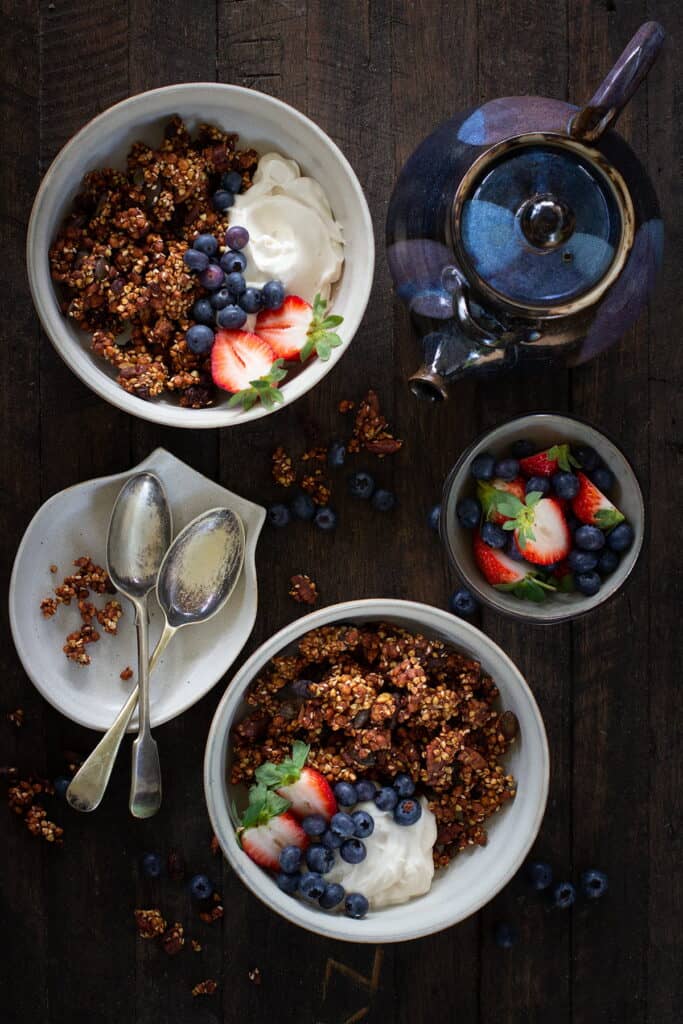 healthy & packed with flavour!
This Gluten Free Pecan & Goji Berry Granola is also naturally dairy free. It is easy to make using staples from a classic wholefood pantry. If you find yourself missing a certain seed, nut or dried fruit you can easily sub in an alternative of choice. Likewise for puffed grains of choice or even swapping buckwheat groats for oats – the choices are really endless.
Whether you choose to mix it through your favourite creamy yoghurt or cover it in cold milk and top with seasonal fruit, I can guarantee you will enjoy it.
Happy baking! x
This recipe for Gluten Free Pecan & Goji Berry Granola is ultimately a selfish creation. Majority of the time I create recipes with you all in mind, adhering to common dietary restrictions and heavily requested meals or snacks. It brings me serious joy to create these for you, seeing the pleasure that they give.
This recipe though – it's all about me. Those that know me or follow me on Instagram would have seen that I've been in a deep love affair with my Salted Honey Protein Porridge. It's literally kicked my Protein Pancakes butt to the back of the line. However, as the weather has started to warm up I've been craving a crunchy, carb packed granola that I can mix into yoghurt with loads of seasonal fruit. Likewise, in the afternoons and even sometimes after dinner I've been looking for something like this. A few years back a cookie, muffin or a Spiced Hot Chocolate would do the trick but now that my training has resulted in a substantially revved up metabolism I simply need more.
All this extra food feeding my body has been hard to keep up with. I actually can't believe how much food I am going through. I've moved from a small tin of tuna to a large tin of tuna. I'm devouring a tray of prawns for lunch. I'm increasing my portions of recipes I've used for years, as they just aren't enough to fill me up anymore.
The physical consequences of muscle growth also means you no longer fit into clothes. As a female, this can be an absolute head f**k. You go to pull on jeans you've had for years and suddenly they don't fit over your ass. Your tops won't do up at the back. Even as a mature woman with a practical feminist head on my shoulders I still find myself momentarily effected by this. As woman we are taught by society to associate any sort of growth in our body as 'bad'. Slimness, or a 'slight' figure, pants a little looser than they were a few months ago are still deeply ingrained as the ideal. You have to be on your game and pull yourself up when you catch yourself flirting with these social ideals.
So how am I combating it? Getting rid of the jeans. Why save them for when they 'fit' again, as to slide into them once more means loosing all the strength, mobility and improved health that I have gained. I'm empowered by what I have achieved and continue to strive for. I'm being kinder to myself when I find a social ideal infiltrating my thoughts and recognise it for what it is. I'm choosing to be me and not what society tells me I should be. And it feels f**king awesome.
So dear reader, this Gluten Free Pecan & Goji Berry Granola was 'birthed' if you will from the personal need to provide more wholefood calories in my day. To meet cravings of a seasons shift, but in addition to fuel me adequately and leave me feeling justifiably content. In saying this, at the end of the day it tastes delicious and provides an easy to make gluten & dairy free granola – win, win.
How to make it a low FODMAP Granola?
Ok, so I couldn't leave you hanging if you need some modifications to make this even more gut friendly. As gut health Nutritionists and Naturopath at The JCN Clinic we are constantly making these tweaks for our clients to ensure recipes suit. So here we go…..
Swap goji berries for sunflower seeds
Swap pea protein if not tolerated to collagen or hemp protein if this works well for you
How to make it a sugar free granola?
Swap maple syrup for 1/4 cup coconut oil and add an additional egg white.
If you have any more questions abut modifying this granola to suit you be sure to leave a comment below. I am always happy to help out and find a ingredient sub or tweak to make it work for you.
Enjoy! x
Like what you're seeing? Subscribe for new recipes and nutrition tips every week!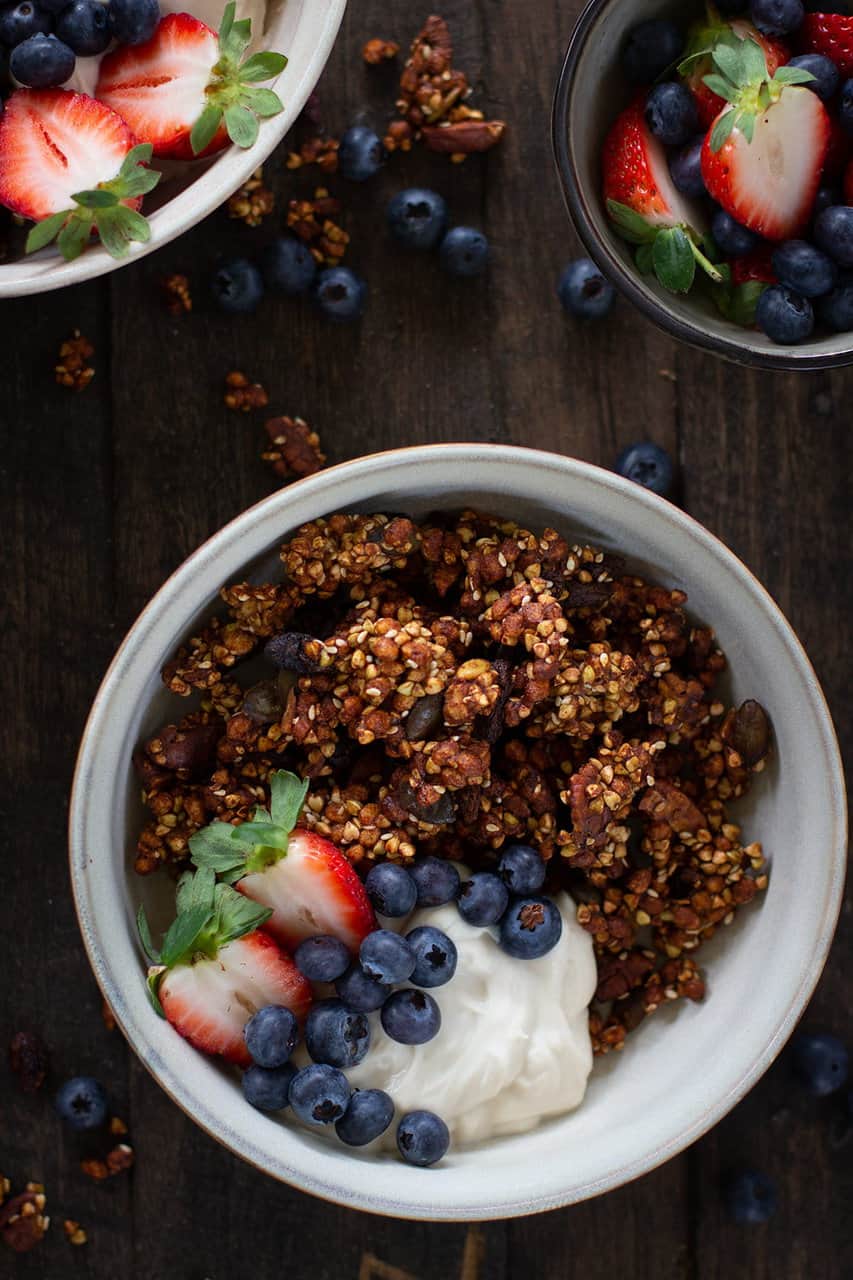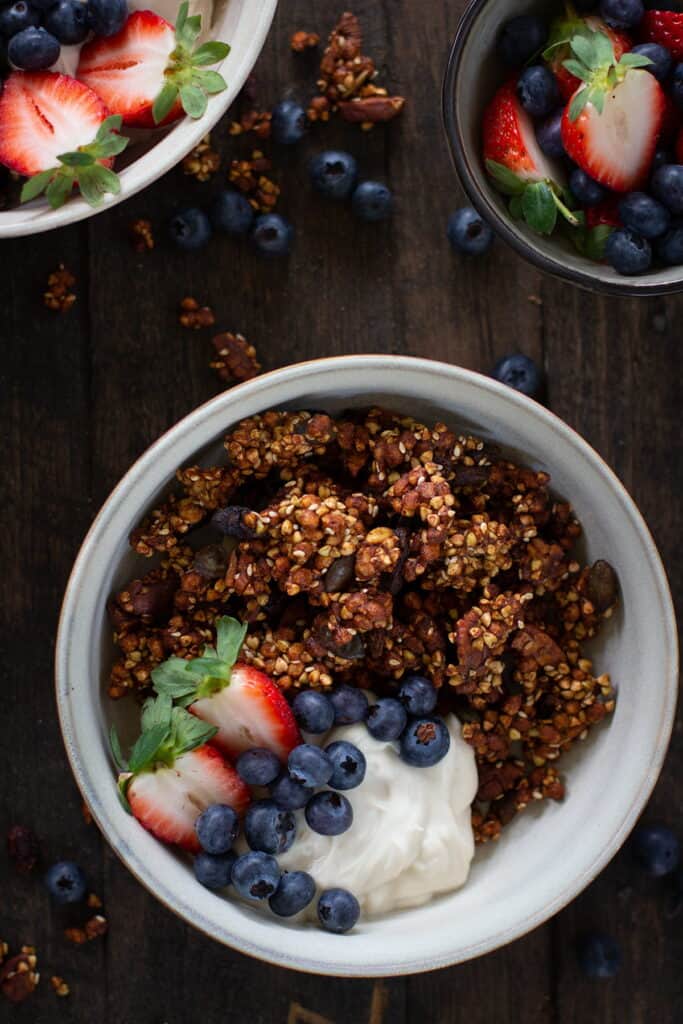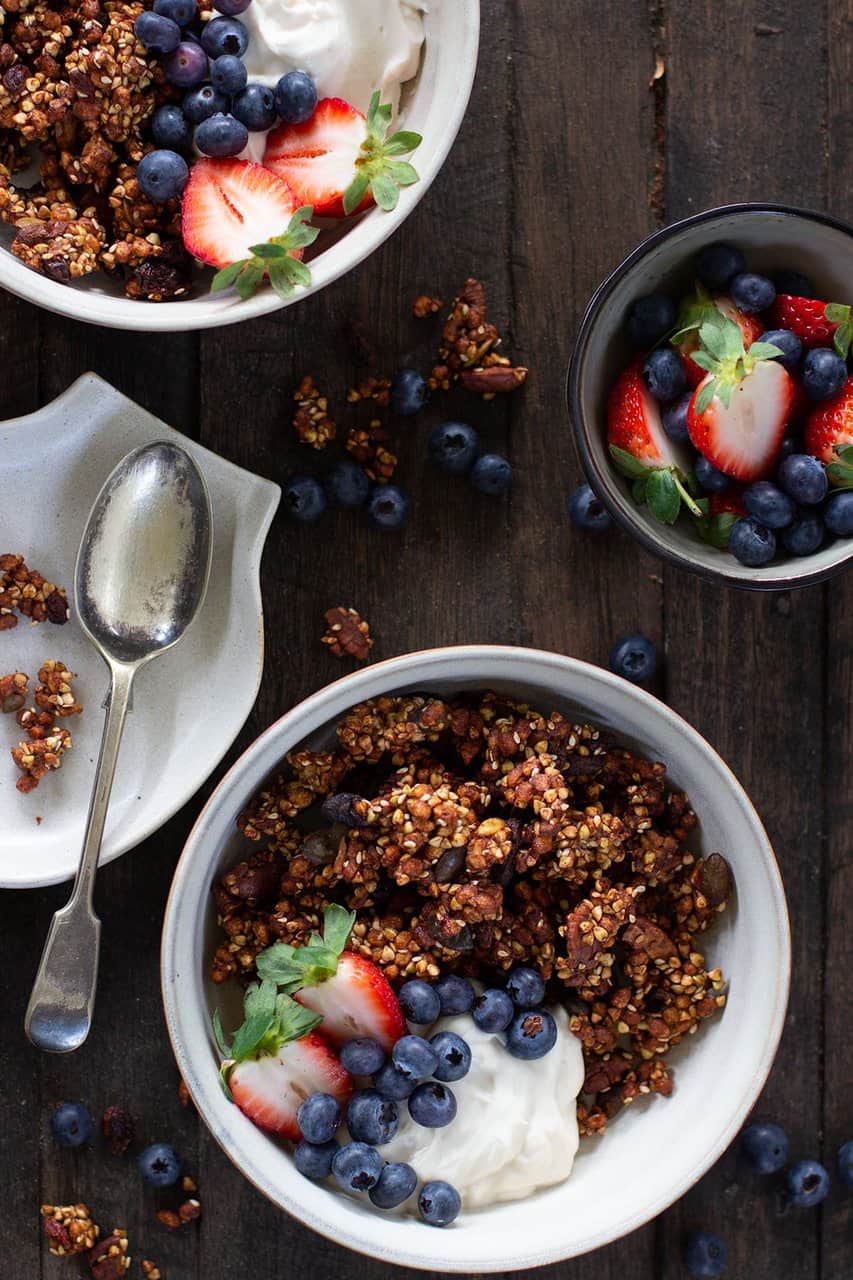 Need personalised nutrition advice catered to your needs?
If you are after personalised nutrition advice and dietary planning individualised to your health and dietary needs then contact us at The JCN Clinic with your enquiry. We are always happy to answer any questions you have!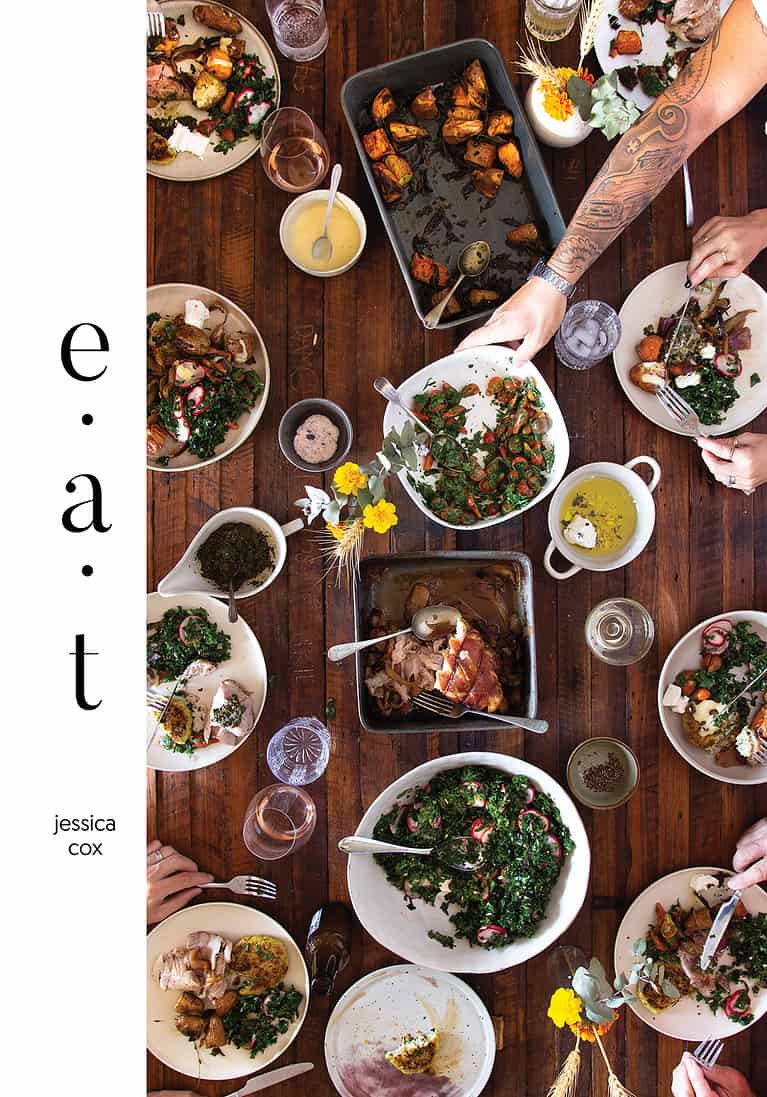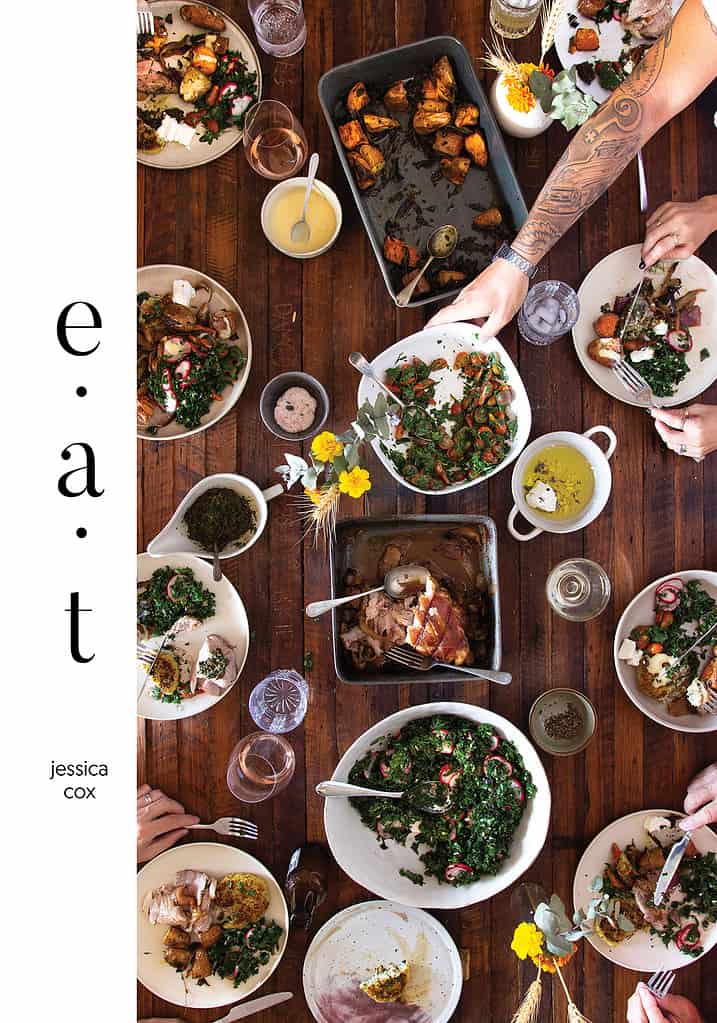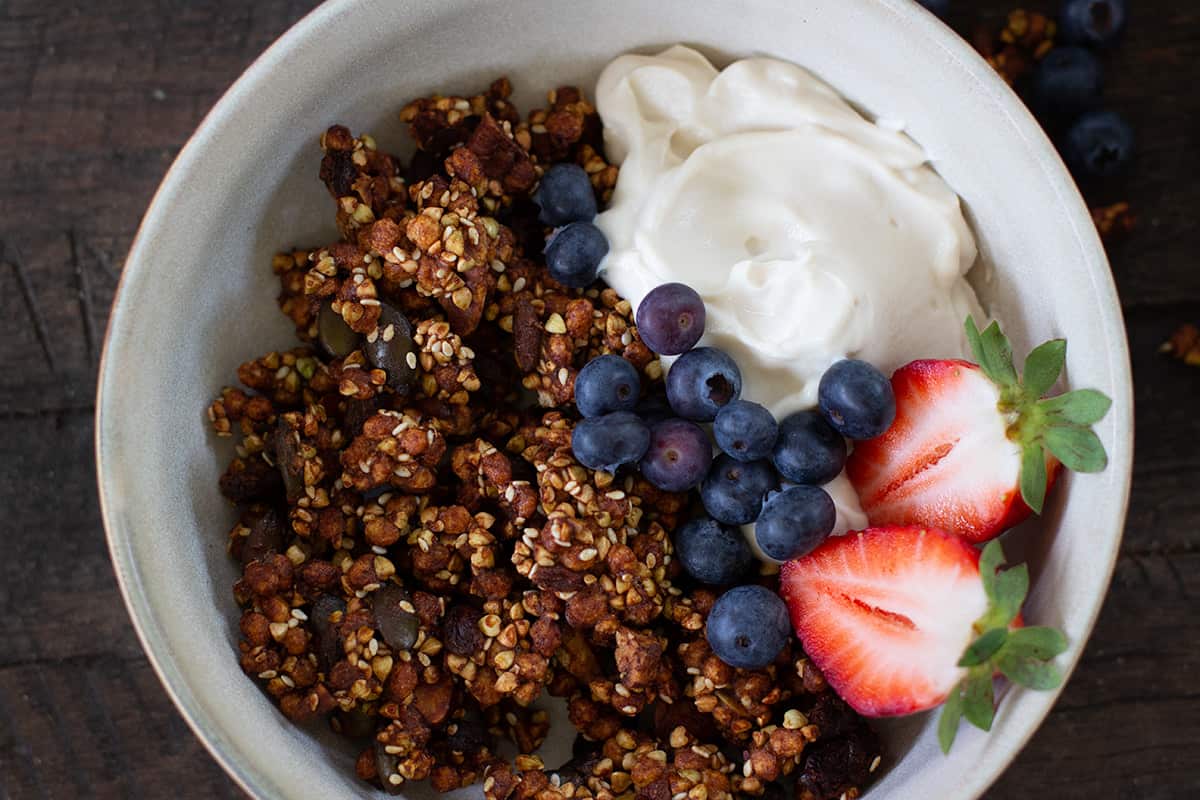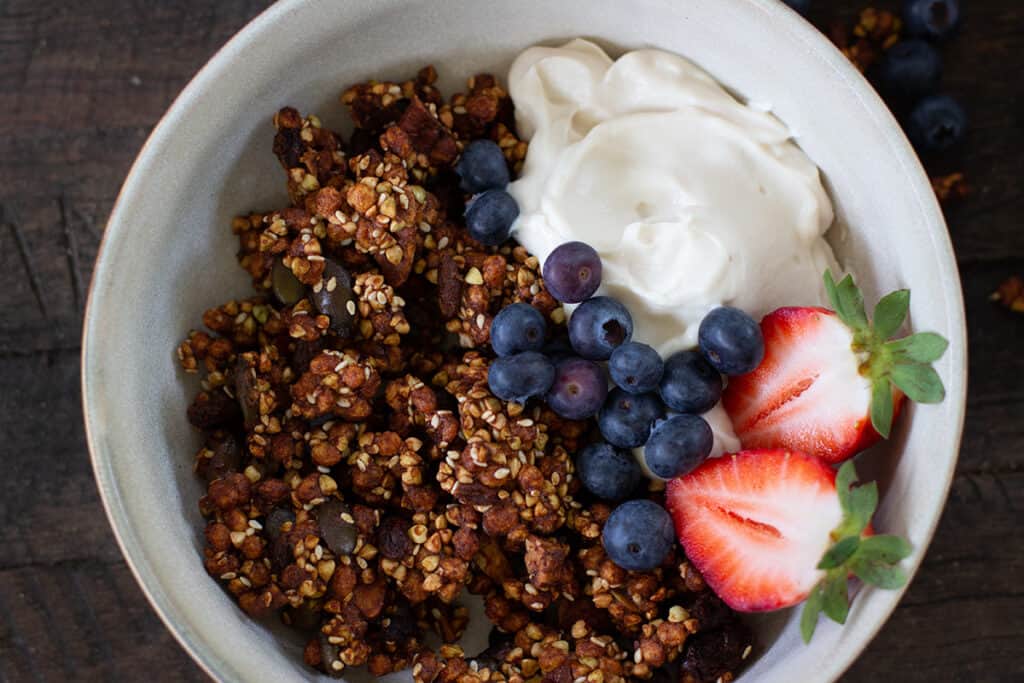 Gluten Free Pecan & Goji Berry Granola
serves

makes 5 cups

preparation time

20 min

cooking time

45 min
ingredients
1 cup buckwheat groats
2.5 cups puffed rice (can use other puffed grains of choice)
1/2 cup pecans, chopped
1/4 cup pumpkin seeds
2 teaspoons sesame seeds
1/4 cup goji berries
1 teaspoon psyllium husk
1 teaspoon cinnamon
1 tablespoon pea protein powder (can use any protein powder of choice)
1/3 cup egg whites
1/3 cup maple syrup
1 tablespoon extra virgin olive oil
method
This recipe can also be cooked in a food dehydrator if preferred. Just place the granola mixture onto the trays of your dehydrator and leave overnight to completely dry and crisp off (mine was left for 12 hours on 63c/145f).
Preheat oven to 160c, fan forced.
In a large mixing bowl combine the buckwheat groats, puffed rice, chopped pecans, pumpkin seeds, sesame seeds, goji berries, psyllium husks, cinnamon and protein powder. Mix well.
In a seperate bowl combine the egg whites, maple syrup and extra virgin olive oil and whisk till combined.
Create a well in the centre of the dry mix with a wooden spoon and add in the wet mixture. Mix well bringing to a very sticky mixture. If the mix seems a little dry, you can add a touch more syrup.
Take a large baking tray and cover with baking paper. Spread the granola mix out onto the tray allowing chunky pieces to still form. Place in the oven to cook for approximately 45 minutes, however set the timer to go off every 15 minutes so you can stir the granola to ensure even cooking. The granola is cooked when it is all golden and toasted and importantly dry to touch. It will also harden further when out of the oven so keep this in mind. Oven temperatures will vary with this so please be guided by the texture and dryness of the granola.
Remove granola from the oven and allow to cool on the tray. Once it has cooled down, use your hands to roughly break up any large pieces of the granola into clusters.
Enjoy your granola with your favourite choice of thick creamy yoghurt and fresh fruit.
Store your Gluten Free Pecan & Goji Berry Granola in an airtight container for up to 4 days, then place in the fridge. Freeze any left over after 1 week.
nutritional information for gluten free pecan & goji berry granola
Nutritional information based on 1 cup serve.
| | |
| --- | --- |
| Calories/KJ | 252 cal/1054 kj |
| Total Fat | 9g |
| Saturated Fat | 1g |
| Total Carbohydrates | 37g |
| Sugars | 16g |
| Fibre | 4g |
| Protein | 7g |
Jessica Cox is a qualified practicing Nutritionist with a Bachelor Health Science (Nutrition) and over 15 years of clinical experience. She is the founder and director JCN Clinic, published author and established recipe developer. Jessica is well respected within health and wellness space for her no fad approach and use of evidence-based nutrition.