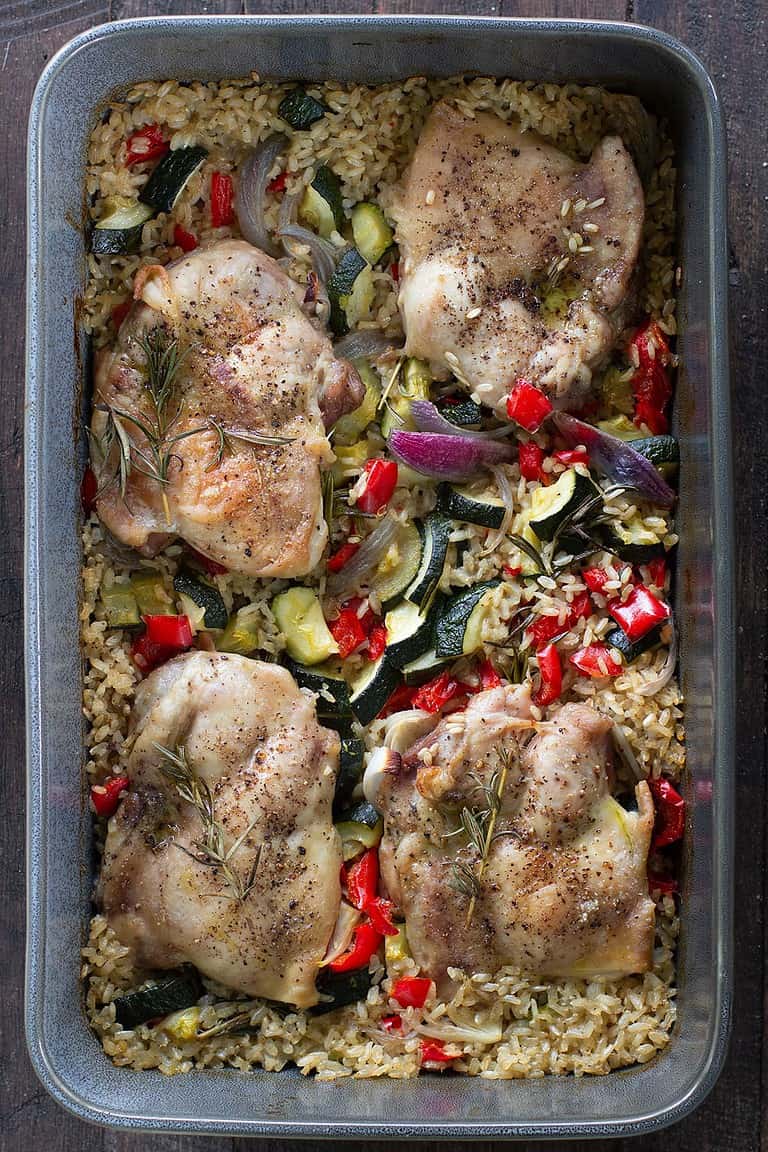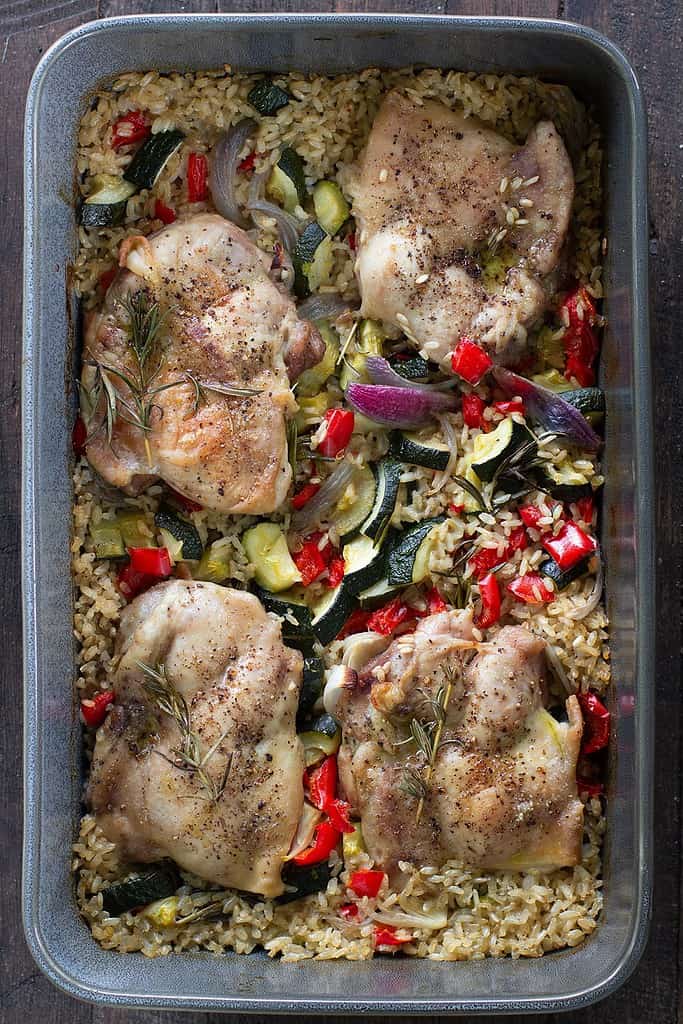 baked in one dish!
Enjoy the ease of this One Pan Baked Chicken Risotto recipe, with minimal ingredients and fuss. All baked in one dish, this meal is the perfect weekday dinner that will please everyone in the family. Also great for leftovers!
A side note, once you have this recipe in your repertoire, I encourage you to use your imagination and let your culinary mind go wild with adaptions. I've included some ideas below to get you started.
Happy cooking!
There is nothing more popular right now than an all in one dish that cooks away in the oven or in a pot with minimal fuss. These types of recipes are top of the the list for everyone I talk to. I also get hit up when it comes to recipe requests about minimal ingredients, so this recipe for One Pan Baked Chicken Risotto encapsulates this wish.
Now guys, when it comes to minimal ingredients I have said it before and I will say it again. There is nowhere to hide. You can't get away with mediocre ingredients when you are relying on them bringing the flavour. In this recipe, the crucial component is a really good stock. I can promise you that if you try to skip this and use a watery tasteless stock you will not end up with the glorious finished product here.
For our chicken stock, Dameon bought a load (like ten!) chicken carcass from the butcher and put them in a massive pot on top of our fire place and left it to simmer for 24 hours. He then removed the carcasses and strained the stock liquid into jars to freeze off. Now, if you are not a 'make your own stock' type of person, then you want to invest in a good stock base. You will get what you pay for, so spending a bit more here makes sense.
Some of my favourite bought stocks are actually the 'glues' that you add to water, brands like Gevity RX and Best of The Bone do good ones (not sponsored either btw, just being helpful and sharing). Supermarket wise, the Maggie Beer brand is ok. Not as good as the aforementioned however. I'd also recommend if buying from the supermarket to buy a consomme instead of a stock as they tend to have more flavour too.
So yeah, please don't skimp on the stock!
I'd also recommend sticking to the chicken with the skin on. Again, flavour people. However, the skin also protects the chicken as it bakes and stops it from drying out. It also adds flavour that bakes off into the rice in the form of fat. Fat is flavour.
Make it low FODMAP
To make this One Pan Baked Chicken Risotto low FODMAP just swap the onion for fennel or for the green ends of spring onions. I'd even suggest using a mix of both. Please don't just leave it out as it will really detract from the finished flavour.
Risotto Variations
Now the fabulous thing about this recipe is that it is screaming for adaptions. Essentially the base of the rice, chicken and stock can be pushed in many different directions. Some recommendations are:
Swap zucchini and capsicum for mushrooms and add 2 large handfuls of baby spinach in the last 5 minutes
Swap zucchini and capsicum for fennel and cauliflower and add 1/2 cup nutritional yeast or parmesan
Swap zucchini and capsicum for beetroot and goats cheese.
The list goes on! To be honest you could even swap the chicken for other protein options. Salmon would be great but just add it in the last 15 minutes instead.
Enjoy! x
Like what you're seeing? Subscribe for new recipes and nutrition tips every week!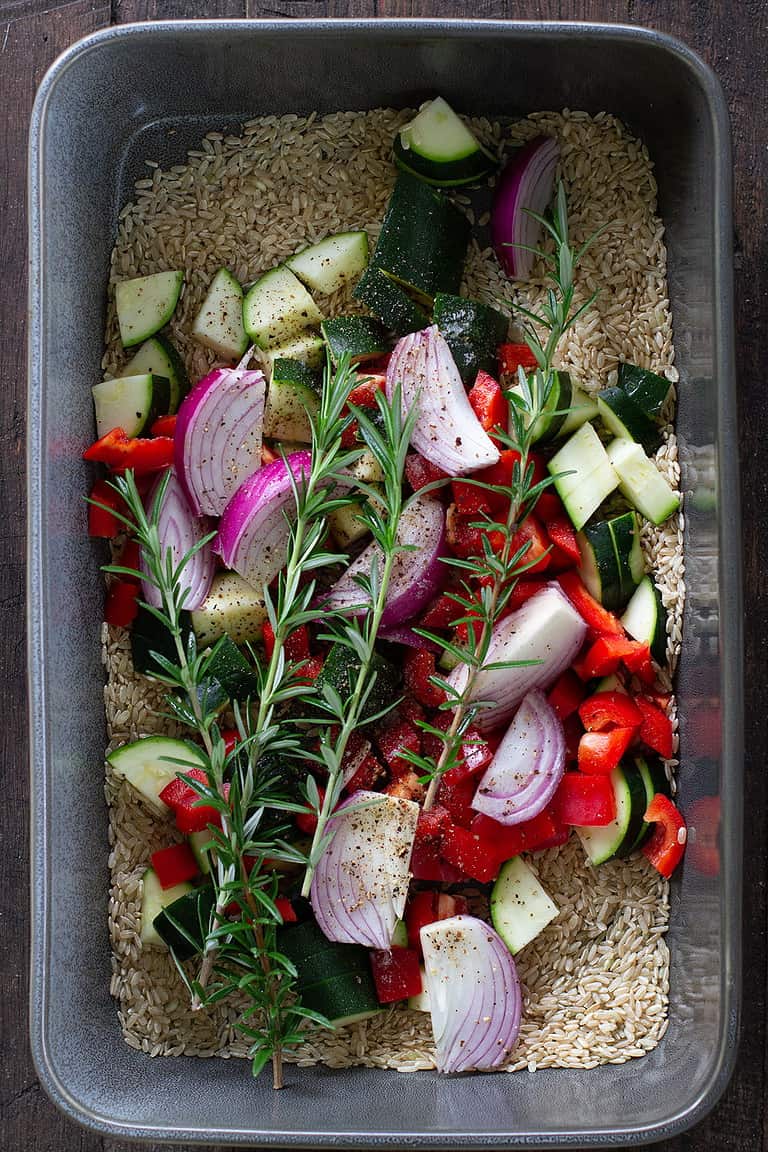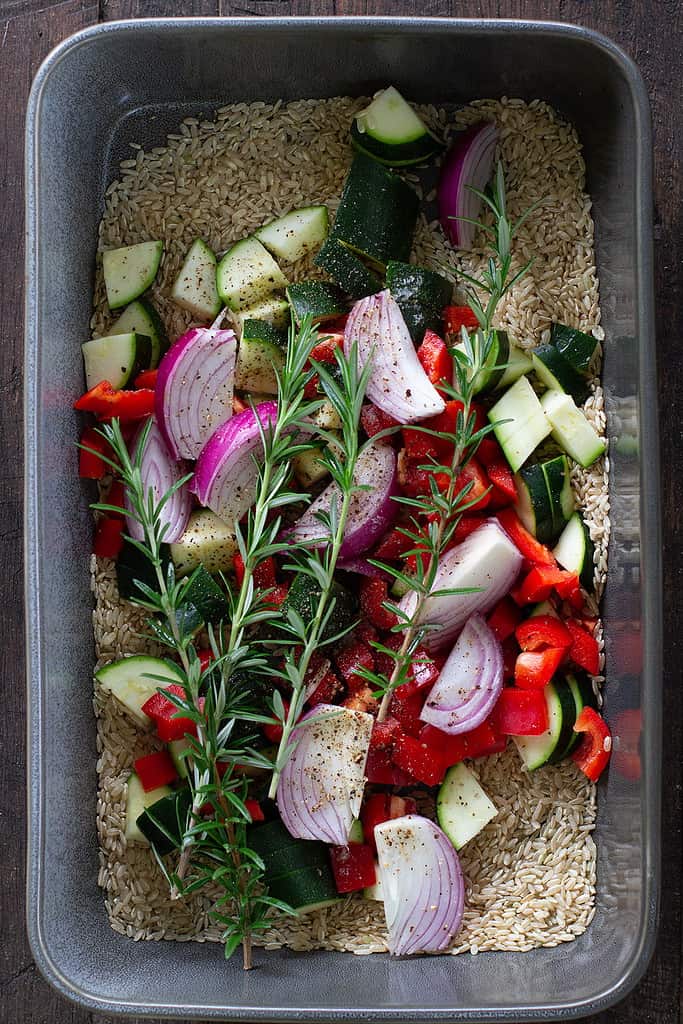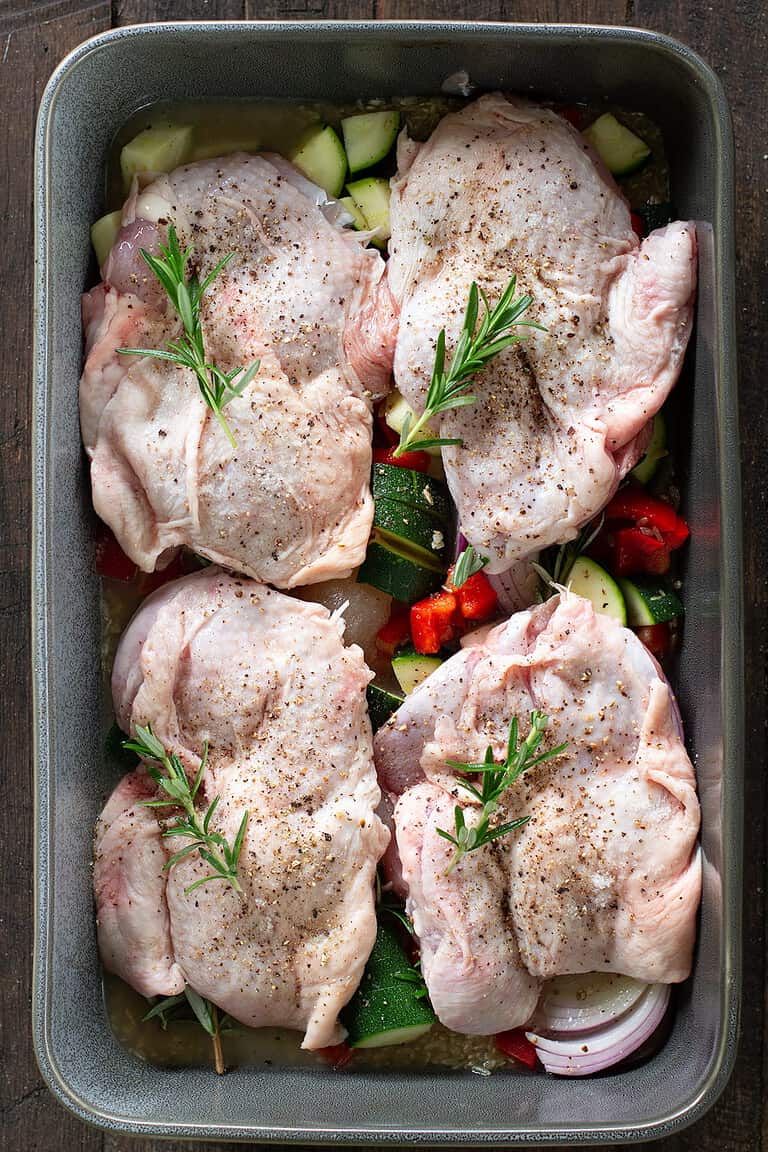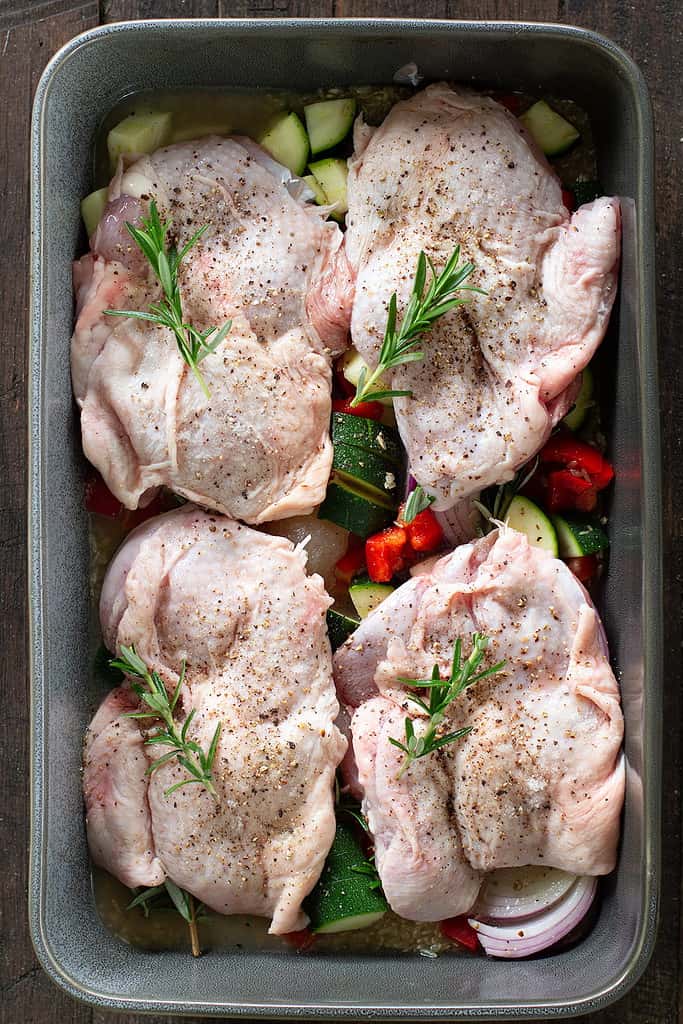 Need personalised nutrition advice catered to your needs?
If you are after personalised nutrition advice and dietary planning individualised to your health and dietary needs then contact us at The JCN Clinic with your enquiry. We are always happy to answer any questions you have!
one pan baked chicken risotto
serves

4

preparation time

15 min

cooking time

90 min
ingredients
1 cup brown rice
1 medium/300g zucchini, roughly diced
1 medium/175g red capsicum, roughly diced
1 medium red onion, thickly sliced (see notes above for low fodmap suggestions)
2 cups quality chicken stock (see note)
1/2 teaspoon pepper
1/2 teaspoon salt
5 sprigs rosemary
4 chicken thighs, skin on, bone removed
method
Using quality stock will really make or break this dish. The limited ingredients means there is nowhere to hide, so please use either a really good homemade stock or a bought one with a good punch of flavour.
Pre heat oven to 180c fan forced.
Take a large deep baking dish and add the rice, roughly diced zucchini, capsicum and thickly sliced onion.
Pour over the chicken stock and add the salt and pepper. Mix well till the rice and vegetables are all coated in the stock. Top with the rosemary sprigs.
Lay the chicken thighs over the top of the rice and vegetables, skin side up. Season well.
Cover the dish with a lid or foil and place in the oven covered for 50 – 60 minutes, removing after 20 minutes to stir the rice and vegetables under the chicken (just use some tongs to hold up the chicken while you do this with a spoon). Please note, oven temperatures will vary here so if your risotto seems tender and cooked earlier then move to step 6 earlier.
After 50 – 60 minutes or once the rice is tender and cooked through, remove the lid or foil and cook uncovered for another 10 – 15 minutes until the top of the chicken is golden.
Remove from the oven. The rosemary leaves will have fallen off the sticks so stir the risotto and remove the sticks. Divide the risotto between plates and top with chicken. Lovely topped with homemade mayo.
nutritional information for one pan baked chicken risotto
| | |
| --- | --- |
| Calories/KJ | 425 cal/1778 kj |
| Total Fat | 15g |
| Saturated Fat | 3g |
| Total Carbohydrates | 43g |
| Sugars | 4g |
| Fibre | 4g |
| Protein | 28g |
Jessica Cox is a qualified practicing Nutritionist with a Bachelor Health Science (Nutrition) and over 15 years of clinical experience. She is the founder and director JCN Clinic, published author and established recipe developer. Jessica is well respected within health and wellness space for her no fad approach and use of evidence-based nutrition.