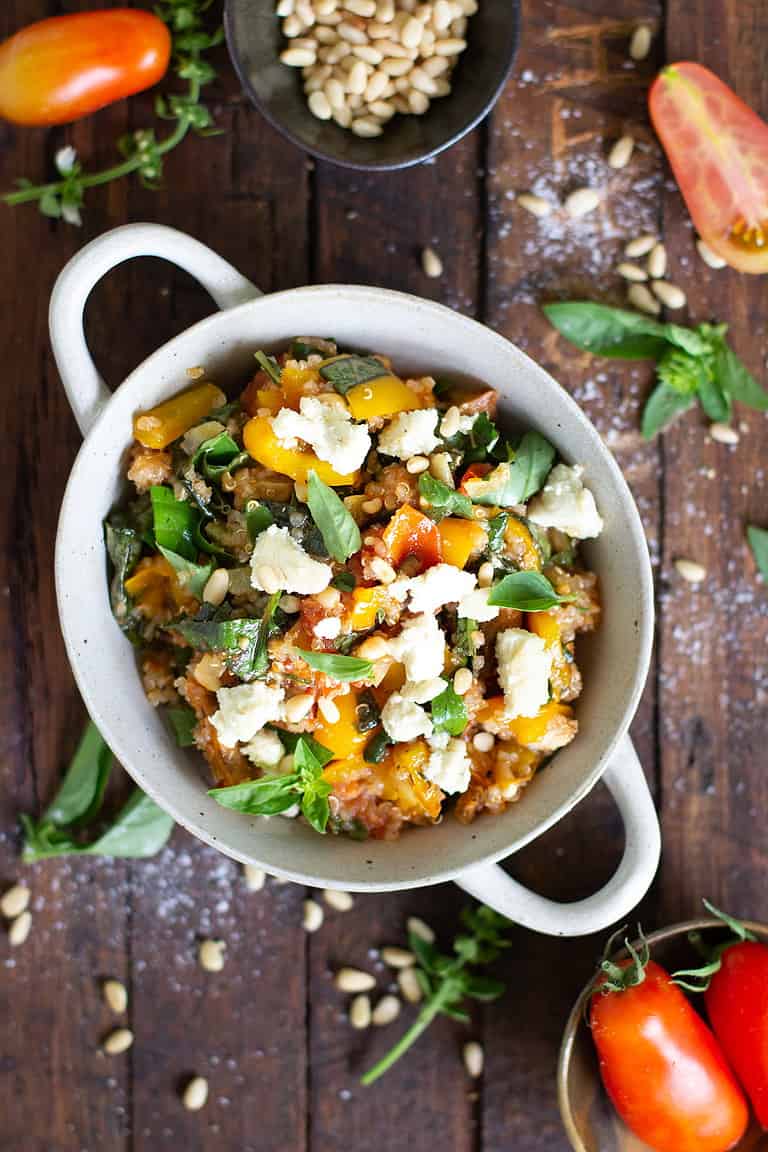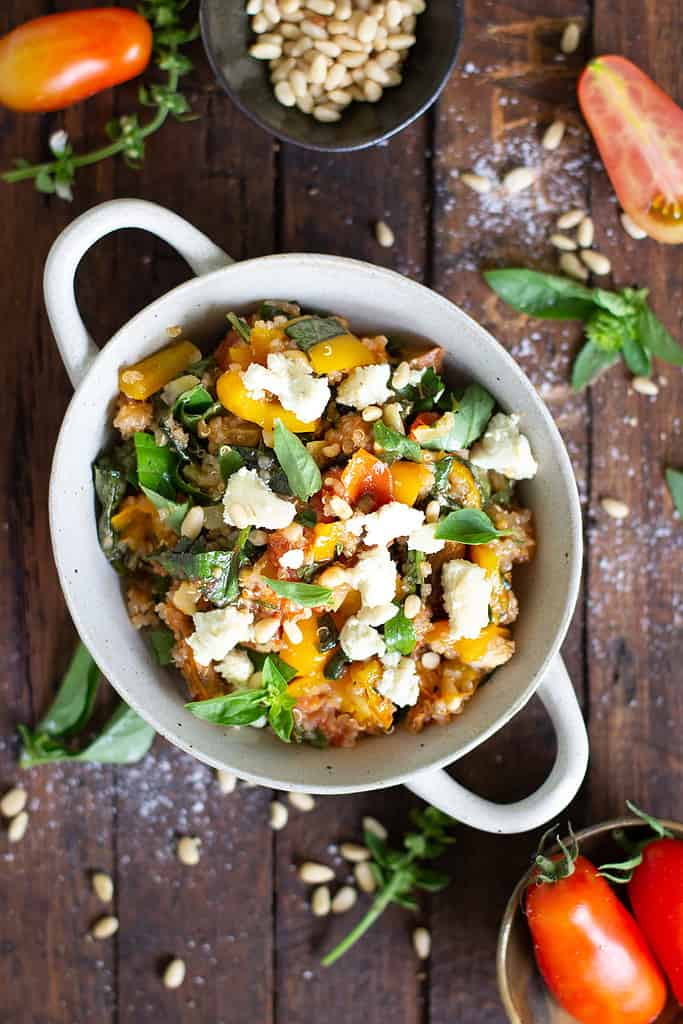 This Slow Roast Tomato, Capsicum & Basil Salad was created out of an absolutely glut of produce from our late summer garden. Not to brag, but we are winning in the self produce realm right now! Never before have we had such an abundance of produce at the same time. From zucchini's to tomatoes, from figs to blackberries, from capsicums to basil, it really is a foodie dream come true. The irony is that I am finding myself suffering from what I would call 'produce glut anxiety' from the sheer abundance of it. Just when I think I am on top of it with stewing, preserving and freezing I'll walk into the kitchen and see Hubbard has covered the table with zucchini's the size of footballs that were 'hidden underneath the plants' alongside buckets of tomatoes.
I've actually always been quite lazy when it comes to preserves. I love them, but the task of sterilising glasses for chutneys and jams always turns me off. This year I've been forced to suck it up and get my preserve on. The freezer is literally bursting at the seams so I've had no choice. As a result, our kitchen is covered with jars of preserves that are starting to make it appear like one of those creepy cellar labs that one stumbles across in a B grade horror movie. I am almost expecting to see an ear in the preserved fig jar.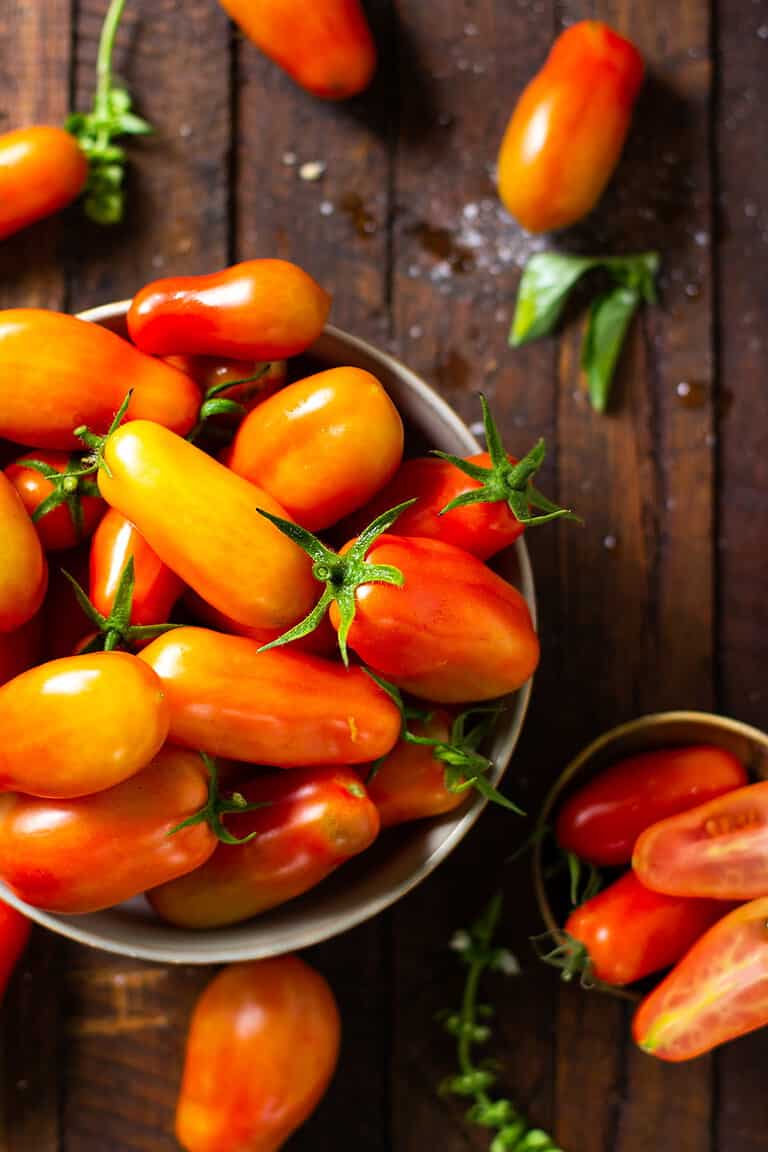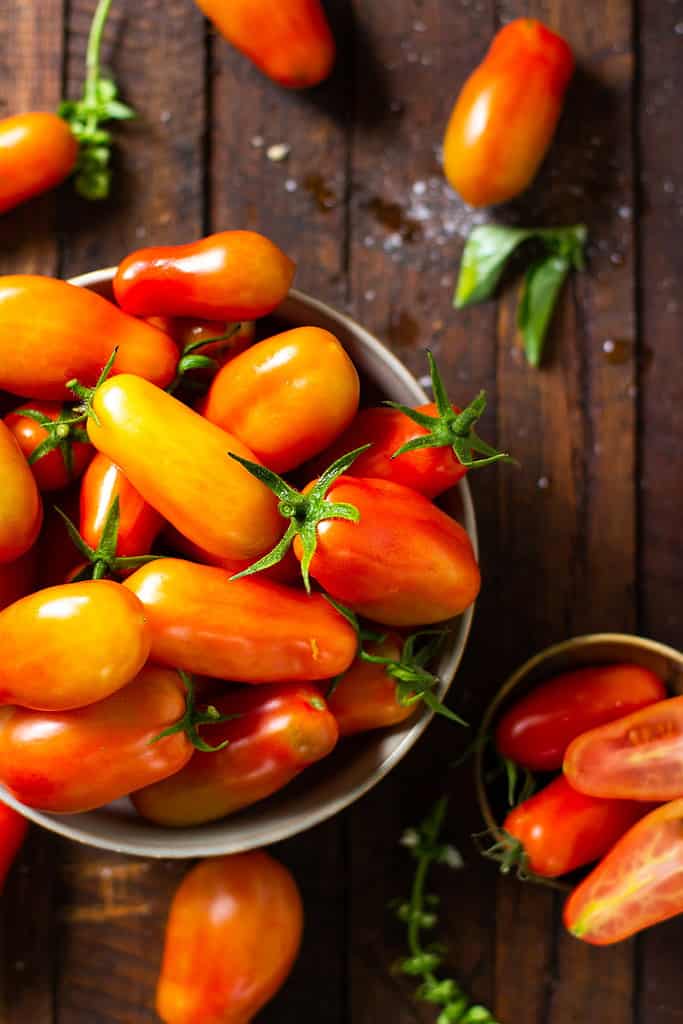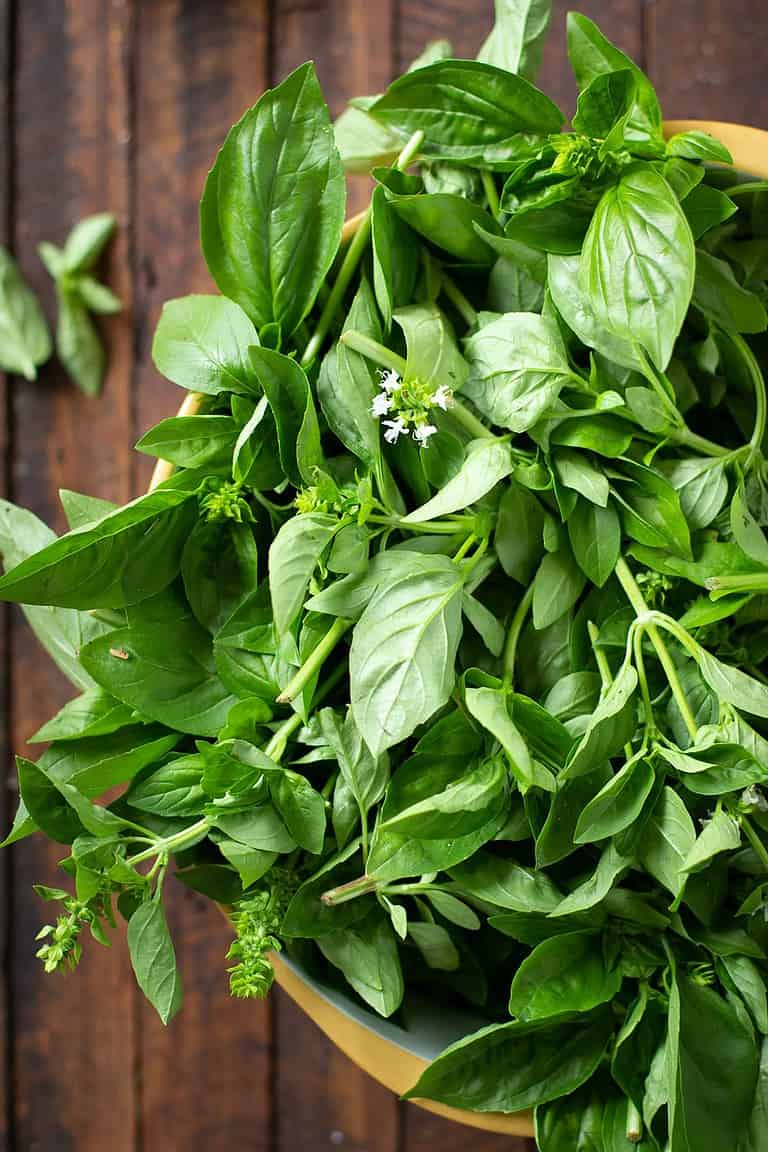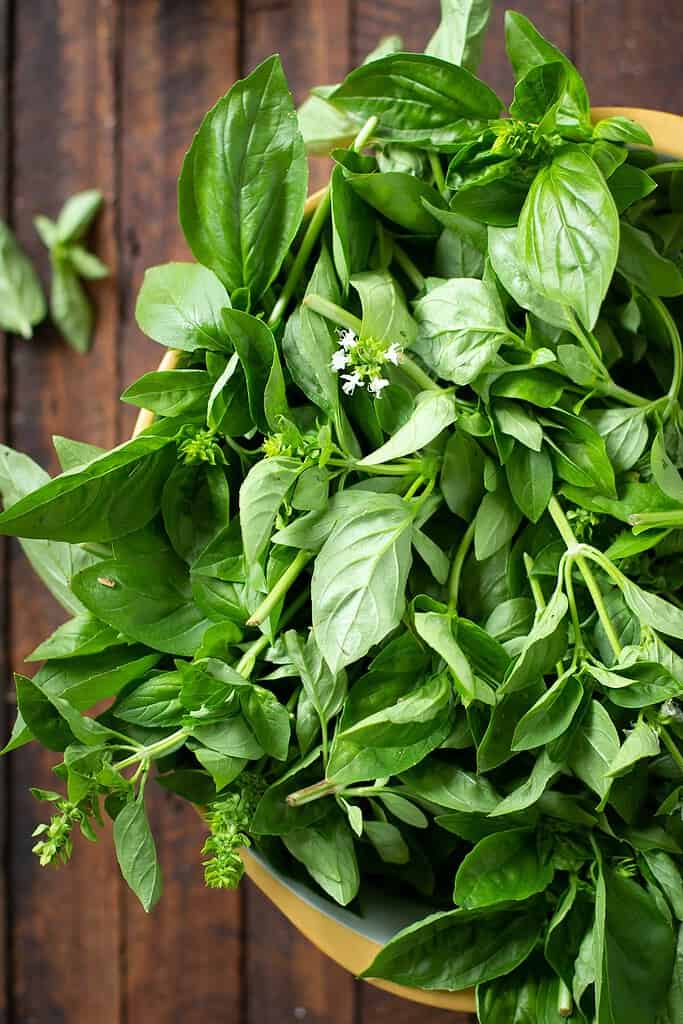 Generally though, I am aiming to use what we can each day from the garden for our meals. That is the whole point of living garden to table. If we haven't grown it, then it's generally not going to go on the plate – with the exception of potatoes, sweet potatoes and bananas. They are staples I draw the line at that. This means challenging my mind with different ways to use these ingredients. I am always a sucker for roasting, especially slow roasting as it really does bring out the sweetness in vegetables. The idea of this Slow Roast Tomato, Capsicum & Basil Salad was to create a really simple, yet hearty side salad that celebrated the flavours of these vegetables.
This salad is actually reminiscent of one of my favourite Italian (Sicilian) dishes, Caponata. Really the main ingredient missing is eggplant. The addition of a grain and preserved lemon is also a deviation from the dish, but I think the preserved lemon adds the acid of the vinegar usually used in this classic recipe.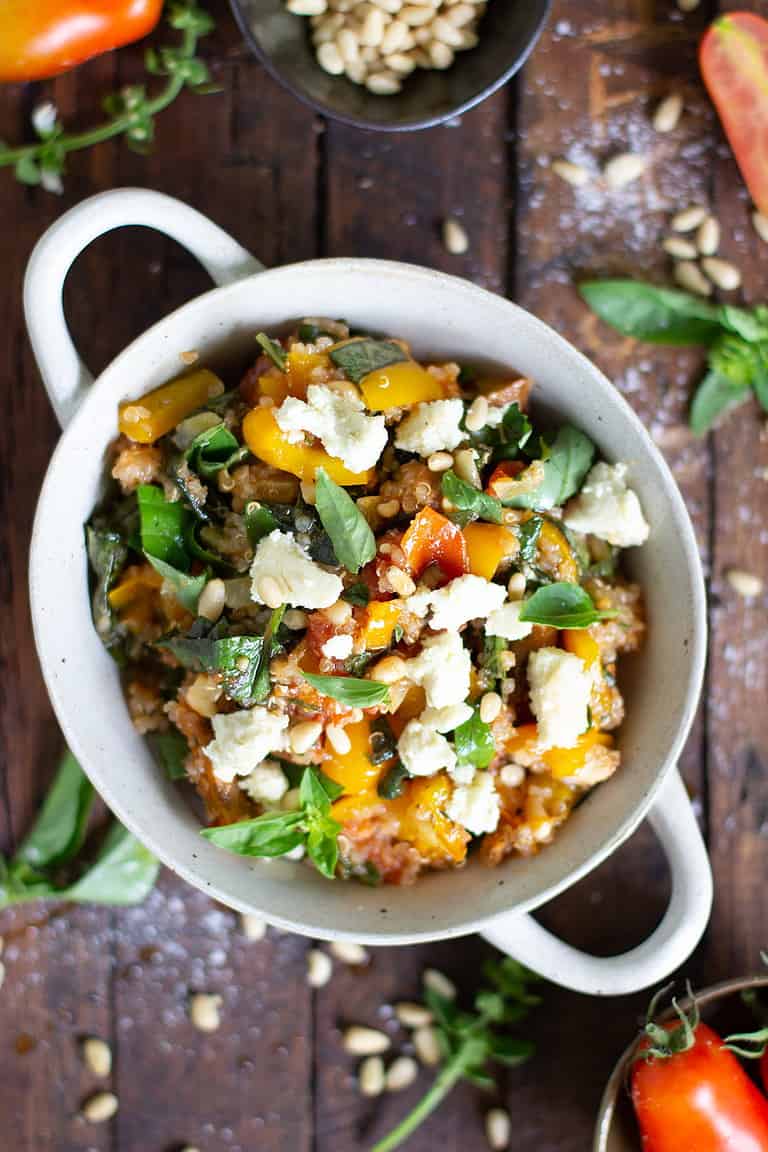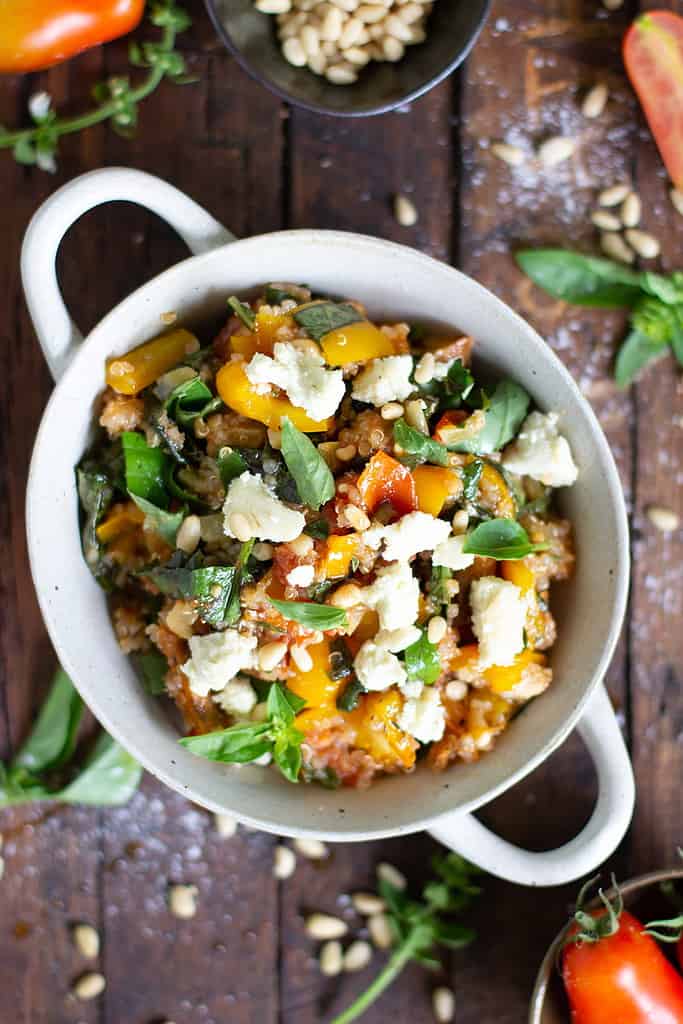 Like what you're seeing? Subscribe for new recipes and nutrition tips every week!
low fodmap & sibo friendly
An added welcome bonus to this recipe is that it is made from low fodmap ingredients that are generally tolerated well by most with sensitive digestive systems. Sometimes quinoa can be a bit problematic for some of you, so if that is the case simply swap for millet or buckwheat. You could even leave out the grain and add some zucchini or eggplant instead.
The only other main issue I can see gut sensitive clients running into with this recipe is histamines. The use of slow roasted tomatoes and capsicum in abundance is certainly not low histamine, so I'd give this one a miss for now. Look, I could suggest edits but then there is the preserved lemon and/or zest and well – it just gets boring if you start removing all of those ingredients, becoming a different dish altogether. I'd suggest instead searching 'low histamine' in the search bar options to find a different salad.
My favourite way to serve this salad is topped with goat cheese or almond feta. It is a side salad that goes so well with anything. I do love it with roast chicken or lamb chops, or even a really good steak. In saying that, I think it would be spectacular stuffed in a wrap and rolled up with Easy Marinated Tempeh and mayo.
As always, please let me know how you find this recipe, I love hearing from you and your feedback always helps others find these recipes! xo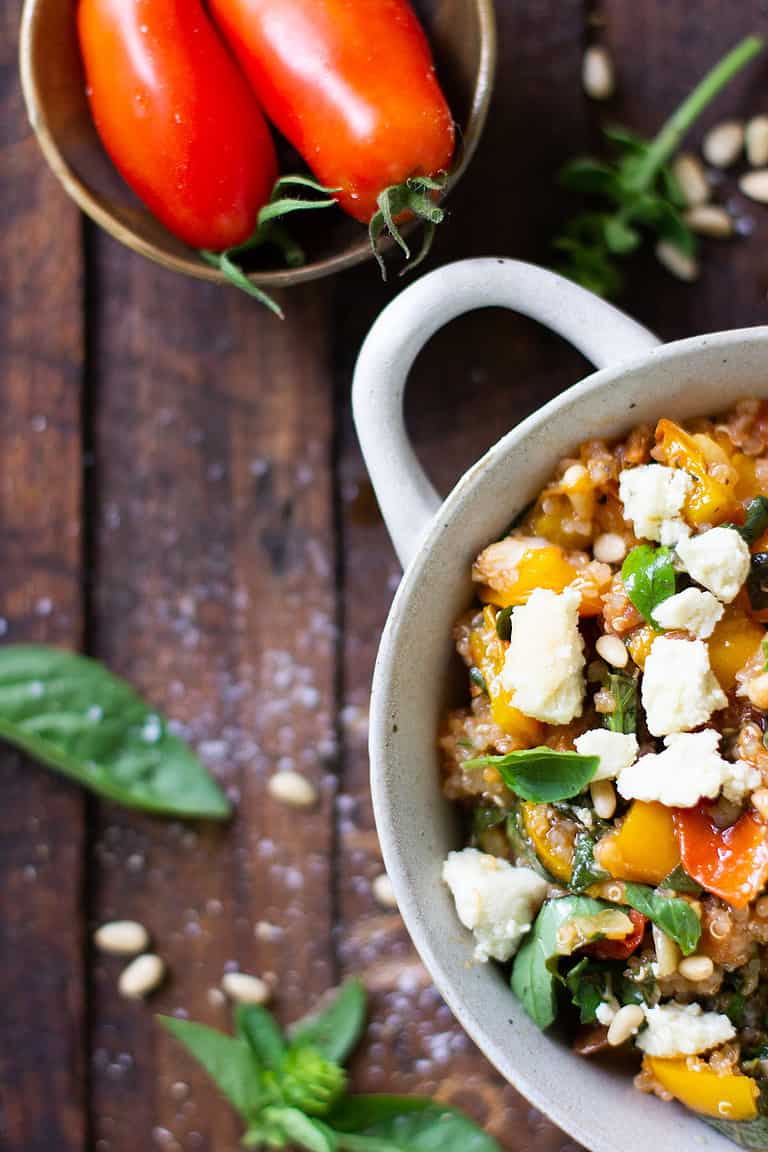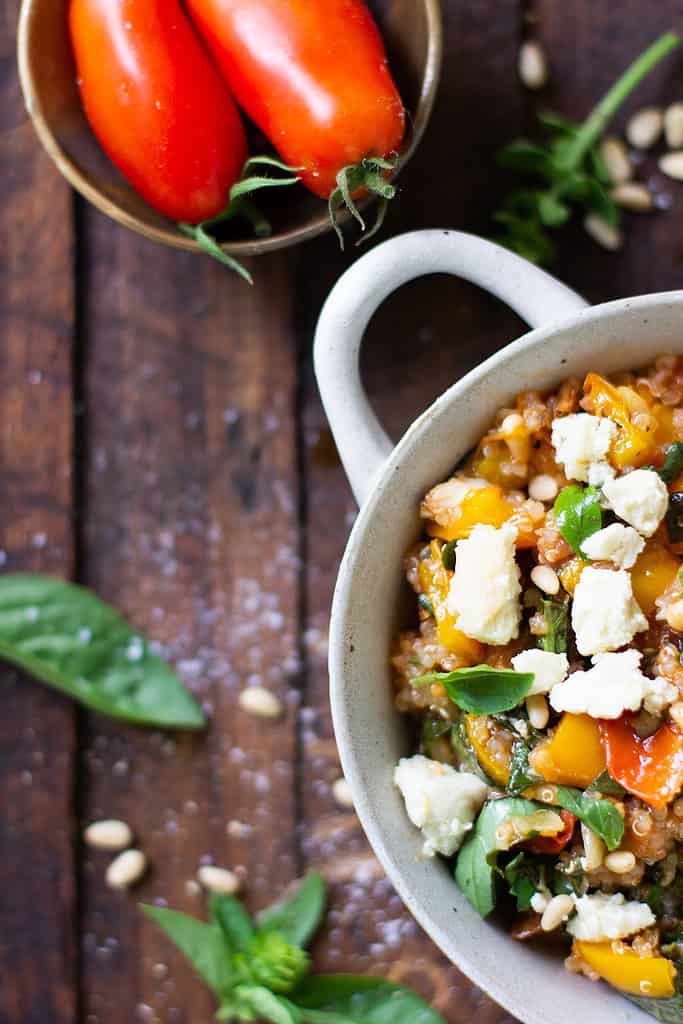 Need personalised nutrition advice catered to your needs?
If you are after personalised nutrition advice and dietary planning individualised to your health and dietary needs then contact us at The JCN Clinic with your enquiry. We are always happy to answer any questions you have!
slow roast tomato, capsicum & basil salad
serves

2 – 3 as a side

preparation time

15 min

cooking time

40 min
ingredients
1/3 cup quinoa
2 yellow capsicums
500g tomatoes (smaller size variety work well in this salad)
2 cups tightly packed basil leaves, roughly chopped
2 quarters of preserved lemon, diced finely (preserved lemon pieces are usually cut into quarter cuts of the lemon), otherwise zest of 1 lemon
3 tablespoons pine nuts
2 tablespoons extra virgin olive oil
salt & pepper to season
1/4 cup goat feta or almond feta (optional)
method
Preheat your oven to 160c, fan forced.
Start by getting your quinoa on to cook. Place a medium saucepan filled half way with water. Add the quinoa to the water and bring to the boil, then turn to a simmer cooking until the quinoa is just tender (usually around 8 – 10 minutes). Drain quinoa through a colander and rinse well. Set aside.
In the interim, halve the tomatoes and capsicums and place on a baking tray. Season well with salt and pepper and drizzle with extra virgin olive oil. Place the tray in the oven to bake for around 40 minutes, checking at the 30 minute mark to remove and tomatoes already cooked. Essentially you want the tomatoes to soften and blister releasing their juices. The capsicums should also blister up and soften, but not burn.
While the vegetables are cooking, in a large mixing bowl combine the chopped preserved lemon and roughly chopped basil.
Place a small fry pan on to a medium heat and add the pine nuts. Toast till golden over 5 minutes ensuring you stir often to prevent burning. Once golden remove and set aside.
Once the vegetables are ready, remove the baking tray and roughly cut into large bite sized pieces and add to the mixing bowl with the preserved lemon and basil. Mix well. Now add the cooked quinoa, pine nuts and a good drizzle of extra virgin olive oil and stir through till everything is just combined.
Serve salad divided between plates and crumble over goat feta or almond feta if desired.
This salad goes perfectly with any meat or fish protein side and is also lovely with tempeh or tofu.
Store in the fridge in an airtight container for 3 days. The basil will turn quickly so you may need to refresh with freshly chopped basil if you can.
nutritional information for slow roast tomato, capsicum & basil salad
This Slow Roast Tomato Capsicum & Basil Salad is best used as a part of a meal, as it is lacking in adequate protein to provide a balanced meal on its own. The salad more so provides an abundance of carbohydrates and quality fats, with a mix of grains, vegetables, olive oil and pine nuts.
This recipe has been tagged 'nut free' as pine nuts are technically not a nut, but in fact a kernel.
Tomatoes are rich in the phytochemical lycopene, member of the carotene family. Lycopene is an essential nutrient for prostate health alongside cardiovascular health. Cooking the tomatoes helps make lycopene more bioavailable, especially when combined with fat like the extra virgin olive oil. Additionally, lycopene has been studied for its prebiotic effects on the microbiome. (1)
Capsicums are are very high source of Vitamin C, often overlooked! Capsicums also contain phytochemicals called 'Capsaicinoids' which impart the pungent flavours of this family of vegetables. These powerful antioxidant compounds have been show to exhibit higher levels in yellow and red capsicums. (2)
Jessica Cox is a qualified practicing Nutritionist with a Bachelor Health Science (Nutrition) and over 15 years of clinical experience. She is the founder and director JCN Clinic, published author and established recipe developer. Jessica is well respected within health and wellness space for her no fad approach and use of evidence-based nutrition.