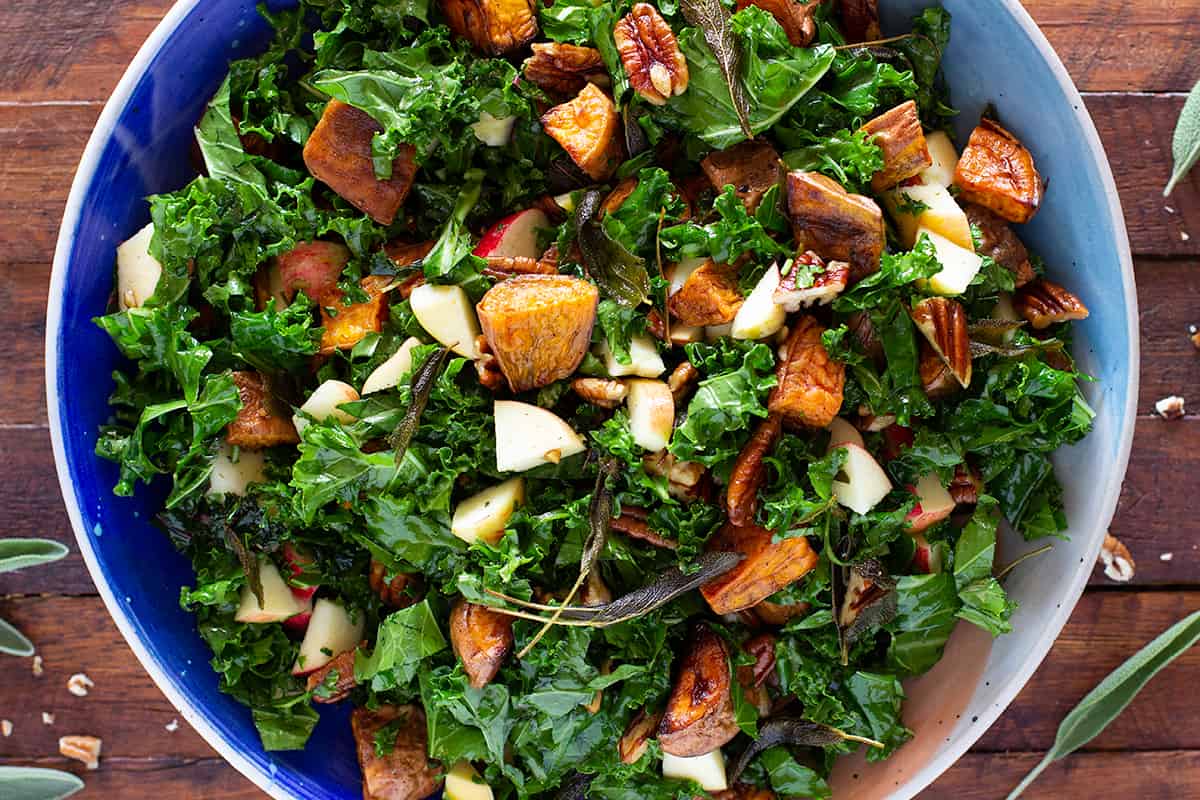 This was one of those fluke recipes. A throw together of what we had in the fridge and pantry. It wasn't until we sat down to eat it I was like 'this tastes weirdly like apple pie!' Now, I know you are thinking, Jessica a salad is not apple pie. And yes, I know its no drive through McDonalds apple pie situation. I'm just saying that there is an uncanny voodoo situation that happens in your mouth when these ingredients come together.
If you think about it, it makes sense. The roasted, starchy cinnamon sweetness of the sweet potato, the roasted pecans, and the crisp apple all married with a touch of lemon. Of course you don't often find kale or sage in an apple pie (I haven't gone that crazy), but somehow those ingredients don't seem to detract from the overall dessert like mouth party.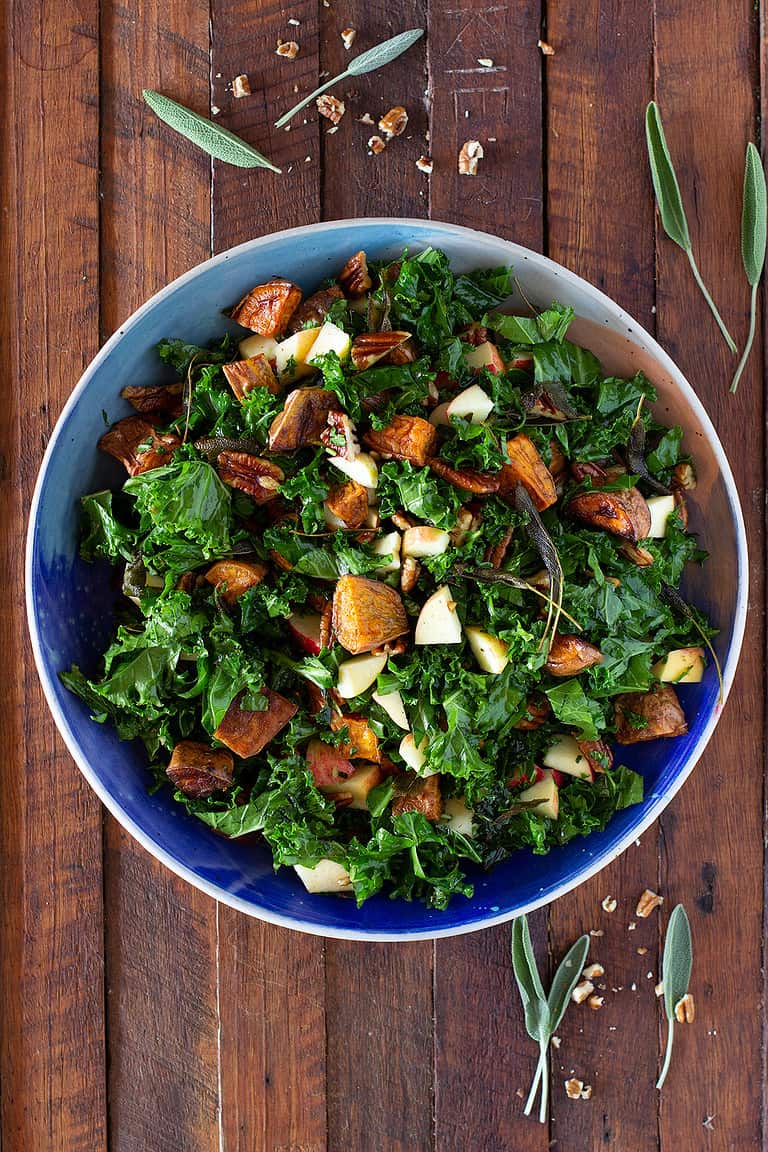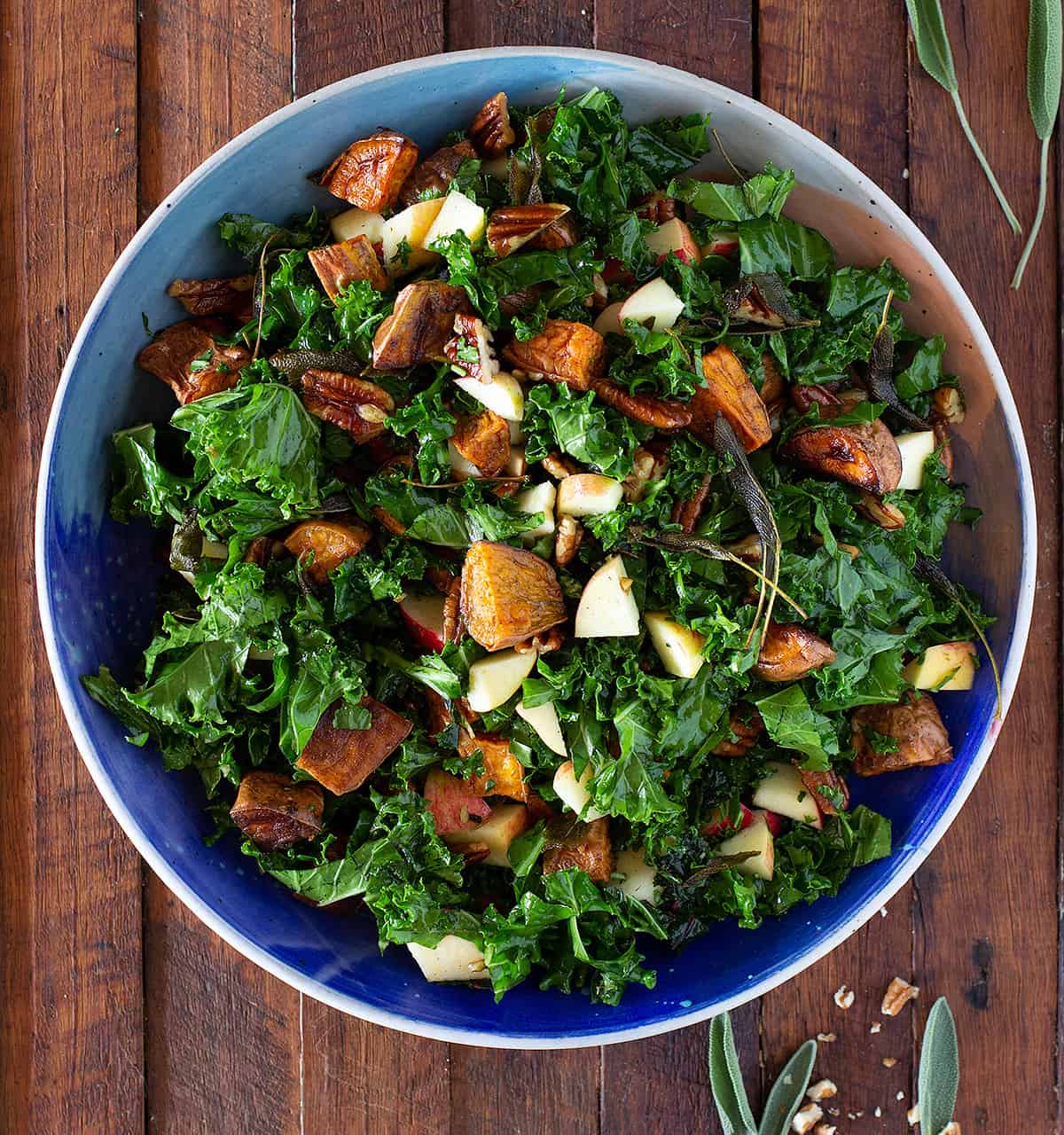 This Apple Pie Salad is also an example of how just a few simple ingredients can result in a delicious dish when used with a bit of forethought. I say this from a place of having distain (quite a strong word, but yes, distain) for those cliché Australian salads of lettuce, quartered tomatoes (always unripe and tasteless I swear) and cucumber, dressed with those bottled french dressing sauces. I think my #saladtrauma comes from being over saturated with them growing up at family get togethers and community gatherings in our local country area. There was always the mix of meats on the bbq, where the men huddled, jesting whomever was cooking about how they were 'burning the meat', while close by the standard salads were piled on the table with the buttered bread rolls.  The silver lining as a kid was when the salads were cleared and out came the desserts, the star usually being our neighbours pavlova dripping with whipped cream and freshly squeezed passionfruit.
Now there is a challenge…Pavola Salad. #watchthisspace
Obviously this is an easy recipe guys and gals, so I am expecting to see your recreations plentifully displayed across social media streams. Pair this salad with proteins of your choosing. I have been eating it the last three days with crumbed snapper, a dollop of cashew cheese and kimchi. You could toss some protein through the salad, but I feel like that would be a little sacrileges and rocking the purity boat if this salad. I'll leave that ball in our court.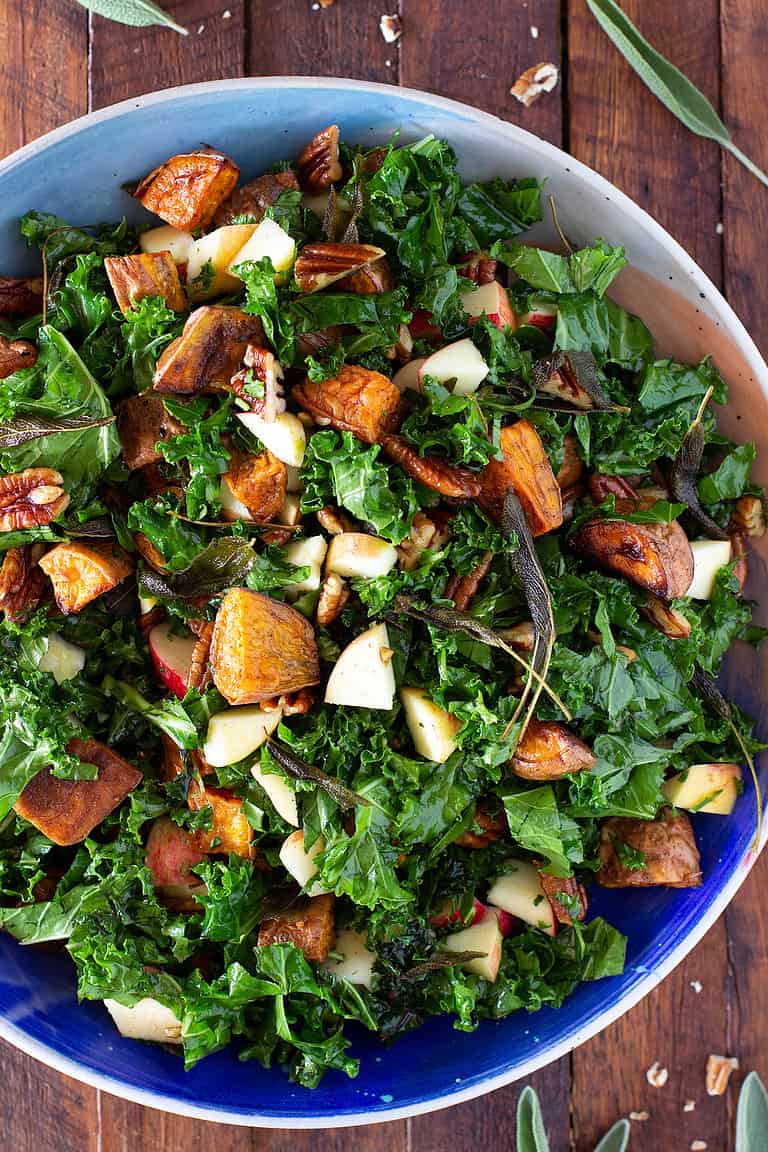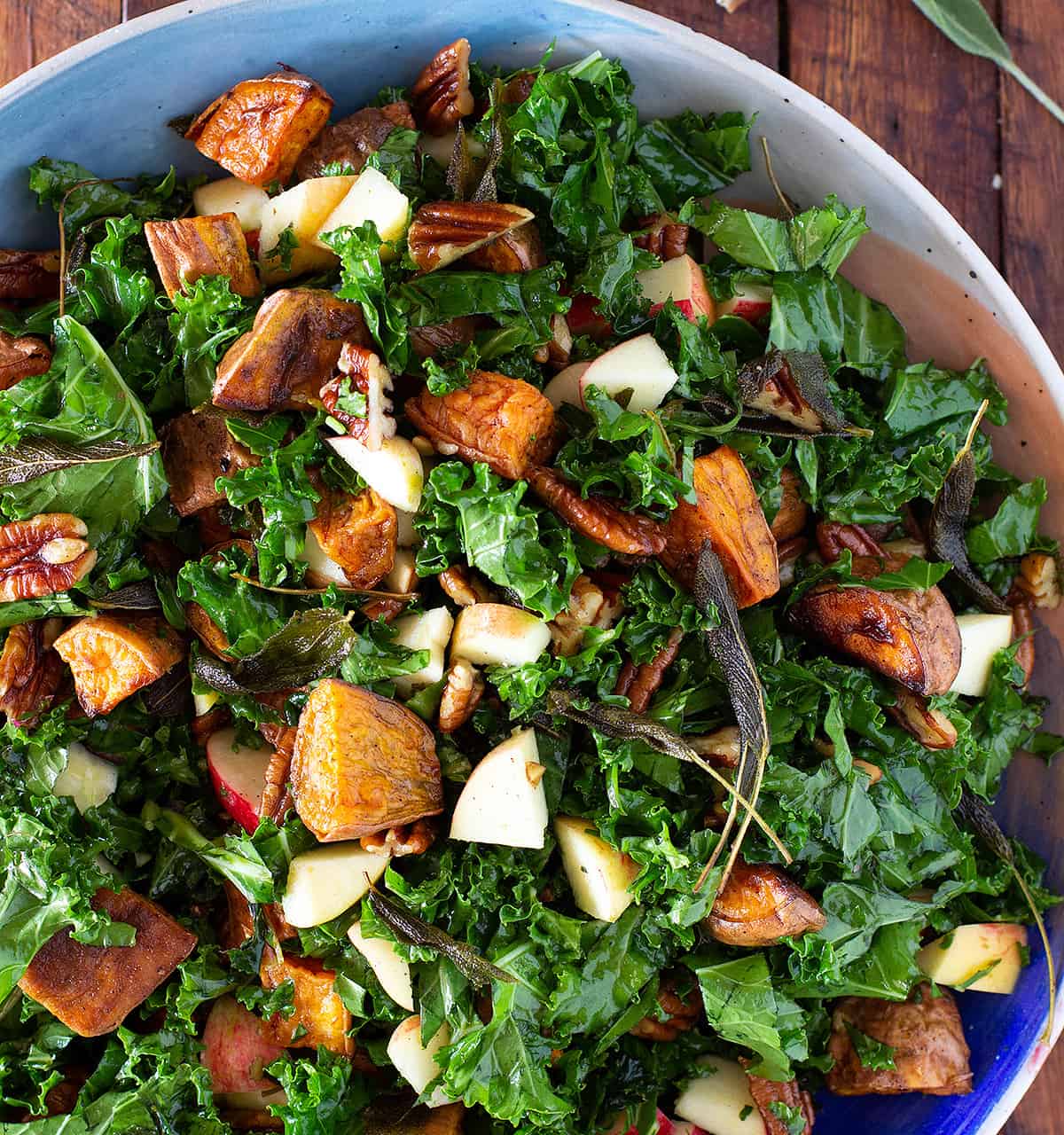 apple pie salad
serves

serves 4 – 6 as a side

preparation time

20 minutes

cooking time

40 minutes
ingredients
600 grams sweet potato
1/2 teaspoon ground cinnamon
salt & pepper to season
1 handful of fresh sage leaves
1/2 cup pecans
1 bunch kale, leaves stripped from stems (approx 5 large leaves)
2 apples
1 large lemon
extra virgin olive oil for dressing
method
Preheat oven to 210c, fan-forced.
Cut sweet potato into cubes, roughly 2cm wide. Place cubed sweet potato into a large baking tray. Season well with salt and pepper and add the ground cinnamon. Toss well to coat. Drizzle liberally with extra virgin olive oil then toss again ensuring all the sweet potato is coated well.
Place in the oven to bake till tender and golden for around 30 minutes, removing after 20 minutes briefly to just toss the sweet potato around for even cooking. In the interim, roughly chop the pecan nuts.
After 30 minutes, add the sage leaves and the chopped pecans to the baking tray with a little more extra virgin olive oil and toss through the sweet potato. Place bake in the oven for 8 minutes to allow the sage to crisp up and the pecans to toast.
Take the kale and chop roughly with a large knife. Place a salad bowl and season with salt and pepper. Cut the lemon in half and squeeze over the juice from one half. Drizzle with extra virgin olive oil and then use your hands to massage the dressing into the leaves until the leaves are soft and the dressing is mixed through. Set aside.
Cut the apples in half, then into quarters and remove the core with a knife. Cut the apple quarters into rough bite sized cubes. Add to the salad bowl with the kale.
Take the baking tray and scrape all of the baked sweet potato, sage and pecans into the salad bowl with the kale and the apple. Squeeze over the juice from the remaining lemon half and drizzle again liberally with extra virgin olive oil. Season and then toss the salad well ensuring everything is mixed in nicely.
Serve the Apple Pie Salad as a side dish to your protein of choice. Keeps in the fridge for 3  – 4 days.
Like what you're seeing? Subscribe for new recipes and nutrition tips every week!
Jessica Cox is a qualified practicing Nutritionist with a Bachelor Health Science (Nutrition) and over 15 years of clinical experience. She is the founder and director JCN Clinic, published author and established recipe developer. Jessica is well respected within health and wellness space for her no fad approach and use of evidence-based nutrition.