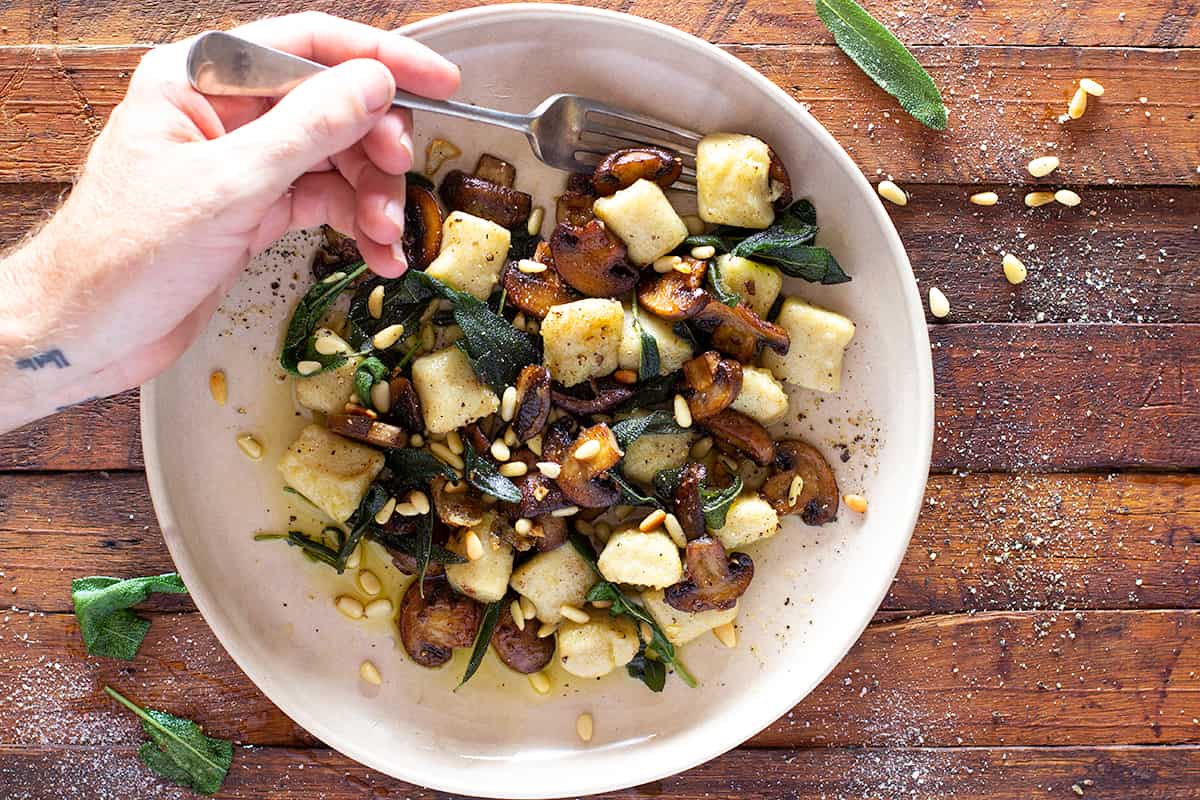 You guys went nuts for this gnocchi as soon as I posted a teaser on Instagram! Who would have thought hey? I mean I know you go crazy for yummy desserts but gnocchi, for some reason, it caught me off guard. Lesson learnt, gnocchi is a well loved favourite by all!
We don't eat enough gnocchi in our household. We both adore it, but it tends to be savoured for meals out. Some of the most amazing meals I have had involved gnocchi (paired with truffle in Italy was a highlight). Gnocchi should be light little pillows and in my book this lightness should not be compromised by going gluten free. At the end of the day the main ingredient is potato so there is no real reason for the gnocchi to end up like a cement brick. It just comes down to respecting the dough and the right combination of gluten free alternatives.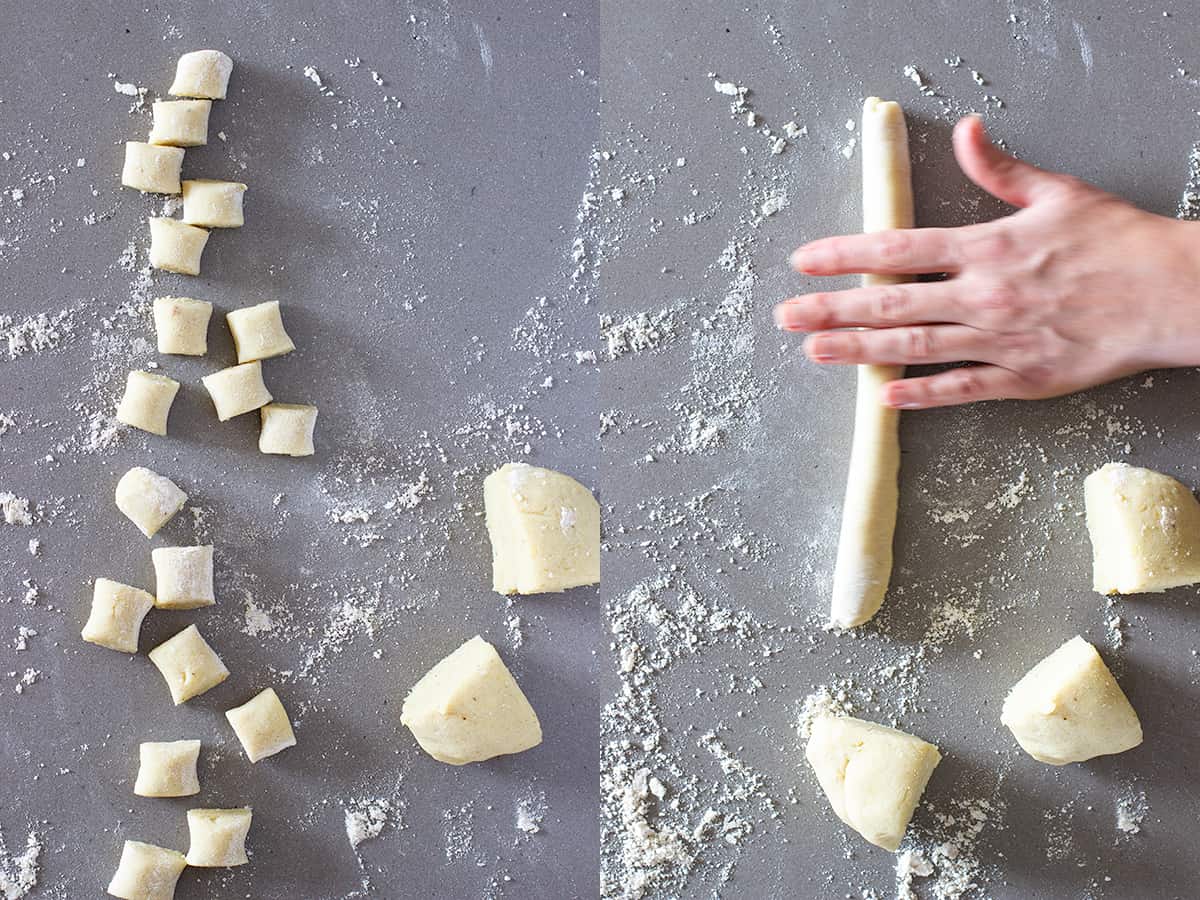 Whenever I delve deep into creating a recipe I like to read up on its background. I found it really interesting that there is a debate about egg use in gnocchi. Purists will say that gnocchi should not have egg, where as others frequently use egg yolk as part of the dough process. It seems to be noted however that an egg free dough results in more of a pillow-y gnocchi, so that easily dragged me into the egg free camp for good. Plus, I know my sister Kirst who hates egg and LOVES potato will love me more for leaving the egg out.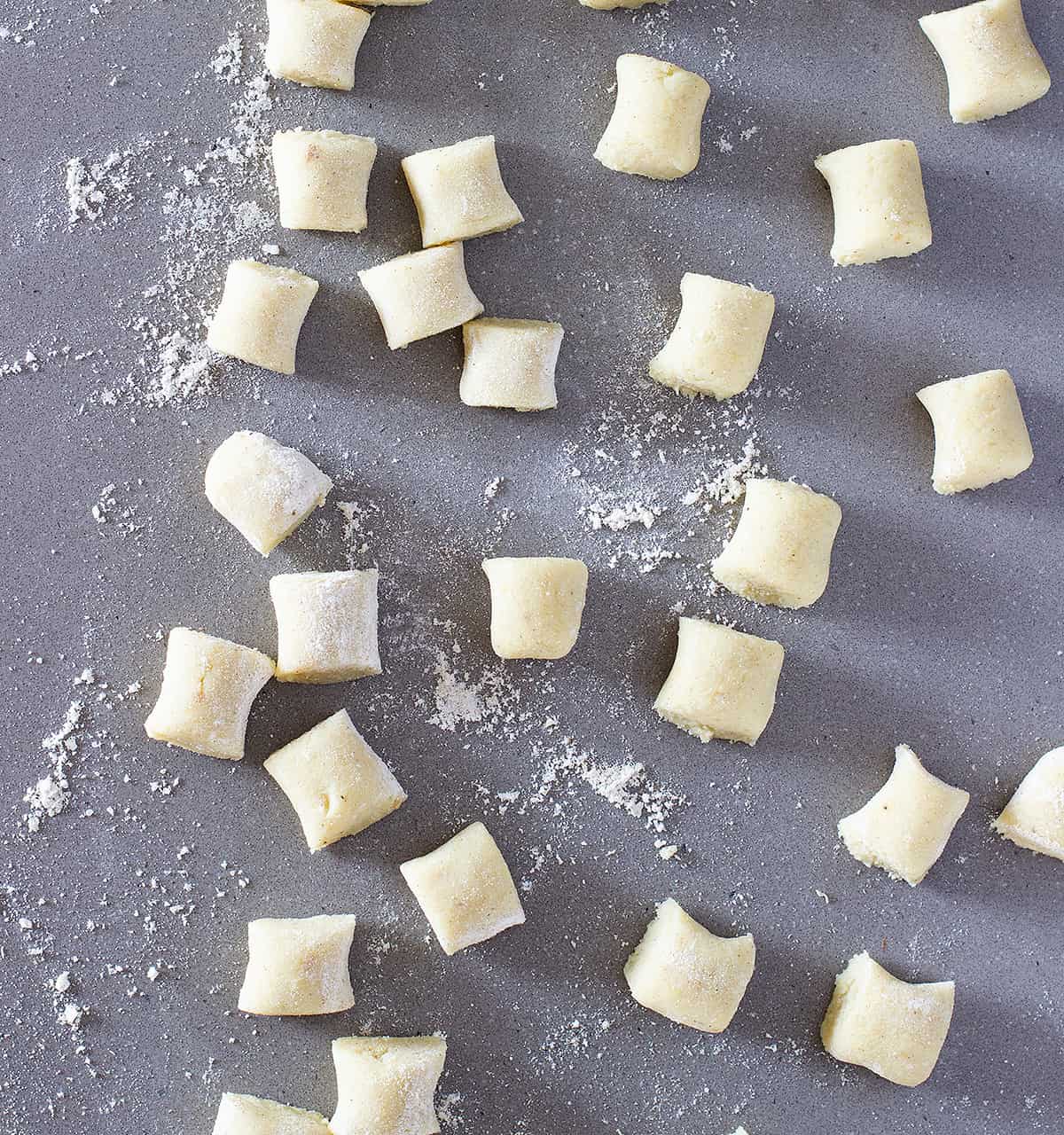 There is a lot of talk of course about the type of potato to use too. To be honest I just used what was in season and the freshest, healthiest looking potato at my local markets for this gnocchi. That happened to be Dutch Creams. Generally though you want a floury, extra starchy potato like a Desiree or Russet. Baking the potatoes in a tray of salt to suck out the moisture is also a common part of gnocchi making. I don't bother with this and have honestly really never seen any detriment to not doing so. I'd rather save the salt to eat. #massivesaltaddict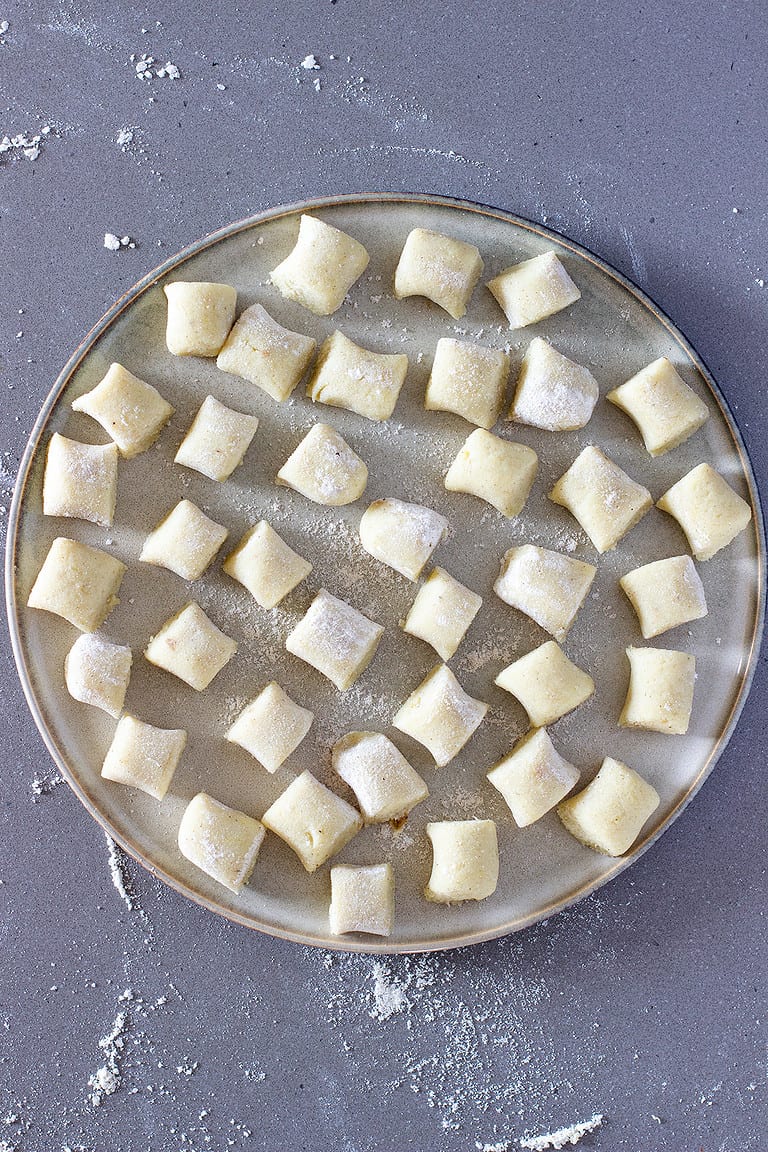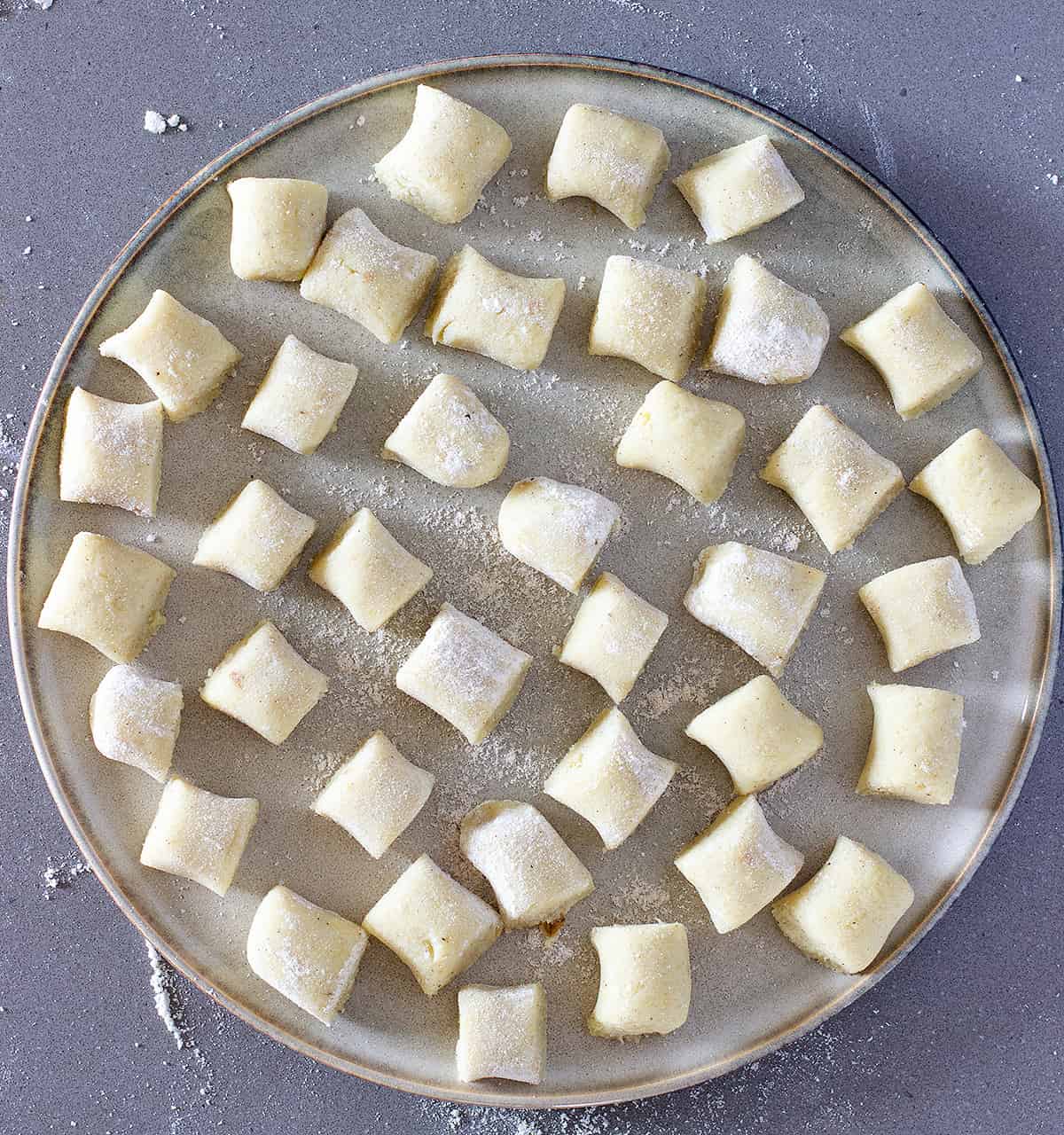 Once you have mastered the art of making gnocchi you can then go wild with sauces and toppings. I like to pay homage to the gnocchi and not saturate it with too many other flavours. Let the gnocchi be the star. Just simple complimentary flavours. However, you can play with a wide spectrum of sauces and toppings from wintery, meaty tomato braises through to light summery pesto's. Classic combinations are also blue cheese and walnuts, which I plan to explore in a dairy free manner soon!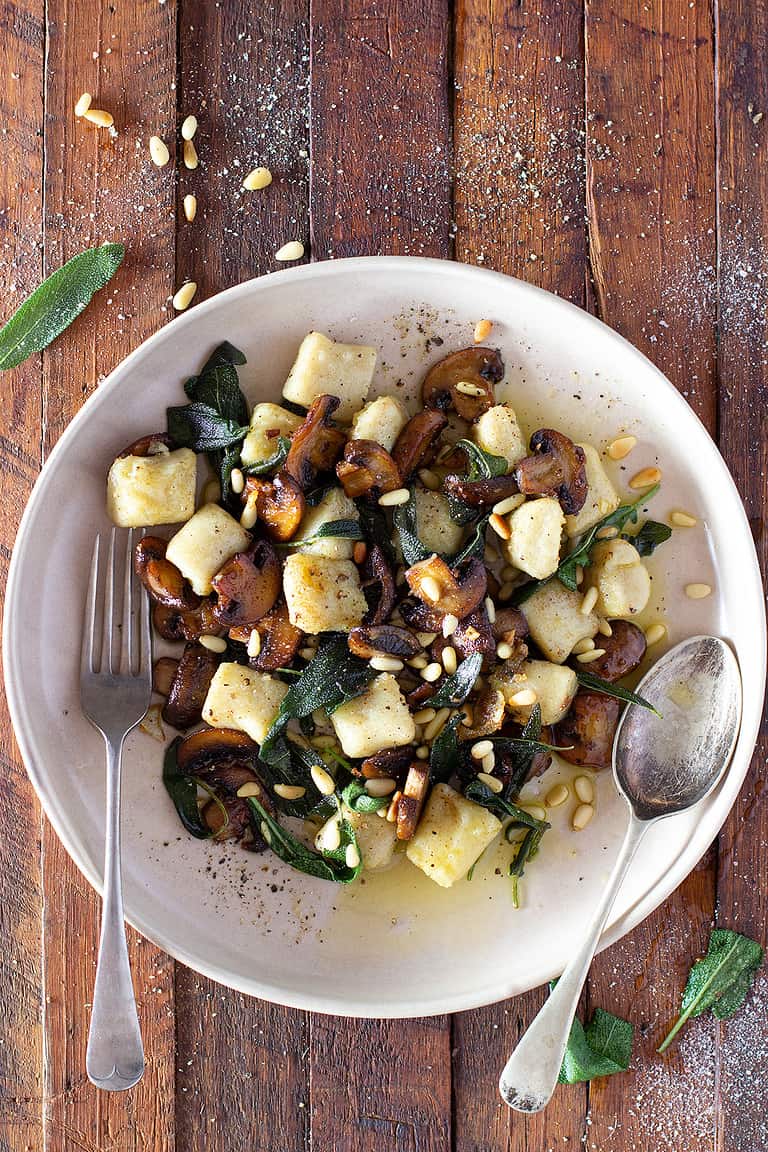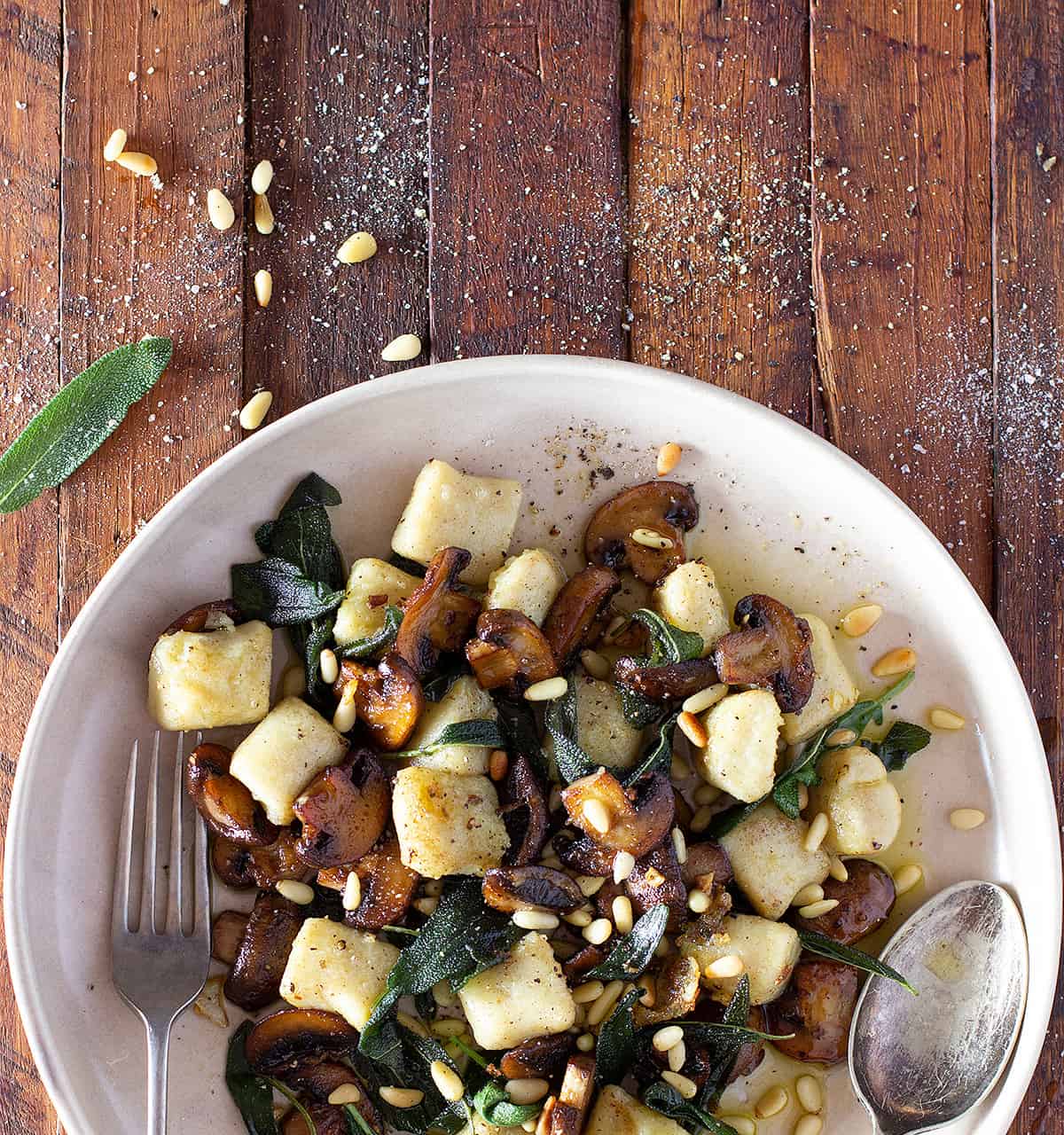 Today though I was inspired by our new vegetable garden. My hubby built our new garden all of 6 – 8 weeks ago with vegetables going in as seedlings not long after its construction. I've shared this a lot on Instagram and a lot of you have made comments as to how quickly it has grown, whilst being filled with a multitude of questions about how we built it (e.g. how we got the vegetables to grow so fast and what varieties of vegetables we are growing). I say "we" because you guys assume I am involved. Ha!
Lets clear one thing up. I am great at looking after people, but I am shit at plants. Basically Hubbard asks me what I want to grow and I give him a list, then he makes it happen. He does the planting and the nurturing and the old man walks around the garden with his hands behind his back all hunched over like. My role comes in with raiding the garden with scissors and cooking with its contents. It's a symbiotic relationship between the garden, Hubbard and me.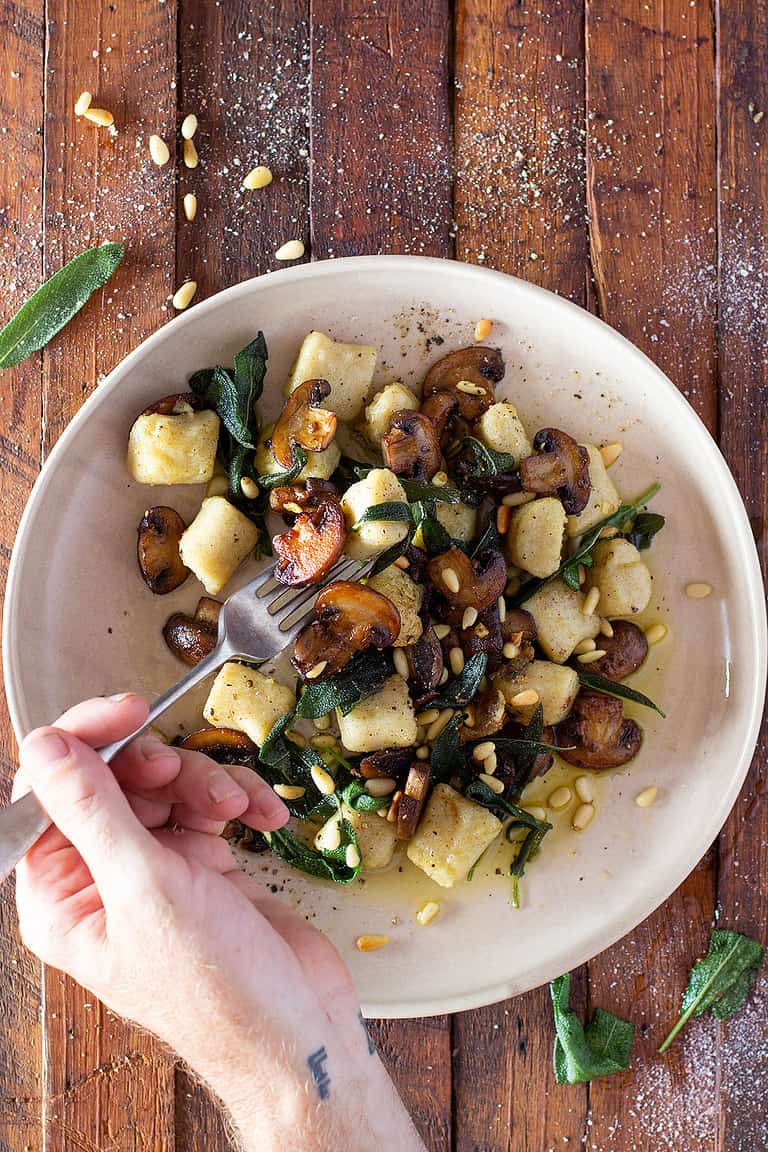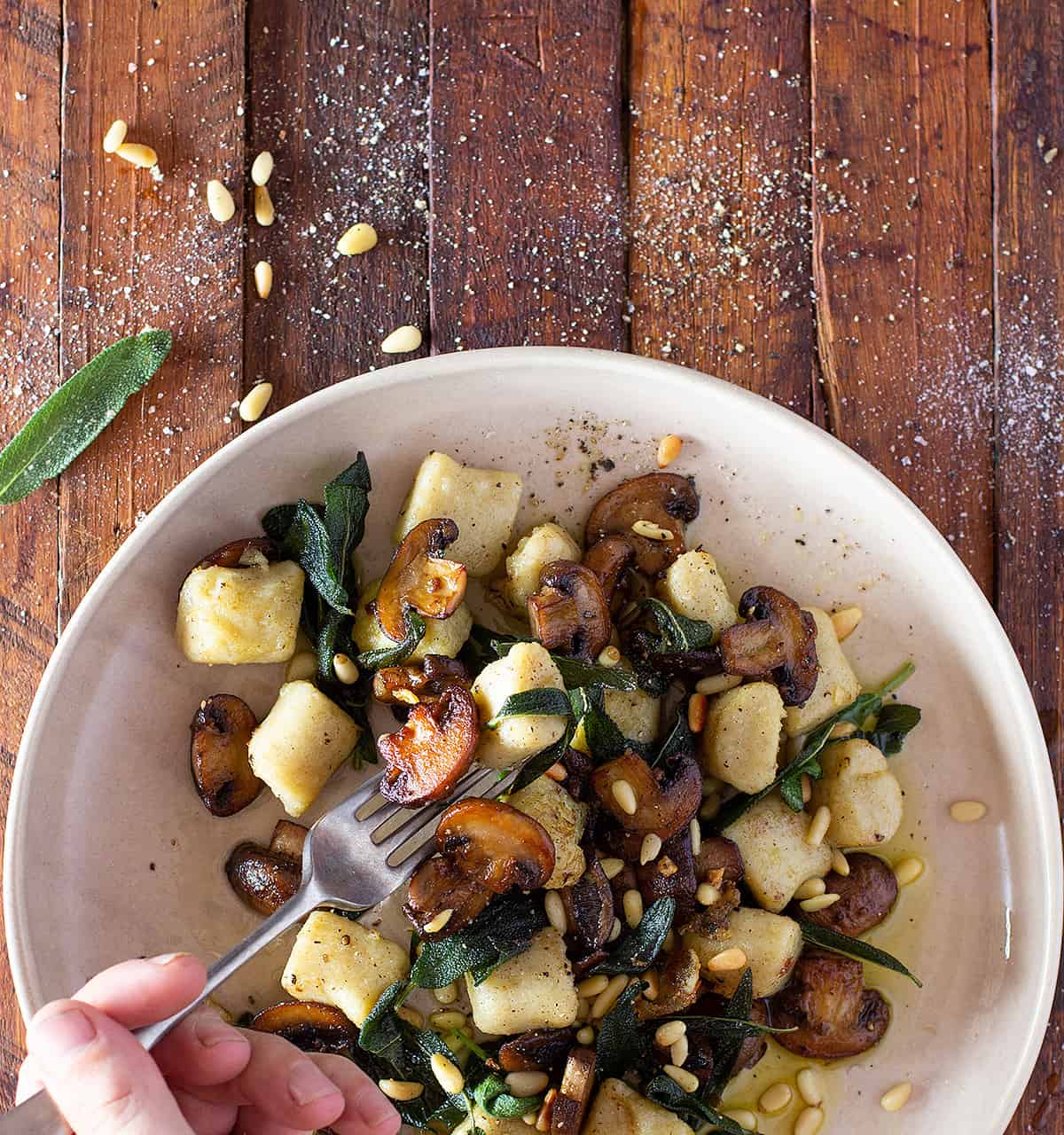 We are going to do (again I say "we", I mean Hubbard) a blog post on the ins and outs of building a really good vegetable garden. He has a lot to share in his colourful manner so you can expect a good read. In the interim I will continue to show you updates on social media where we can all be in ore of its growth.
As for the ingredients here in this gnocchi, our vegetable garden provided the abundance of fresh sage used. I'd like to say it provided the potatoes and the garlic but we are far off that. I think that will be more suitable produce to grown for when we move to Victoria. Hubbard's brother in Mornington Peninsula can grow the most glorious potatoes and garlic that have us frothing with jealousy. Although they would give anything for our abundance of basil, so the boys have plenty to gloat about to each other.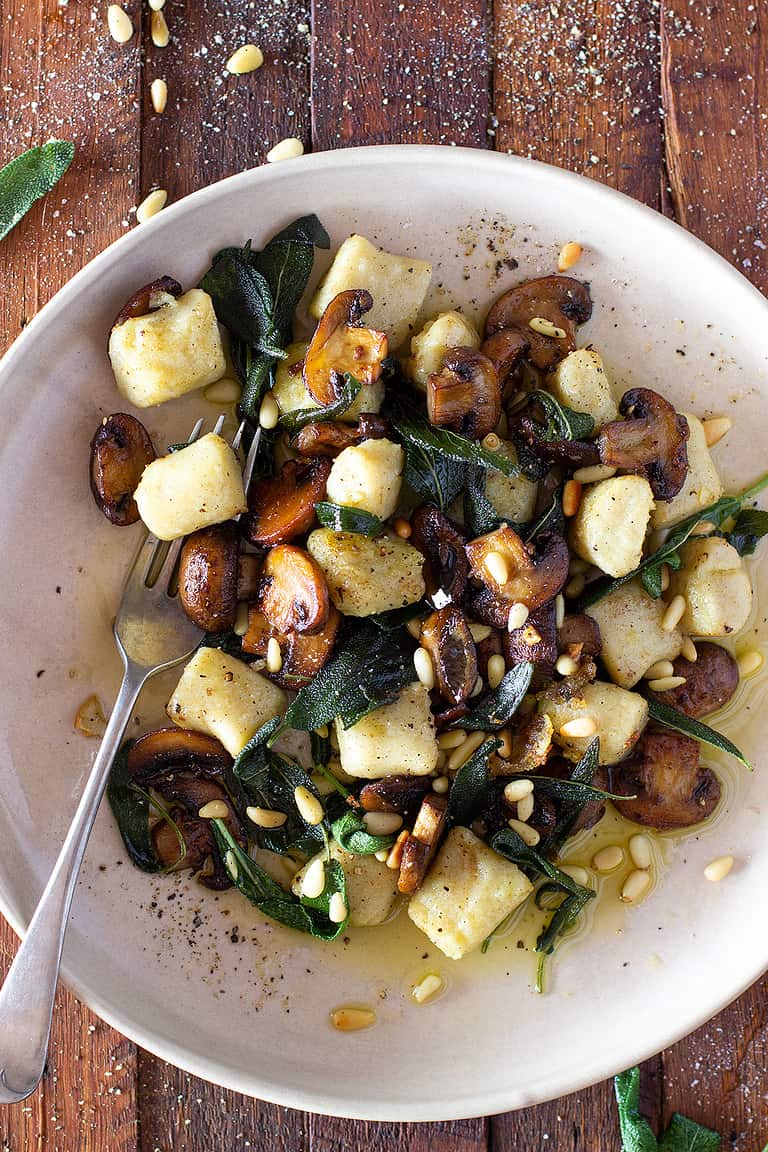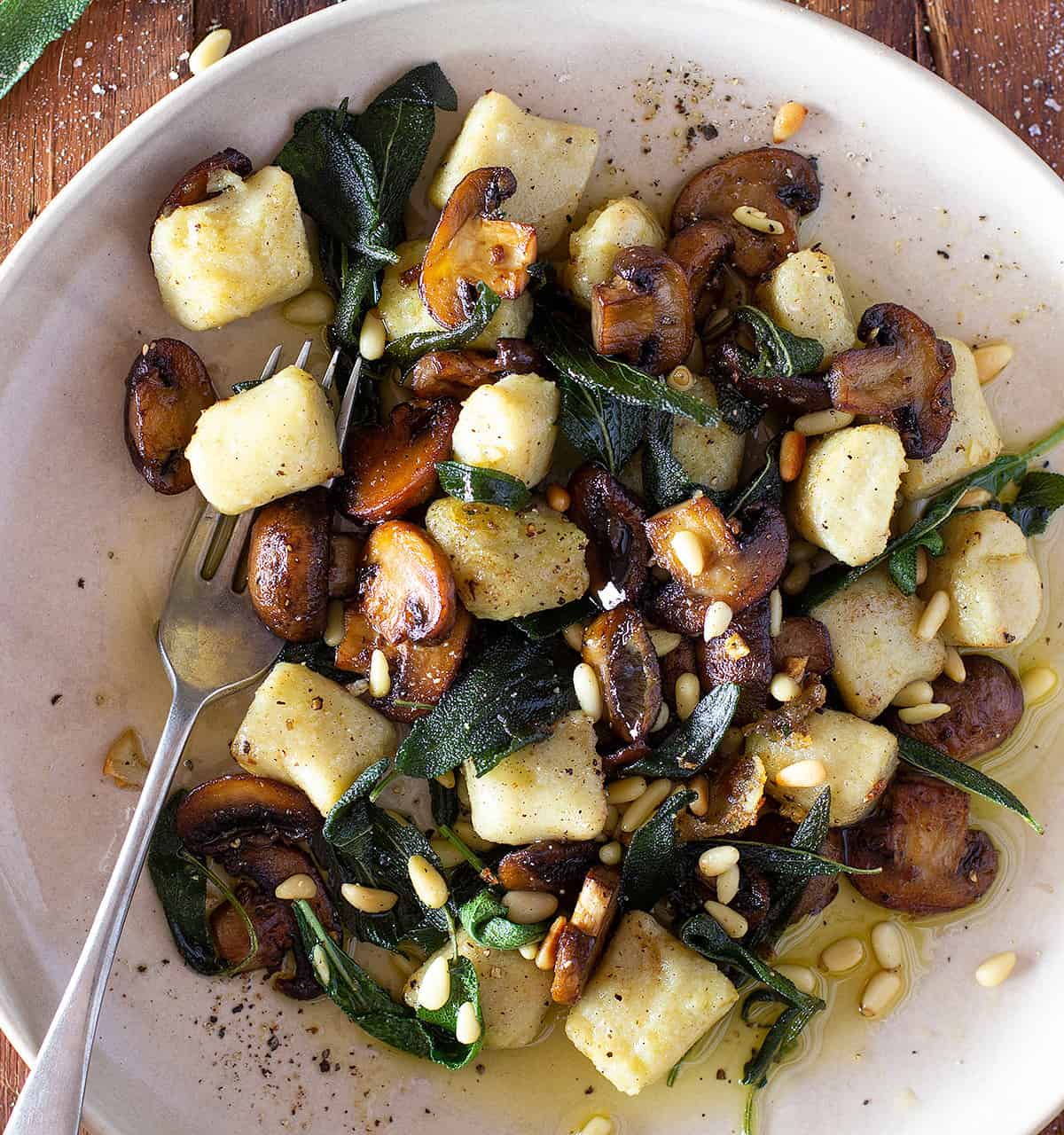 If you don't have a garden to step outside to and raid for fresh sage then get the best you can get from your local fruit and veg provider. Don't be shy on the use of sage, the more the better. This gnocchi recipe is really bought to life with the sage oils permeating into the extra virgin olive oil. Lastly, please don't be put off by the amount of extra virgin olive oil. It really is vital! Just like Hubbard's Puttanesca it plays a pivotal role. As always, use quality and you won't be disappointed – plus your health will thank you for it.
gnocchi w sage & mushrooms
serves

serves 2

preparation time

60 minutes

cooking time

60 minutes
ingredients
500g potatoes, skin on ( I used dutch cream)
25g potato starch flour
25g sorghum flour
300g swiss brown mushrooms, sliced
1 large bunch sage (50g)
2 tablespoons pine nuts
1/2 cup extra virgin olive oil
1 clove garlic, crushed
salt and pepper to season
method
Pre-heat your oven to 180c, fan forced. Place the potatoes on a baking tray and pop in the oven for 40 – 45 minutes, or until the potatoes are cooked through. Insert a knife or skewer through the centre to make sure they are cooked through.
Remove the potatoes from the oven and slice them open down the centre allowing the steam to escape. When cool enough to handle, remove the potato flesh from the skins (you can roast the skins up again to crispy chips!).
Place the potato in a sieve with large holes and use the back of a spoon to push the potato through the sieve into a large mixing bowl on the underside of the sieve. You will need to use a fair bit of elbow grease! Scrape the potato from the underside of the sieve as you go into the bowl. (If you own a mouli then obviously use this – I don't have one, hence the sieve version. Otherwise you can just mash the potato with a regular potato masher, but make sure you get it really smooth).
One all the potato is in the mixing bowl sift in the potato starch flour and the sorghum flour, then season the mix with salt and pepper. Use your hands to knead the mixture bringing everything together. You can either do this in the bowl or turn everything out onto a floured bench. Knead the mixture for a good few minutes until it comes together into a lovely formed dough. Place back in the bowl and cover with a wet towel and leave to rest for 30 minutes.
Dust your bench top liberally with flour and then take the rested dough and place on the bench. Cut the dough into four pieces and then take one of the pieces and use your hands to roll it out into a sausage shape, around the diameter of a 10c piece. Use a sharp knife to cut the sausage shaped dough into gnocchi pieces, about 2cm lengths. Repeat with the remaining dough. Place the gnocchi onto a floured plate and cover if not using straight away.
Bring a large fry pan to a medium – high heat and add in 2 tablespoons of extra virgin olive oil. Add the sliced mushrooms and season them well with salt and pepper. Toss them through the oil and allow them to really golden up. You want to cook them past being just softened. The idea is to get them nice and crispy on the edges.
In the mean time bring a large saucepan of salted water to the boil. Once the water is boiling add in half of the gnocchi. Once the gnocchi rises to the top of the water use a slotted spoon to carefully remove them and set aside to drain. Repeat with remaining gnocchi. 
Now add the sage leaves and garlic in with the mushrooms and an extra 2 tablespoons of extra virgin olive oil. Toss through allowing the sage to crisp up, its should only take a few minutes. Add the pine nuts and toss again. 
Add the drained gnocchi to the fry pan with the remaining 1/4-cup of extra virgin olive oil and toss very gently to ensure the gnocchi is covered in all the juices. Season well and then serve immediately.
nutritional information
Potatoes contain a surprising amount of nutrients for the humble looking white spud. Just one jacket potato contains half of our daily levels of vitamin c and vitamin B6. One potato also provides close to 50% of our potassium needs and 20% of our iron and magnesium intake. These nutrients are fundamental cellular support and general enzyme functions within the body. They are also high in choline and lipoic acid making them a 'food as medicine' choice for nervous system support. Potatoes are best with their skin attached to provide more sustaining fibre.
Sage is used in natural medicine circles to relieve heat and therefore reduce the symptoms of menopause. Sage is rich in phytochemicals such as flavanoids and monoterpenes. Monoterpenes have the ability to inhibit wayward cellular development.
Jessica Cox is a qualified practicing Nutritionist with a Bachelor Health Science (Nutrition) and over 15 years of clinical experience. She is the founder and director JCN Clinic, published author and established recipe developer. Jessica is well respected within health and wellness space for her no fad approach and use of evidence-based nutrition.