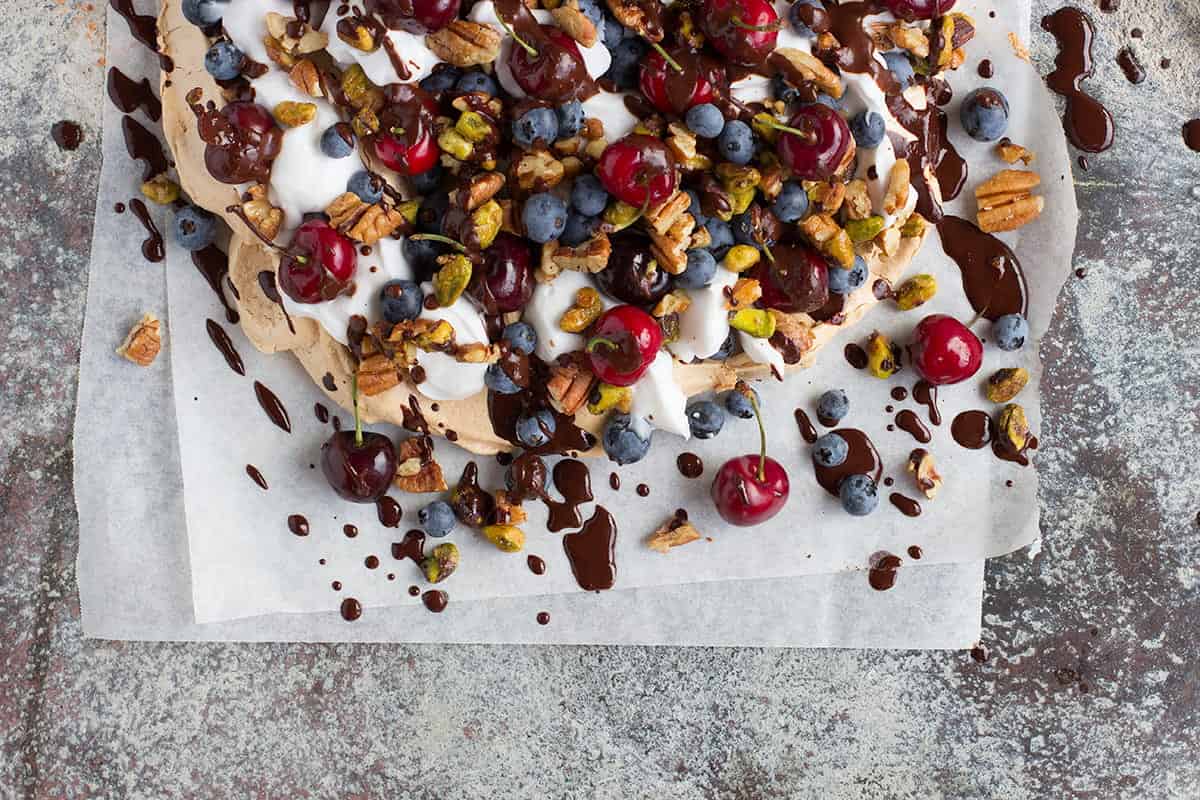 Lets be frank. This cherry & blueberry meringue smash with coconut cream & nut praline is decadent. Yes, its dairy free and gluten free. Yes, the fats in the coconut cream are 'good fats' and the berries are loaded with antioxidants along with the dark chocolate, but it's still an indulgent and luxurious dessert.
What makes something a luxury? I'd say something that is very special, that we cannot have on a daily basis, however when we do have it, it brings great pleasure… I think that just about sums up this meringue.
I've been making numerous variations of this meringue smash over the years for dinner parties. It's that dessert that comes out at the end of a great meal with a serious wow factor. The recipe originates from Jamie Olivers "Jamie at Home", which is a bit of a bible of mine. I have however dramatically reduced the sugar quantities that Jamie uses in the meringue base.
Speaking of sugar, you will notice that this recipe calls for organic white sugar. These days its like spitting fire to mention the 's' word, even though we have sugar in different guises such as rice syrup, maple syrup, coconut sugar and so on. Of course these other less refined sugars do have some small amounts of minerals and some are lower in fructose and so on, but sugar is still essentially sugar. Realistically, whatever sugars you are consuming they are best kept to a low amount, whether that be regular sugar or the latest sugar trend.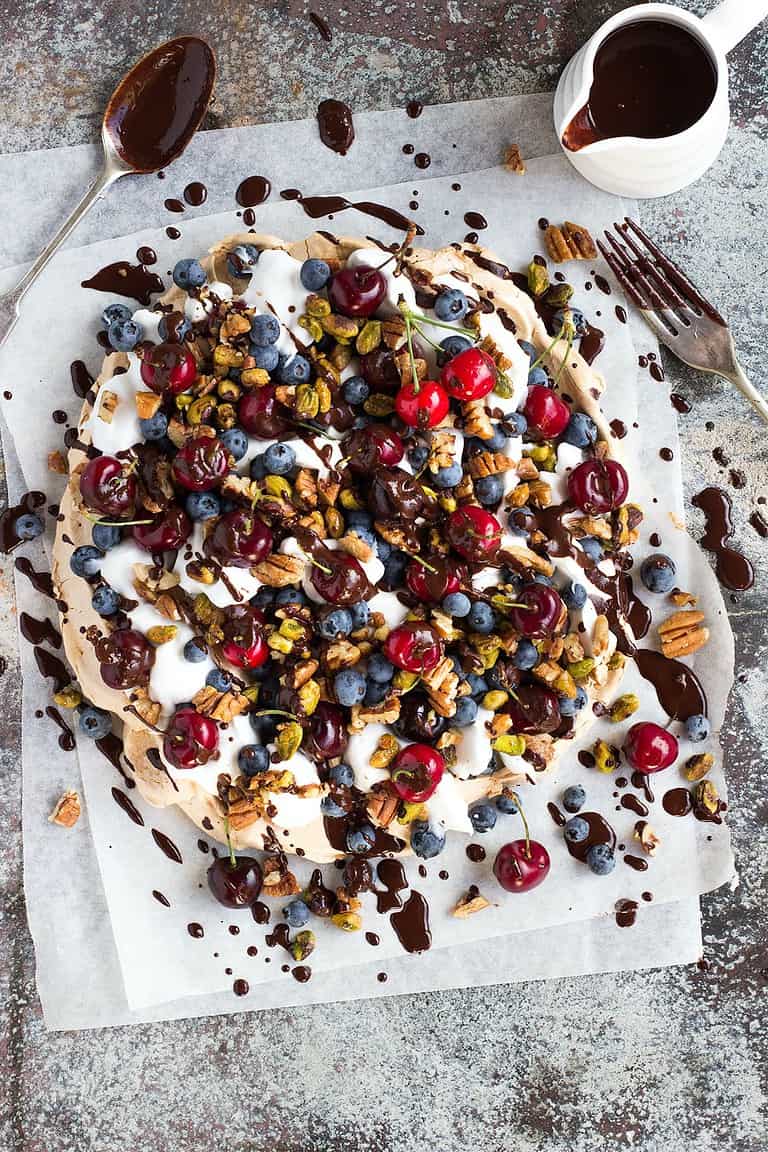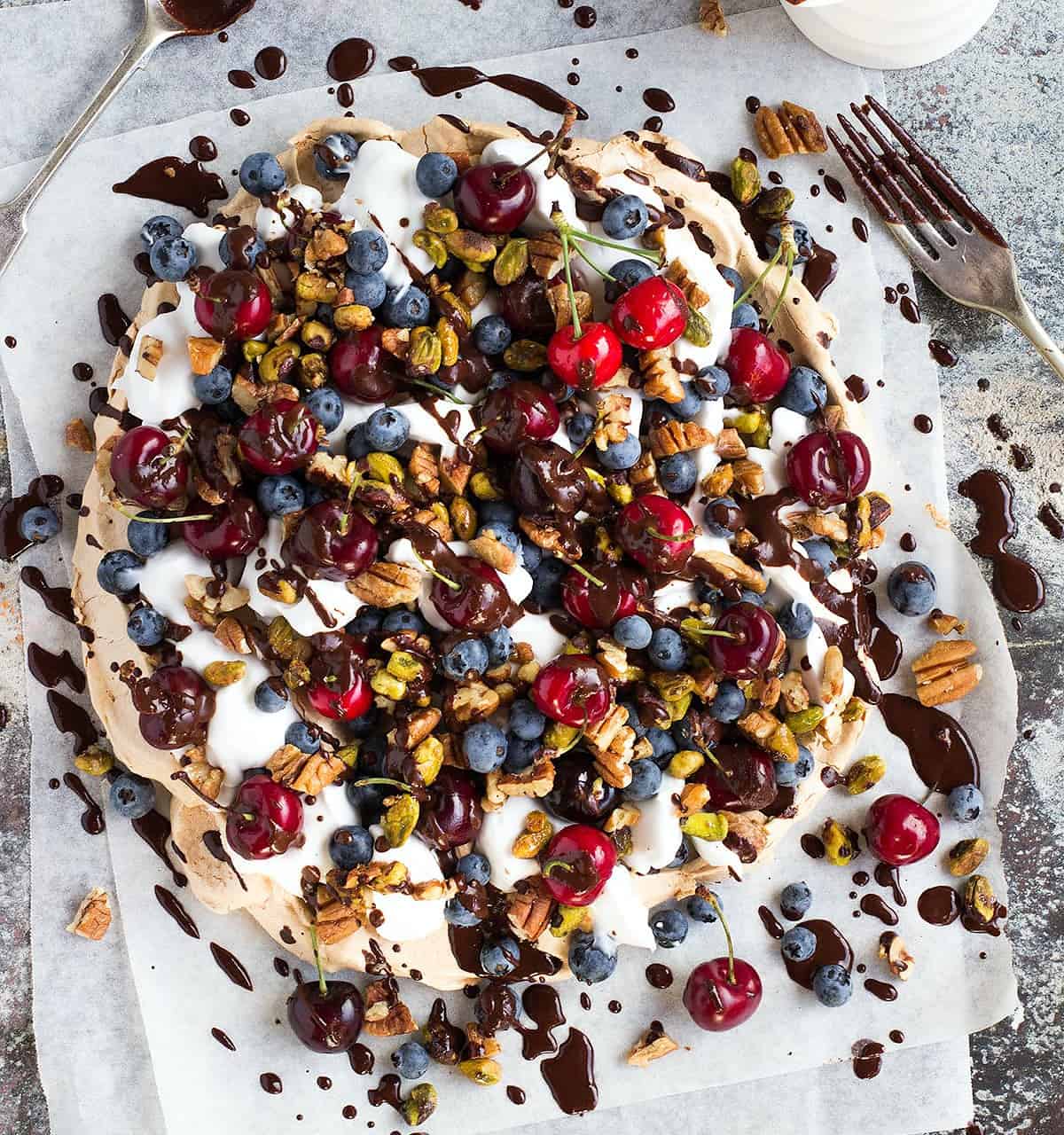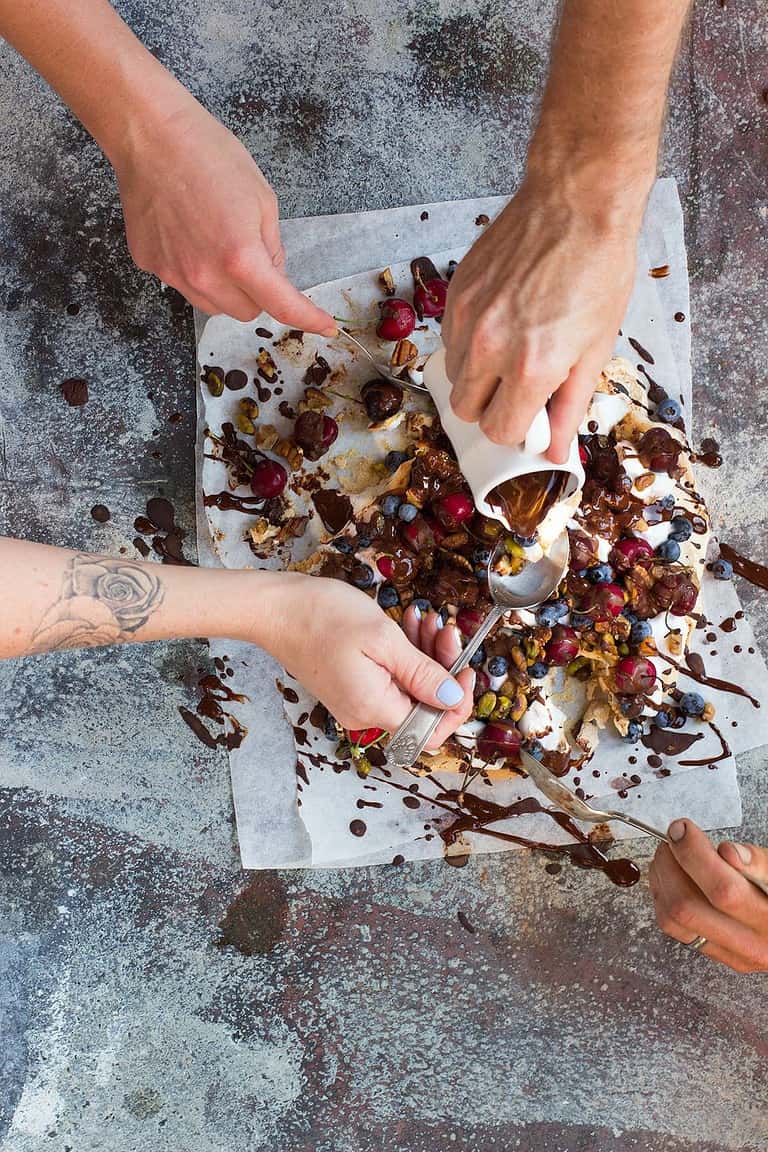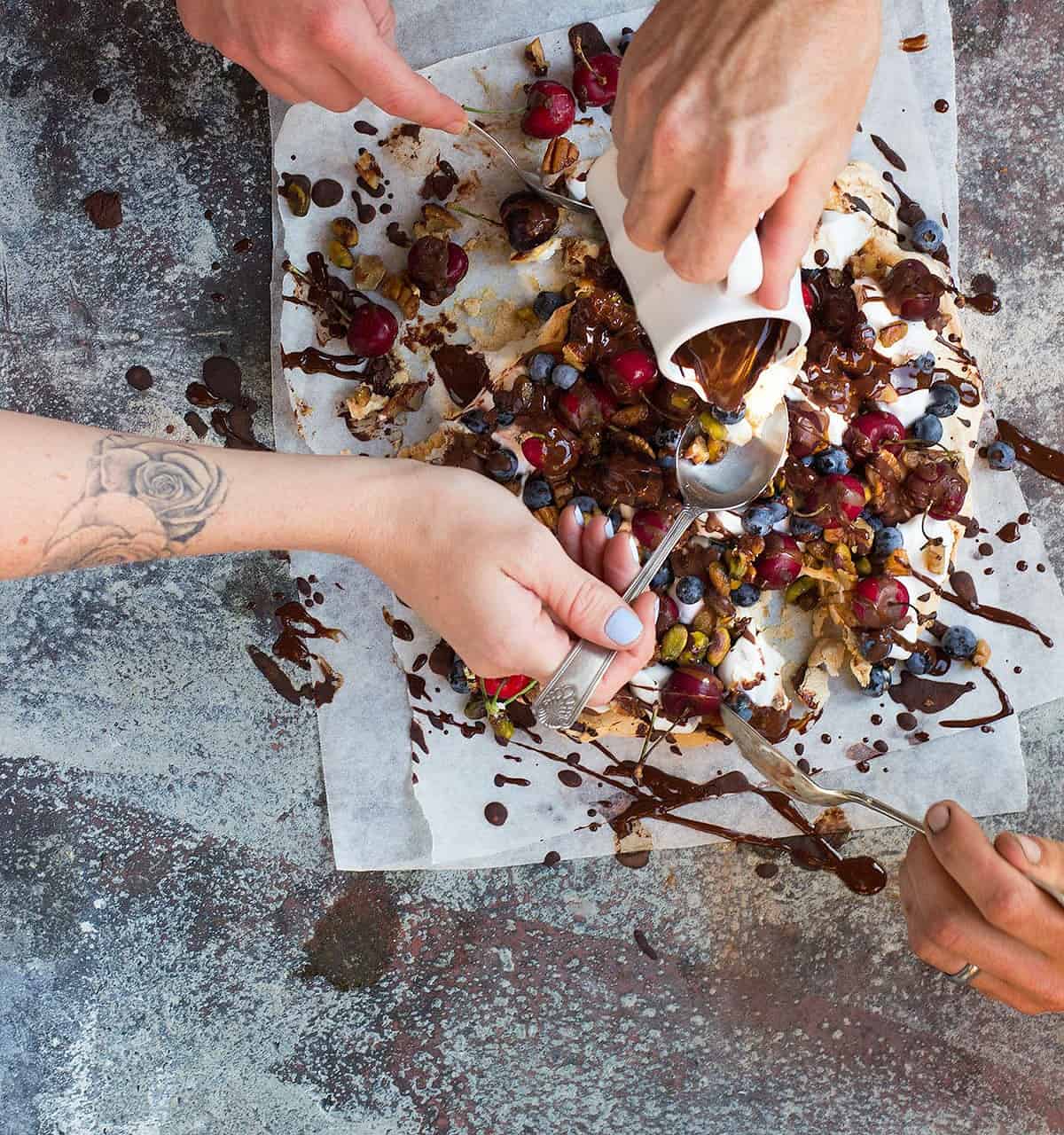 The reason for white sugar in this recipe is due to the consistency of the meringue. I have tried many sugar alternatives over the years. Using all brown sugar creates a flaccid and soft meringue, as the brown sugar is too moist. I tried stevia once and that was a hopeless epic fail. Not even the birds would eat that one. The sad looking excuse for a meringue sat around in the back yard for ages until it was run over with the lawn mower.
White sugar however holds zero moisture and therefore gives the stiffness that the meringue needs. Reducing the meringue sugar content so low from the original recipe does somewhat inhibit the final crunchy result slightly in comparison to Jamie's meringue, but I'm willing to compromise a little on this one for the sake of my (and your) blood sugar levels.
The absolute joy of this dessert is sharing it with everyone. It is not made to be politely divided up and served on separate plates. It is about getting messy and sharing food literally with friends and family. The meringue smash is served in the middle of the table (or floor) and everyone is given a spoon to tuck in, elbow grease and all. For me there is something so wonderful about sharing food like this, and I adore how it brings everyone together.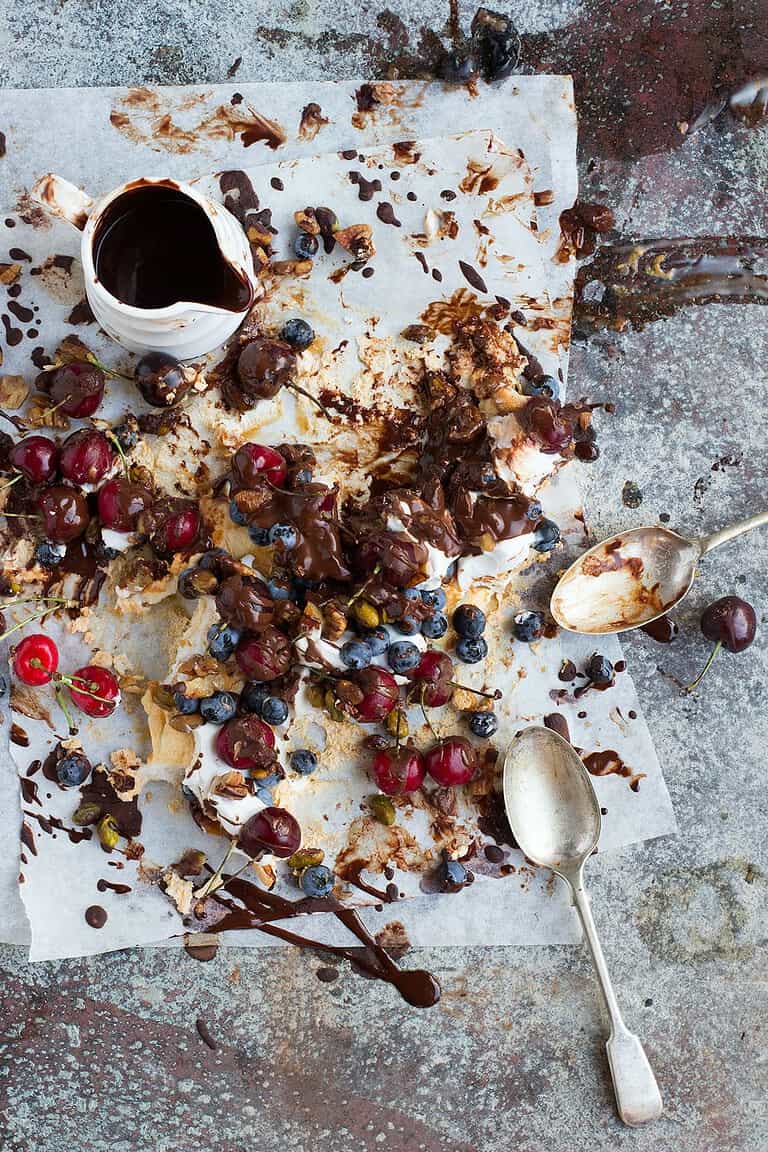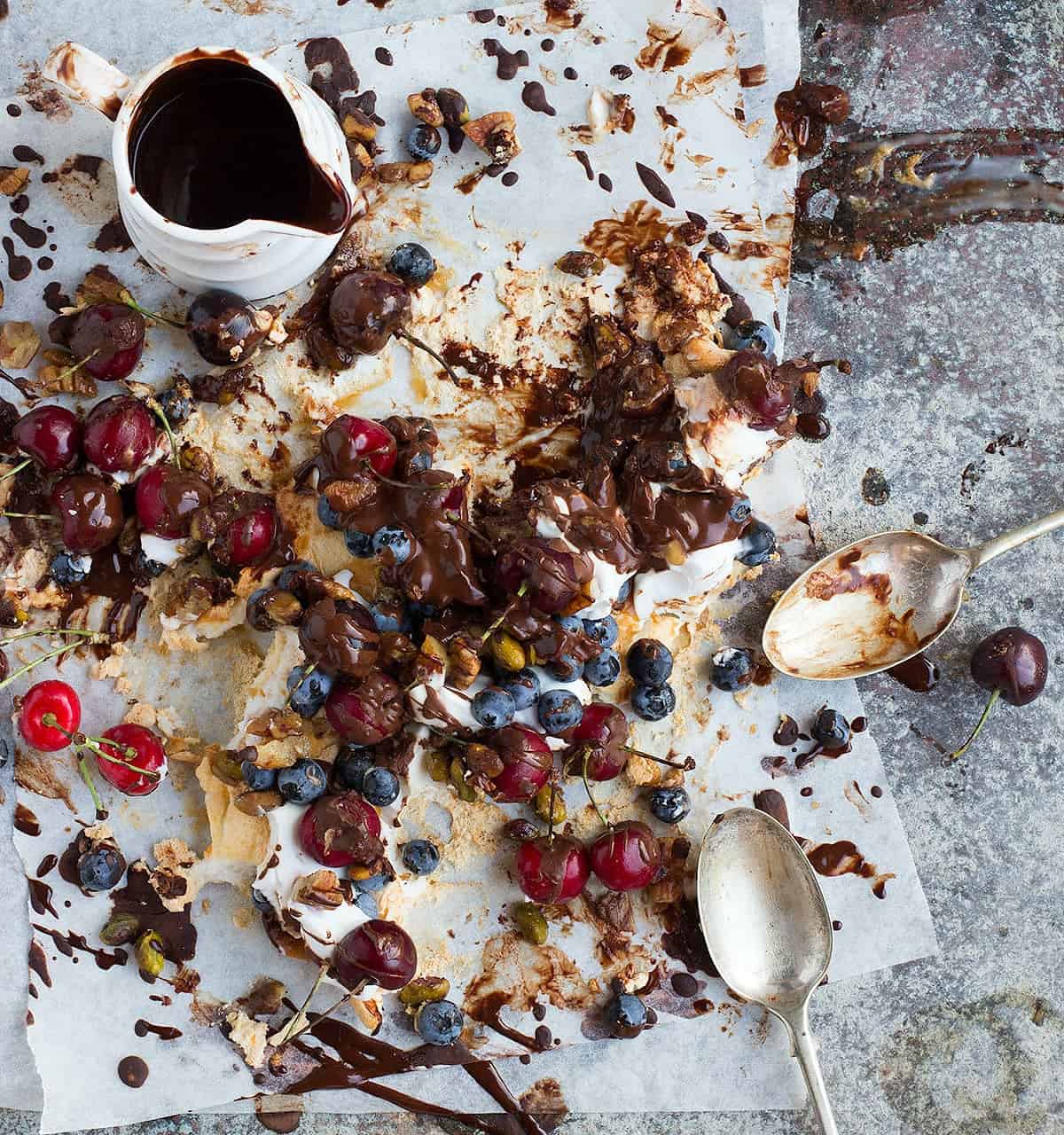 cherry & blueberry meringue smash w coconut cream + nut praline
serves

6 people

preparation time

30 minutes + 15 minutes serving time

cooking time

1 hour
ingredients
4 large free range, organic eggs
1/2 cup organic sugar (white)
pinch of salt
1/3 cup pistachios
1/3 cup pecans, roughly chopped
1 heaped teaspoon coconut oil
1 teaspoon rice syrup
100 grams fair trade dark chocolate (70% plus)
1/2 cup 100% prune juice
3 – 4 thin slices fresh ginger
1 punnet blueberries, washed well
2 handfuls cherries, washed well
300gms (or 1 and 1/3 cups) whipped coconut cream
method
Start by preheating the oven to 150c. In a clean mixing bowl whisk the egg whites till they form soft peaks. Gradually add in the sugar with the salt continuing to whisk as the mixture becomes shiny. Continue whisking for a good 5 minutes. Ideally you want there to be no grains of sugar in the mix when you pinch it between your fingers.
Take a large baking tray and cover it with a piece of baking paper. Spoon out the meringue mix onto the baking paper and gently push the mix out into a rough circle or rectangular shape. I usually aim for the size of an A4 piece of paper as Jamie suggests. Bake in the oven for 1 hour or until hard on the outside and slightly browning.
In the interim, start on your chocolate sauce, coconut cream and praline nuts. To make the chocolate sauce, heat the chocolate in a saucepan with the prune juice and ginger. Allow the chocolate to melt and stir gently to combine. Once all is combined, set this aside to cool.
To make the praline nuts, add the pecans and pistachios to a non-stick frying pan on low heat. Allow them to gentle toast, tossing them as you do so. This should take around 4 – 5 minutes. Add in the coconut oil and stir through for another 2 minutes. Add the rice syrup and stir through well for 1 minute, then set nuts aside off the heat.
To make the whipped coconut cream see here (or use ready bought whipped coconut cream if you prefer).
When the meringue is cooked, leave it to cool in the oven with the door open for around an hour. Then remove it from the oven and leave it to cool completely before dressing.
When you are ready to serve, place the meringue on a serving platter with plenty of room around it. Start by topping with spoonful's of whipped coconut cream, followed by half of the blueberries and cherries. Then scatter on half of the praline nuts followed by a good drizzle of the chocolate sauce. Repeat each stage again using the remaining ingredients and finishing with the chocolate sauce (you will not use all of the sauce, so put it in a jug and serve it along side the meringue smash).
Serve the meringue smash immediately to your guests in the middle of the table. Give each person a spoon and tell him or her to tuck in!
Please note, this dish is best served immediately after dressing. Otherwise the meringue will go soggy underneath. It will still taste yummy, but you will loose the textural component. To make in advance prep all the toppings with the meringue, then serve when ready.
nutritional information
As far as desserts go nutritionally, this one certainly brings some lovely aspects to the table. Blueberries and cherries are rich sources of flavonoids, anthocyanins and resveratrol, phytochemicals shown to exhibit strong potential for quenching free radical activity. Cherries in particular have been quite popular of late with researchers in regards to their ability to inhibit inflammation (through down regulation of inflammatory pathways similar to NSAIDS). In particular, studies have shown promising results for reduced inflammation for athletes consuming cherry juice prior to race events (Kerry S Kuehl, etal, 2010). Of course, these amounts consumed are from concentrated cherry juice, and to transcribe this to every day life we would need to consider the actual consumption amount of cherries as a whole fruit needed to give the same results. However, adding cherries to our daily intake is certainly advantageous given such therapeutic activity.
This meringue smash is quite low in sugar compared to any meringue you will buy or generally make from a cookbook. The sugar content has been kept to an absolute minimum, just enough to give sweetness and hold to the meringue. Otherwise, the sweetness in this recipe comes from the adorning berries and cherries and the prune juice within the chocolate sauce.
Jessica Cox is a qualified practicing Nutritionist with a Bachelor Health Science (Nutrition) and over 15 years of clinical experience. She is the founder and director JCN Clinic, published author and established recipe developer. Jessica is well respected within health and wellness space for her no fad approach and use of evidence-based nutrition.