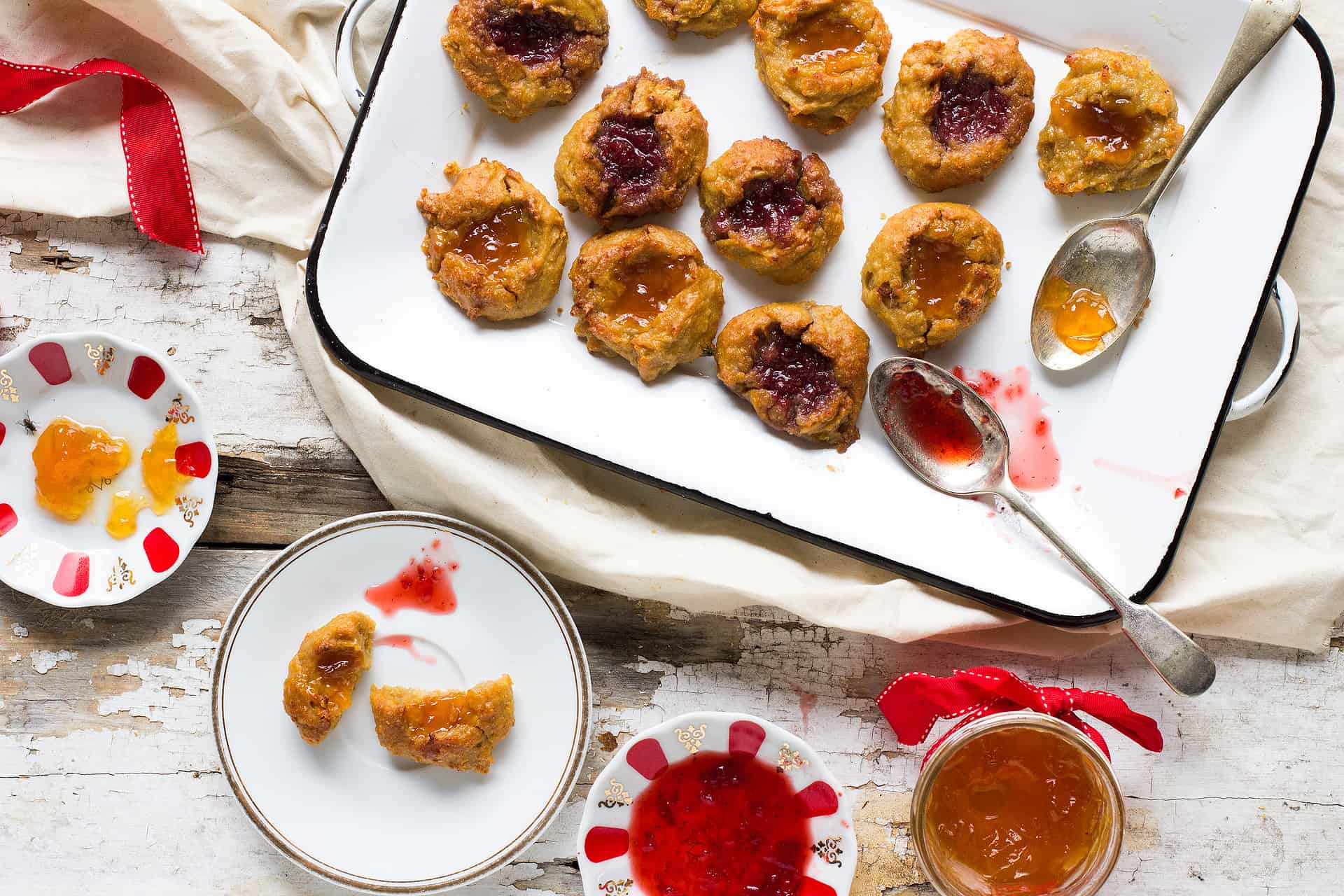 Ugly food. Ugly food by my definition is food that tastes really delicious, but looks damn ugly. That's what these orange-spiced jam drop cookies are. Ugly cookies. I'm okay with that. Not everything needs to be pretty. What I do demand though is flavour, and these tasty little morsels do not let me down.
These orange spiced jam drops have been made with the festive season in mind. It's that time of the year where we start to make all sorts of treats to share with love ones, or to take along to Christmas functions. It's also that time of year where the concept of eating a well balanced diet within the spectrum of moderation gets a little askew. The sugary treats creep up along with the champagnes and vino.
The idea of these cookies is to provide a festive season sweet snack that also ticks the boxes of being low in sugars, while providing some protein and fiber. This believe it or not is achieved by the use of the main ingredient, chickpeas. Cooking sweet dishes with chickpeas is not a new concept, its been done plenty of times before. In fact, you will find a recipe close to this on the website called grain free fudge cookies. The chickpeas give a wonderful softness to cookies and (I promise you) leave all savory notes behind when baked. It's actually quite surprising just how well they work.
Christmas does not need to be a time of serious over indulgence where we throw caution to the wind. I am as you know extremely big on balance, and having some down time for a nice piece of pavlova or some duck fat roasted potatoes with aioli is certainly on my to do list. However, its important not to use the holiday season as an excuse to go completely off the rails. So many people tell themselves 'I'll get it together in the New Year', but imagine how well you would feel (emotionally and physically) if you were to apply a level of realistic balance through the holidays.
How does one do this? Make those special family dinners and functions your time of indulgence and use your own time to eat more wholefoods. The majority of us aren't at a party everyday, so realistically if you eat well when you are in the drivers seat, then you are already setting yourself up for a more balanced approach.  Secondly, make yourself some yummy sweet snacks that are low in sugars and full of sustaining complex carbs and protein. They will taste great but also fill you up, leaving you less inclined to chomp away mindlessly on candy canes, shortbreads and chocolates.
Forethought is a powerful tool. If you are concerned about the silly season ahead, sit down and make an action plan that involves certain foods that you can make and take to family events. Those of you with food intolerances will reap the rewards ten times over if you do this. After all, who wants ongoing brain fog, a sore belly and copious toilet visits for days on end. Planning now will save you a lot of sugar hangovers and bloated, crampy belly episodes in the weeks ahead. Come out the other end of the holidays feeling rested and well nourished, healthy, and ready to tackle the next year ahead full of enthusiasm.
orange spiced jam drops
serves

12 cookies

preparation time

10 minutes

cooking time

30 minutes
ingredients
1 cup well rinsed canned chickpeas
1 tablespoon sorghum flour (or coconut flour or brown rice flour)
1 teaspoon vanilla extract
zest of 1 orange
1 teaspoon baking powder
1/4 cup rice syrup
1/2 cup hulled tahini
100% jam (no added sugar) such as strawberry and marmalade
method
Preheat your oven to 175c. In a blender mix all ingredients minus the jam until smooth. You will need to stop the blender a few times and scrape down the sides.
Line a baking tray with grease-proof paper and spoon on a heaped tablespoons of the batter for each cookie. Using a teaspoon make a little well in the centre and spoon in a teaspoon of jam in alternate flavours. Place in the oven and bake for approximately 30 minutes, dependent on your oven. It's worth checking them around 20 minutes to see if they are done. You want the cookies to brown, however still be soft in the center.
Allow the cookies to cool on the tray for at least 10 minutes, then transfer to a wire wrack to cool completely. Store in an airtight container in the fridge. They will also freeze well.
nutritional information
These cookies are completely grain free making them an ideal choice for those with sensitivities to gluten and other grains. The use of chickpeas additionally adds a sustaining combination of fibre, legume based protein and carbohydrates.
Tahini is the butter of choice in these jam drops. You can mix it up of course and use other nut or seed pastes. I love tahini for its taste, however it is also a source of omega 3 and a non-dairy source of calcium. This recipe uses hulled tahini, as unhulled tahini would be too strong a flavour. Black tahini would also work well.
Maple syrup can be swapped for rice malt or honey. Rapadura sugar could also be used or stevia, however you will need to add a bit more liquid to the batter if using dry sweeteners.
I recommend using sugar free jams in this recipe. You can buy jams made from fruits alone (with added fruit pectin to thicken), or you could also make your own jam using stewed down fruits and chia seeds to thicken.
Jessica Cox is a qualified practicing Nutritionist with a Bachelor Health Science (Nutrition) and over 15 years of clinical experience. She is the founder and director JCN Clinic, published author and established recipe developer. Jessica is well respected within health and wellness space for her no fad approach and use of evidence-based nutrition.