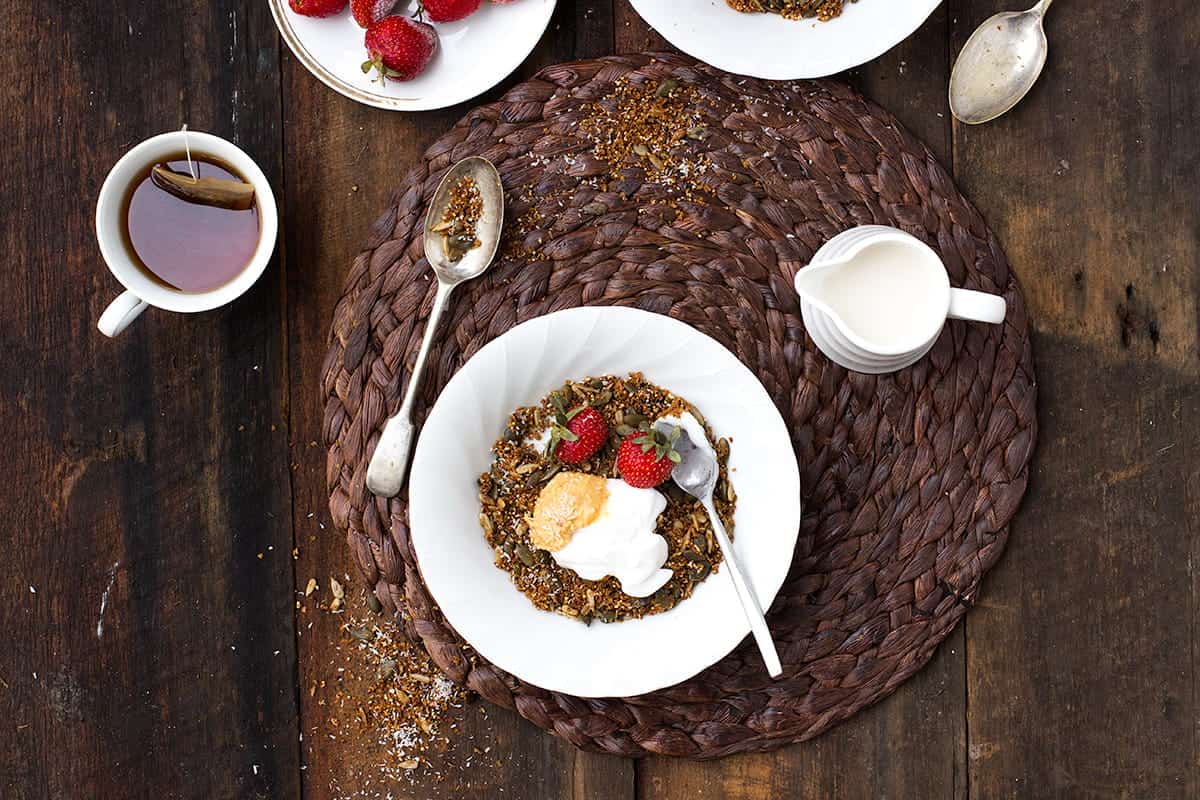 I knew I was on a winner with this cinnamon & coconut gluten free granola recipe when I was photographing my first batch on a Saturday morning to post on Instagram. My husband was helping me out by pouring hot chocolate sauce over the freshly made granola, stacked in a jar with yoghurt and fruit. When I flippantly asked him if he'd like it once we had finished (imagining he would be after his usual toast and vegemite), he exclaimed 'yes!' way to quick, and before I knew it was off with the jar in hand.
Obviously pouring a hot fudgy chocolate sauce over just about anything makes it rather sumptuous. However this cinnamon and coconut granola really does stand up on its own, chocolate aside. One would think looking at this granola that it had chocolate in it, given its lovely chocolate brown hues. The earthy colours however come from the cinnamon and the caramelised coconut sugars.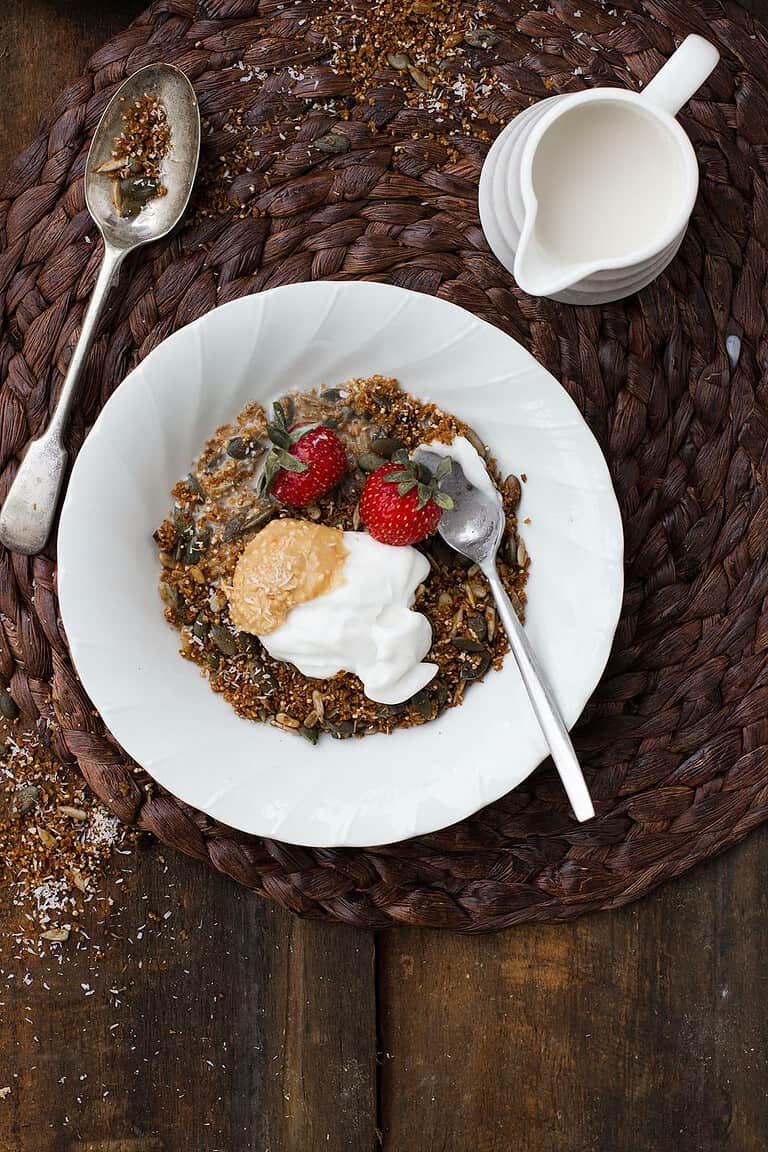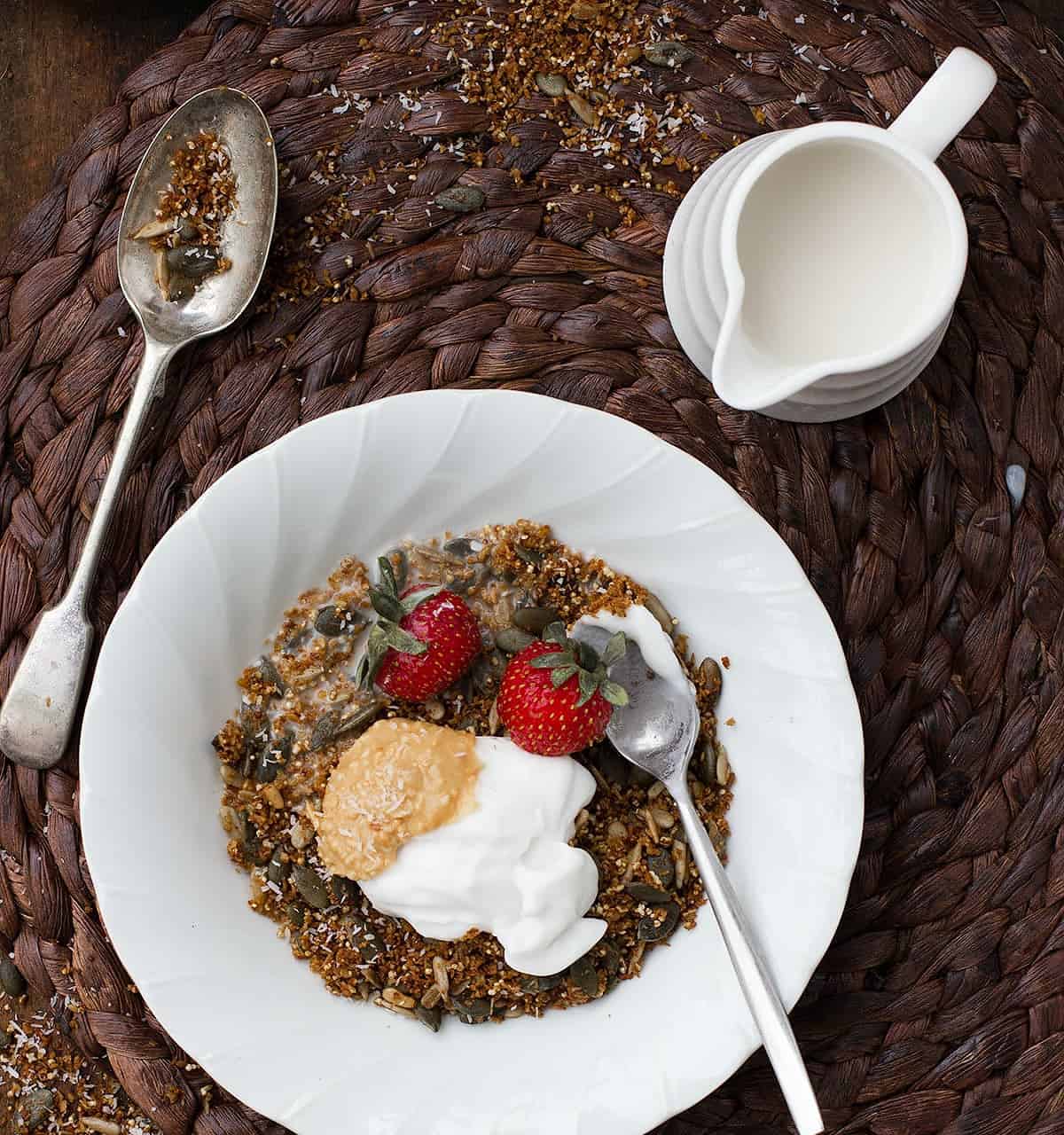 If you are not a fan of coconut then this granola is certainly not for you. It screams coconut in every which way possible. If you are a coconut fan though, well you have come to the right breakfast party. The creaminess of the coconut melts into the crunchy grains and seeds creating a wonderful mouth feel and flavour. For me, a perfect granola should have loads of bite with the right balance of sweetness, and this granola certainly delivers.
I have used lupin flakes in this granola as a gluten free alternative. Lupin flakes are getting a bit of a name slowly in gluten free and alternative eating circles. It seems the less well known something is to start with, the more cool it becomes. However people rush out and buy new hip products, then realise they have no idea what to do with them!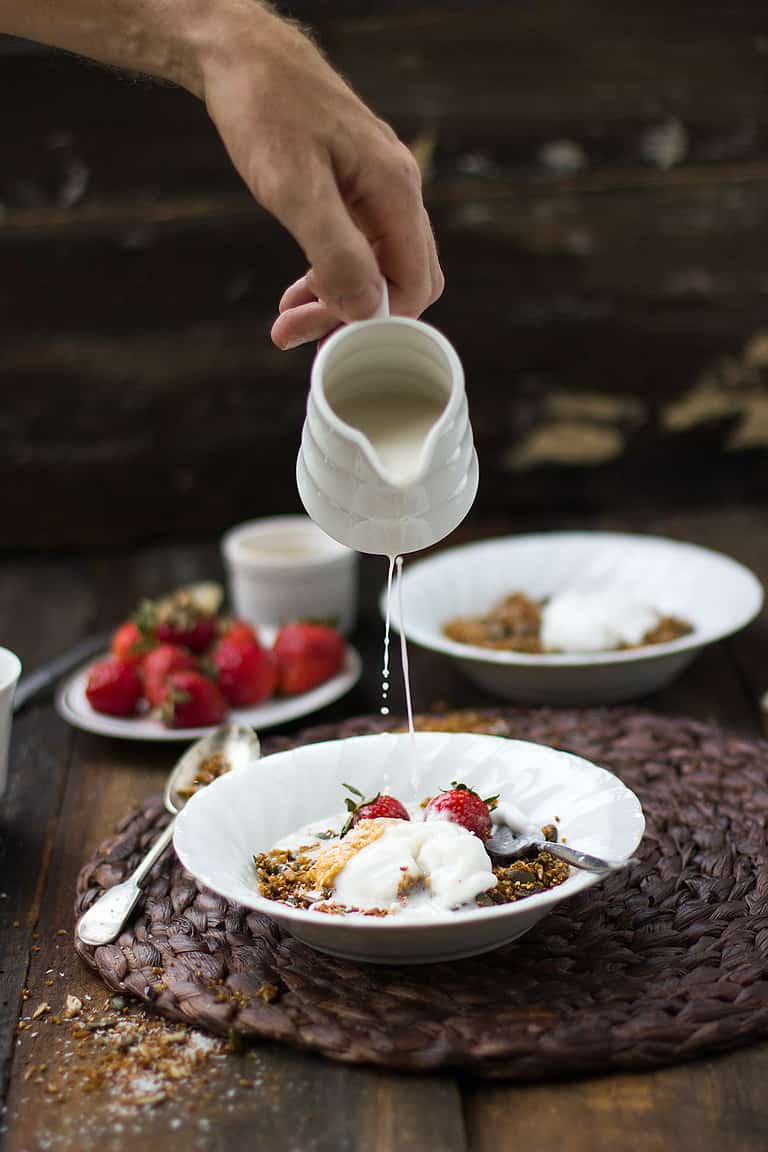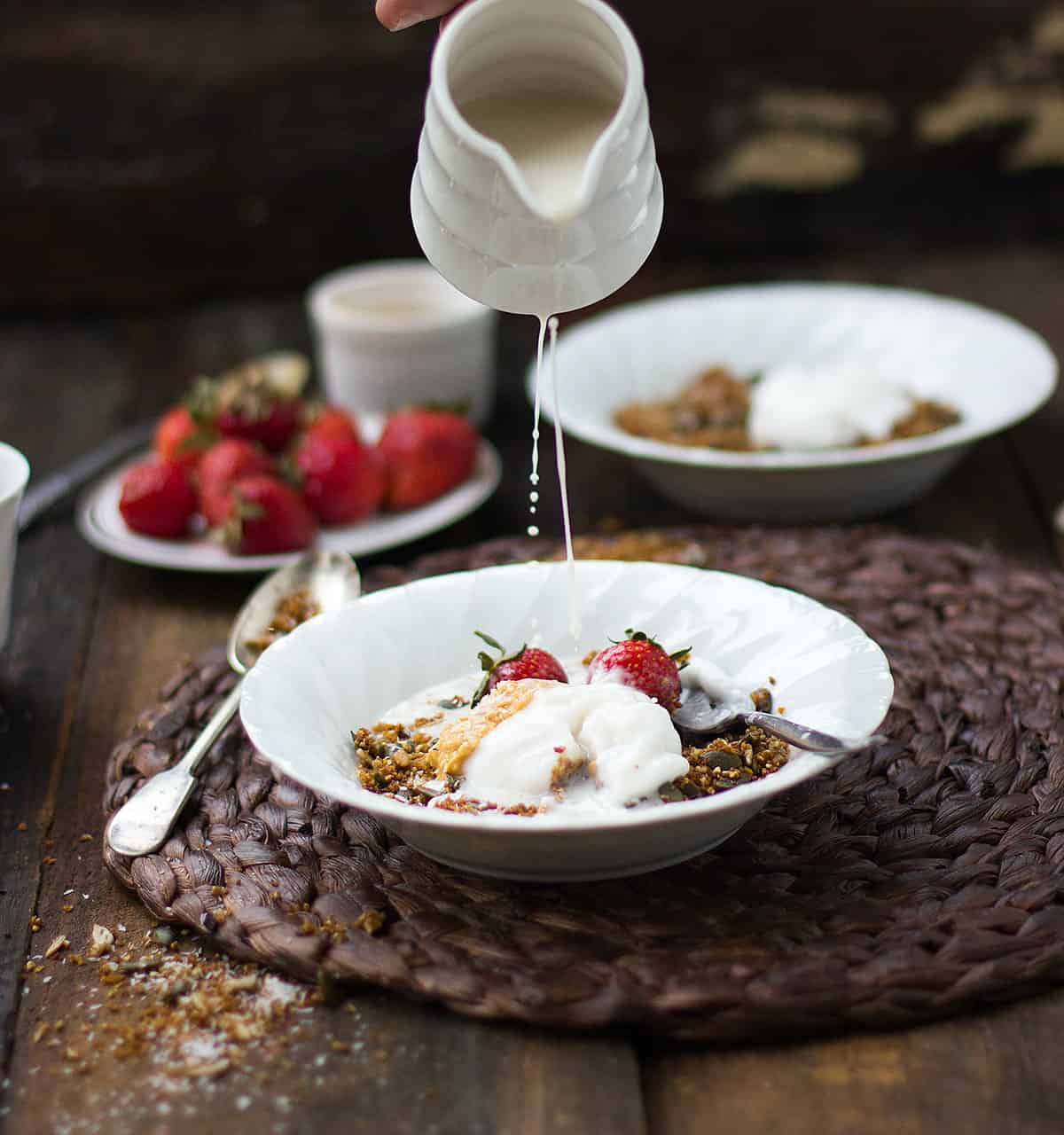 Lupin flakes can be used as you would regular oats as far as I am concerned. They hold a lot more texture and bite than quinoa flakes, which go very soft as soon as they hit liquid. I like to use lupin flakes in savoury dishes too, such as crumbing for fish or chicken. Lupin has a slightly savoury flavour, so I find when using it in sweet ways, such as this granola, that it needs to be balanced out with sweetness and creaminess.
When serving this granola you can just about add anything that you fancy. Here I have topped it with yoghurt, peanut paste and strawberries with a final slosh of almond milk. My first batch that my husband snaffled was topped with fresh mango and banana, coconut yoghurt and chocolate sauce…that combination I can definitely say without question is most certainly a winner.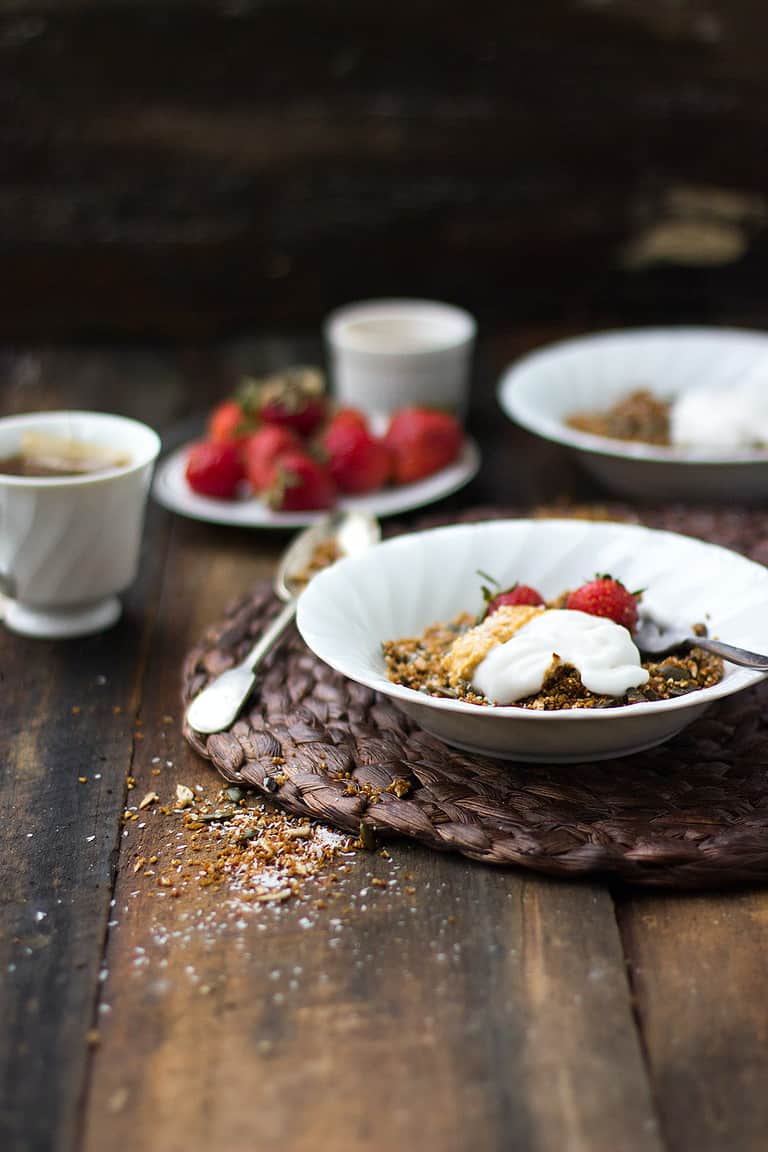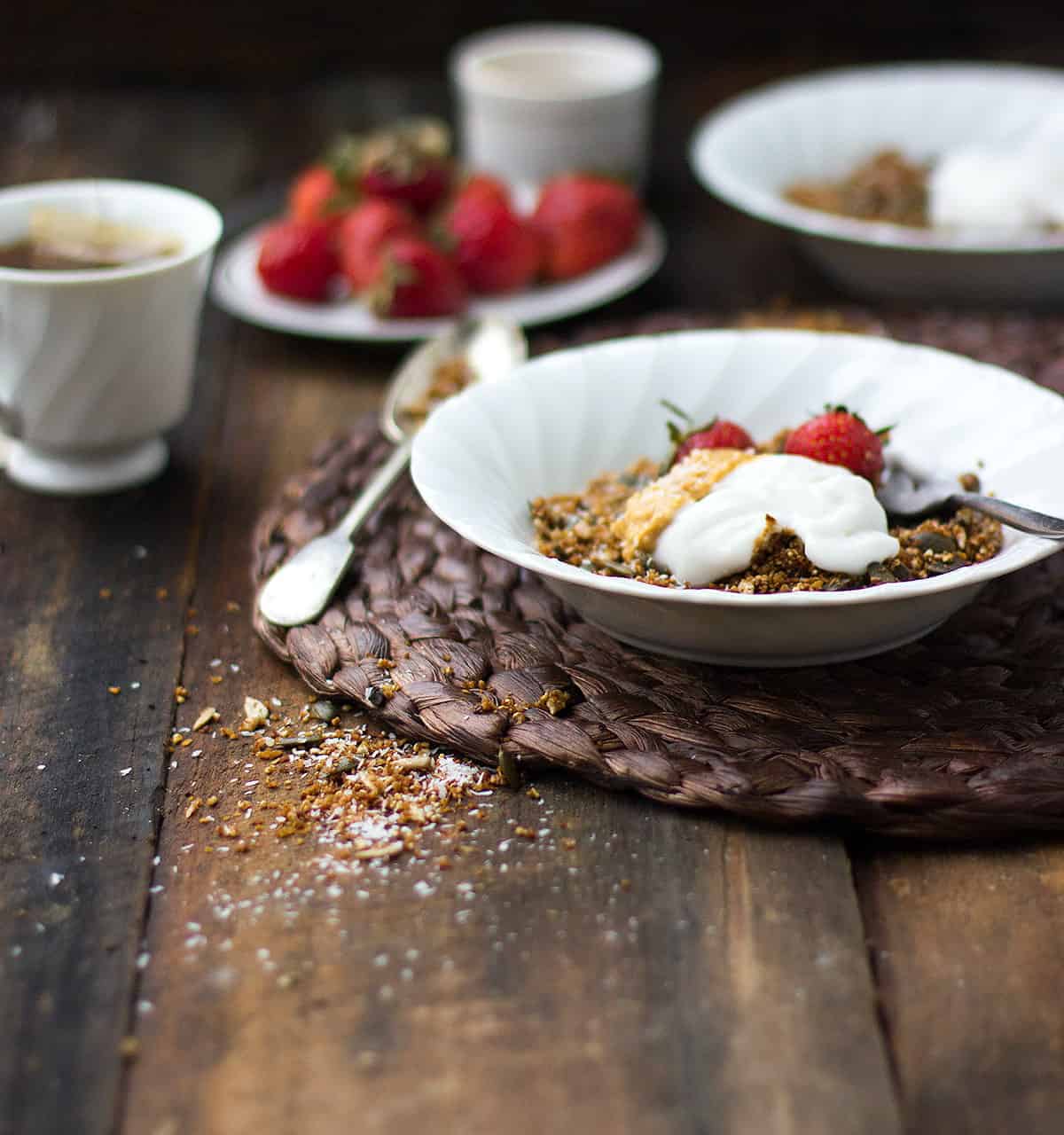 cinnamon & coconut gluten free granola
serves

makes around 5 cups

preparation time

5 minutes

cooking time

6 – 8 minutes
ingredients
1 cup lupin flakes (or regular rolled oats if gluten tolerant)
1 cup puffed amaranth (or puffed brown rice or puffed buckwheat)
1 cup shredded organic coconut
4 teaspoons cinnamon
1/2 cup sunflower seeds
1 cup pumpkin seeds (pepitas)
1 cup coconut spread* (or 1/2 cup coconut oil and 1/2 maple syrup or rice syrup)
method
*Coconut Spread can be found in most supermarkets in the healthfood section or in the international section with the coconut creams. It is a mix of coconut sugar and coconut oil and it is delicious! 
Begin by combining the lupin flakes (or rolled oats), puffed amaranth, shredded coconut, pumpkin seeds, sunflower seeds and cinnamon in bowl. Make a well in the centre and add the coconut spread (or coconut oil and syrup of choice). Combine well until everything is mixed nicely together.
Heat a large frying pan to a low-medium heat. Pour the mix into the pan and gentle stir the granola mix with a wooden spoon, allowing it to gently toast. Continue to do so for around 6-8 minutes until the granola becomes fragrant with toasting grains and crisp to touch.
Once the granola is done and you are happy with the taste allow it to cool bofore spooning the mix into a large, tightly sealed glass container and store in the fridge.
Lovely served with yoghurt of choice, fresh fruit and a dollop of your favourite nut butter.
nutritional information
Lupin is part of the legume family. Lupin seeds have a thick outer coat, which is removed in the first stages of processing. Lupin is high in plant-based protein, being made up of around 40% protein. It is also wonderfully high in fibre, especially pectin, making lupin a great prebiotic for gut health. Lupin also contains phytochemicals such as beta carotene, lutein and zeaxanthin along with vitamin E.
Lupin is part of the legumes family as mentioned above, so caution must be played for those following a FODMAP diet. As always, trial a food for yourself and see if there are any issues noted. Not every FODMAPer will find them problematic. It is always a case by case basis.
This cinnamon and coconut gluten free granola is a wonderful balance of macronutrients due to the high protein content of the lupin and the additional seeds. Lupin also adds complex carbs and fibre along with the puffed amaranth. The added seeds provide lovely fats along with the addition of the coconut and coconut oil. A well balanced meal in a bowl all round!
Jessica Cox is a qualified practicing Nutritionist with a Bachelor Health Science (Nutrition) and over 15 years of clinical experience. She is the founder and director JCN Clinic, published author and established recipe developer. Jessica is well respected within health and wellness space for her no fad approach and use of evidence-based nutrition.