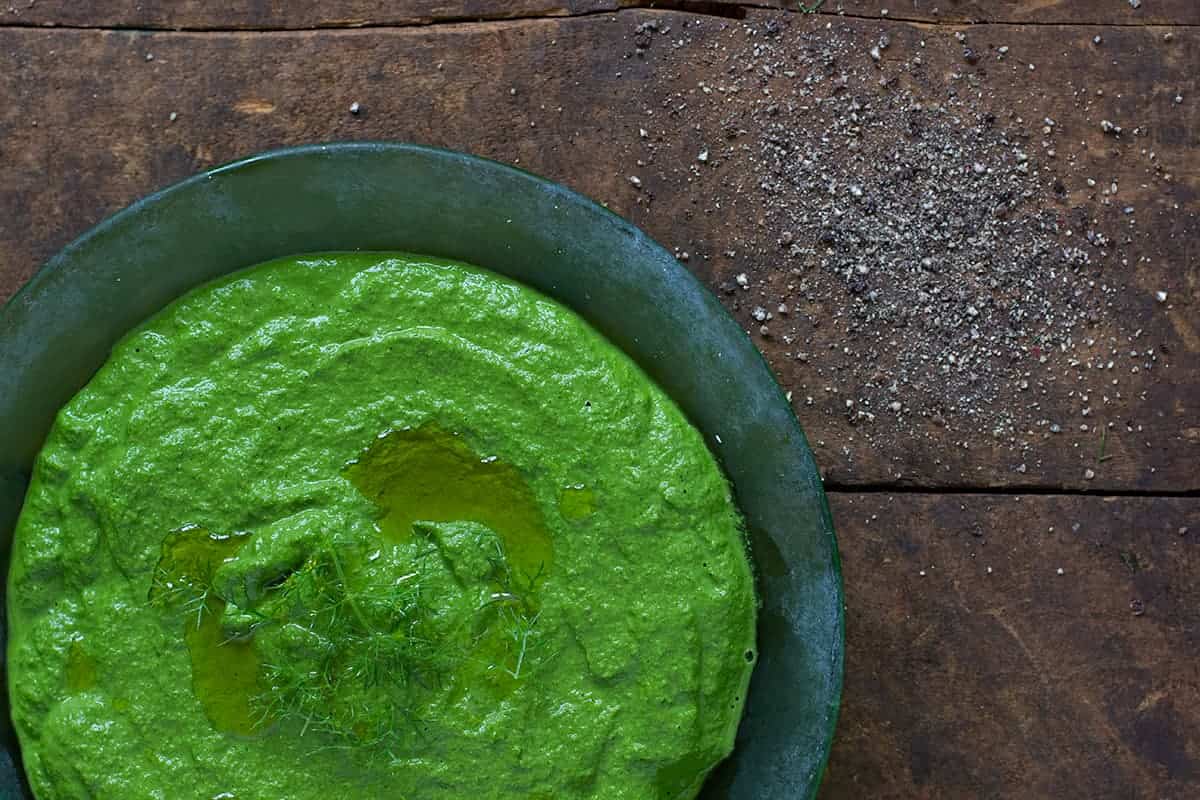 So…we finished our house! Wooo hoooo!!! After three years of hard work, a few tears, perhaps a few (thousand) swear words and some very supportive and understanding friends, family and neighbours, we are happy to say we have now officially laid down our tools. The house is on the market and we are two proud as punch homeowners.
As this day drew closer many asked 'will you miss it?', or 'such a shame to just finish and have this lovely home and leave!'. We explained rather surely that we always knew we would sell, we were ready for it, and that selling the house meant that we could move on to new plans (and an overdue honeymoon). Then the day came. Open home number one. A few early birds wondered into the house as we gathered our wallets and sunnies to leave. My first thoughts as I saw them wonder up our stairs without a knock or a 'hello' was…go away! Get out of our house!! My HOME!!….oh dear.
Change is never easy. Sometimes it feels like you are being peeled off some high strength velcro with a crowbar. I know that this next step for us is going to open some really exciting doors, and I cannot wait for them. But it doesn't make the process less emotional or confronting. When your surroundings are so lovely and you can see all the hard work around you and your achievements, well it can be very hard to say goodbye.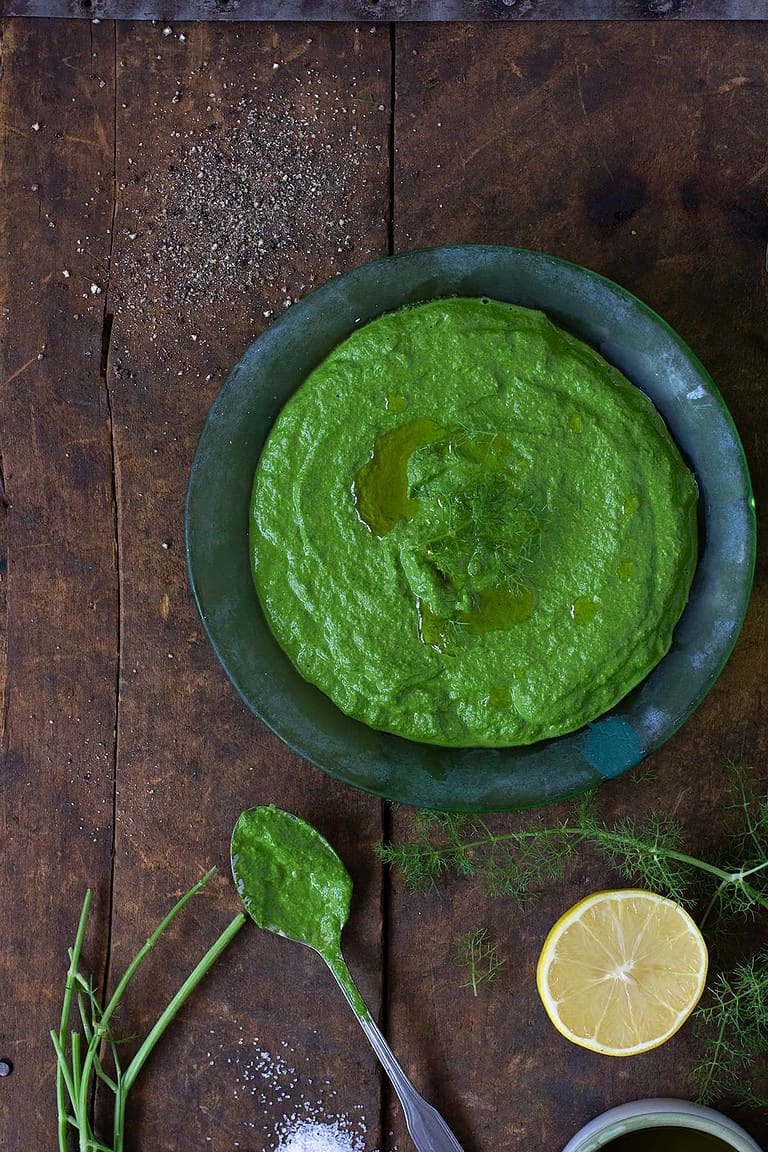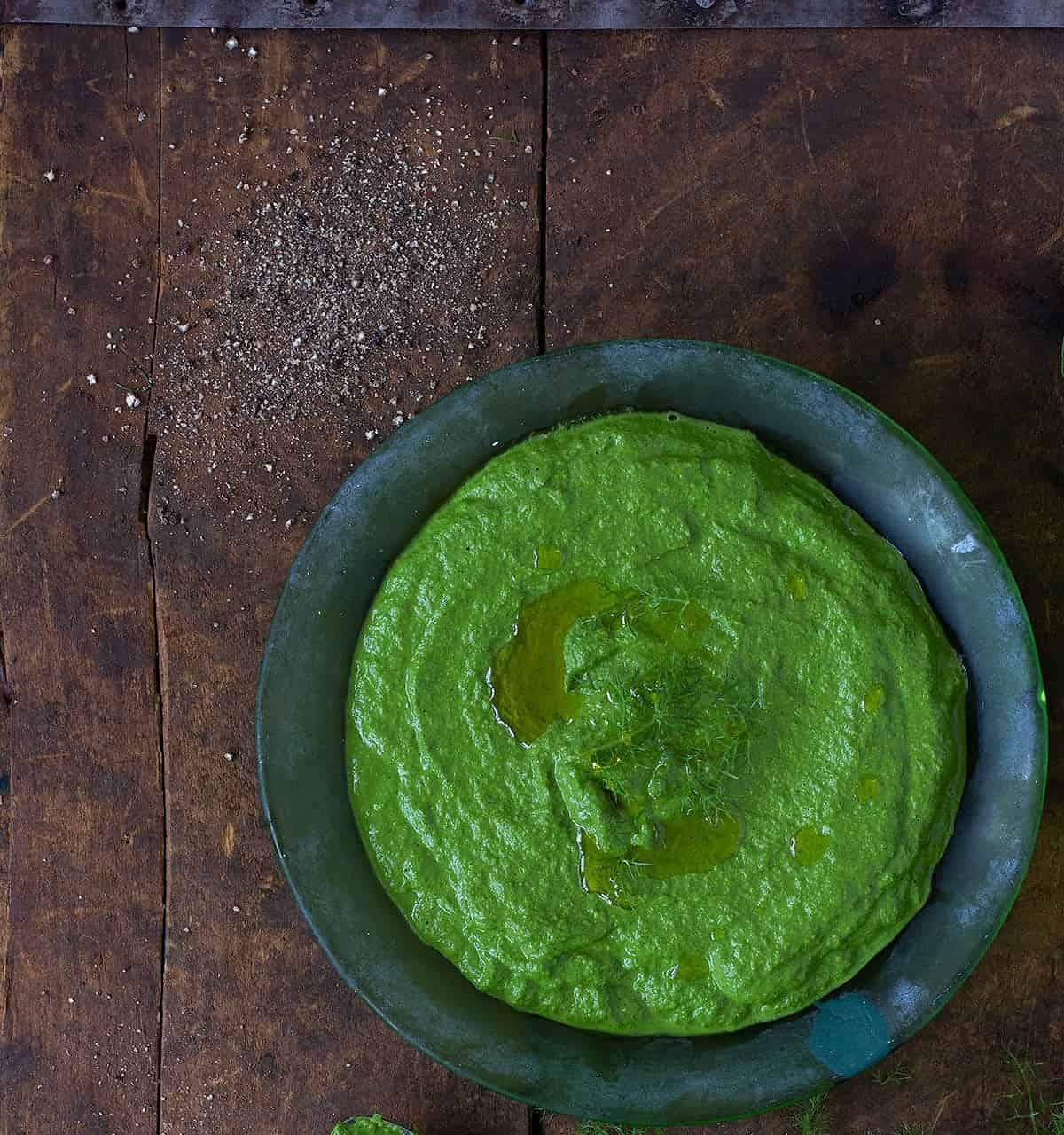 This includes our vegetable and herb garden. Oh how glorious it has become. It was the first thing that we did when we moved in three years ago. Now it rewards us with a plentiful supply of herbs and glorious vegetables. Case in point, the silverbeet and dill used in this recipe. One could not ask for a more perfect and bountiful crop. We continue to cut it back and cook with it, and it continues to reward us with growing more! How can I leave this sweet cyclic union?!
I've made too many pestos and salsa verdes to count from this garden. However this silverbeet & dill pesto is one of my favourites. It's great because it uses such little ingredients and is also naturally dairy free. I also do not use any garlic or nuts or seeds, as I find its perfect as is. I used to add the lemon juice and then some grated zest, then Vince from Workshop Co inspired me with his salsa verde by short cutting this step and just chucking in the whole thing. Why it had not dawned on me to do this before with pesto I do not know.
Silverbeet is in season in Queensland so I do hope that this recipe entices you to try it this way. Most people have only had silverbeet sautéed or served with a white sauce. Using the silverbeet in a pesto really brings out its sweetness and grassy flavours. The olive oil also has a grassy flavour that I like with this pesto.  If you cannot get your hands on silverbeet you could use spinach or kale, or even nasturtium leaves if you have an out of control plant in your garden. For me, I'll be continuing to use my silverbeet right down to its roots before we sell. Be warned new homebuyer out there, the garden may look a little different on moving day!
silverbeet & dill pesto
serves

makes 1 1/2 – 2 cups

preparation time

5 minutes

cooking time

nil
ingredients
6 large stems silverbeet (swiss chard), washed well
1 tightly packed cup fresh dill, washed well
1/2 good sized lemon, skin washed well
1/2 cup extra virgin olive oil (or oil of choice)
sea salt and pepper for seasoning
method
Place the silverbeet, dill, olive oil and the entire half of the lemon with a good pinch of sea salt and pepper in a blender and blend to a paste. You may need to do half of the greens first, then add the rest once the first lot have come to a paste. Taste the pesto and adjust for seasoning.
Pour the pesto into a air tight container and keep in the fridge for up to 6 days. If you cover the top with oil it will keep a little longer, or you could portion the pesto out into separate containers and freeze.
Lovely served with crackers and hummus or goats cheese. Also delicious spooned over meats, in particular fish. Also fabulous with scrambled eggs or scrambled tofu.
nutritional information for silverbeet & dill pesto
Silverbeet (swiss chard) is a high source of vitamin A, K and C. Vitamin C is well known for its water soluble antioxidant activities, while Vitamin K plays a role in bone health through supporting bone formation. Vitamin A along with flavonoids beta-carotene supports mucosal membrane health, respiratory health and eye health.
Vitamin K found in silverbeet in abounding quantities is becoming more well known for its pivotal role in neuronal health. Vitamin K is essential for the synthesis of sphingolipids, an important component of brain cells that have cell signaling and communication functions. Many vital proteins are also vitamin K dependent within the central and peripheral nervous system. Vitamin K rich foods would certainly be advantagous in the diet of those prone to, or suffering from neuronal decline (eg. multiple sclerosis, dementia, alzheimers, parkinsons disease). (G. Ferland, 2012 Vitamin K and the Nervous System: An Overview of its Actions, Advances in Nutrition An International Review Journal)
The addition of the whole lemon ensures the pith and the rind are used, which contain potent phytochemicals known for their anti-inflammatory activity. Such phytochemicals such as naringenin have been shown to enhance DNA repair, a vital antioxidant for fighting against mutagenic cells.
Jessica Cox is a qualified practicing Nutritionist with a Bachelor Health Science (Nutrition) and over 15 years of clinical experience. She is the founder and director JCN Clinic, published author and established recipe developer. Jessica is well respected within health and wellness space for her no fad approach and use of evidence-based nutrition.