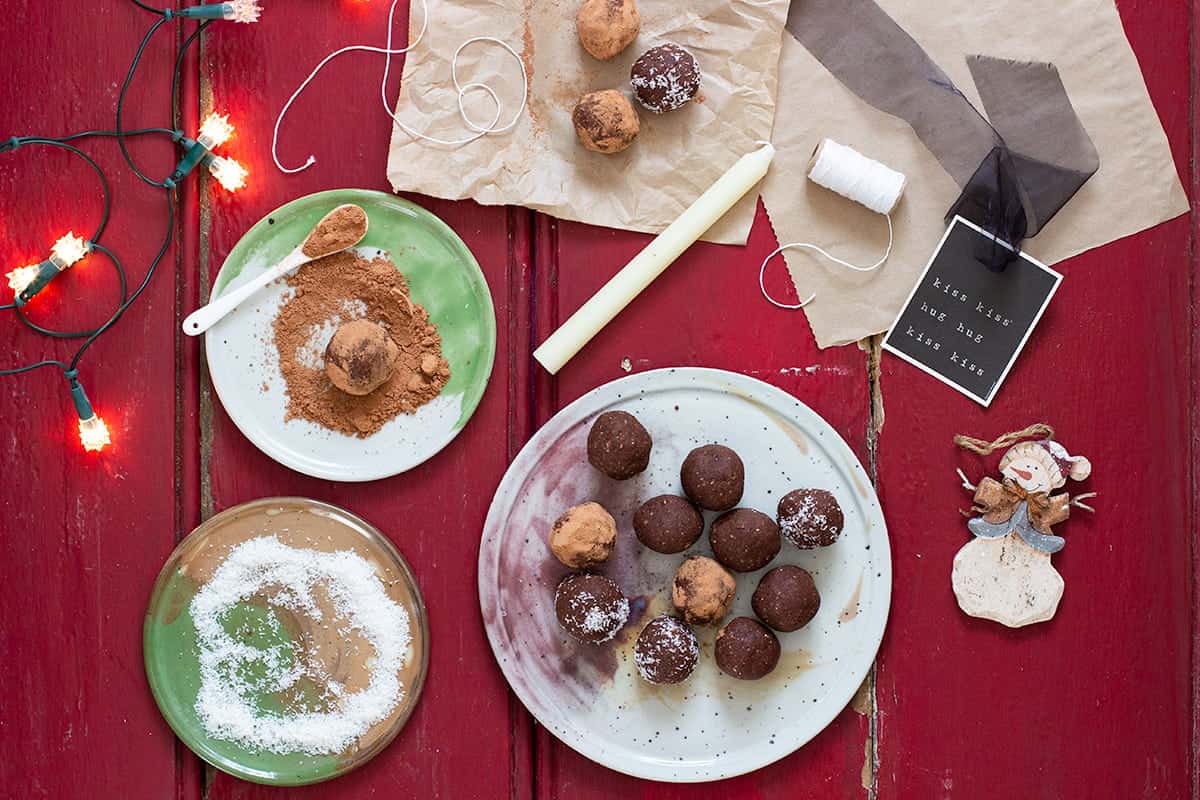 Where did the year go? Suddenly the shops are putting up their Christmas decorations and websites are churning out pumpkin pies for Thanksgiving in the States. As December comes at us like a freight train I thought it was time to get organised and start early with recipes for the coming Christmas holidays like these Chocolate Truffles. Being this organised with food is quite unlike me as I am usually undecided as to what I want to make up until the actual day itself (insert chaos here).
These chocolate truffles are the perfect Christmas gift for a loved one. Wrap them up in some fancy paper and twine and you have a heart-winning (and taste bud winning) present. They are also fabulous as a small dessert bite to offer your guests after a lazy lunch or dinner instead of cooking up a hot dessert.
Holiday and celebrations aside, these chocolate truffles are grand any old time. Personally I am enjoying them in the afternoons with a cuppa or after dinner at night. I'm onto my second batch now and have purposely not let my husband taste them, as I know they will disappear from the fridge if he realises they are so good. Better he thinks they are 'too healthy' for him.
The reason these chocolate truffles are so fabulous is the quality of the ingredients plus the use of the cocoa butter for that fudge like texture and melt in your mouth (and fingers) appeal. Its simple…
cocoa butter + quality ingredients x chocolate = mouth party
These chocolate truffles are not overly sweet at all. In fact they are quite the opposite, as the richness of the cocoa butter and the seed pastes with the cacao provide enough flavours to entice the palate without going overboard with sweetness. The little bit of added sea salt too is the key. It creates that salted chocolate hit that dances at the end of each mouthful. I've also found that there is something in the way these ingredients come together that results in a 'pop in the mouth' sensation, similar to popping candy that can be described nothing less than awesome.
Lastly, if you cannot source cocoa butter (generally found in health food stores) then you could use coconut oil. The truffles however will not be as solid and buttery in texture.
chocolate truffles recipe
serves

approx 12 balls

preparation time

5 – 10 minutes, plus rolling time

cooking time

nil
ingredients
1/3 cup raw cacao
2 tablespoons mesquite powder
1/3 cup sunflower seeds
1/3 cup pumpkin seeds
3 tablespoons chia seeds
1/3 cup dried white mulberries (or organic cranberries)
3 tablespoons pure maple syrup
20 grams cocoa butter, melted
1/3 cup hulled tahini
good pinch of salt
1/4 cup desiccated coconut (for rolling)
1/4 cup raw cacao powder (for rolling)
method
Place the sunflower seeds and pepitas with chia seeds in a blender and blend to a rough meal. If you have an average blender like me, remove the meal and add in the white mulberries and blend to a rough meal also.
Place the blended white mulberries and the seed meals back all in blender with remaining ingredients and blend till the mixture comes to a dough. Taste the dough for sweetness and if you feel you would like it a bit sweeter add a touch more maple syrup.
Using your hands, form the dough into balls around the size of a twenty-cent piece. Roll in cacao powder and/or desiccated coconut to finish.
Store in an airtight container in the fridge for 2 weeks or in the freezer for 3 months.
nutritional information
These chocolate truffles are low in sugars unlike many other raw 'bliss balls' on the market. The sweetness comes from a small amount of dried mulberries and the maple. The truffles are meant to be more of a salted chocolate enjoyment than an overly sweet snack.
Cocoa butter is the natural butter extracted from the cocoa bean. It is rich in fats, saturated and mono unsaturated. Cacoa butters high saturated fat content make it ideal for setting these balls and creating the luscious melt in your mouth feel to the chocolate truffles. Cocoa butter also contain great levels of vitamin E.
If you are struggling to source ingredients such as white dried mulberries, you can use other dried fruit such as cranberries or raisons. Ideally use organic dried fruit.
Jessica Cox is a qualified practicing Nutritionist with a Bachelor Health Science (Nutrition) and over 15 years of clinical experience. She is the founder and director JCN Clinic, published author and established recipe developer. Jessica is well respected within health and wellness space for her no fad approach and use of evidence-based nutrition.