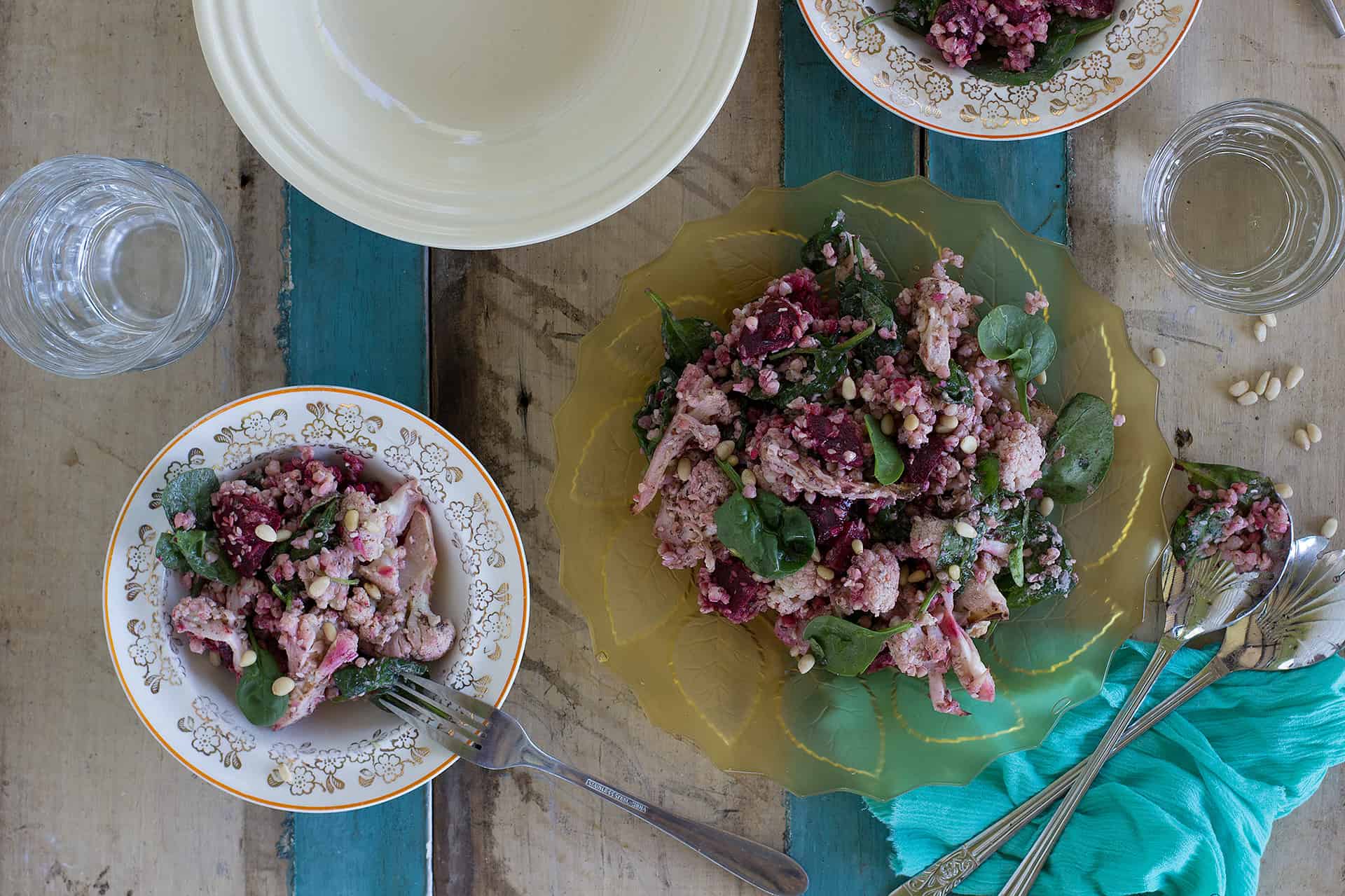 One of my dear friends bought to my attention recently that I do not have a buckwheat salad on the website. Considering I basically live off them I thought I better hop to it and put one on here. We religiously have a buckwheat salad like this creamy beet & cauliflower buckwheat salad at our household at least once a week. I cook up a big batch so that it can be used for lunches through the week. I'm a big fan of adding some Tasmanian smoked salmon at work to make a balanced and sustaining lunch. It's a winning formula every time.
Many of you have probably cooked with quinoa, but not so many I find have dabbled with buckwheat. The trick to boiling buckwheat is to not over boil it. To see if it's ready, taste it as it begins to look swollen. It should loose its crunch and develop a nice bite similar to brown rice. You could steam your buckwheat too, however if you do this just give it a rinse first.
The creamy dressing is a tahini based dressing that I use over and over again at home. I often add different herbs and spices, but this is essentially the base. I recently was given the cookbook Jerusalem by another dear friend, in which I found this tahini sauce is a regular occurrence in local Jerusalem cuisine. A new place to consider for a honeymoon perhaps?
I'm often asked on Instagram the difference between hulled and unhulled tahini. I will pop a break down of the nutritional variations in the nutritional notes, but for me the use of a variety of tahini's is more about flavours. The hulled tahini used here is more creamy and neutral, which works well with the salad. Hulled tahini is stronger and can be quite savoury and powerful. I prefer unhulled tahini as a spread with tomato on toast or with sauerkraut, as in sauces and baking it can be a little too strong. Black tahini (if you can get your hands on it) is similar in taste to the hulled tahini with a perhaps a little more creaminess. I love it and if you see it in your travels I thoroughly recommend trying it.
creamy beet & cauliflower buckwheat salad recipe
serves

6 people as a side

preparation time

1 hour

cooking time

40 minutes
ingredients
1/2 cup raw buckwheat
250 grams baby beetroot, regular beets cut into golf ball size pieces
1/2 regular sized cauliflower cut into florets
2 large handfuls of baby spinach
1/4 cup sesame seeds
50 grams pinenuts
// creamy dressing //
6 heaped tablespoons hulled tahini
1 clove garlic, mashed
2 tablespoons dijion mustard
4 teaspoons sumac
juice of 1 lemon
2 tablespoons olive oil, plus extra for dressing
1/2 cup warm water
method
Pre heat the oven to 220c. Wrap the baby beets or beetroot pieces in foil and place in a baking tray and pop in the oven to begin roasting for 10 minutes while you prepare the cauliflower and the dressing. Place the cauliflower in a steamer and steam the cauliflower florets till tender. This should take 10 minutes, but test the cauliflower with a knife as it steams as it could take less time.
In the interim, make the creamy dressing by combining all ingredients expect the water. The dressing will be quite thick. Slowly add the warm water stirring to bring to the consistency of runny honey. If you think you do not need all the water then simply leave some aside. Otherwise, add more water if needed. Taste for seasoning and add a touch more lemon juice if you think it's required.
Pull out the baking dish from the oven with the beets and add the steamed cauliflower. Spoon around 6 tablespoons of the creamy dressing over the cauliflower, then add the sesame seeds and a drizzle of olive oil. Mix well in the baking dish to coat the cauliflower in the lovely creamy dressing. Season with sea salt and pepper and place back in the oven for 20 minutes.
While the vegetables are baking cook up the buckwheat. Add the buckwheat to a saucepan with 3 cups of water and bring to the boil. Boil till the buckwheat is tender, around 8 minutes. Drain the buckwheat and give it a rinse, then set aside.
At the 20 minute mark, remove the vegetables and toss the cauliflower. Check the beets to see if they are done by inserting a knife (they should be easy to pierce) and if they are ready remove them. If not, leave with the cauliflower for another 10 minutes of baking.
To assemble, unwrap the beets and peel them (you can leave the skin on if you like) and place them in a large salad bowl with the steamed buckwheat and spinach leaves. Once the cauliflower is ready add to the bowl making sure you get all those lovely crispy bits from the baking dish. Spoon over the remaining creamy dressing and add the pinenuts. Mix well till combined.
Serve as a side dish to an organic free-range steak or other protein of choice.
nutritional information for creamy beet & cauliflower buckwheat salad
Hulled tahini means the outer husk of the sesame seed has been removed. This reduces the fibre content of the tahini and takes away the 'bitter' flavour that some find it has. The hulled tahini is also slightly lower in calcium. Unhulled tahini still retains the outer husk of the seed, which gives it the darker colour and the stronger flavour. Unhulled tahini is richer in calcium, although the natural fiber content may impede the absorption slightly of this calcium. Black tahini contains higher amounts of antioxidants that are naturally associated with dark/black foods. Sesame seeds are an abundant source of vitamin E and antioxidants such as sesaminol and sesamolin that scavenge free radicals.
This creamy beet & cauliflower buckwheat salad provides a good balance of complex carbs, essential fats and fresh vegetables. Protein is also supplied by the tahini and the buckwheat, however this is not enough to make it a sustaining meal on its own. To complete meal it is important to add a protein side. If you are vegetarian or vegan add some tofu, tempeh or some legumes to the salad.
Jessica Cox is a qualified practicing Nutritionist with a Bachelor Health Science (Nutrition) and over 15 years of clinical experience. She is the founder and director JCN Clinic, published author and established recipe developer. Jessica is well respected within health and wellness space for her no fad approach and use of evidence-based nutrition.