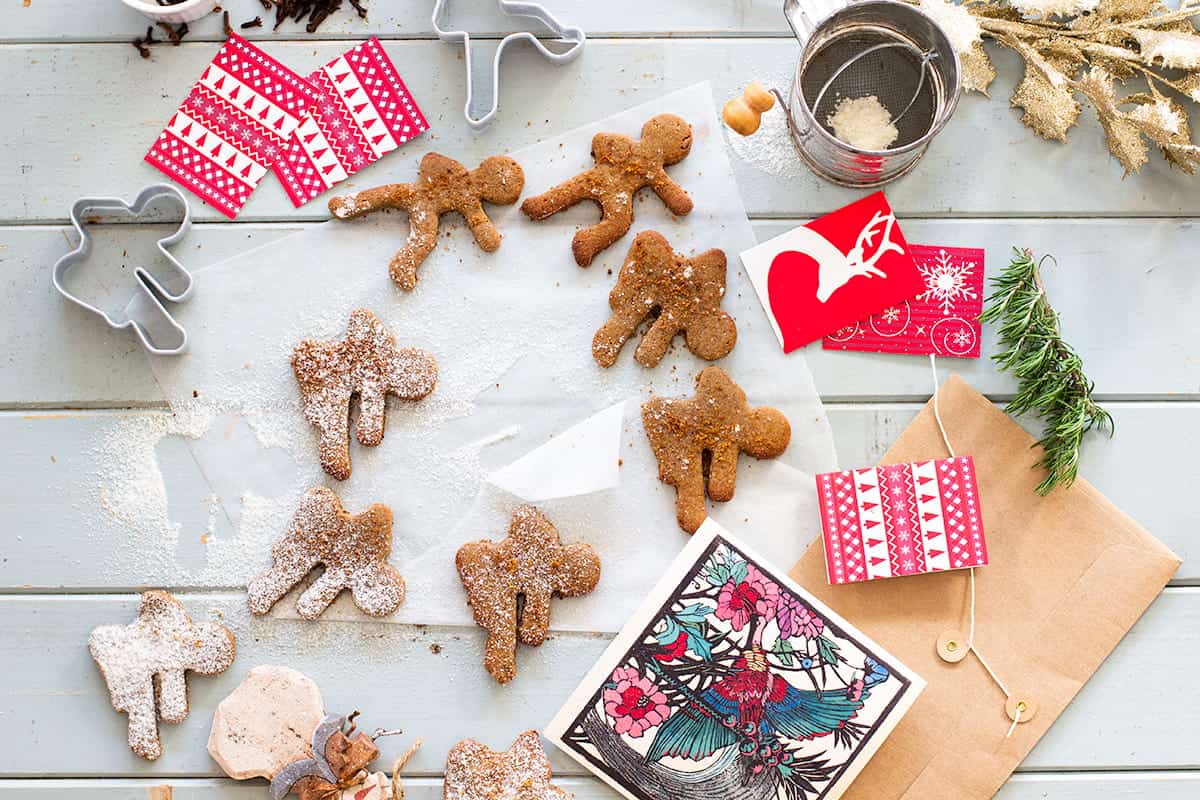 What would Christmas be without gingerbread men cookies? These little guys are an ongoing tradition often devoured straight from the tree by salivating children (and lets face it, adults too). The traditions of Christmas are really what make Christmas day such a joy. The traditions bring us together as a family and with loved ones enriching us with memories from past while building more moments to enjoy in the future. I find Christmas day is a day that you feel really present in the moment, as often we are living in our future stresses or past regrets. It all falls away on Christmas day.
This Christmas I will be in Cairns, pretty much the Dubai of Australia. I made the comment to my sister that I would walk from my accommodation to her house, which is only a few blocks away, and she told me that under no circumstances would I want to walk. I may just fry up like a sunny side up egg on the pavement.
The reason for Cairns is due to my little sisters fast approaching due date for her own baby girl. I am bursting with excitement and literally cannot wait to meet 'bear'. While my mum and myself are there we plan to cook up a storm of snacks and supplies to keep my sister (and her man) well fed once the baby arrives. In this stash of treats will definitely be these nourishing gingerbread men.
These gingerbread men cookies contain a high content of seed meal, which makes them fabulously chewy and moist, whilst still retaining that delicious crunch on the outside. The mix of spices really dances in the mouth and compliments the malty richness of the molasses. Perhaps that's why I chose to use my ninja cookie cutters to synchronise with the excitement of each flavourful bite. These gingerbread cookies contain minimal naturally sugars, which means they are great for a more nutritious Christmas snack, yet not so good on the Christmas tree as they would literally grow mould in days! No hanging these ones on the tree guys.
These gingerbread men are also naturally vegan friendly, meaning they are egg free and dairy free. As they are based on seed meal they are also suitable for little ones lunch boxes. Personally I am finding these the most delicious gingerbread men I have munched on in since I can remember. Perhaps I am biased, but I do insist you bake these gems because they will be definitely worth you while.
gingerbread men cookies recipe
serves

12 – 14 cookies

preparation time

10 minutes plus 30 minutes refrigeration time

cooking time

8 – 10 minutes
ingredients
1 1/2 cups sunflower seed meal (grind in blender from whole seeds, or use almond meal)
1/2 teaspoon baking powder
1/2 teaspoon cream of tartar
2 1/2 teaspoons ground ginger
1 teaspoon cinnamon
1/2 teaspoon ground cloves
1/2 teaspoon ground nutmeg
pinch of salt
2 tablespoons coconut oil (or organic butter)
1/4 cup 100% maple syrup
1 tablespoon molasses
1/2 cup sorghum flour, sifted
1/8cup coconut sugar or rapadura sugar for dusting (optional)
method
In a mixing bowl combine all of your dry ingredients expect for the sorghum flour and mix well. Add the remains ingredients (minus the sugar for dusting later) and mix well to a wet dough. Sift in the sorghum flour and mix in to the wet dough till well combined. This will take away a lot of the stickiness of the dough. Bring to a rough ball and cover the bowl with cling wrap or a snug plate and place in the fridge for half an hour to chill.
Preheat your oven to 180c fan forced. Remove the dough from the fridge. On a clean working surface place a nice big piece of baking paper and dust with some flour. Place the dough o. The paper and sprinkle a little more flour over the dough and a rolling pin to stop it from sticking. Roll the dough out to about 3-4mm thickness. Using your cookie cutters cut out your gingerbread men (I used ninja bread men cutters because they are awesome). Carefully remove the gingerbread men from the paper and place on a baking tray that has been covered with a piece of baking paper to stop the cookies sticking.
Once you have cut out all the men you can from the first batch of dough, bring the remaining dough to a ball and roll out again. Repeat cutting of gingerbread men. Do this until all your dough has been used up. Once your gingerbread men are all on the tray sprinkle with coconut sugar or radula sugar for a little crunch if desired. Place in the oven for 8-10 minutes, or until slightly browned.
Allow the gingerbread men cookies to cool for 10 minutes on the tray before removing to a wire wrack to cool completely. The gingerbread men will harden up as they cool. If you would like to keep them soft, cover them with a tea towel as they cool as this helps retain some moisture.
nutritional information for gingerbread men cookies
These grain free gingerbread men cookies are gluten free. They are also rich in seed based omega based fats and protein. The high content of seed meal makes them a filling and nutritious snack free from the usual refined flours in these traditional Christmas cookies.
The sunflower seed meal means these gingerbread men cookies are nut free. If you are nut tolerant then feel free to use almond meal. Other nut meals such as macadamia nut meal would also be delicious.
The combination of spices in these gingerbread men cookies are very warming and nourishing for the digestive system. They also contain natural anti microbial agents that are beneficial for removing detrimental bacteria from the gut.
Jessica Cox is a qualified practicing Nutritionist with a Bachelor Health Science (Nutrition) and over 15 years of clinical experience. She is the founder and director JCN Clinic, published author and established recipe developer. Jessica is well respected within health and wellness space for her no fad approach and use of evidence-based nutrition.