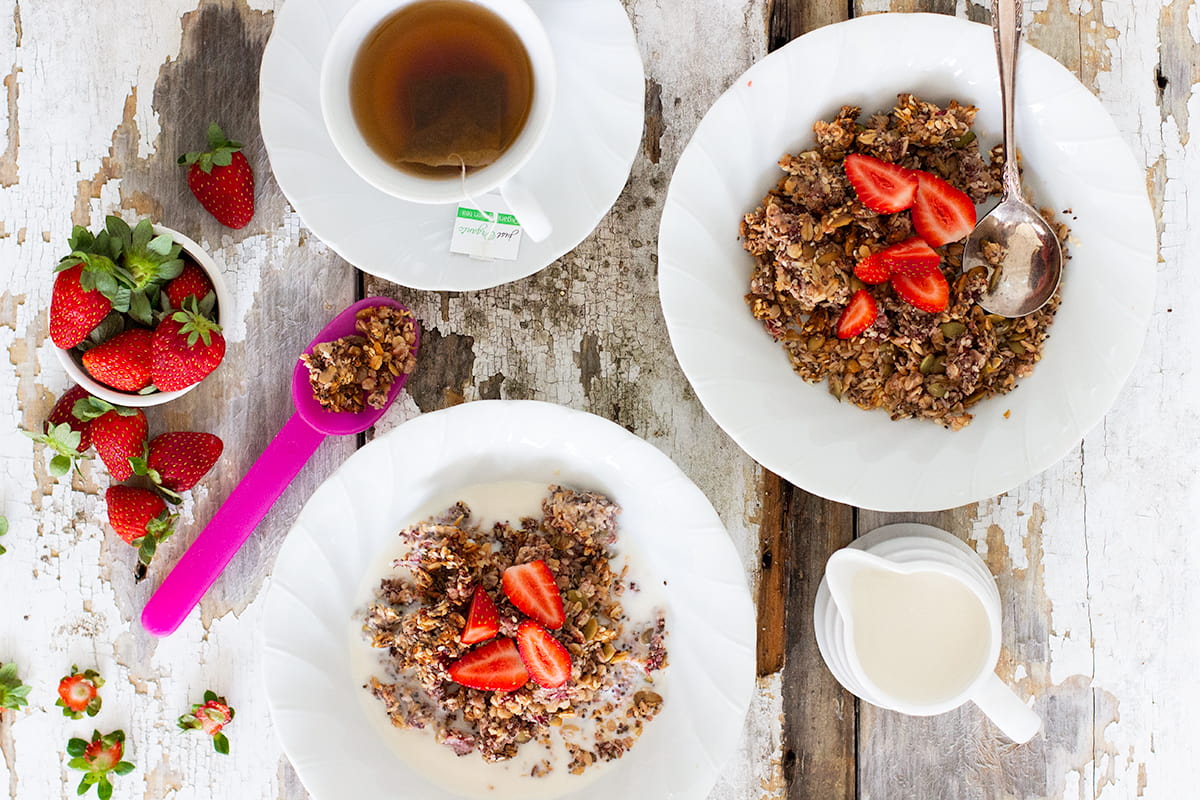 Its my first week back at clinic and diving into creating recipes again such as this strawberry & coconut granola after two life changing weeks away. I have to say it is hard coming back. Back down to earth. Getting married was an absolute whirlwind ride filled with so much emotion that at times I thought I might literally explode. I knew the day would be extraordinary, but nothing prepared me for the surrealness of the day and the extraordinary love that was felt. It has taken up till now for my feet to hit the ground again.
Being away and staying with my mum and dad on their property in Yackandandah Victoria for these last 2 weeks also had me hooked on fresh juicy strawberries from the garden. We had them every morning on porridge (it was so cold down there…brrrr!) as well as made into a strawberry and rhubarb crumble (yes, this was amazing).
Coming back home, I wanted to make a breakfast that incorporated seasonal strawberries, yet I knew bought strawberries would never give me that same flavour as hand picked, home grown strawberries. That's how the idea for this strawberry and coconut granola was born. By roasting the strawberries with the granola the flavours become sweeter as the natural sugars caramelise. Perfection! To compliment the strawberries I added the creamy flavour of coconut. Strawberries and cream in a bowl.
This strawberry and coconut granola is not a sweet granola, so if you desire a little more sweetness you could increase the maple when cooking, or simple drizzle over some honey or some yacon syrup on serving as I like to do. It is also luscious as an afternoon snack with some creamy natural yoghurt.
A final note, away from the granola. Thanks to all of you who sent me your lovely wishes for our wedding day. Big squishy hugs right back at you. xo
strawberry & coconut granola
serves

4 – 5 servings

preparation time

10 minutes

cooking time

45 – 50 minutes
ingredients
1 cup rolled oats
1/4 cup oat bran (or ground oats in the blender)
1/3 cup pumpkin seeds
1/3 cup desiccated coconut
1/3 cup sesame seeds
1/4 cup chia seeds
1/3 cup coconut oil
2 tablespoons maple syrup
1 cup strawberries, roughly chopped
method
Heat your oven to 175c.
In a saucepan combine coconut oil, maple syrup and chia seeds and heat to soften the chia seeds a little. Set aside.
Combine oats, oat bran (or blended oats), pumpkin seeds, sesame seeds and coconut in a mixing bowl. Add in strawberries and using your hands mix them through squashing the strawberries into the oat mixture to make it a little moist. It should start to go a pink colour. Leave some chunky bits of strawberries for texture as you go.
Add in the coconut oil and chia mixture and mix through till everything is nicely combined.
Pour mixture onto a baking tray and spread out evenly. Place in the oven for 20 minutes then take out and using a spoon stir the granola to expose any wet parts. Place back in the oven for 15 minutes. Repeat one last time then place back in the oven again for 10 – 15 minutes. The granola should have some lovely hard chunks when you are finished, however there will still be a bit of moisture to it.
Leave the granola to cool then place granola in an air tight container and store in the fridge. Keeps for 1 week.
To serve, enjoy with cold milk and/or yoghurt of choice and fresh chopped strawberries or other berries. Finish with a drizzle of honey if desired.
nutritional information for strawberry & coconut granola
Strawberries are rich in vitamin C and bioflavanoids. These nutrients are important for immune and lymphatic health. Strawberries phytonutrients have also been shown to have anti inflammatory effects when consumed 3 -4 times per week (at around 1 cup a day).
Bought granola is often loaded with sugars and cheap refined oils to help stick them together and maintain shelf life. This granola has none of those which means its fabulously good for you, but also has a short shelf life. That is why it is important to keep this strawberry and coconut granola in the fridge and make it in small batches to ensure that it does not perish.
This strawberry and coconut granola is full of fibre. It will keep you satisfied for hours, especially when combined with some added protein such as yoghurt. This granola will certainly help keep your bowels regular so add it to your repertoire or make it for a loved one who may need a little assistance in the bathroom department. 🙂
Jessica Cox is a qualified practicing Nutritionist with a Bachelor Health Science (Nutrition) and over 15 years of clinical experience. She is the founder and director JCN Clinic, published author and established recipe developer. Jessica is well respected within health and wellness space for her no fad approach and use of evidence-based nutrition.