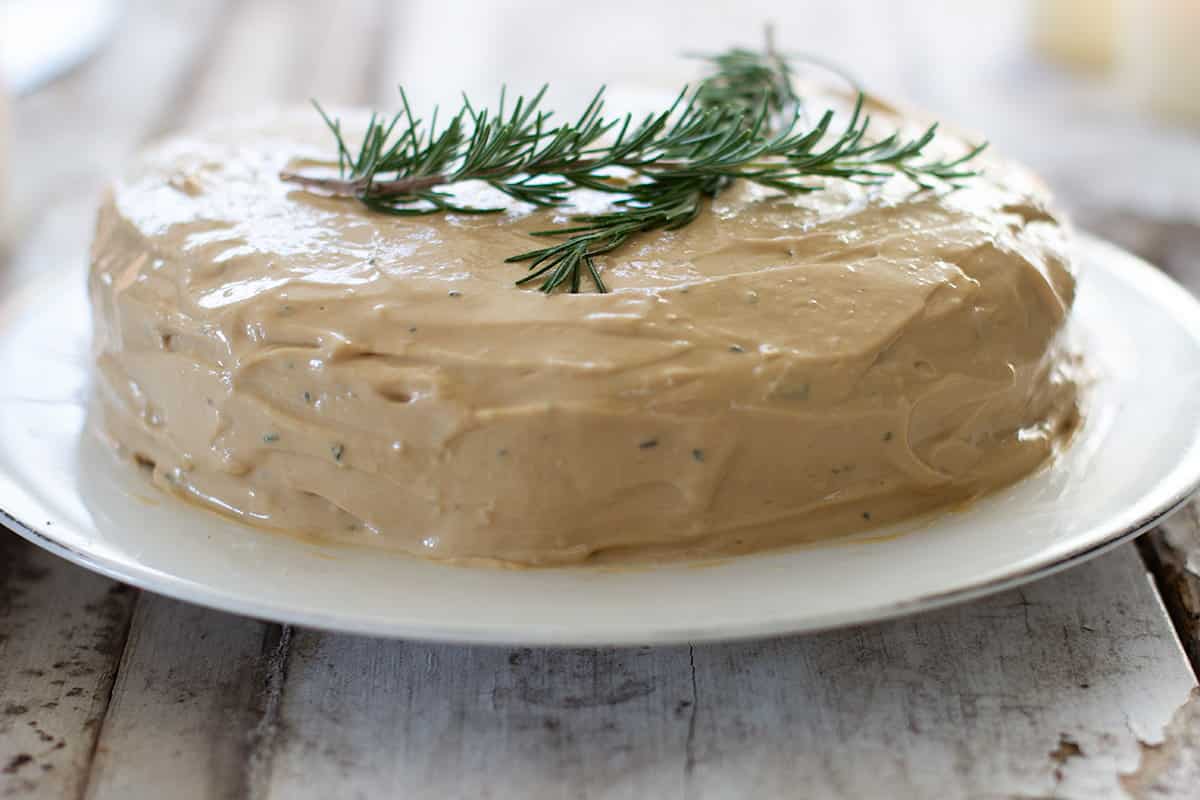 So in just over three weeks I am getting hitched. Yikes! The nerves have kicked in quite strongly and resulted in my stomach doing quite substantial summersaults every time I think about 'the day'. These nerves are more like excited nerves. The only equivalent sensation I can compare it to is that ridiculous excitement the night before Christmas when I was a kid and I knew Santa was coming. I knew grand things were on the way, but I wasn't quite sure what to expect.
We are having our wedding on our parent's property down in Victoria, just outside a small country town called Yackandandah. It will just be a small gathering of close friends and family and of course, it will be all about the food…and the wine to match of course.
This is where this rosemary citrus cake comes in. We are having everything catered for with the exception of dessert. Believe me, I thought about doing all the food, but I decided a bride to be with a manic kitchen state to boot was not the best idea. Therefore, my mum and I are currently experimenting with lots of cake options. We want a cake that suits the multitude of intolerances that will be sitting at our table, but of course also tastes amazing. Ideally it will be a one cake suits all, but if needed we will make a 'normal' cake if the alternative is a bit too left of field. We have considered sitting the smaller alternative cake on top of the 'normal' cake, which my brother in law to be pointed out may not be the smartest idea, as the gluten free cake would probably sink through the bottom cake. Ha, ha. Sooo funny.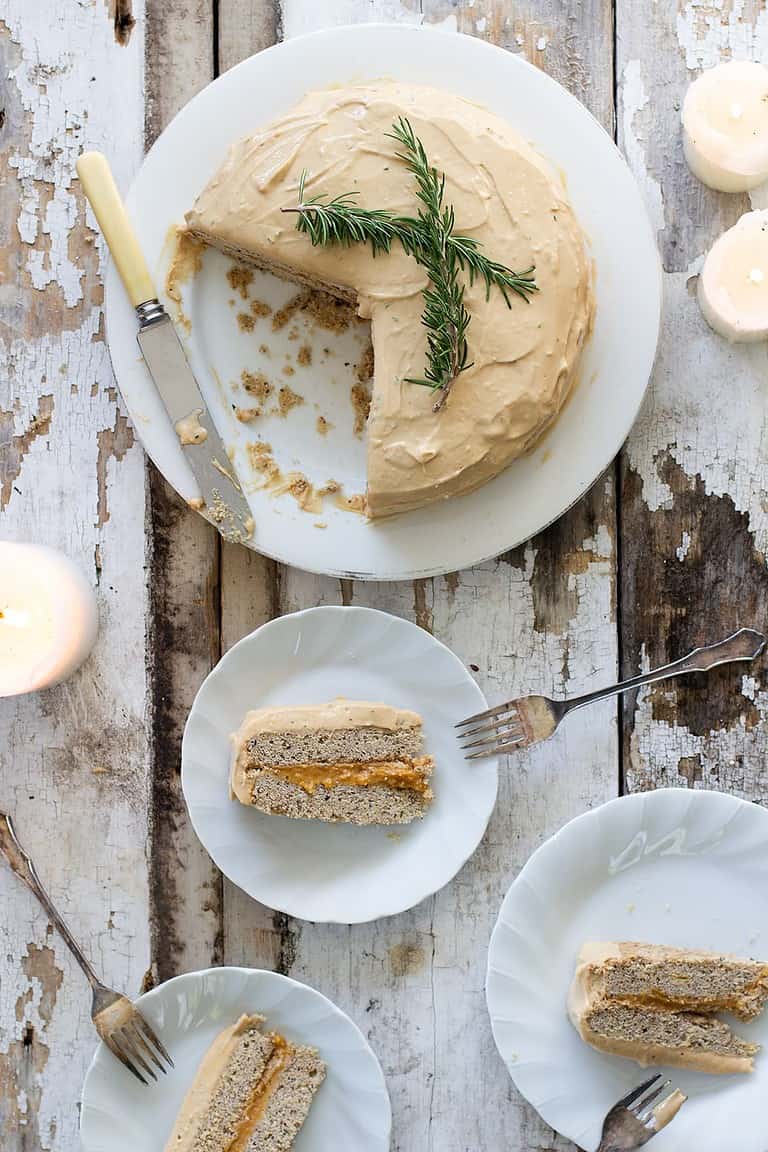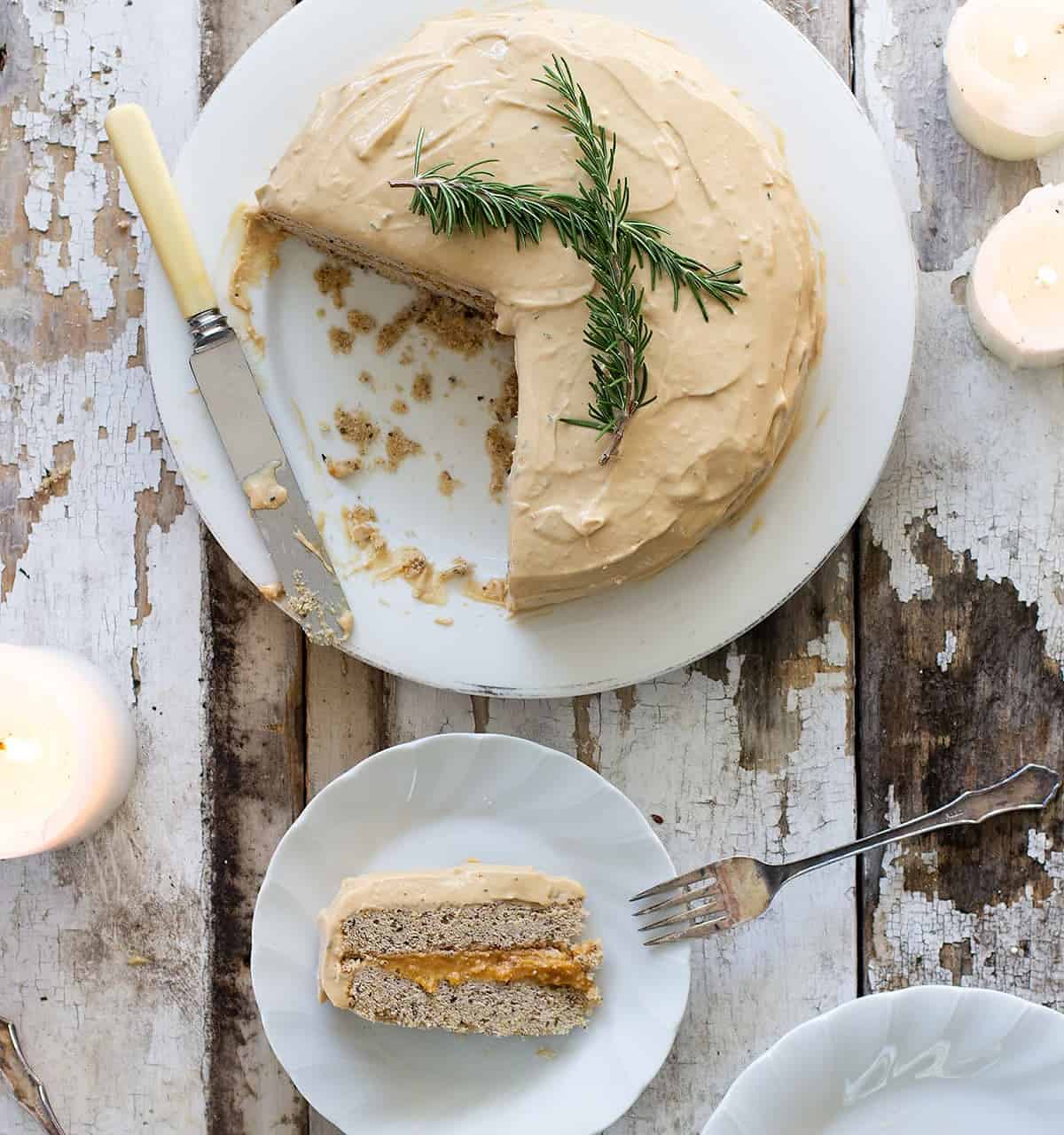 This rosemary citrus cake with lemon curd filling is on the short list for making the cut to the wedding table.  The cakes themselves are light and spongy (for gluten free that is) with a hint of citrus and rosemary. The lemon curd that sandwiches them together is truly heavenly, a gooey centre filled with zest and tang. The creamy frosting is reminiscent of cheese cake and brings all the flavours together into one taste bud explosion.
Whether my version of this rosemary citrus cake makes the cut or not at this stage, well, who can tell. For now though, it is definitely a winner in my eyes and is a wonderful alternative cake for any celebration.
This recipe is adapted from the splendid une gamine dans la cuisine – rosemary citrus cake with mascarpone-honey frosting by Valerie.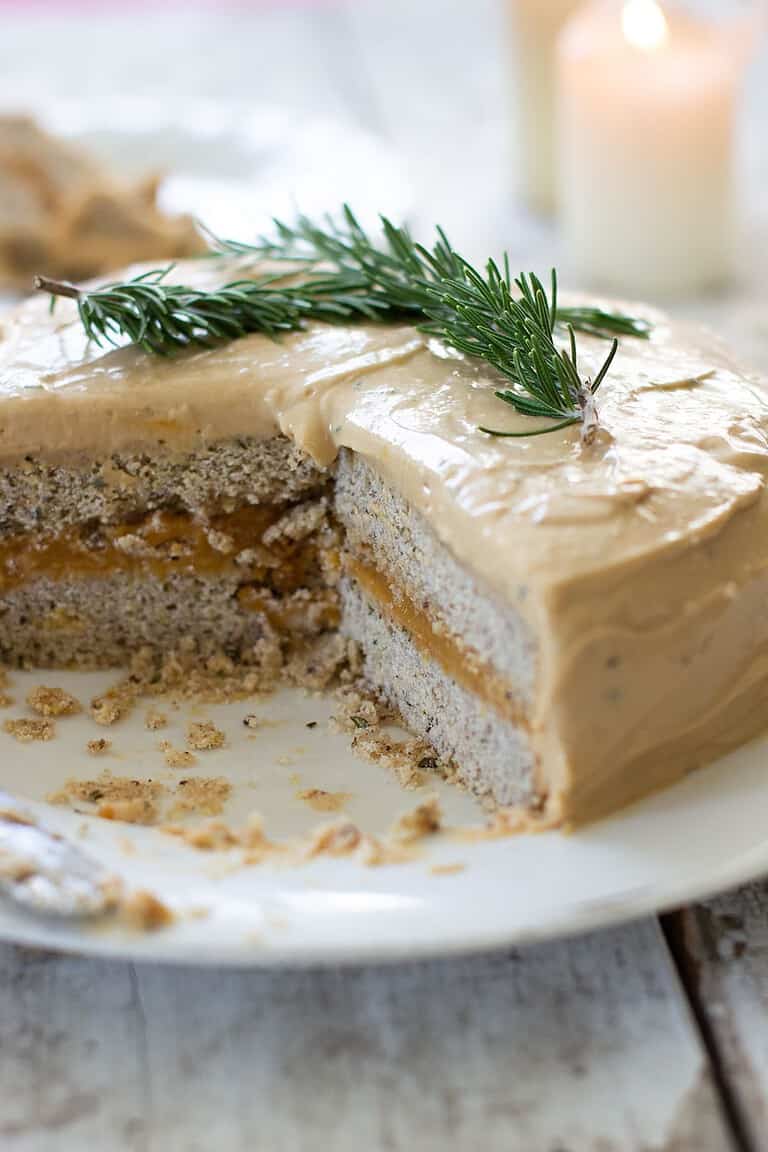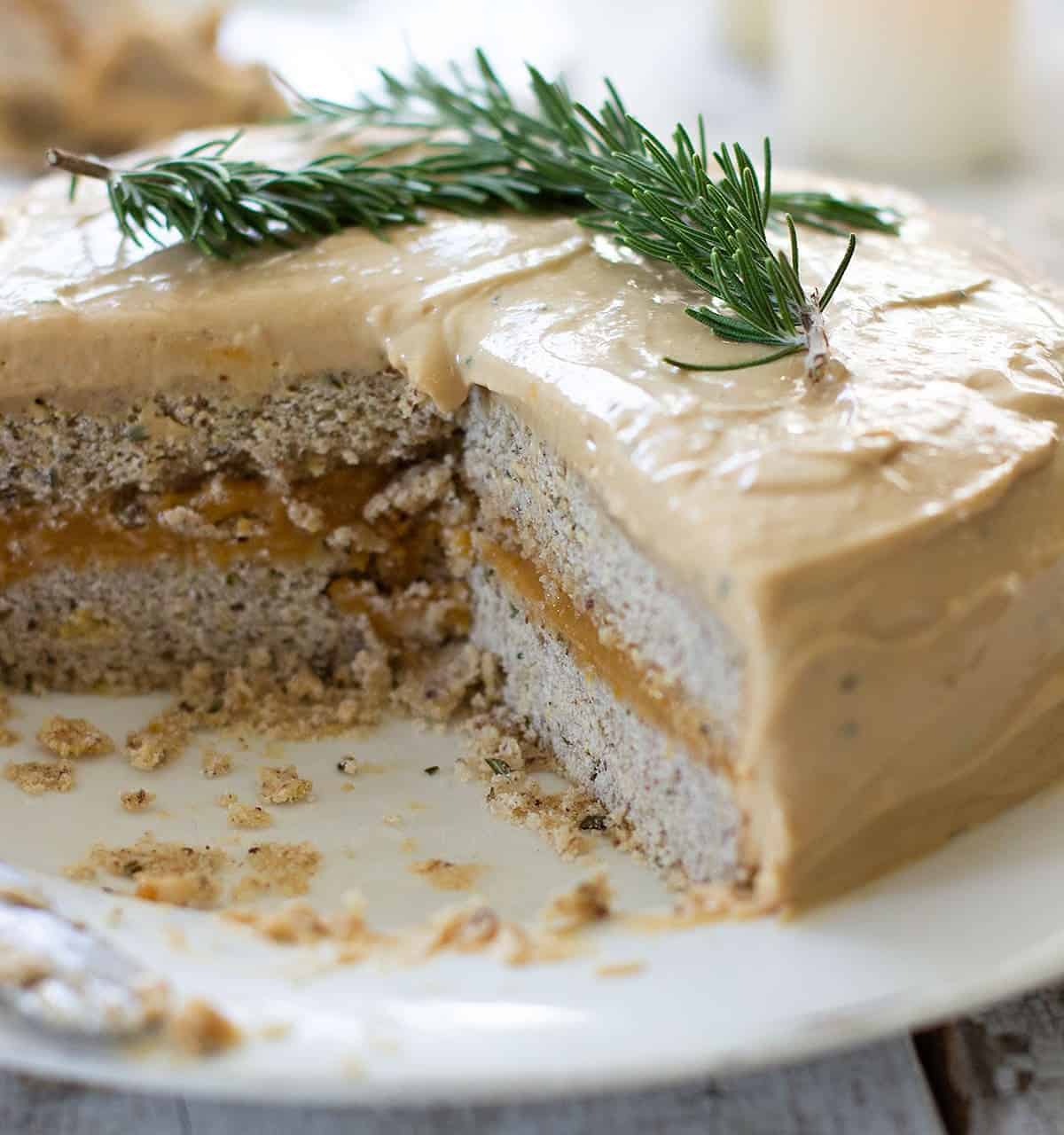 rosemary citrus cake recipe
serves

16 – 18 slices

preparation time

1 hour + cake cooling time

cooking time

30 minutes
ingredients
2 tablespoon rosemary, very finely chopped
2 tablespoon grated lemon zest
3/4 cup rapadura sugar
12 tablespoon coconut oil
3 tablespoon flaxseed meal & 9 tablespoons water
1/2 teaspoon almond extract
2 1/4 cup of gluten flour (see method)
1 tablespoon psyllium
4 teaspoon baking powder
1 teaspoon cream tartar
1 teaspoon bicarb soda
1 cup coconut cream
// lemon curd //
6 egg yolks (yolks washed if egg white intolerant)
zest of half a lemon
1/2 cup lemon juice
10 tablespoons rapadura sugar
8 tablespoons coconut oil
// frosting //
275 grams dairy free cream cheese ( I used soy cream cheese, you could use regular cream cheese if dairy tolerant or cashew cream cheese or goats curd)
1/2 cup coconut oil
1/4 cup maple syrup or honey
1 tablespoon finely chopped rosemary
1/2 cup rapadura sugar
1 tablespoon lemon juice
method
Preheat the oven to 175c. Grease and line two 20cm round cake tins.
In a small bowl soak the flaxseed meal and water. Set aside. In a large mixing bowl combine the lemon zest, rosemary and rapadura sugar. Using your hands, rub the sugar into the zest and rosemary until lovely and fragrant. Now beat into the mix the coconut oil and almond extract.
In a separate bowl, combine the gluten free flour with the psyllium, baking powder, cream of tartar and baking soda. Now add one third of the flour to the wet mixture and beat in, then follow with a 1/3 of the coconut cream. Continue this process until all the flour and coconut milk are gone. If the batter seems too thick simply add a little more cream or conversely if it seems to wet add a little more flour.
Spoon the batter into the separate cake tins to give two individual cakes. Bake for 30 minutes or until just cooked through. Allow cakes to cool in their tins for 5 minutes then flip out carefully onto wire wracks to cool completely.
For the lemon curd, combine all the ingredients in a saucepan and whisk well. Place over another saucepan of boiling water to create a double boiler and continuously stir with a wooden spoon until the mixture becomes thick like a custard. Remove from the heat and allow to cool a little, then cover the top of the curd with cling wrap to stop it from developing a skin. Leave to cool completely or place in the fridge.
For the cream cheese frosting, combine all the ingredients in a mixing bowl and blend till creamy and smooth.
To assemble. place one of the cakes on a serving plate then top liberally with the lemon curd. You will not need all of the curd, just enough to give a nice thick layer. Top with the other cake. Now spoon on about a third of the cream cheese frosting and carefully spread over the top of the cake and the sides with a butter knife. Place in the fridge to set for about 30 minutes, then remove and cover again. You may have frosting left over, just use as much as you feel you need, then set aside the rest.
Ideally allow the cake to cool again in the fridge for another half an hour before serving.
*Gluten free flour blend: 2 cups brown rice flour, 2 cups sorghum flour, 1 cup potato starch (not potato flour, 1 cup arrowroot flour.
nutritional information for rosemary citrus cake
This rosemary citrus cake is not only intolerant friendly, but also low in sugar compared to standard cakes. In saying this, it is still a celebration type cake and is not meant for an everyday affair. Unless you are aiming to put on weight, then by all means go for it!
Egg yolks are high in lecithin and fat soluble vitamins such as vitamin D. The cholesterol breakdown and assimilation of the egg yolks is naturally assisted by the lecithin. Natures perfect package.
The psyllium husks are used to to give lightness to the cake, whilst also helping the flours hold together due to the lack of gluten. Of course you could use a lovely spelt flour instead which would cease the need for the psyllium husks.
I have included this cake on the tags for egg free, as it contains egg yolk only. Majority of clients I see are reactive more so to the white, which makes this cake a suitable option for such intolerances. Just wash the egg yolks well first. Similarly, I have tagged it low salicylate as the rosemary content is quite low and the other ingredients are very low in salicylates.
Jessica Cox is a qualified practicing Nutritionist with a Bachelor Health Science (Nutrition) and over 15 years of clinical experience. She is the founder and director JCN Clinic, published author and established recipe developer. Jessica is well respected within health and wellness space for her no fad approach and use of evidence-based nutrition.