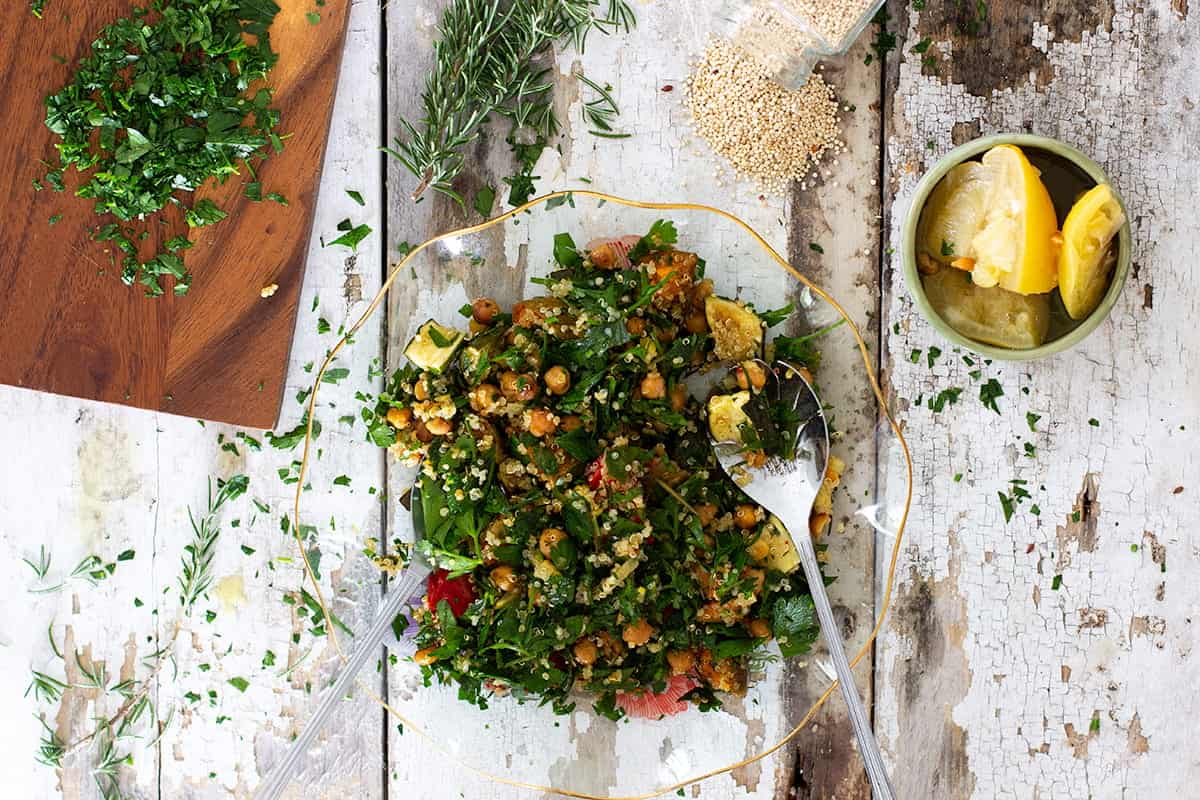 A few months ago I asked on Facebook what recipes you would like to see more of coming into the warmer months here in Oz. The most popular answer was easy and diverse salads that can be used for lunches during the week. In answer to those calls I wanted to share with you this mediterranean quinoa salad, one of those great all-rounder types of dishes.
This mediterranean quinoa salad is a gem to whizz up for dinners, then use through the week as your lunch. I personally adore it with chicken or salmon, but it would also be great with any other proteins. If you are yet to try quinoa as a grain, please use this recipe as an inspiration to try it. Quinoa really is quite a diverse grain to use and it has so many nutritional benefits.
Once this salad is made, it can be eaten hot or cold. I adore sitting down at the end of a work day with a plate of it on my lap watching the latest episode of Suits or, until recently, Breaking Bad. By the way, is anyone else in need of therapy now that Breaking Bad has finished? Not sure how life goes on without Walt and Jessie.
Back to the delicious salad. The preserved lemon in this mediterranean quinoa salad really is the hero of the dish. There is nothing that compares with its intensive zesty flavour and zing. Once you start using preserved lemon you will honestly become hooked. So beware! Preserved lemon is commonly found these days in deli's and usually in the condiment and spice section of supermarkets.
Last, but not least, as always go to town with making modifications to this recipe. Just about any vegetables will work well and you could also add in any legume instead of chickpeas. If parsley doesn't float your boat as much as mine (my sister hates it!) then use some dill instead. The options are endless.
mediterranean quinoa salad
serves

4 serves

preparation time

10 minutes

cooking time

40-50 minutes
ingredients
1/2 cup cooked quinoa
1 cup roughly cubed pumpkin
1 red capsicum, pitch removed and cut into quarters
2 zucchini's, ends removed and sliced
1 can washed chickpeas
2 teaspoons ras el hanout
3 sprigs rosemary
1/4 preserved lemon, (pith removed) and skin finely diced
1/2 lemon, juiced
2 tablespoons extra virgin olive oil
1/3 cup roughly chopped fresh parsley
method
Pre heat your oven to 200c fan forced.
Toss the pumpkin  and rosemary in a little extra virgin olive oil and the ras el hanout in a large roasting dish. Place in the oven to roast for 20 minutes.
This is a good time to cook up some quinoa if you do not have some already. If you need directions for cooking quinoa, please see here.
After the 20 minutes has passed, remove from the oven and add in the capsicum, zucchini and chickpeas. Mix well with the pumpkin and spread out so that all the vegetables and legumes are not too crowded. Season with a little salt and pepper and place back in the oven for another 20-30 minutes.
Once the pumpkin is softened and caramelised and the capsicum are blackening you are done. Remove the pan from the oven and take out the vegetables. The pumpkin can go straight into a salad bowl, while the capsicum and the zucchini will need a rough chop into bite sized pieces. If you want the chickpeas a bit more crunchy, then pop the dish back in the oven for 5 minutes.
Once you are happy with your vegetables and chickpeas, toss them all together in a large salad bowl with the preserved lemon, lemon juice, olive oil and parsley.
Serve this mediterranean quinoa salad with a protein side for lunch or dinner.
nutritional information for Mediterranean Quinoa Salad
This salad is a complete meal on its own as it contains complex carbohydrates provided by the quinoa along with protein found additionally in the quinoa and legumes. It also contains some essential fats with the addition of the olive oil.
This mediterranean quinoa salad works a treat for lunches during the week. Pop it in a container and eat as it is, or amp up your protein by adding some tinned fish or salmon, or some left over meats from dinner.
You could use different grains in this mediterranean quinoa salad such as buckwheat or barley. If you are tolerant to dairy you could also add some crumbled feta which would be delicious.
Ras el hanout is a spice blend with origins in North Africa. Ras el hanout is a blend of spices that in arabic mean "head of the shop" referring to the best spices chosen for mixing from the spice store.
Jessica Cox is a qualified practicing Nutritionist with a Bachelor Health Science (Nutrition) and over 15 years of clinical experience. She is the founder and director JCN Clinic, published author and established recipe developer. Jessica is well respected within health and wellness space for her no fad approach and use of evidence-based nutrition.