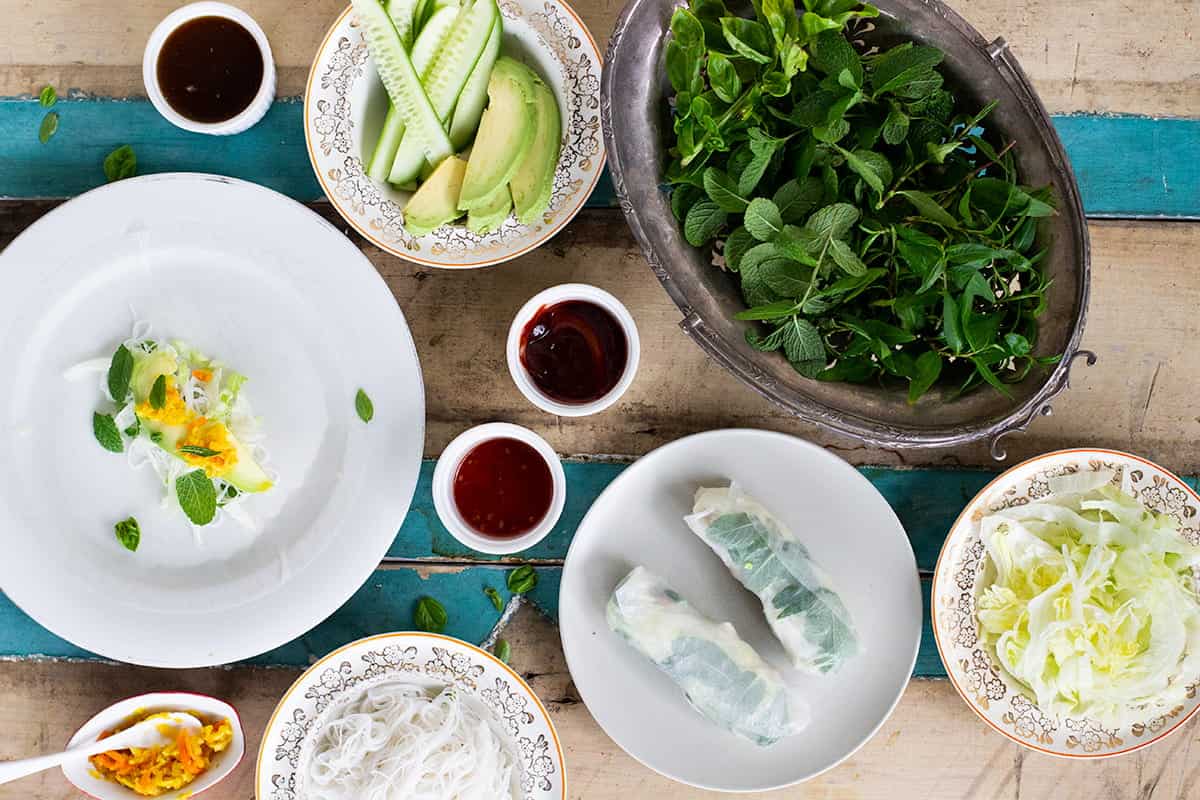 The weather is warming up here in Brisbane and it's that time of the year where we shift from hearty warm salads and braised slow cooked meals to light and refreshing dishes. Rice paper rolls like these chicken & kimchi rice paper rolls epitomise spring for me. They are refreshing, cleansing and satisfying without being too heavy on a warm sunny day or humid evening.
These chicken and kimchi rolls are very much based on the traditional rice paper rolls, with the exception of the addition of kimchi. Kimchi is a Korean fermented cabbage mix that is similar to sauerkraut, yet not as pungent. I find it adds a great kick to the rice paper rolls, similar to adding in a good squeeze of lemon. You could of course leave the kimchi out and go with the traditional rice paper roll recipe.
Rice paper rolls are one of those dishes when bought from a store seem to be loaded with rice noodles whilst being scant on the rest of the ingredients. This makes sense for businesses wanting to make a buck, however it's not a well balanced meal as it ends up being all simple carbohydrates. Making these chicken and kimchi rice paper rolls at home gives you control over how much rice noodles are used. I generally like to make the rice noodles about 1/4 of the filling and make sure there is plenty of fresh vegetables and herbs. This ensures that the end result gives the balance of macronutrients that I am after.
Serving rice paper rolls is for me all about the interaction with the food. You can of course prep them before hand, but it's great to get a whole lot of people around on a table or on the floor and lay out all the ingredients in a help yourself manner. Give everyone a plate and let them tuck in to making their own. It's always a good laugh as it's not an easy thing to do and there is always some seriously questionable looking rolls as a result.
chicken & kimchi rice paper rolls
serves

14 -15 rolls, around 4 people

preparation time

20 minutes

cooking time

nil
ingredients
4 cooked and thinly sliced chicken thighs, ideally free range and organic
1 heaped cup roughly chopped ice berg lettuce
1 small lebanese cucumber, sliced thinly
1 avocado, sliced thinly
1 large handful fresh basil
1 large handful Vietnamese mint (or regular mint)
3 heaped tablespoons kimchi
1/2 packet rice vermicelli noodles
1 packet rice paper roll wrappers
// Vietnamese dipping sauce //
1/2 cup water
4 tablespoons lime juice
4 tablespoons fish sauce
3 tablespoons coconut sugar or raw sugar
1 clove garlic, mashed
1 small chilli, seeds removed and finely diced
1 dessertspoon finely grated carrot
method
Create a good sized working space on your kitchen bench, or if you would like to prepare these as you eat then do likewise on your dining table (or lounge room floor).
To make the dipping sauce combine all the ingredients in a mixing bowl. Taste for seasoning. If it is too sweet add a little more lime and vis versa if it is too astringent. If it needs more salt add a little more fish sauce. Set aside.
Place the rice paper rolls in a medium sized bowl. Boil the kettle and pour hot water over the noodles to allow them to cook through. This should only take about 3-4 minutes. Drain noodles and place back in the bowl. Place the remaining hot water in a shallow dish that the rice paper roll papers will fit into.
From here it is all about construction. I like to place all the ingredients – cucumber, avocado, herbs, kimchi, rice noodles and lettuce in separate bowls and then place them on the table ready to go. To assemble, take a rice paper roll and fill centre with a bit of each ingredient. Roll up as tightly as possible (this is always a bit of a mess and part of the fun) then dip into your dipping sauce. You could also use sweet chilli sauce or hoi sin sauce.
nutritional information for chicken & kimchi rice paper rolls
If you would like to reduce the carbohydrates further in this dish you could use mung bean based noodles instead of vermicelli.
Kimchi is a Korean fermented vegetable condiment made generally from cabbage, onions, radish and cucumbers. It is naturally rich in good bacteria. It is best to buy kimchi that has been kept in the fridge from health food stores or korean grocers.
For a vegetarian and/or vegan option you could omit the chicken and use pan seared tempeh or tofu.
To keep these rice paper rolls balanced, make sure you use some form of protein inside. If chicken is not to your liking you could use some fresh prawns or some sliced pork which are more traditional to the rolls.
Jessica Cox is a qualified practicing Nutritionist with a Bachelor Health Science (Nutrition) and over 15 years of clinical experience. She is the founder and director JCN Clinic, published author and established recipe developer. Jessica is well respected within health and wellness space for her no fad approach and use of evidence-based nutrition.