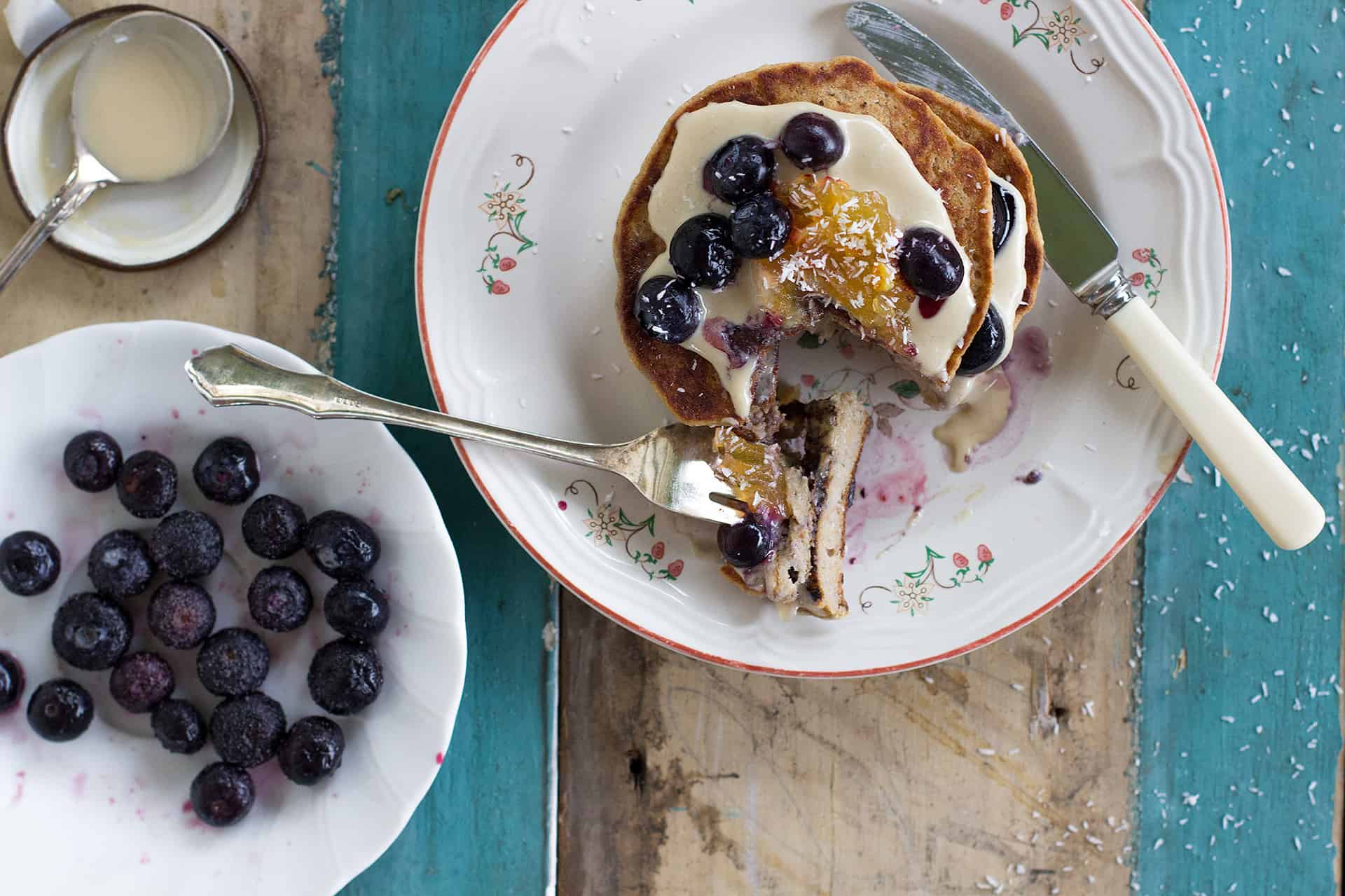 Yes, it's pancake time again! If you know me a little by now these types of recipe posts should be expected from month to month. For some, pancakes are pancakes. For me, pancakes are a canvas for thousands of flavour combinations and mouth watering textures. The layers of soft warm pancakes against melting nut and seed butters and fresh fruit is just too much to resist time and time again.
These carrot cake pancakes have made an appearance on my Instagram feed more than once, so it was only proper that they should have their place of glory on the website. I always alternate the toppings from the blueberries, tahini and marmalade seen here, through to using my dairy free yoghurt with some pan seared maple pears.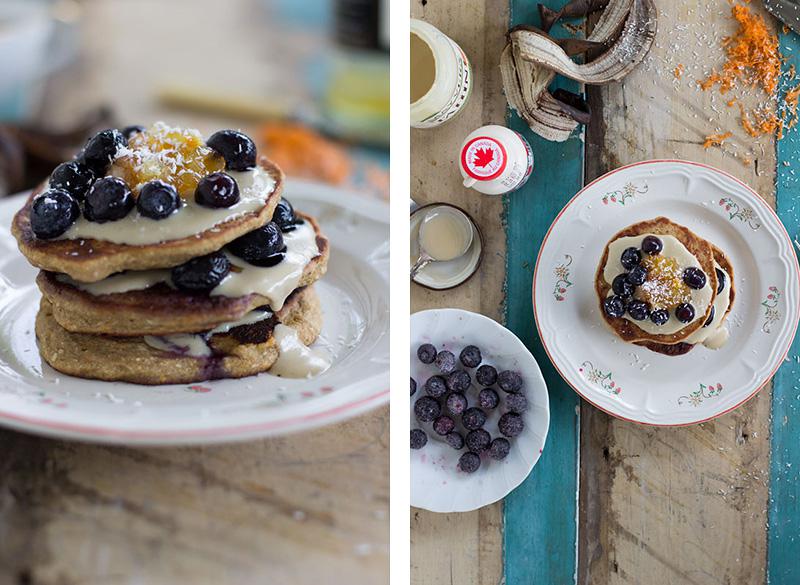 As I always say, pancakes can be quick. Once you have your basics in place it can take just as much time to make pancakes for one as it would to construct a bowl of muesli with its additional toppings. They do take a little longer to eat than a smoothie on the go of course, yet sitting down to a stack of pancakes and being in touch with the food you are eating is so much more beneficial for your digestive system.
You will notice there is no added alternative sweeteners utilised in the batter. I find the sweetness of the bananas does the trick fine. You could add a dash of sweetener of choice of course if you felt it necessary.
carrot cake pancakes
serves

serves 1

preparation time

5 minutes

cooking time

5 minutes
ingredients
2 heaped dessertspoons buckwheat flour
1 heaped tablespoon sesame flour (or almond meal)
1/2 teaspoon baking powder
1 teaspoon psyllium
1/2 mashed banana
2 heaped dessertspoons finely grated carrot
1/2 teaspoon each cinnamon and nutmeg
1 dessertspoon unsweetened desiccated coconut
1/4 cup rice milk
// toppings //
hulled tahini
generous handful of blueberries
100% sugar free marmalade ( I used Dick Smith brand)
desiccated coconut
method
In a medium sized mixing bowl combine all the dry ingredients then stir through the mashed banana and grated carrot. Make a well in the center and pour in half of the rice milk and mix through. Slowly add more of the rice milk until you have a good pancake batter consistency. You want it to be a bit wetter than a cake batter, but not as runny as crepe batter. If you add all of the milk and need more liquid, simply add a little water.
Heat a frying pan to a medium heat and add a teaspoon of coconut oil or some olive oil. Spoon the batter into the frying pan to create three small pancakes. Allow them to cook until little bubbles form on the top of the pancakes, then flip over to cook through.
To serve, stack pancakes with layers on hulled tahini, blueberries and marmalade. Finish with a sprinkle of coconut.
nutritional information
These carrot cake pancakes are filled with complex carbohydrates provided by the buckwheat flour, banana and carrot. Carbohydrates provide ample fibre and slow release energy that gives the body a great start to the day.
Using sesame flour or almond meal in the pancakes provides extra protein. If you are able to eat eggs, then you could just use all buckwheat flour and add in an egg. Just be mindful that you will not require as much rice milk liquid overall.
Adding psyllium to the pancakes gives more binding capacity, as these pancakes are egg free. Psyllium is also a great source of fibre and helps lower cholesterol levels by 'sponging' and 'soaking' up cholesterol in the digestive system.
If you are dairy tolerant, a ricotta topping would be superb. Mix some ricotta with some cinnamon and a dash of maple and spoon over your pancake stack. Divine!
Jessica Cox is a qualified practicing Nutritionist with a Bachelor Health Science (Nutrition) and over 15 years of clinical experience. She is the founder and director JCN Clinic, published author and established recipe developer. Jessica is well respected within health and wellness space for her no fad approach and use of evidence-based nutrition.