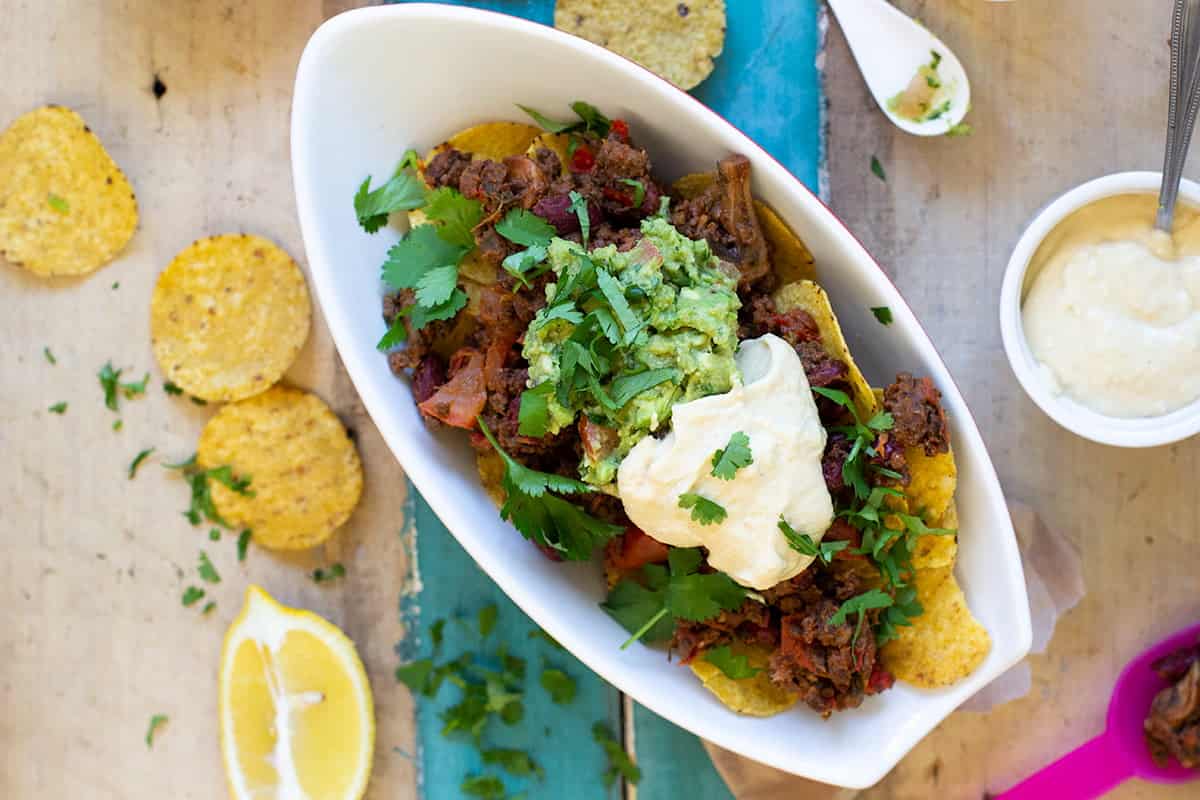 Everyone loves nachos and these Dairy Free Nachos are no exception. I don't think I have met anyone to this day who doesn't like nachos. Nachos became part of my repertoire in my years at uni (studying visual arts) when I was first out of high school. In those days I followed a vegan diet; not a well balanced one mind you, as at that stage I was certainly not a Nutritionist, nor did I have any idea of what a macro-balanced meal looked like.
Together my housemates and I devised ways to make tasty vegan nachos. I think we liked it so much because besides the fact it was so delicious, it was in hindsight also a balanced vegan meal that left us feeling satisfied. Not that we had any clue of the later.
These days I have dropped the vegan diet (or any 'diet' as such) and adopted a more balanced approach. This includes enjoying all types of foods along with some good old nachos. My nachos today have remained dairy free, however they do now include some organic lamb from our local butcher.
Nachos are generally known for being an unhealthy meal. Like any meal however, they can be adapted to be nutritious, yet still delicious. Instead of nachos laden with lashings of cheese and sour cream, these nachos get their creamy kick from fresh guacamole. To help this creaminess along and bring more of a saucy ooze to the party, hummus is added too, which compliments the creamy avocados perfectly.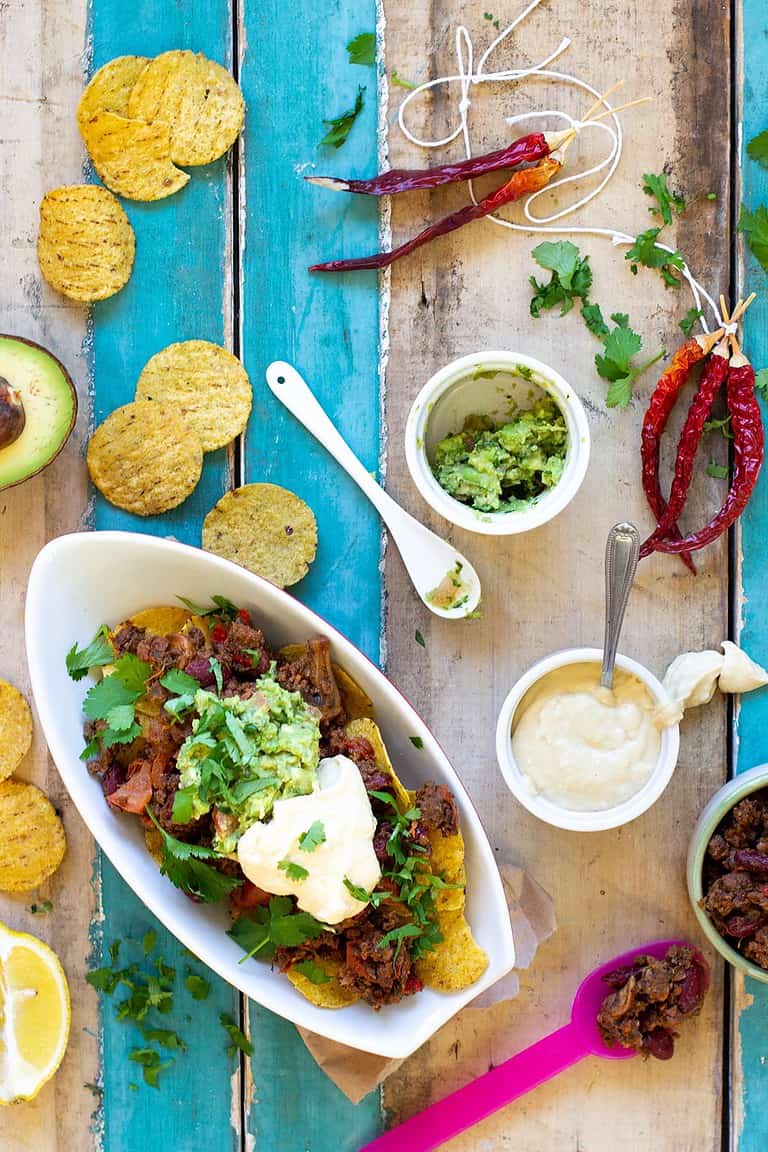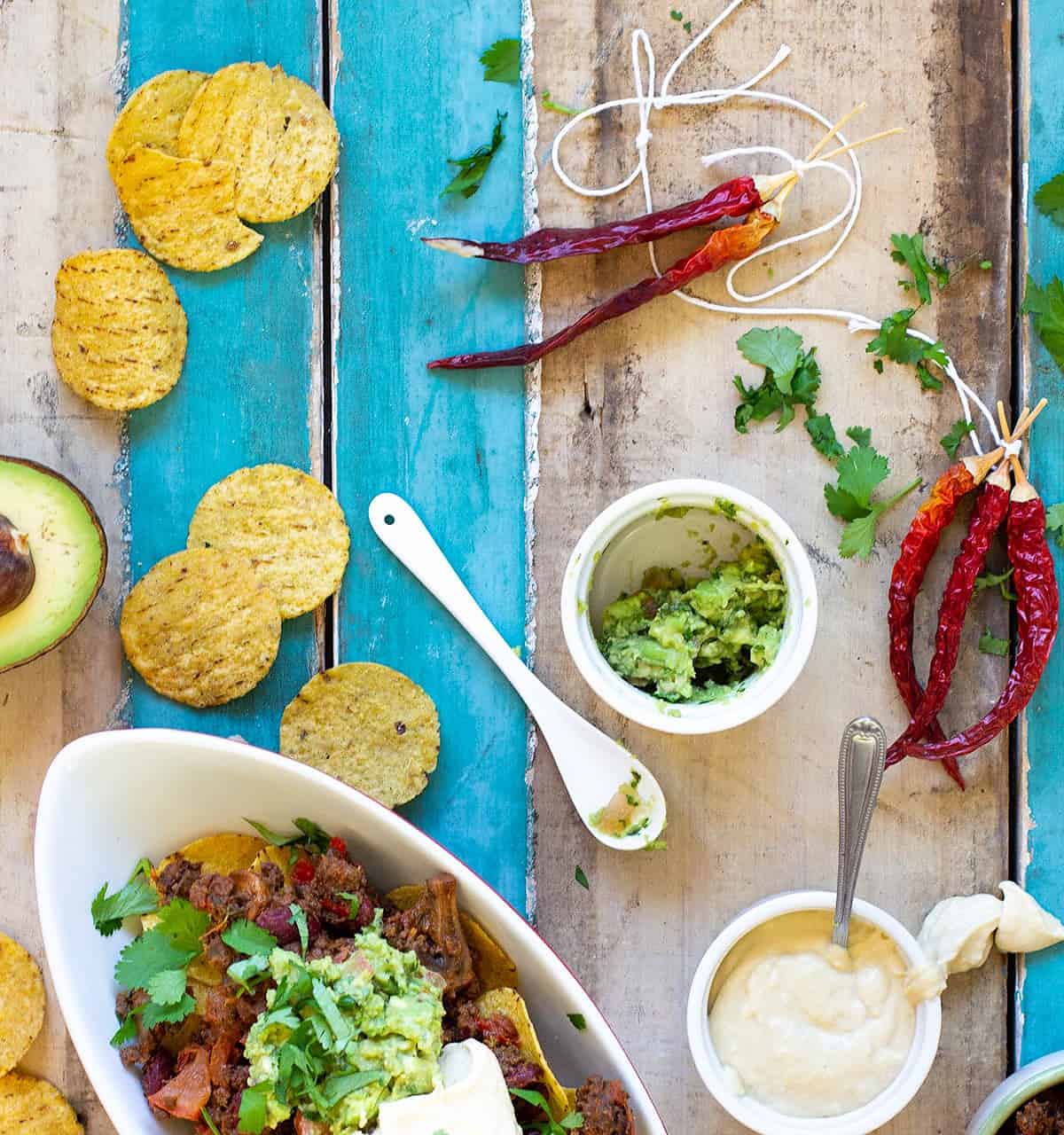 Serving these nachos is also where the healthy balance comes in. You only need a handful of the organic, stone ground corn chips. They provide a medium for the gorgeous mince and beans sauce along with the delicious toppings. Going overboard with the chips with not enough toppings results in a carb dominant meal without enough fresh vegetables and protein.
Lastly, feel free to adapt these nachos as you like. Make them mince based without the legumes or make them vegetarian without the mince. Leave out the mince and swap it for some chicken. The choice is yours. At the end of the day this is a tasty, crowd pleasing meal that keeps even kids happy.
dairy free nachos recipes
serves

3 – 4 people

preparation time

10 minutes

cooking time

30 – 40 minutes
ingredients
300gm organic lamb mince
1/2 onion, diced
1 clove garlic, crushed
1 teaspoon celery seeds
5-6 button mushrooms, roughly chopped
1/2 red capsicum, diced
1 can organic red kidney beans (washed)
2 tablespoons thyme leaves
3 tablespoons fresh oregano leaves, roughly chopped
2 teaspoons sumac
1/4 cup tomato paste
1 anchovy, mashed
1 small red chilli, seeds removed and finely sliced
// guacamole //
1 large avocado, mashed
juice 1/4 lemon
1/4 tomato, diced finely
1 heaped tablespoon coriander leaves, finely sliced
sea salt and pepper
// to serve //
organic, stone ground corn chips
hummus
fresh coriander leaves
method
In a large, heavy based saucepan heat a good splash of olive oil to a medium heat. Add onion and mushrooms and cook through till the onions are transparent and the mushrooms start to go a golden brown. Add the mince and the garlic along with the chilli, anchovy and celery seeds. Stir well and let the mince cook through. Continue cooking the mince like this for a good 10 minutes. You want to develop some browned edges to the meat and get rid of the liquids (this helps develop the flavours).
Now add the capsicum along with the tomato paste, sumac, thyme and oregano. Stir through and let this cook through until all the liquid has evaporated again and the mince is browning further. Season with salt and pepper.
Next add the kidney beans. Mix through, again allowing the liquid to be taken up then turn down to a low heat. Cover saucepan with its lid and allow to sit and cook for another 5 – 10 minutes.
While the mince and beans are cooking, make your guacamole. Simply mash the avocado and stir through the lemon juice, tomato, coriander and salt and pepper. Set aside.
To serve. Place a handful of organic corn chips on each plate. Top the corn chips with mince and beans mixture, then a good spoonful each of guacamole and hummus. Finish with a liberally sprinkling of coriander.
nutritional information for dairy free nachos
For an alternative to corn chips, slice some sweet potato into thin rounds and bake. A lovely change to a corn chip base and adds some more vegetables to the dish.
To make this dish vegetarian/vegan friendly, simply omit the mince and anchovy and use a can of cannellini beans or some tempeh.
If you are dairy tolerant, these nachos would be lovely with some grated pecorino or some crumbled feta. Remember to not go overboard with the cheese. There is a lot of flavour already and the clumps of melted cheese are not what this dish is about. 😉
Want to try making these FODMAP friendly or SIBO friendly? Here we go….swap the onion for fennel, use garlic infused oil instead of garlic, use an extra 100g mince instead of kidney beans, swap hummus for coconut yoghurt or coconut cream blended with a little lemon juice and serve with parsnip chips instead of corn chips! Oh and go easy on the guacamole if you are funny with avocado.
Jessica Cox is a qualified practicing Nutritionist with a Bachelor Health Science (Nutrition) and over 15 years of clinical experience. She is the founder and director JCN Clinic, published author and established recipe developer. Jessica is well respected within health and wellness space for her no fad approach and use of evidence-based nutrition.