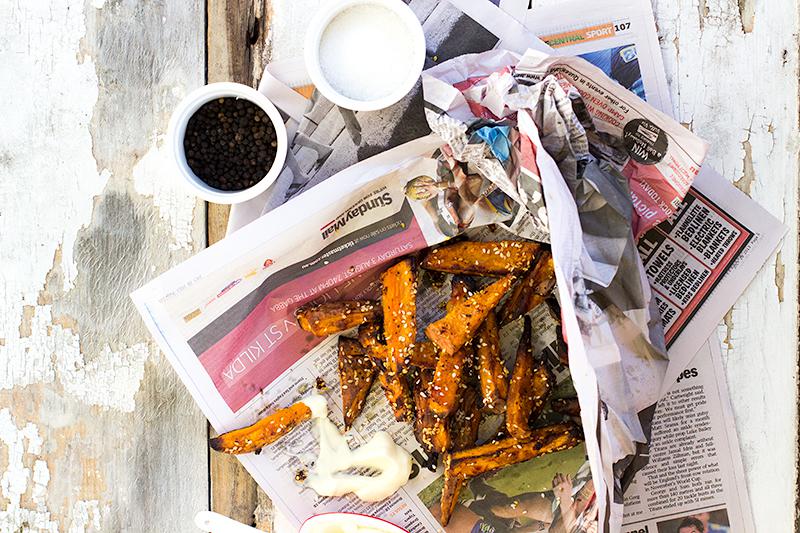 Besides my tahini addiction, I have another addiction that needs a good fix at least once to twice a week. Sweet potato wedges. To get more specific, these sesame seed & turmeric sweet potato wedges. Dear god they are amazing. I love them baked until they start to turn a dark brown on the edges. Then to complete the experience, a side of aioli. Heaven.
Making perfect sweet potato wedges takes a few good tricks. Because sweet potato is not as starchy as potatoes, they tend to go soggy if not baked in just the right way, and no one likes a soggy chip. This recipe explains just how to create perfectly baked sweet potato wedges, which in my eyes is a necessity.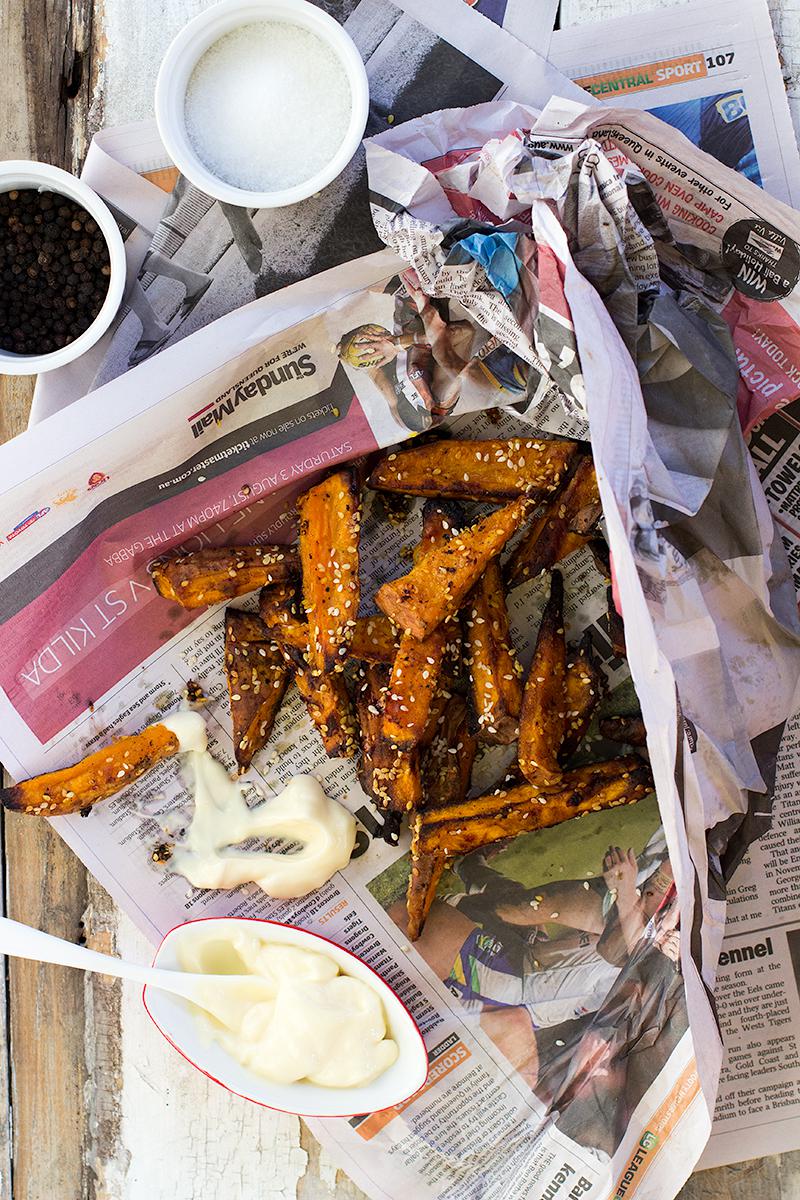 The added beauty of these sweet potato wedges is the addition of the sesame seeds and the turmeric, which brings a delicious textural crunch along with the slightest heat from the turmeric. The turmeric also lends its lovely golden hue to the already vibrant sweet potato. As these wedges cook the sesame seeds stick to the sweet potato, whilst also forming little clumps stuck together with the turmeric powder and spice flavoured oils. Salivating? I am.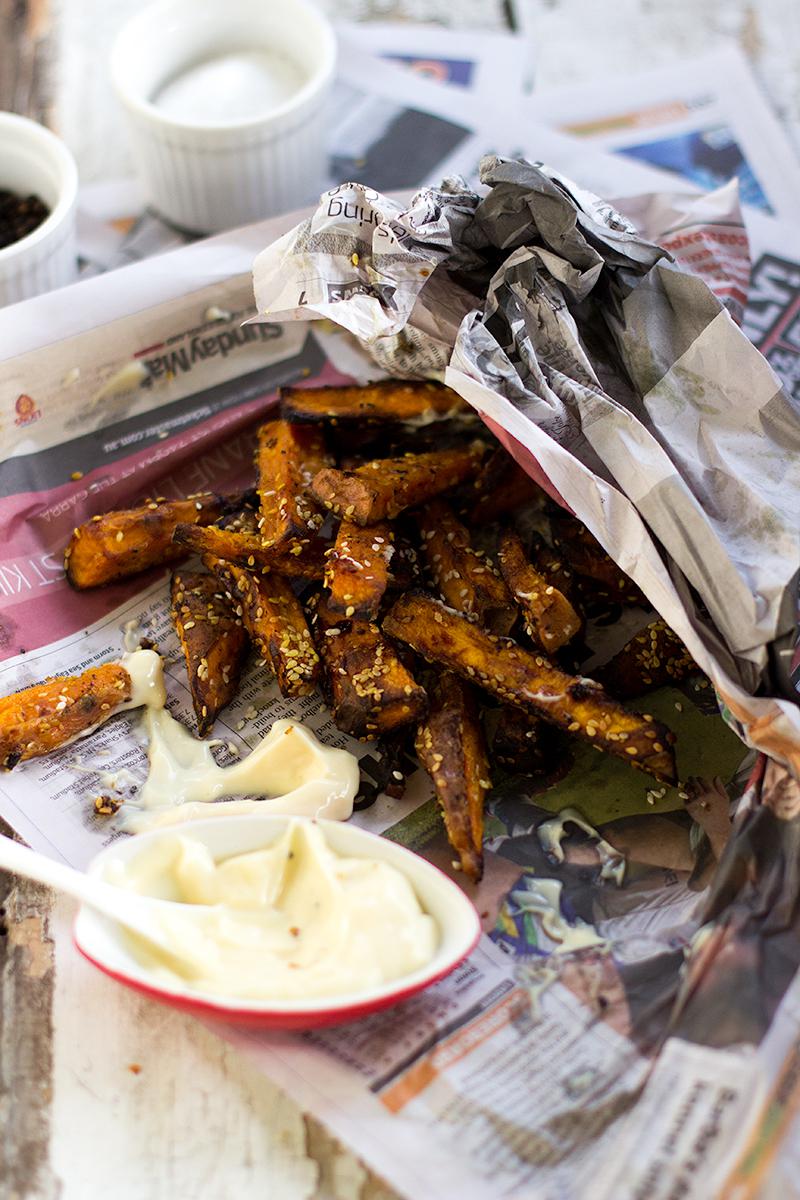 The aioli is the choice of dipping accompaniment given here. Its a lazy aioli, in that it uses the base of a bought mayo. I think there is nothing wrong with this short cut, especially mid week. Just use a good one. Some prefer sour cream, others hummus, tahini or avocado. The choice is ultimatley yours. Either way, I am sure these sesame seed & turmeric sweet potato wedges will be a hit in your home as they are in mine.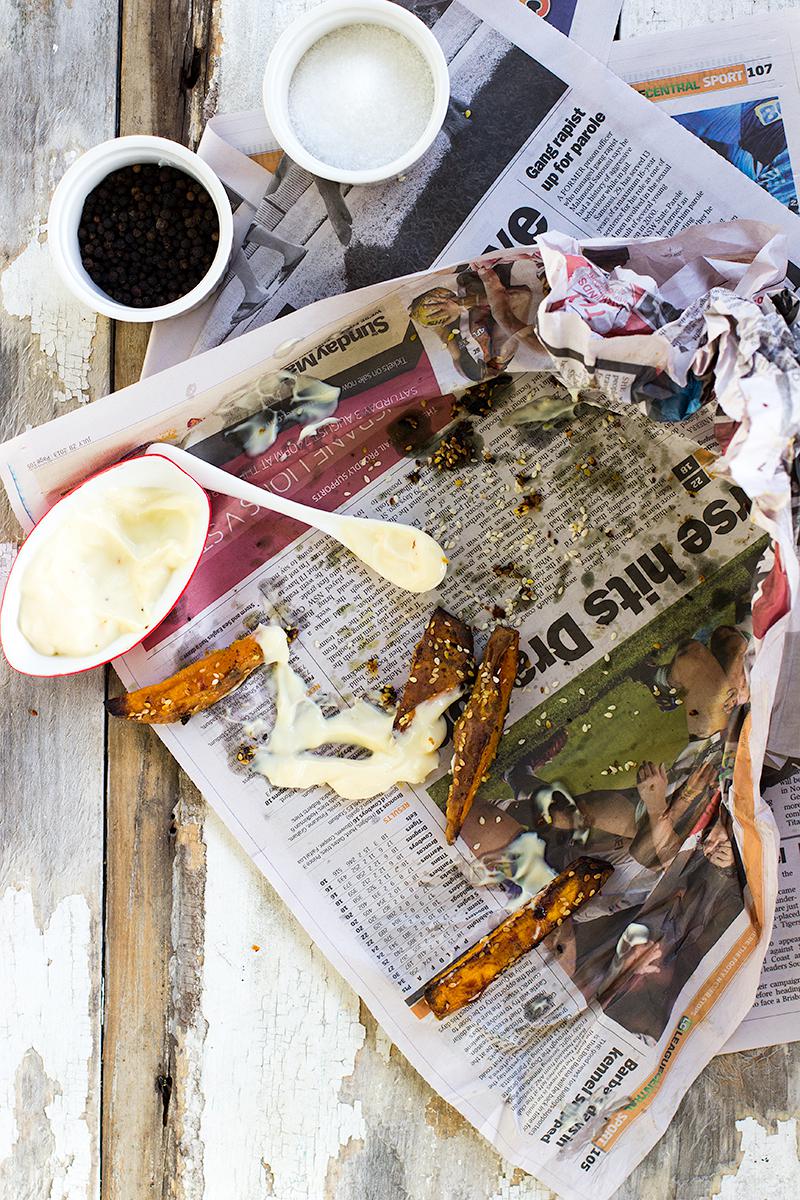 sesame seed & turmeric sweet potato wedges
serves

2 people as a side

preparation time

5 minutes

cooking time

30 minutes
ingredients
800 grams of sweet potato (skin on), cut into wedges
1 heaped teaspoon potato starch
1 teaspoon turmeric
3 teaspoons sesame seeds
2 tablespoons extra virgin olive oil
salt and pepper
// aioli (optional – omit for vegan & low histamine option) //
1/3 cup good quality mayonnaise
1/2 clove garlic, crushed
method
Preheat your oven to 220c. You need a really good high heat to get sweet potato wedges going and develop a good crunchy crust.
Once the sweet potato is cut into wedges pop them in a large sized baking dish. You want enough room so that when they are spread out the wedges will not touch each other. This allows room for the heat to circulate and again stop sogginess. Before spreading out your wedges add the potato starch and toss through the wedges to coat them well. The starch creates a lovely light seal that helps lock in the moisture and creates a 'to die for' crust. Now, add 2 teaspoons of the sesame seeds, the turmeric and a liberally seasoning of salt and pepper. Toss well again to coat.
Add the oil and toss once more to coat the wedges. Some of the seeds will fall off the wedges but this is fine. These will stick together in the pan and basically create little crunchy bites of heaven. Now spread out the wedges so they are not touching each other in the pan. If your pan is too small and they are laying on top of each other then you need a bigger pan.
Place in the oven to bake. At the 20 minute mark remove them and turn the sweet potato wedges over with a spatula. Sprinkle over the remaining sesame seeds and place back in the oven for the remaining 10 minutes. If the wedges look like they need a little longer at the 30 minute mark then simply give them another 5-10 minutes as deemed needed.
Whilst the wedges are cooking, prepare the aioli by combining the mayo and crushed garlic in a small bowl. Set aside.
Remove the wedges from the baking dish and serve whilst still hot with a side of aioli. Lovely with an organic steak and a light green salad.
nutritional information for sesame seed & turmeric sweet potato wedges
Sweet potato is rich in betacarotene, a nutrient important for respiratory health and eye health. They are also an abundant source of Vitamin C, vitamin B6 and potassium.
Turmeric has well researched and documented anti inflammatory properties. It has also been studied extensively for its use in fighting cancer.
To make these sesame & turmeric sweet potato wedges part of a balanced snack, serve them with a good dollop of hummus for some legume based protein. You could also crumble them with feta, chilli and pumpkin seeds.
The choice of oils for baking is based on their ability to withstand high heat. All these oils will not oxidise under high heat, therefore maintaining their original properties and not becoming transfats.
Jessica Cox is a qualified practicing Nutritionist with a Bachelor Health Science (Nutrition) and over 15 years of clinical experience. She is the founder and director JCN Clinic, published author and established recipe developer. Jessica is well respected within health and wellness space for her no fad approach and use of evidence-based nutrition.