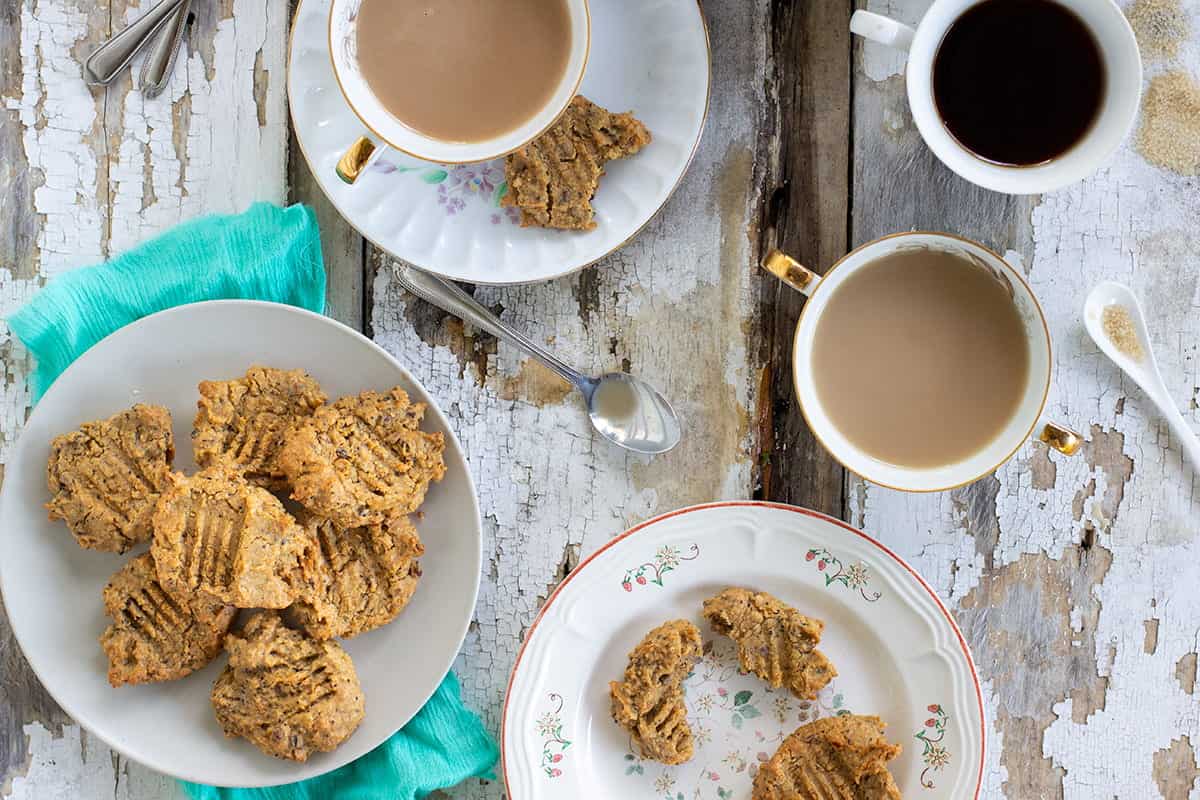 I've been making and sharing with you a lot of cookies lately. For a while there it was muffins, but it seems cookies have stolen the limelight. The reason I think I find cookies so enticing is that they diverse and easily transportable like a muffin, but they are also a small snack that you can enjoy with a cuppa at night after dinner. Muffins are way too filling after dinner, well the ones I make and post on here are that is for sure.
This weekend I whizzed up a batch of these grain free fudge cookies as a bit of an experiment. I have made them before, but never with a batter as gooey as this. It was a risk, and could have resulted in a baking melt down, but to my delight a success was born! I encouraged my partner to try them with enthusiasm but he was more interested in his Cadbury's Marvellous Creations popping candy chocolate. More for me I say!
These cookies lend their gorgeous fudgy goodness from the use of chickpeas. I know this might cause a few raised eyebrows, however when cooked the savoury notes of the chickpeas disappear and take on the flavours of the accompaniments. Mixed with the lovely fats of the tahini (or nut pastes) there is a decadent soft centre result that crumbles lightly and buttery like in the mouth.
The other fact I love about these cookies is that the recipe can be pushed and manipulated in any way you like. As long as the base is there you can use any spices, nuts, fruits etc that you like. For instance, I love the heat of ginger combined with macadamia nuts or the sweetness of goji berries with coconut and pecans. You could also even try a savoury mix by dropping the maple and using milk, then adding some feta and herbs.
Whichever way you choose to make these fudge cookies, I am sure you will enjoy them. They really do work well paired with a hot cup of tea so if you make them make sure you take a moment to unwind, sit down and enjoy them with your favourite warm beverage.
grain free fudge cookies
serves

12 – 15 cookies

preparation time

5 minutes

cooking time

20 – 30 minutes
ingredients
1 can chickpeas, washed
1/2 cup tahini (or almond butter or peanut butter)
2 heaped teaspoons mesquite flour or coconut flour
2 teaspoons vanilla extract
1 teaspoon cinnamon
2 heaped teaspoons poppy seeds
4 heaped teaspoons sunflower seeds (or chopped walnuts or pecans)
1/4 cup maple syrup
1/4 cup cacao nibs or goji berries or finely chopped dried ginger
1 teaspoon baking powder
method
Preheat your oven to 175c. In a blender mix all ingredients minus the cacao nibs and seeds (or nuts) until smooth. You will need to stop the blender a few times and scrape down the sides.
Add cacao nibs (or dried fruit) and seeds (or nuts) and pulse to combine. The mixture will be quite wet, more like a cake batter.
Line a baking tray with grease-proof paper and spoon on heaped teaspoons of the batter. Press out with the back of the spoon. Place in the oven and bake for 20 – 30 minutes, dependent on your oven. It's worth checking them around 20 minutes to see if they are done. You want the cookies to brown, however still be soft in the center. If you like, remove the cookies at the 10-minute mark and use the back of a fork to flatten and leave imprints. This is more for decoration and is not a necessity.
Allow the cookies to cool on the tray for at least 10 minutes, then transfer to a wire wrack to cool completely. Store in an airtight container in the fridge.
nutritional information for grain free fudge cookies
These cookies are completely grain free making them an ideal choice for those with sensitivities to gluten and other grains. The use of chickpeas additionally adds a sustaining combination of fibre, legume based protein and carbohydrates.
Tahini is rich in omega 3 and a non dairy source of calcium. This recipe uses hulled tahini, however you could use unhulled tahini for a stronger flavour. Black tahini would also work well.
Maple syrup can be swapped for rice malt or honey. Rapadura sugar could also be used or stevia, however you will need to add a bit more liquid to the batter if using dry sweeteners.
Jessica Cox is a qualified practicing Nutritionist with a Bachelor Health Science (Nutrition) and over 15 years of clinical experience. She is the founder and director JCN Clinic, published author and established recipe developer. Jessica is well respected within health and wellness space for her no fad approach and use of evidence-based nutrition.