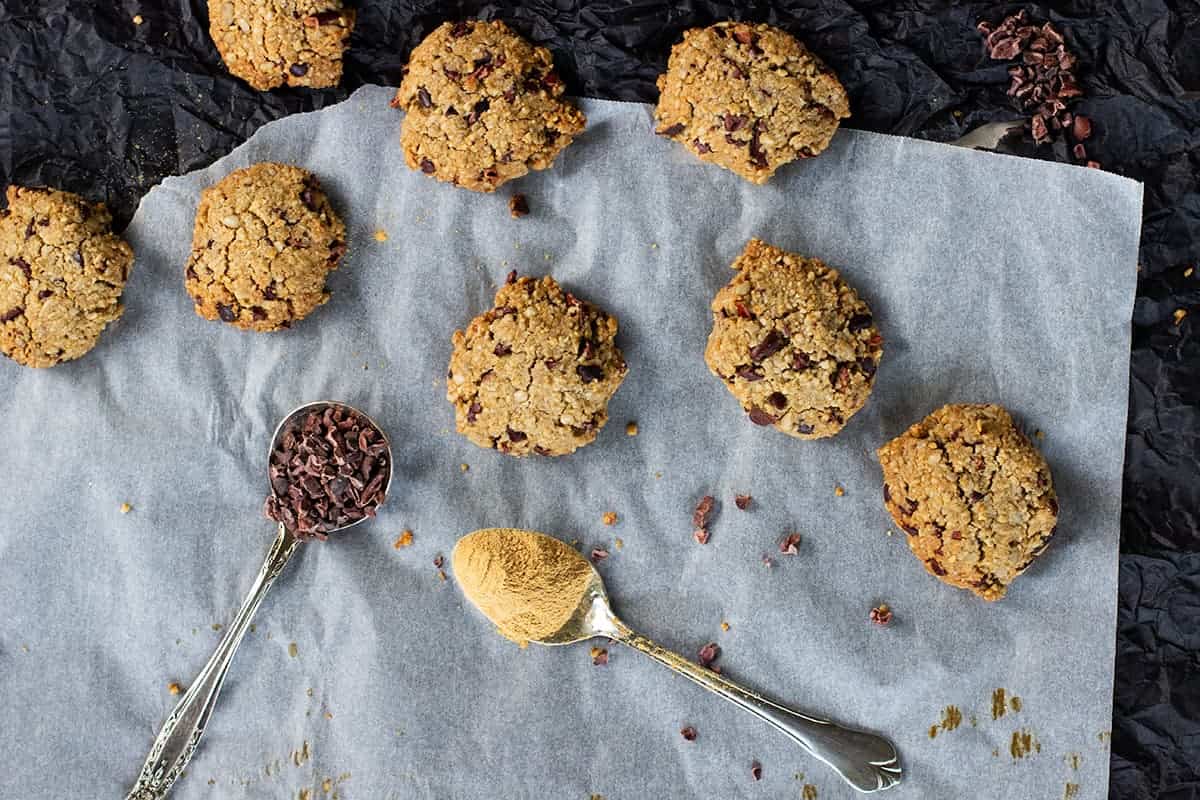 This recipe for sunflower choc chip cookies was actually at the time of writing adapted from Belle Gibson's recipe. Yes, that Belle Gibson. I've decided not to update the blog post because I think its a good representation of how the entire community was pulled into this story. 
---
I have chosen to feature this recipe because number one, these sunflower and choc chip cookies are just too good. Two, the lovely Belle Gibson behind them is exceptionally inspiring.
For those of you on Instagram you will without a doubt know who I am talking about. For those who don't know Belle, Belle Gibson is the director and mastermind behind the launch of the worlds first wholefood and lifestyle app, The Whole Pantry. Belle is also on her own health journey (though shared openly with the Instagram world) to heal herself from brain cancer utilising nutrition, healthy lifestyle and natural therapies. An amazing woman indeed!
Now to the cookies! The recipe is actually very similar to my nut, maple and vanilla cookies, however Belle's recipe seems to have that bit more crunch factor, which always grabs my taste buds attention. These sunflower choc chip cookies contain cacao nibs that give the lovely chocolate crunch. When baked the cacao nibs are gorgeous and nutty. The baking seems to enhance their chocolate intensity.
The original recipe by Belle fluctuates between using almond meal and sunflower seed meal. I personally love the sunflower seed flavour, but of course this recipe is open to your own interpretation. I have also opted to leave out the vanilla extract and substitute Loving Earths mesquite powder for a malt like flavour.
sunflower choc chip cookies recipe
serves

10 – 12 cookies

preparation time

10 minutes

cooking time

13 – 15 minutes
ingredients
1 1/2 cups ground sunflower seeds (just use your blender)
2 1/2 tablespoons melted coconut oil
1/4 cup cacao nibs
2 tablespoons maple syrup
1/4 teaspoon sea salt
1 heaped teaspoon mesquite powder
1/4 teaspoon baking powder
method
Pre heat your oven to 170c.
If making your own sunflower seed meal, add the seeds to the blender and blend to a course powder. 1 heaped cup of sunflower cups will give 1 1/2 cups of ground seeds.
Combine seed meal with all other ingredients in a mixing bowl. Take approximately 1 tablespoon of the mixture and roll into a ball. Press between hands to flatten and then place on a lined baking tray. Bake cookies until golden. They will be soft when first out of the oven and crisp up as they cool. Place on a wire rack to cool if you can wait.
Store in an air-tight container in the fridge.
nutritional information for sunflower choc chip cookies
Mesquite is derived by grinding the pods from a native african tree into a powder or 'flour'. Mesquite is naturally high in protein, and minerals such as magnesium, iron, calcium and selenium. Mesquite is also rich in the anti viral amino acid lysine.
These cookies are grain free and rich in seed based protein and essential fats. This makes them a fabulous snack for afternoons to keep your blood sugar levels stable and appetite satiated. The lack of carbs however does not make them the best choice as a pre work out snack.
Cacao nibs are high in flavonoids (antioxidants) and minerals such as magnesium. Cacao nibs are a great way to introduce the chocolate flavour without the added sugar of regular chocolate.
Jessica Cox is a qualified practicing Nutritionist with a Bachelor Health Science (Nutrition) and over 15 years of clinical experience. She is the founder and director JCN Clinic, published author and established recipe developer. Jessica is well respected within health and wellness space for her no fad approach and use of evidence-based nutrition.