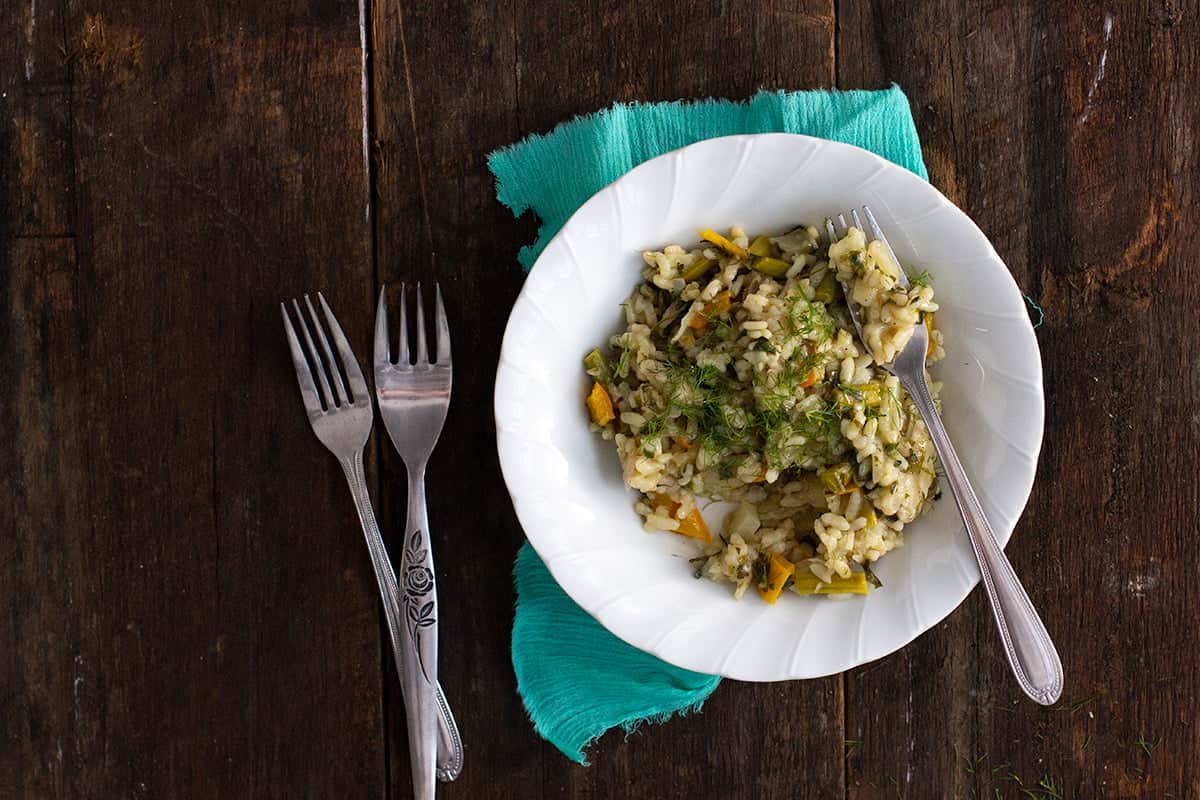 I first feel in love with risottos when my love for Jamie Oliver bloomed. Jamies cookbooks were some of my first. Devouring each page of his books exposed me to the world of risottos and all that they could encompass. I swooned over his recipes of oozy risottos filled with earthy mushrooms and goats cheese, or fresh lemon, herbs and fennel. I thought they looked so extravagant, yet I was determined to give them a go, over a decade later leading to recipes of my own like fennel, asparagus & capsicum risotto.
The more I read the more Jamie taught me that risottos are nothing to be afraid of. Risottos can sound daunting but they are actually quite easy and fast to prepare…in fact they are considered fast food in Italy!
Once you get the hang of them there are thousands of options when it comes to variety of flavours. They can be hearty and earthy like this buckwheat mushroom risotto, or light, zingy and fresh as this recipe is.
To make a risotto healthy, it's all about the proportions of the ingredients. Traditionally a risotto is loaded with butter, cheeses and even creams at times. Rice is always the major ingredient. Here, rice takes more of a back seat and becomes a carrier for the star vegetable ingredients. This risotto is also completely dairy free using the 'cheesy' flavour of nutritional yeast to give that parmesan flavour.
Traditionally a risotto should be oozy on the plate when served. Often risottos are served quite thick, yet they should melt over your plate and hold quite a lot of liquid. Risottos should not be over cooked either. You want your grain to have bite and texture.
Serve this fennel, asparagus & capsicum risotto with protein such as fish, chicken or pork. If you are vegetarian or vegan you could add some legumes to the risotto or serve it with herb crusted tofu. Personally, I enjoy it with a pork chop topped with crispy sage and anchovies, my fiancé with chicken and cheese sausages! Obviously the diversity is evident.
fennel, asparagus & capsicum risotto recipe
serves

2 people

preparation time

10 minutes

cooking time

20 minutes
ingredients
1/2 cup risotto rice (arborio rice)
1 small onion, finely diced
1 clove garlic, finely sliced
2 1/2 cups hot stock (chicken or vegetable
1/2 cup white wine, (optional)
1/2 large bulb of fennel, roughly chopped and fronds picked
1 yellow capsicum, roughly chopped
1 bunch of asparagus, roughly chopped
1/3 cup chopped parsley
1 tablespoon olive oil
1/3 cup pine nuts
2 heaped teaspoons nutritional yeast
sea salt and pepper
method
Place a saucepan filled with the stock on to heat and bring to a simmer. Once simmering, turn off and keep warm with the lid on.
In another saucepan on medium heat, sauté onion and garlic in olive oil. Add in the chopped fennel and capsicum and stir for a few more minutes till it starts to soften. Once onion is transparent and vegetables are starting to soften, add the rice and stir continuously for 1-2 minutes until rice additionally begins to go transparent around the edges.
Add white wine and stir through until soaked into rice. Add some of the hot stock and continue to stir through until taken up by the risotto rice. At this stage you may want to turn the heat down to low as you want just a nice steady simmer.
Continue with this process of adding stock until rice becomes soften through with slight crunch to the bite. (The process till finished should take approximately 15-20minutes). Around the 15 minute mark, or 5 minutes before the risotto is done, add in asparagus and nutritional yeast and season with salt and pepper.
Once the risotto rice is ready (as described above), turn to low heat and stir through fennel fronds, parsley and pine nuts. There may be some stock left over or alternately you may need to add more liquid,  this is just dependent on the consistency of your risotto on the day.
Place lid on saucepan and leave for 1-2 minutes to take up the last of the liquid and allow it to develop its lovely ooze factor. Serve with drizzle of olive oil, more parsley and cracked pepper.
nutritional information for fennel, asparagus & capsicum risotto
Substitute arborio rice for buckwheat groats for a more complex carbohydrate meal. Other grains that can be used are barley and spelt.
This risotto is dairy free. You could substitute the nutritional yeast for freshly grated pecorino or parmesan cheese is desired. Alternatively, crumbled goats cheese would be lovely.
Pine nuts are not a nut, but actually a kernel. This make them a suitable option for those with nut intolerances.
Jessica Cox is a qualified practicing Nutritionist with a Bachelor Health Science (Nutrition) and over 15 years of clinical experience. She is the founder and director JCN Clinic, published author and established recipe developer. Jessica is well respected within health and wellness space for her no fad approach and use of evidence-based nutrition.