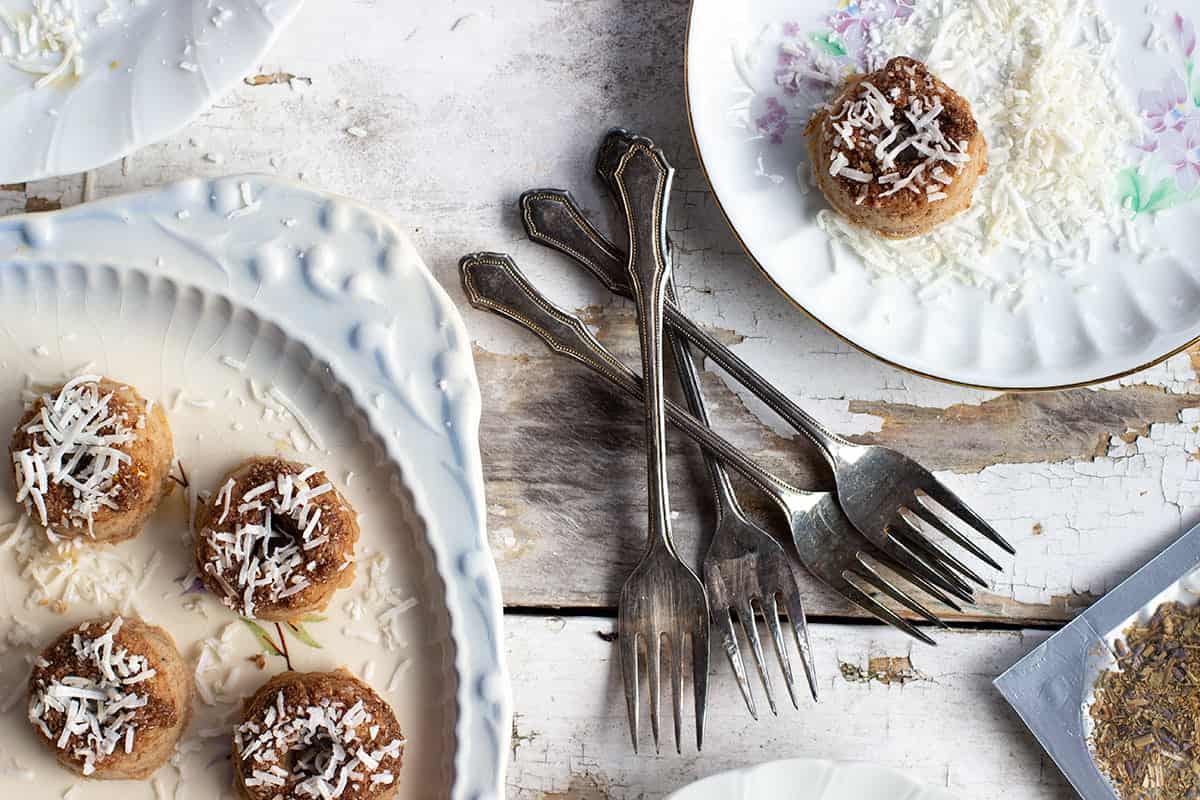 I've always had a soft spot for doughnuts so these cinnamon & coconut doughnuts are quite apt. Perhaps it's my late primary school years and early teens spent at the Vic Markets in Melbourne with my family. I would spend hours trawling the laneways for 80's style clothing and knick knacks with my mum and sister, dad in toe somewhere patiently waiting for us females.
Eventually as our tummies grumbled, we would ritualistically break from the crowds with dad this time in the lead and visit the doughnut van to buy searing hot deep-fried jam doughnuts…by the bag. I remember biting into them fresh out of the hot oil and the jam burning my mouth. Oh how I loved it. Such a special memory connected to food based aromas and textures and a father/daughter bonding moment.
As with these Vic Market doughnuts, doughnuts in general usually conjure up images of pillow like deep fried dough dipped in sugary glazes or filled with sweet jam centers. So when I decided to do an Instagram wholefood doughnut challenge for 7 days, I knew I was in for an interesting challenge indeed. Making doughnuts healthy and from wholefood ingredients can be challenging. We want healthy of course, but we also do not want an inedible brick.
These cinnamon and coconut doughnuts are never going to be as light and fluffy as shop bought doughnuts, as they are free from white sugar and refined gluten based flours. In saying this, I think the finished result is still really damn tasty and hits all the right taste bud notes. The spices dance on your tongue and are balanced out with the creamy coconut and sweet maple.
This week during my wholefood doughnut challenge I plan to revisit the jam filled doughnut and revise it with a wholefood update. I wont however play with the winning formula too much. I want to make a jam doughnut that my Dad would eat with joy from a brown paper bag. Then I know I will have succeeded.
cinnamon & coconut doughnuts recipe
serves

preparation time

cooking time
ingredients
1/2 cup of gluten free flour mix – I used 1/4 cup sorghum 1/8 cup coconut flour and 1/8 cup brown rice flour
1 teaspoon baking powder
1/4 teaspoon cream of tartar
1/4 teaspoon baking soda
pinch of salt
1 teaspoon cinnamon
1/2 teaspoon nutmeg
1/4 cup soy milk, plus extra 2 tablespoons if needed
1/4 teaspoon apple cider vinegar
1/2 teaspoon vanilla extract
1 tablespoon ground chia seeds
2 tablespoons maple syrup
1/8 cup coconut oil
// chia icing //
1 tablespoon coconut oil
1/2 tablespoon maple syrup
2 tablespoons ground chia seeds
1/2 teaspoon cinnamon
pinch nutmeg
method
I've used a mini doughnut tray to make these doughnuts. You could use a regular tray, or if you don't have a doughnut pan you could cook these as muffins.
Makes 9 mini doughnuts. Double the mixture when making regular sized doughnuts. 
Heat oven to 180c. Warm wet ingredient in a saucepan till oil is melted and chia thickens. Combine dry ingredients then add the warmed wet chia mixture and mix well bringing to a wet dough. (Add a little more milk if needed).
Spoon into mini doughnut pan and bake for 12-15 minutes.  Let cool for 3-4 minutes in the doughnut tray then carefully remove and place doughnuts on wire wrack to cool.
Whilst doughnuts are cooking make your icing by combine icing ingredients. When doughnuts are cooled, dip doughnuts into chia icing. You may also want to spoon the chia icing onto the doughnuts.
To finish, sprinkle with shredded coconut.
nutritional information for cinnamon & coconut doughnuts
Coconut flour is high in fibre. Fibre acts as an intestinal broom and upon reaching the lower intestinal tract is activated by friendly bacteria to energy substrates and short chain fatty acids (SCFA). Coconut flour is also low in phytic acid in comparison to other flours.
Chia seeds are rich in calcium making them a great choice for those on a dairy free diet. Grinding the chia seeds creates a more even texture to the doughnuts.
Nutmeg and cinnamon are warming spices that from a Chinese perspective bring warmth to the digestive system and keep it stimulated through the cooler months. Nutmeg is also said to be an aphrodisiac.
These doughnuts are of course a healthy alternative to the shop bought doughnut. Treat them similar to a homemade muffin and use them as a carbohydrate based snack. They are not made for devouring as a dessert each night, unless you are aiming to increase you weight of course.
Jessica Cox is a qualified practicing Nutritionist with a Bachelor Health Science (Nutrition) and over 15 years of clinical experience. She is the founder and director JCN Clinic, published author and established recipe developer. Jessica is well respected within health and wellness space for her no fad approach and use of evidence-based nutrition.