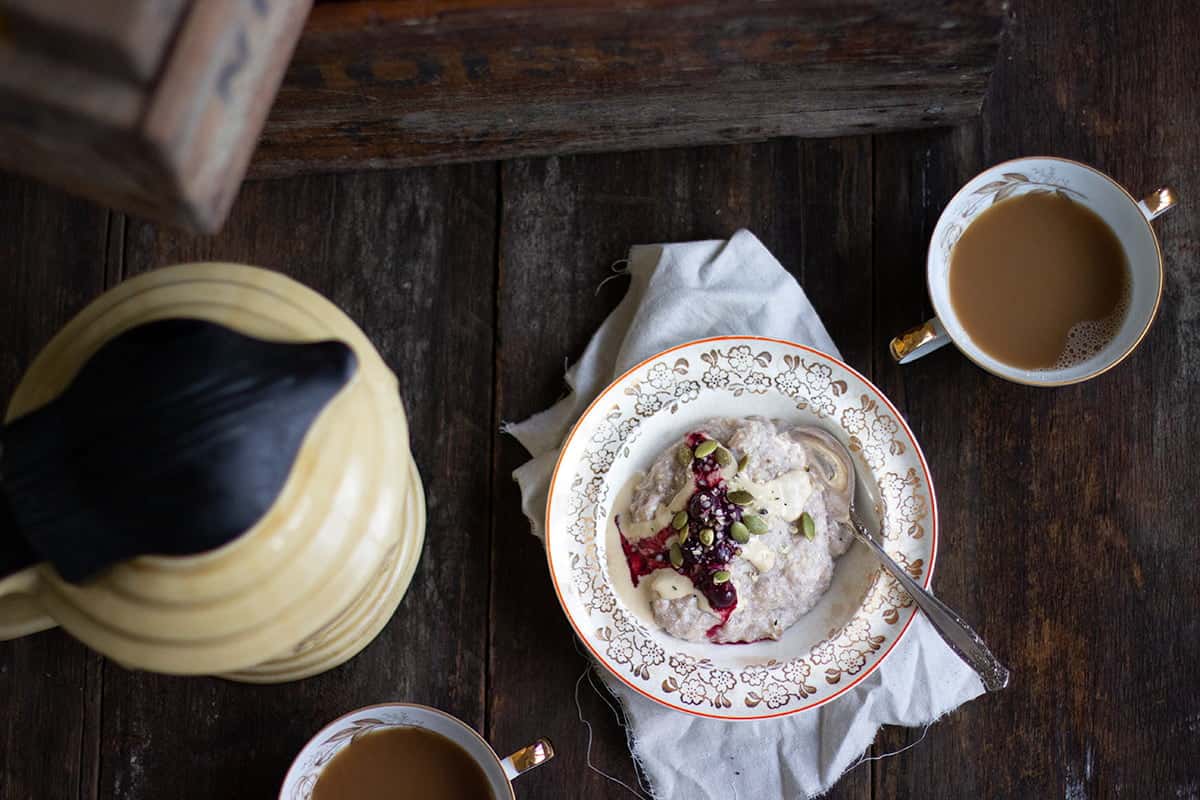 This chia banana porridge is the perfect start to a brisk May morning. It can be made up within minutes and is suitable for those mornings when you are in a hurry, yet desire something with some earthy warmness.
The porridge is a basic mix that can be manipulated to suit your palate as you choose. You can omit the banana and try other fruits, or simply leave out the fruit altogether and stick with the quinoa and chia blend alone.
chia banana porridge recipe
serves

2 people

preparation time

2 minutes

cooking time

3 -4 minutes
ingredients
1/3 cup quinoa flakes (or oats if suitable)
1/8 cup chia seeds
1/2 cup water
1/2 cup non sweetened, organic non GM soy milk (or milk of choice)
1 mashed banana
pinch sea salt
// to serve //
1 tablespoon tahini
2 tablespoons mashed berries
2 teaspoons each pumpkin seeds & hemp seeds
warmed milk (optional)
method
In a medium saucepan combine quinoa flakes, chia seeds, sea salt, mashed banana, water and milk. Place on stove top on a medium heat and warm till beginning to bubble. Turn down to low and stir every minute to stop the porridge from sticking. Add more milk if needed.
Once the liquid is taken up, pour the porridge into two bowls. Top with a spoonful each of the tahini (or nut butter), mashed berries, pumpkin seeds and hemp seeds. Finish with a splash of warm milk if desired.
If you prefer a sweeter porridge, drizzle the porridge with honey, rice malt or maple syrup.
nutritional information for chia banana porridge
The combination of chia seeds and quinoa flakes provides a sustaining blend of complex carbs and protein. Many traditional porridges are made from just oats, water and honey which is not a balanced macronutrient intake.
Chia seeds are very high in calcium. The added tahini also amps up the calcium intake of this dish. You could also use goat milk for your milk of choice which has more calcium per gram than cows milk.
The mashed banana brings sweetness to this porridge. It can be left out if you are not a fan of the flavour. Instead try adding some vanilla extract, cinnamon and nutmeg.
This porridge is also delicious served with caramelised maple pears and spices such as cloves and nutmeg. Another winning topping is freshly sliced figs and maple syrup.
The base of the porridge is also low salicylate. For a low salicylate topping use poached or caramelised maple pears.
Jessica Cox is a qualified practicing Nutritionist with a Bachelor Health Science (Nutrition) and over 15 years of clinical experience. She is the founder and director JCN Clinic, published author and established recipe developer. Jessica is well respected within health and wellness space for her no fad approach and use of evidence-based nutrition.