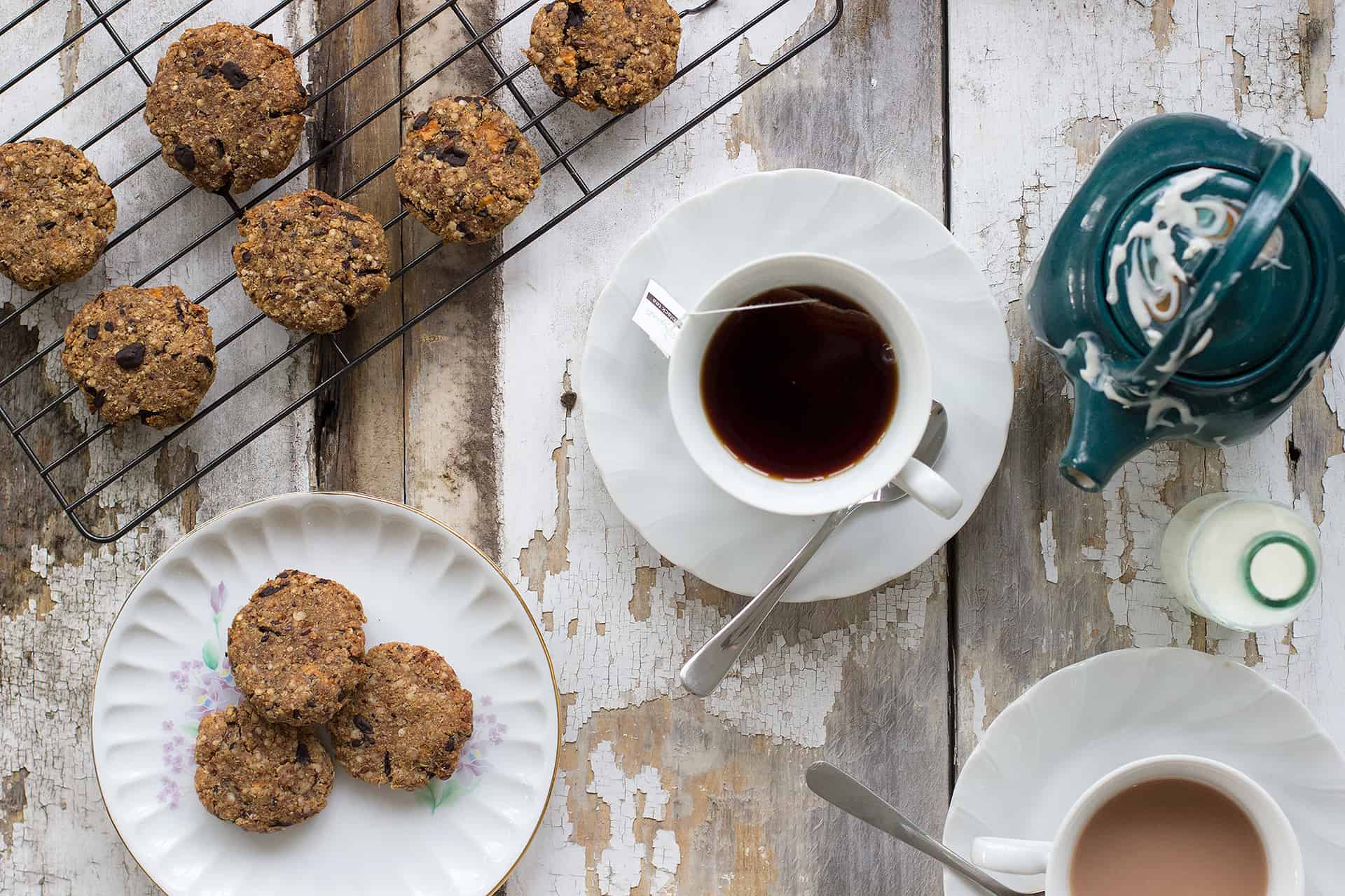 Luscious choc chip cookies packed with quinoa flakes, seed meals and coconut oil. These cookies provide sustainable fuel due to their high complex carbs and protein levels. They are sweetened with a kiss of rapadura sugar and fruit pulp from papaya.
Enjoy these choc chip quinoa & papaya cookies as an afternoon tea with a cuppa, or as a sweet bite after an evening meal. They are also perfect baked fresh and served with great company.
An additional note definitely worth mentioning is that these cookies can also be enjoyed raw! (yes, that means that the batter from the bowl is scrumptious). Simply roll the dough up into balls instead of flattening into cookies and store in the fridge. Eat within 3-4 days or freeze.
Recipe adapted from Edible Perspective. 
choc chip quinoa & papaya cookies
serves

11 – 12 cookies

preparation time

15 minutes + 30 minutes refrigeration

cooking time

15 – 17 minutes
ingredients
3/4 cup quinoa flakes
3/4 cup coarsely ground quinoa flakes (pulse in a blender)
1/2 cup sunflower seed meal (or other seed/nut meal of choice)
1/4 cup rapadura sugar
1/4 cup dairy free chopped dark chocolate
2 tablespoons ground flax meal
1 teaspoon cinnamon
1 teaspoon baking powder
1/4 teaspoon salt
1/4 cup papaya puree (fresh fruit blended)
3 tablespoons unrefined coconut oil, melted
3 tablespoons rice milk
1 teaspoon vanilla extract
method
Preheat oven to 190c. In a large mixing bowl combine all dry ingredients and set aside. In a separate bowl combine all the wet ingredients and mix well. Add the wet ingredients to the dry and combine with a wooden spoon to a thick batter. The mixture will be very thick. Place in the fridge for half an hour to allow it to take up the liquid further.
Remove the batter from the fridge and form into rough 2cm balls by rolling between your palms. Flatten balls out and shape into cookies around 3mm thick. Place on a baking tray lined with baking paper and pop into the preheated oven.
Check the cookies around the 10 minute mark to make sure they are not burning, as all ovens are different. Once lightly browned, remove from the oven and leave to cool on the tray for at least 10-15 minutes as the cookies are quite soft. Transfer to a wire rack and let cookies cool.
Store cookies once cooled in an air-tight container and consume with in 3 days or refrigerate for 1 week, or freeze for 2 months.
nutritional information
Papaya is rich in papain, a natural digestive stimulate that aids digestive enzyme function (specifically protein). Papain has proteolytic properties, meaning it cleaves protein bonds and breaks proteins down into more simpler peptide chains and then to singular amino acids.
These choc chip quinoa & papaya cookies contain high amounts of essential fats from sunflower seeds, flaxseeds and coconut oil. These healthy fats are best consumed in moderation.
Rapadura sugar is a non refined sugar rich in minerals. If you would like to omit the sugar you could substitute for rice malt or dates (still sugars in their own right, just different forms), although you will not need as much liquid with these.
Feel free to play around with the addition of chocolate and try other variations such as cacao nibs, extra seeds (or nuts) and/or organic dried fruit. Your imagination is your limit here!
Jessica Cox is a qualified practicing Nutritionist with a Bachelor Health Science (Nutrition) and over 15 years of clinical experience. She is the founder and director JCN Clinic, published author and established recipe developer. Jessica is well respected within health and wellness space for her no fad approach and use of evidence-based nutrition.