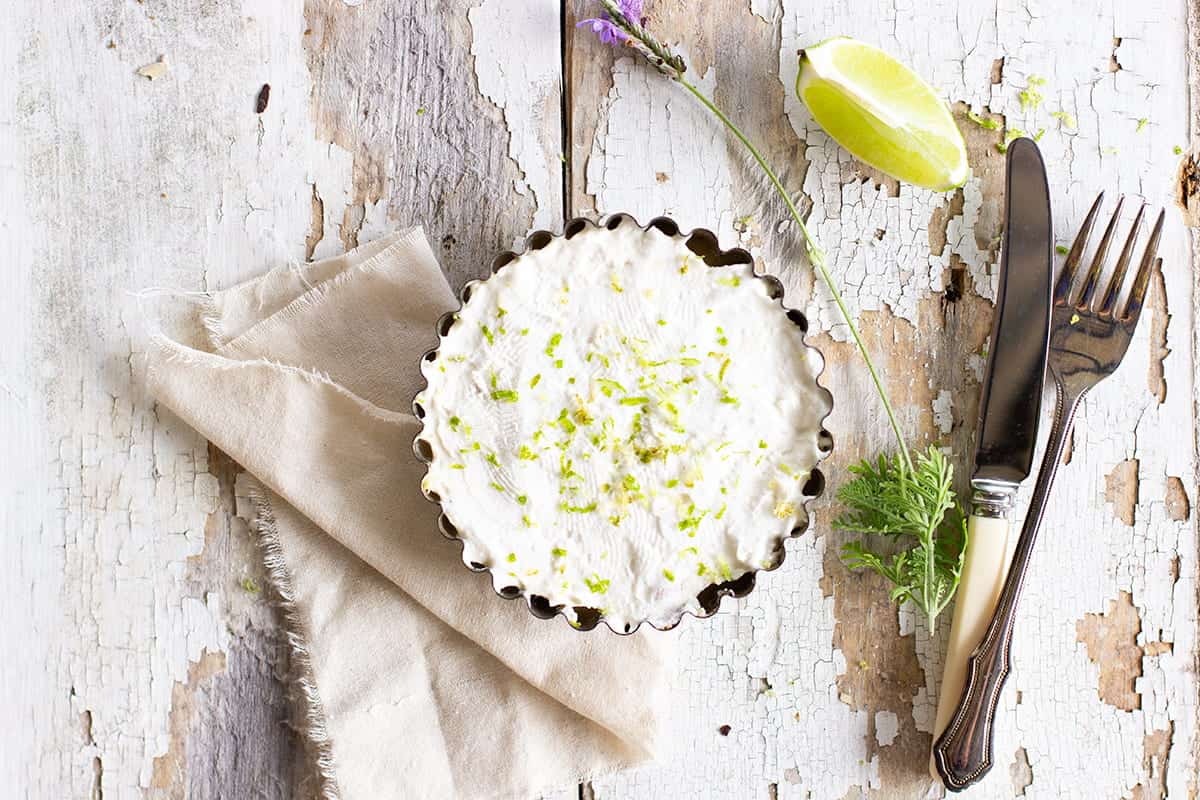 Usually I try to mix up the savoury and the sweet recipes from week to week, however after making these lime & coconut tarts on the weekend I just had to share them with you! These lime and coconut tarts were part of an afternoon wholefood 'high tea' with dear friends and family.
These light and zesty tarts are filled with the refreshing and bursting flavours of lime zest, along with creamy whipped coconut milk that sits nestled on top beckoning you to take a spoonful. The base is a nutty blend of walnuts and coconut, which gives a perfect crunchy texture against the lightness of the tart filling.
These tarts are adapted from Oh, Ladycakes, one of my all time favourite foodie sites.
lime & coconut tarts recipe
serves

4 small tarts

preparation time

40 minutes (plus 2 hours chilling)

cooking time

nil
ingredients
1 & 1/2 cups walnuts
1/2 cup desiccated coconut
2 tablespoons coconut oil
1/8 cup maple syrup
// lime tart filling //
1/4 cup rapadura sugar
2 tablespoons arrowroot flour
1/4 tsp xanthan gum
1 cup rice milk
1/3 cup lime juice
zest from 2 limes
1 can organic coconut cream (placed in fridge overnight)
method
Start by oiling 4 individual small tart or pie tins, preferably ones with a removable bottom.
In a food processor, pulse the nuts until crumbly.  Add in the rest of the crust ingredients and pulse until just mixed. Scoop mixture into prepared tins and press down firmly to create an even base. Pop into the freezer to set for 1/2 hour while making the tart filling.
To make the lime tart filling, place the arrowroot and xanthum gum in a saucepan and add a splash of the rice milk. Whisk this to incorporate then add in the rest of the milk, sugar, lime juice and the zest. Bring to a simmer on the stove and continue to whisk until the mixture begins to thicken. Once it thickens, set it aside to cool. You can also place it in the fridge to quicken this process.
For the whipped coconut cream, follow the recipes instructions here.
Remove the tart tins from the freezer and fill with the lime filling. Finish by spooning on the whipped coconut cream and flattening out with a knife. Finally garnish with lime zest and serve. These tarts are best served straight from the fridge. They will last in the fridge for 3 days but you will eat them way before then!
nutritional information for lime & coconut tarts
Limes are lovely and alkalising for the digestive system and they are also a fantastic source of vitamin C and phytochemicals such as bioflavanoids. Bioflavanoids are powerful antioxidants and also assist the absorption of vitamin C.
To make these tarts nut free, simply use pine nuts or sunflower seeds in your crust base.
Coconut cream is rich in saturated fats, however it is comprised of medium chained tri-glycerides that are burned more quickly than other saturated fats. Coconut oils are still calorie dense so they should not be used excessively if you are wanting to loose weight or lower your cholesterol count. Coconut cream is also extremely rich in manganese, a nutrient pivotal to liver health and detoxification.
Jessica Cox is a qualified practicing Nutritionist with a Bachelor Health Science (Nutrition) and over 15 years of clinical experience. She is the founder and director JCN Clinic, published author and established recipe developer. Jessica is well respected within health and wellness space for her no fad approach and use of evidence-based nutrition.