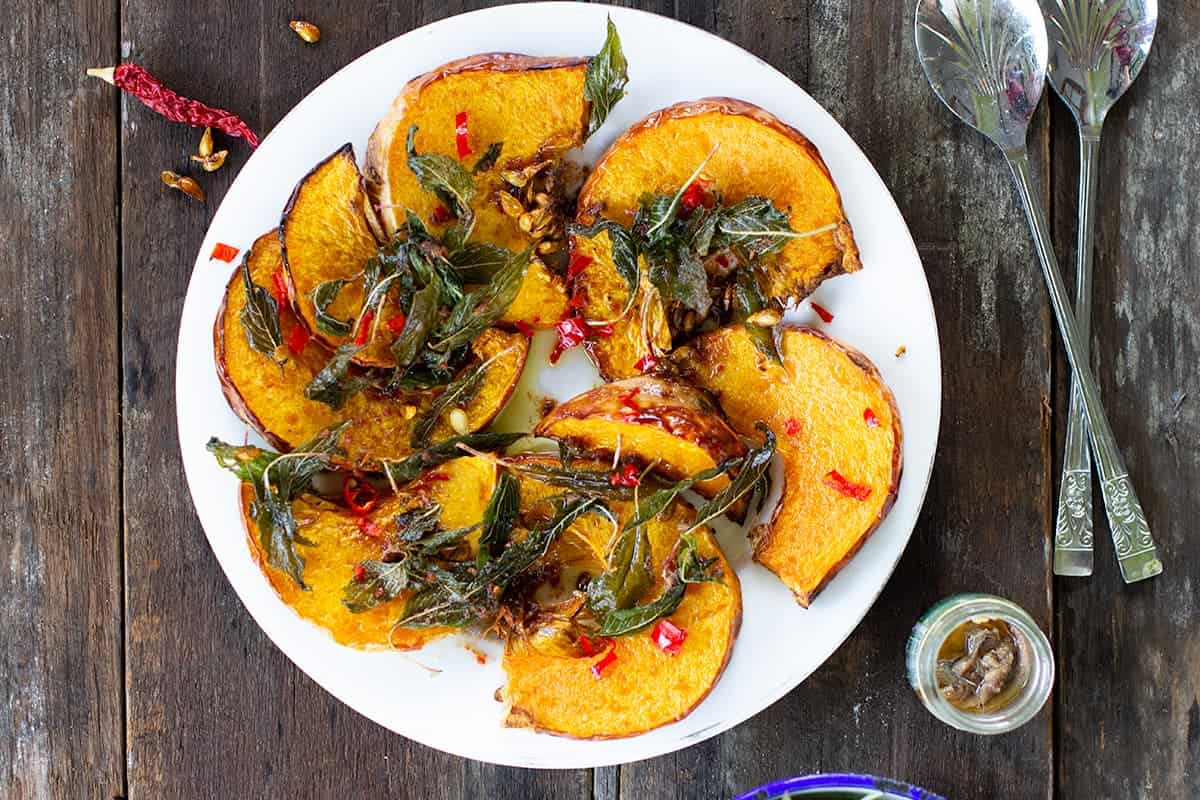 A simplistic side dish that will hold its weight well against any protein side. The sweet and tender pumpkin in this roast pumpkin with crispy sage & anchovies recipe teams wonderfully with the crispy sage and the saltiness of the anchovies. If anchovies are not to your liking, you could omit them or try adding some pine nuts instead, or perhaps some olives for a similar flavour.
Serve this roast pumpkin with crispy sage & anchovies dish with lamb, fish or chicken. It would also be lovely with nutty falafels and tempeh.
roast pumpkin with crispy sage & anchovies
serves

2 people as a side dish

preparation time

10 minutes

cooking time

40 minutes
ingredients
1/4 of a large pumpkin cut into around six 1cm-2cm wedges, skin on
2-3 anchovies, roughly mashed
1 large handful of sage (or pineapple sage)
1 red fresh chilli, finely sliced (optional)
2 tablespoons extra virgin olive oil
method
Heat a fan forced oven to 220c. Place the pumpkin wedges on a baking tray and coat with some of the oil. Add a little sea salt and pepper. Roast for 20 minutes, then turn pumpkin wedges over on the tray and roast for another 10-15 minutes until tender and golden.
Just before the pumpkin is ready, heat a frying pan quite hot and add 1 tablespoon of the oil. Carefully add in the sage leaves and let them bubble and crispy up over 1-2 minutes. Add the anchovies with the last amount of oil and heat through stirring constantly with a wooden spoon. Remove from heat.
To serve, place the pumpkin wedges on a serving dish then spoon over the crispy sage and anchovies with all of the pan juices. Finally scatter over the freshly chopped chilli.
Additional add ons: Try this warm pumpkin dish with a scattering of added goats feta or toasted pine nuts.
nutritional information
Medicinally sage reduces perspiration and is therefore useful for menopause and the reduction of hot flashes.
Anchovies are a source of omega fatty acids. They are quite high in sodium, however used sparingly in a dish they bring saltiness without the need for additional seasoning.
To make this pumpkin dish a complete meal, top with flaked crispy salmon fillets and toasted chickpeas.
Jessica Cox is a qualified practicing Nutritionist with a Bachelor Health Science (Nutrition) and over 15 years of clinical experience. She is the founder and director JCN Clinic, published author and established recipe developer. Jessica is well respected within health and wellness space for her no fad approach and use of evidence-based nutrition.