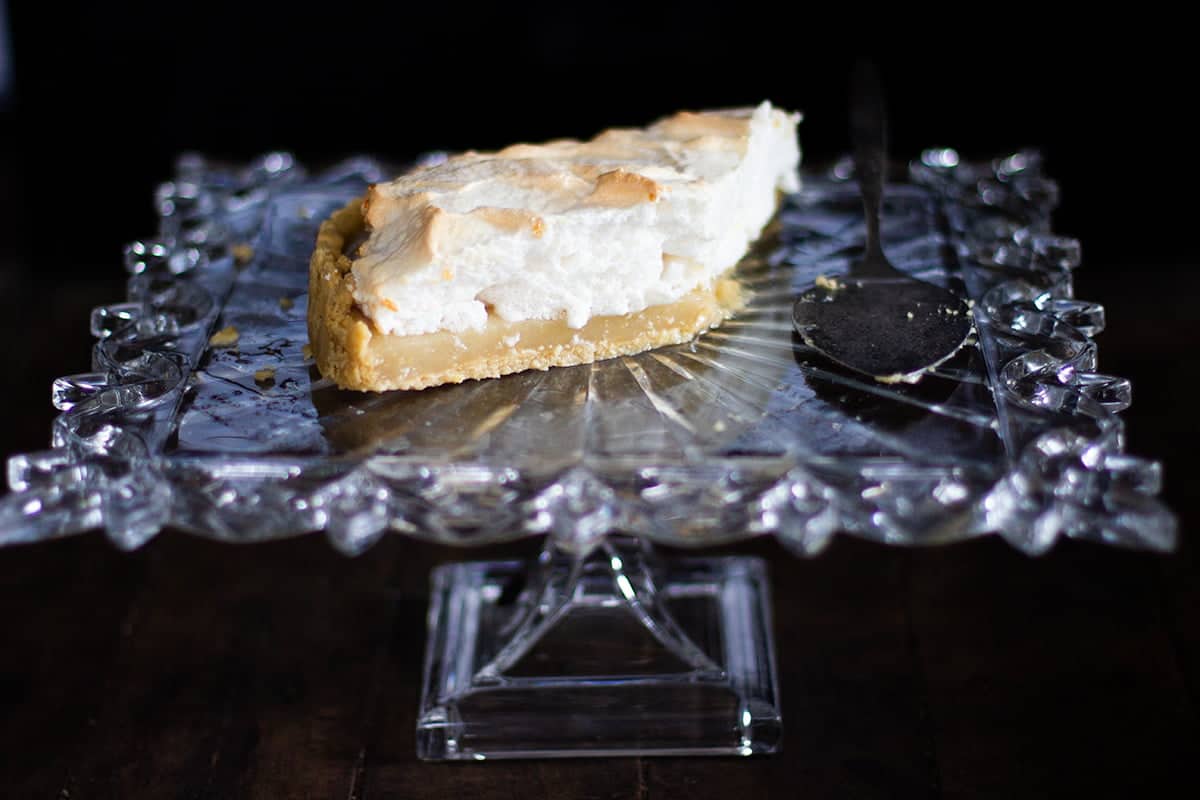 There are not many people I know who do not adore a lemon meringue pie. The fantastic thing about this healthy version of a lemon meringue pie, (or tart really), is that if you omit the meringue top it is actually an egg white free lemon tart, which often works better for people with egg reactivates. As there is no dairy or egg used in the filling, this tart is ever so light, yet deliciously luscious all at the same time. This recipe is adapted from Mr Nice Guy!
lemon meringue pie
serves

8 good slices

preparation time

2 hours

cooking time

30 – 40 minutes
ingredients
crust:
1 cup cashews, ground
1 cup arrowroot
2 dessertspoons slippery elm or psyllium husks
pinch salt
1 tablespoon maple syrup
85 grams vegan butter
1 egg yolk
lemon tart filling:
1/2 cup maple syrup
3/4 cup arrowroot
2 teaspoons flaked agar agar
pinch salt
1 1/4 cup rice milk
1 cup water
3/4 cup lemon juice
meringue:
4 egg whites
1/3 cup maple syrup
1/4 cup raw sugar, ground
method
Start with preparing your tart base. For the tart crust, combine all the dry ingredients in a mixer or blender. Add the vegan butter and pulse till the mixture resembles bread crumbs. Add the egg yolk and the maple syrup and pulse again bringing the mixture to a ball. Wrap the pastry in cling wrap and place in the fridge for 30 minutes.
In the meantime, make the tart filling. Combine all filling ingredients in a saucepan and bring to boil  stirring constantly. Drop to a simmer and simmer away while still stirring untill the mixture thickens and the agar flakes have dissolved. This should take around 10 minutes. Take off the heat and allow to cool.
Take the tart pastry from the fridge. Slice off sections of the pastry with a knife and press them into the tart pan. Continue to do this, building the tart base as you go and moulding the edges together as they meet. Prick with a fork and bake in a 180c oven for 10 minutes until slightly golden. The pastry will shrink a little and crack but this is normal. Allow the tart base to cool. You can fast track this process by placing the tart tin in the freezer for 10 minutes.
Once cool, pour in the lemon filling. Again, allow to cool by placing in fridge of freezer where it will firm up. If you are topping your lemon tart with a meringue top, whisk the egg whites to form a stiff peak. Slowly add in the maple syrup and continue to whisk. Spoon the meringue onto the top of the lemon tart and place in the oven. Bake in a 170c oven for 30 minutes.
nutritional information
As mentioned above, this can be made as a tart without the meringue if you need an egg white free tart. Other variations could include substituting the lemon for lime juice or even passionfruit pulp. Yum!
Agar agar is a vegan friendly setting agent. You could also use gelatine if you wish. Be sure to use the flakes, otherwise if using the powder you will not need as much as stated here. Agar agar is derived from seaweed.
Slippery elm and psyllium when combined with water form a gel like substance knows as a 'mucilage'. This mucilage makes them fantastic digestive aids thanks to their soluble fibre activity. Slippery elm has mild anti inflammatory properties and psyllium helps 'soak' up cholesterol in the digestive tract. When used in baking, these digestive aids boost binding of gluten free flours.
Jessica Cox is a qualified practicing Nutritionist with a Bachelor Health Science (Nutrition) and over 15 years of clinical experience. She is the founder and director JCN Clinic, published author and established recipe developer. Jessica is well respected within health and wellness space for her no fad approach and use of evidence-based nutrition.