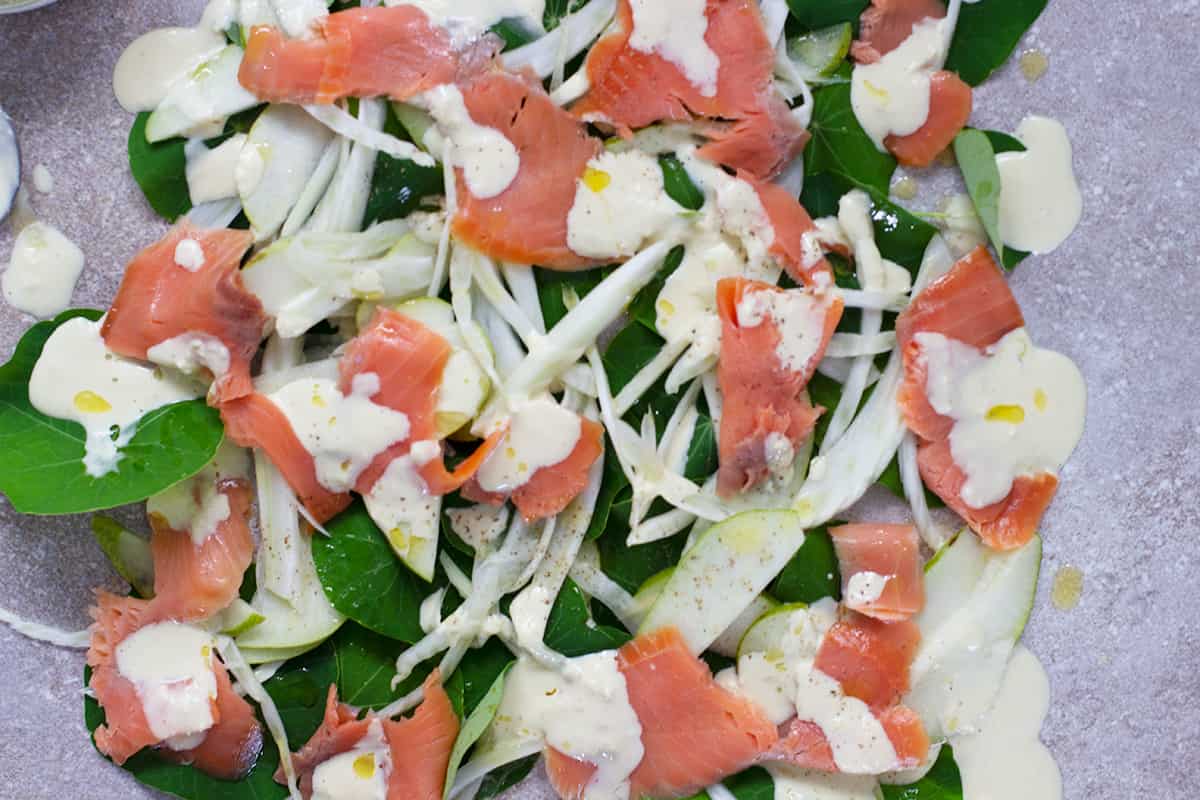 As the weather slowly warms up over the coming weeks, this is the type of salad that can be enjoyed with the remainder of winters seasonal produce. The crisp fennel and pear are a perfect marry with the clean oiliness of the trout and the creamy horseradish mayo. If you are yet to try horseradish this is certainly the way to do so, as its flavour stands out as the hero in this dish. If you can get your hands on fresh horseradish then certainly use this, however I am often one to fall back on the pickled version, which is more easily accessible.
This fennel, pear and smoked trout salad with horseradish mayo is a very light dish, so if you would like to enjoy it as a main meal I'd suggest adding some complex carbohydrates or some starchy legumes to make it more sustaining. Cannellini beans would be lovely or you could even pop the salad into a wrap. Otherwise, I love using this salad as a starter for a relaxed dinner party with friends.
The nasturtium leaves used here are similar in flavour to rocket, as they have a strong peppery hit. Nasturtium leaves seem quite fancy pants, however you would be surprised how often they are growing like a rampant weed in your garden, or probably your grandma's garden. Of course if you cannot get your hands on them rocket is fine to use, as it will still bring the same flavours to the dish.
fennel, pear and smoked trout salad with horseradish mayo
serves

2 people as a light meal or starter

preparation time

10 minutes

cooking time

nil
ingredients
1/2 cup quality mayonnaise ( I like Thomy's brand)
2 heaped teaspoons pickled horseradish
1/4 large fennel bulb, finely sliced
1/2 pear, finely sliced
300gms smoked trout
1 large handful of rocket leaves or nasturtium leaves*
juice of 1/2 a lemon
olive oil for drizzling
pepper
method
In a small bowl, combine the mayo and the horseradish. Set aside.
In a mixing bowl combine sliced fennel and pear with juice of the lemon and a little olive oil. Toss lightly to combine.
On a serving dish scatter the rocket leaves or the nasturtium leaves. Top with the pear and fennel mix then scatter over the smoked trout, roughly tearing up as you do.
To finish, drizzle over generously the horseradish mayo. Finally drizzle with some more oil and a good grind of black pepper.
*Nasturtium leaves are from a flowering garden plant. If you have these in your garden the leaves can be eaten as they give a great peppery flavour similar to rocket.
nutritional information
Trout is rich in essential fatty acid, omega 3. Go for a smoked trout that has been naturally smoked opposed to artificially flavoured and preserved with nitrates.
Horseradish has many medicinal properties. It is a heating herbs and is therefore beneficial for blood circulation and warmth. It stimulates gastric juices and is also has mild diuretic properties. Horseradish also has anti microbial activity and is a great choice for respiratory infections and congestion.
For those who are egg intolerant, you could substitute the mayo with yoghurt or with a vegan mayo.
Jessica Cox is a qualified practicing Nutritionist with a Bachelor Health Science (Nutrition) and over 15 years of clinical experience. She is the founder and director JCN Clinic, published author and established recipe developer. Jessica is well respected within health and wellness space for her no fad approach and use of evidence-based nutrition.