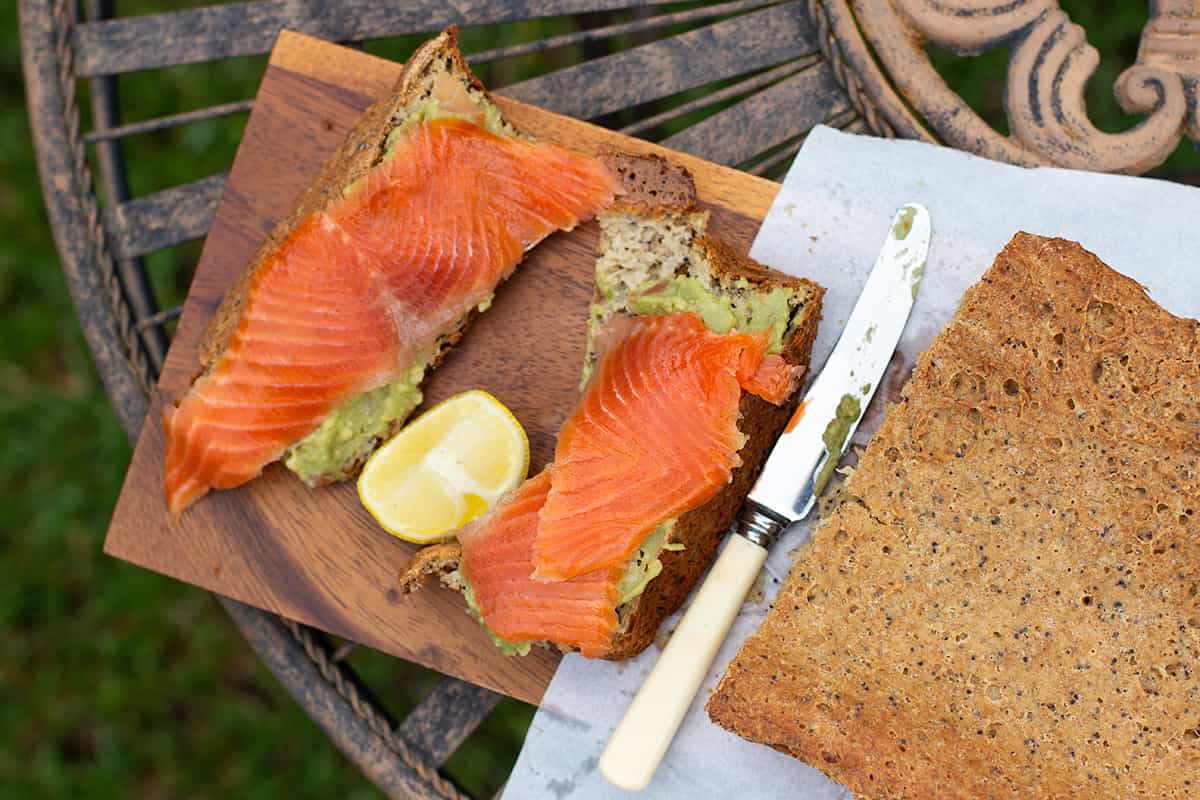 There is nothing like the smell of freshly baked bread. I would consider it my favourite aroma. My mums homemade bread wafting through the house is still enough to send my tastebuds into a ridiculous frenzy. This freshly baked gluten free bread is quite easy to bake and holds its texture well for a gluten free thanks to the inclusion of psyllium husks.
freshly baked gluten free bread recipe
serves

8-10 thick slices

preparation time

10 minutes

cooking time

65 minutes
ingredients
1 cup of brown rice flour
1/2 cup soy flour (or besan flour)
1/2 cup arrowroot flour
1/2 cup buckwheat flour
1 sachet of rapid yeast (2 tsp)
1 tsp of salt
1 dessertspoon honey
1/2 cup sunflower seeds
2 eggs
1 cup of water (warm)
3 dessert spoons of psyllium husks
2 tsp of guar gum
method
Preheat oven to 180c. Combine dry ingredients into a large mixing bowl. Combine wet ingredients into a separate bowl and then add in to the dry ingredients. Mix well till combined and put into a well greased bread tin.
Bake for 40 minutes, then cover with tin foil and bake for a further 15 minutes. Allow to cool before slicing…if you can wait!
nutritional information for freshly baked gluten free bread
The combination of flours in this bread provides sustainable complex carbohydrates. Many gluten free breads are made from refined white rice flours that are devoid of any quality nutrition.
You could use egg replacer instead of eggs if needed. You could also use a combination of flaxseeds and water.
Treat this bread as a base recipe and add in extra elements for crunch and texture. Try sunflower seeds, poppy seeds and pepitas or grated orange zest, dried figs and walnuts. The combinations are endless!
Jessica Cox is a qualified practicing Nutritionist with a Bachelor Health Science (Nutrition) and over 15 years of clinical experience. She is the founder and director JCN Clinic, published author and established recipe developer. Jessica is well respected within health and wellness space for her no fad approach and use of evidence-based nutrition.