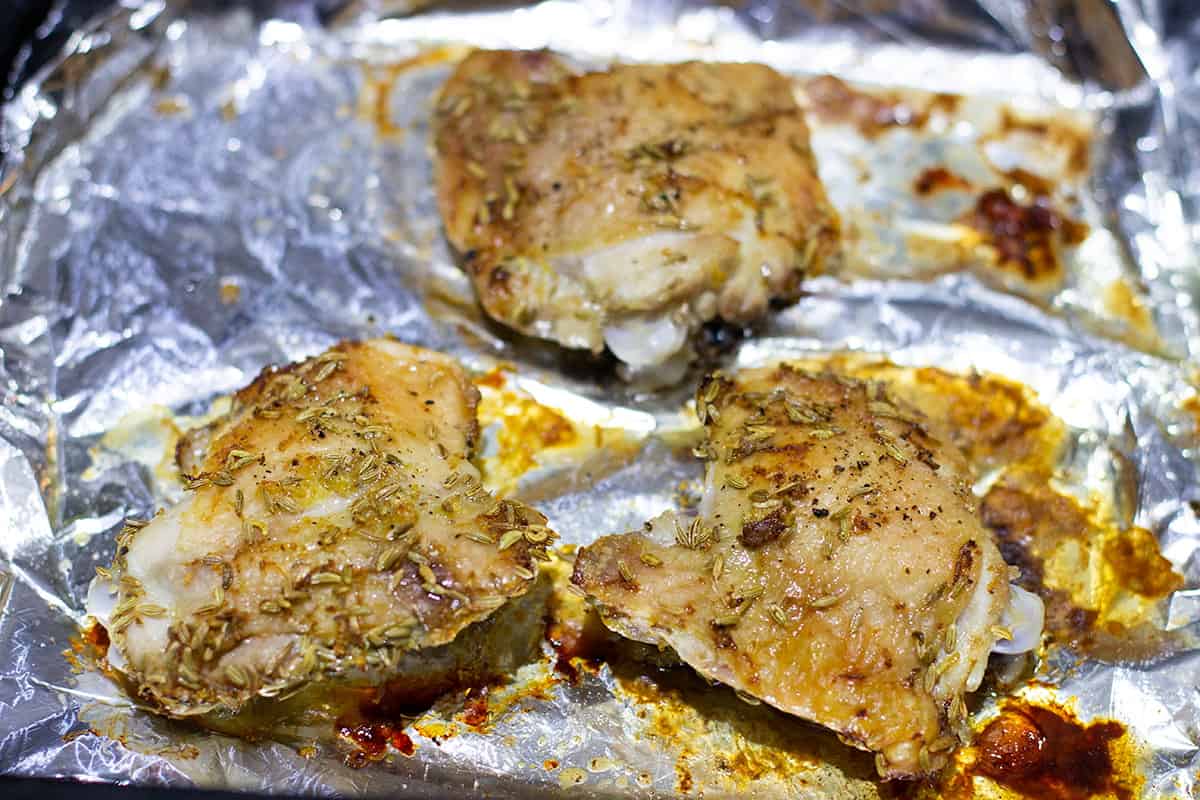 This fennel baked chicken with sprout, capsicum bacon salad dish is filled with earthy vegetables, crunchy textures and the warming spice of baked fennel. Brussel sprouts are a key ingredient in the salad which may be something usually avoided. The roasting of the sprout enriches their sweetness and caramelises their natural sugars, creating a crunchy texture to their leaves – similar to those crispy bits on roast potatoes.
fennel baked chicken with sprout, capsicum bacon salad recipe
serves

2 people

preparation time

10 minutes

cooking time

40 minutes
ingredients
1 heaped cup brussel sprouts, halved
1 red capsicum, roughly cubed
1/3 cup sunflower seeds
juice and zest 1 lemon
4-5 rashes of free range, nitrate free bacon
1/3 cup grated pecorino
2 chicken thighs, preferably free range
2 heaped teaspoons fennel seeds
extra virgin olive oil for roasting, olive oil for dressing
method
Heat oven to 200c. Place sprouts and capsicum in roasting dish and coat with a lug of extra virgin olive oil. Season and place in the oven for 30 minutes.
In a separate baking dish place chicken thighs rubbed with fennel seeds, lemon zest, seasoning and a dash of the oil. Pop in the oven with the veg. After 30 minutes turn oven down to 180c and add in the seeds with the sprouts and capsicum. Roast chicken and the veg for another 10 minutes.
In the meantime, pan cook the bacon till crispy, remove from heat and set aside. Remove vegetables and chicken from oven and scrape into a bowl. Add crumbled bacon and grated pecorino. Add lemon juice, lug of olive oil, season and toss.
Serve warm salad with the fennel seed chicken.
nutritional information for fennel baked chicken with sprout, capsicum bacon salad
Fennel seeds are a natural digestive aid. Fennel seeds are useful for sinus as they help reduce mucus congestion.
Free range bacon is available from good butchers and health food stores. It is usually free from nitrates and will not have a long shelf life.
When baked, fennel bulb becomes lovely and sweet. Fennel provides antioxidant vitamin C and is a fantastic winter seasonal vegetable.
This dish is a high protein dish which makes it a fantastic post resistance work out meal.
Jessica Cox is a qualified practicing Nutritionist with a Bachelor Health Science (Nutrition) and over 15 years of clinical experience. She is the founder and director JCN Clinic, published author and established recipe developer. Jessica is well respected within health and wellness space for her no fad approach and use of evidence-based nutrition.