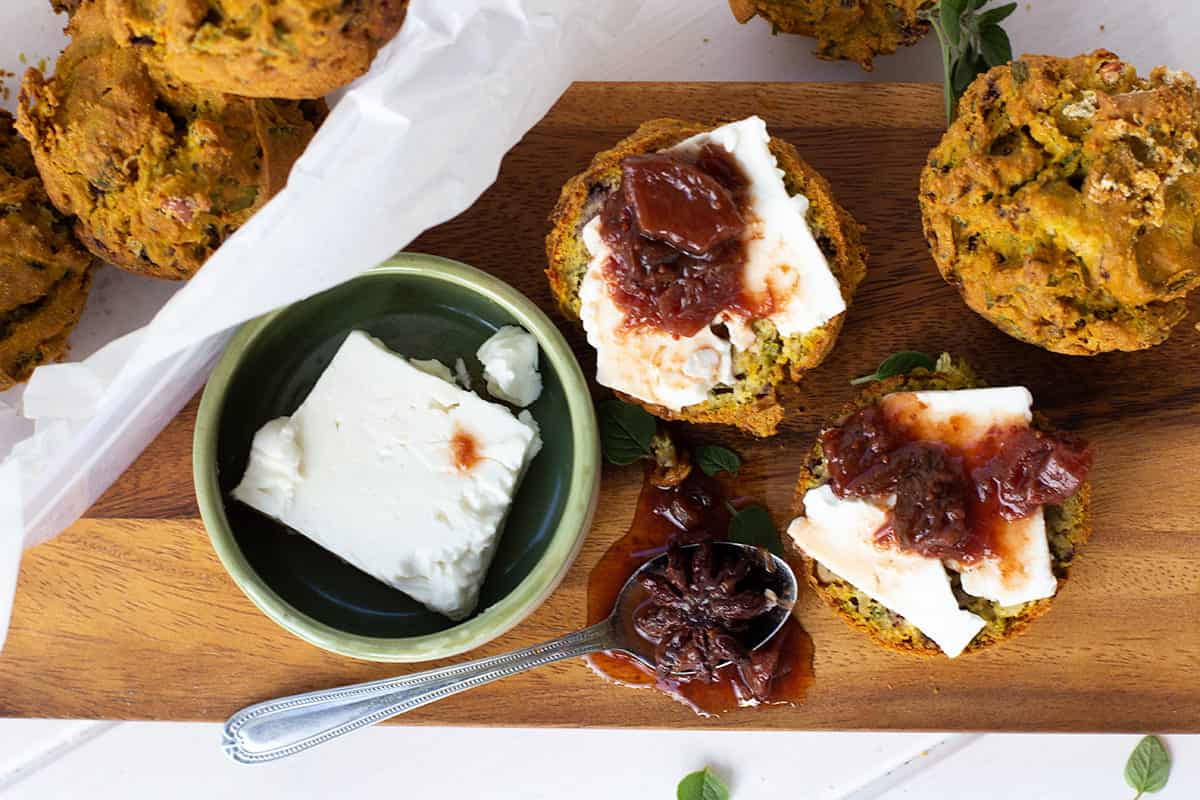 Muffins are the ultimate on the go snack. When made with a balance of wholegrain flours, nut meals and quality protein they are sustaining and energy dense fuel. These polenta veggie pesto muffins are a far cry from the  spongy white variety that you see sold in coffee shops! Enjoy these muffins split open and spread with feta cheese and a really punchy chutney.
polenta veggie pesto muffins recipe
serves

6 large muffins

preparation time

10 minutes

cooking time

20-25 minutes
ingredients
1 cup buckwheat flour
3/4 cup polenta
1/4 cup almond meal or sunflower seed meal
pinch of sea salt
1 tablespoon baking powder
1/2 cup broccoli cut into small pieces
1 medium carrot, grated
1/2 zucchini, grated
1/4 red capsicum, diced
1/4 red onion diced
1/4 cup red kidney beans or white beans
2 heaped tablespoons of pesto (diary free if needed) or tomato paste
1/3 cup of grated pecorino cheese or crumbled goat feta (or nutritional yeast for dairy free)
1 cup plant based milk
1 cup extra virgin olive oil
2 eggs (or 2 chia eggs)
method
Preheat oven to 220c. Roughly line muffin dish with baking paper to hold 6 large muffins.
Steam broccoli till tender. In large mixing bowl combine polenta, buckwheat, baking powder, salt, remaining vegetables, kidney beans and steamed broccoli.
Make a well in the centre and add in eggs, milk and oil. Stir through mixture until just combined. Try not to over mix the batter. Place batter into muffin tray and bake in oven for 20- 25 minutes or until golden brown on top.
Enjoy muffin alone or split in half and spread with nut paste, tahini or avocado.
nutritional information for polenta veggie pesto muffins
The vegetables can be altered to suit. Use what you have left over in your fridge. Just aim for around 1 cup full of vegetables to add to your mixture.
Including legumes in these muffins adds extra protein. You could also try smoked salmon or leg ham.
Wholewheat flour can be substituted if you do not need them to be gluten free.
Jessica Cox is a qualified practicing Nutritionist with a Bachelor Health Science (Nutrition) and over 15 years of clinical experience. She is the founder and director JCN Clinic, published author and established recipe developer. Jessica is well respected within health and wellness space for her no fad approach and use of evidence-based nutrition.