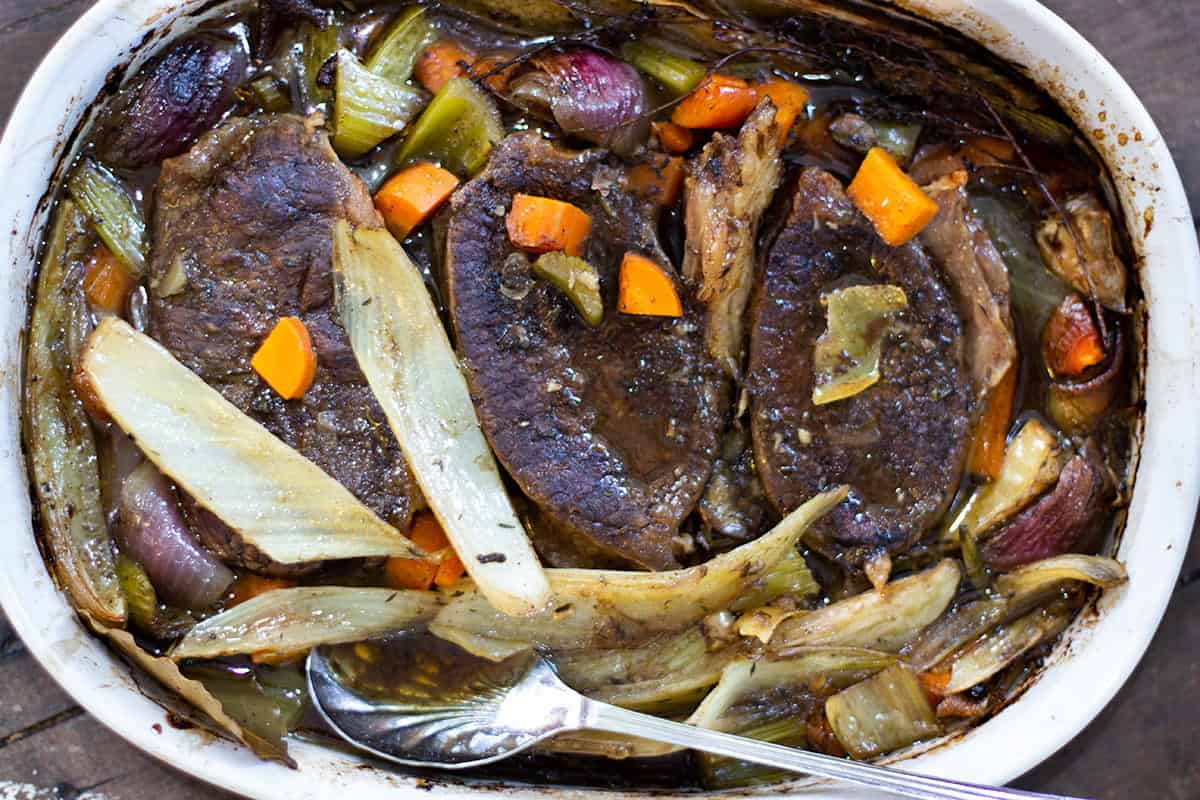 Now is the perfect time for slow cooked braises and stews  like this zesty lemon casserole that warms you through to your core. There is nothing quite like coming home at the end of a day, the sky turned dark already, the cold night nipping at your extremities, all to be welcomed by the aromas of a braise that has been slowly bubbling away all day. It is like the ultimate reward for a long days work. All the work is done and you can just sit back and enjoy the show.
Personally, I think having a slow cooker through the winter months is almost mandatory. They make life so much less complicated. In summer we are happy with a quick salad and some protein on the side, but in winter we yearn for those warmer dishes that usually take hours to prepare. Enter the slow cooker.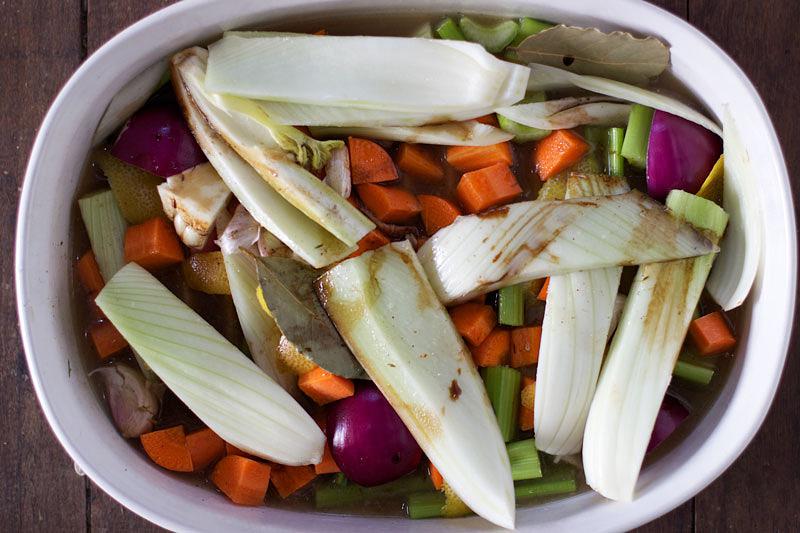 I was lucky enough to inherit mine from my Nan, so using it always has sentimental meaning attached. Somehow I have managed to infuse the hard ceramic dish with the smell of braises, so whenever I go to use it I find it imparts this delicious stock smell when I take off the glass lid. I'm guessing cooking duck confit in it for eight hours probably had a strong impact too!
If you do not own a slow cooker, then this slow cooked lemon zesty lemon casserole can be done in the oven. I like to use both the slow cooker and the oven method. Pictured here is the oven-braised method, which is suitable for weekends or an early weekday finish. I find when braised away in the oven it yields a richer, sticker sauce. Whichever way you choose, both are delicious!
zesty lemon casserole recipe
serves

2 hungry people

preparation time

15 minutes

cooking time

8 hours or overnight
ingredients
4 thickly sliced beef shins, or 2 lamb shanks
brown rice flour to coat
1 large onion, chopped
3 cloves garlic, crushed
1 large carrot, finely chopped
4 stalks celery, finely chopped
1/4 cup water or stock
4 bay leaves
zest one lemon
1/4 cup balsamic vinegar
method
Start by coating the meat in the flour. To do so, pop in a bag and shake the meat around with the flour, or simply toss around on a plate till well covered.  Heat a frying pan and add some heat stable oil such as coconut oil or macadamia nut oil. Add the meat to the pan and turn as it cooks. You are looking to quickly caramelise the outside of the meat, not cook the inside.
Place meat with all remaining ingredients in slow cooker. Leave slow cooker on low for around 8 hours or overnight. Alternatively, if you are not using a slow cooker, place in a baking dish and cover with foil or a lid. Pop in in a 170c oven and bake for 3 hours, or until meat is tender. In the last 20 minutes remove the foil to allow the juices to reduce and become more sticky and delicious!
If using your slow cooker, you can serve as is once the cook is complete, or you can remove the meat and place the remaining mixture in a saucepan and bring to a slow boil. Let it boil away slowly reducing. This process will increase the flavour and intensity of your sauce. Once you are happy with the flavour and consistency your sauce is ready to use.
Serve the zesty lemon casserole with some potato mash and wilted spinach or white bean smash for the perfect dish.
nutritional information
Slow cooked meats are often easier to digest for sensitive stomachs due to their slow cooking time breaking down the meat fibres. Red meat is also an abundant source of vitamin B12 and iron. Many woman are low in these vital nutrients so braised meats are an enjoyable way of increasing your intake (if you aren't vegetarian or vegan of course!).
This dish is suitable for those with multiple food intolerances. It can even be made low salicylate by changing the balsamic vinegar for malt vinegar.
Preserved lemon adds a real punch to this dish. Try adding 2 quarters of preserved lemon instead of the lemon zest.
Jessica Cox is a qualified practicing Nutritionist with a Bachelor Health Science (Nutrition) and over 15 years of clinical experience. She is the founder and director JCN Clinic, published author and established recipe developer. Jessica is well respected within health and wellness space for her no fad approach and use of evidence-based nutrition.