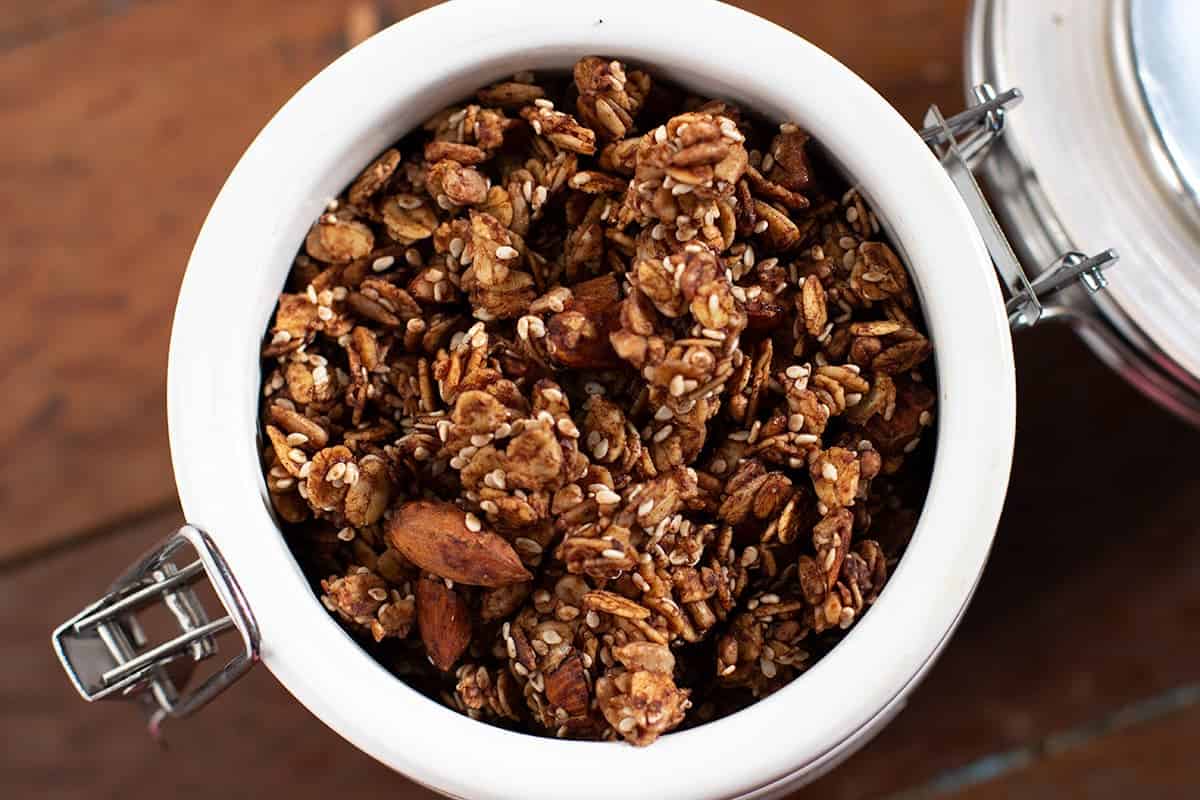 This recipe is adapted from Nigella Lawsons Chocolate and Peanut Granola. I have given it a healthy spin whilst still keeping the rich tastes by omitting the bucket loads of sugar, upping the cacao and using extra virgin olive oil. This cacao & almond granola recipe also obviously uses almonds instead of peanuts, which could be swapped with any nut or seed of choice to suit what you have in your pantry.
cacao & almond granola recipe
serves

25-30 serves

preparation time

5 minutes

cooking time

40-50 minutes
ingredients
1/4 cup cacao powder
4 1/2 cups rolled oats (or quinoa flakes for gluten free option)
1 cup sunflower seeds
3/4 cup sesame seeds
2 teaspoons cinnamon
3/4 cup 100% apple puree (or stewed apples)
1/3 cup pure maple syrup
2 cups chopped almonds
1 teaspoon salt
1/4 cup extra virgin olive oil
method
Preheat your oven to 175c fan forced. In a large bowl combine all ingredients with a wooden spoon or with your hands until everything is nicely mixed together.
Once combined, spread mixture into a large baking tray and bake for 40-50 minutes. Turn mixture frequently through baking to prevent burning.
Allow the granola to cool, then store in an airtight jar in the fridge till ready to use. To serve, place in a bowl and top with milk of choice and/or yoghurt and seasonal fruit.
nutritional information for cacao & almond granola
This is a granola that can be made nut free by omitting the almonds and using pumpkin seeds.
Make a gluten free version of granola by using quinoa flakes.
Try serving the granola with vanilla bean yoghurt or a dollop of coconut yoghurt. Delicious!
Jessica Cox is a qualified practicing Nutritionist with a Bachelor Health Science (Nutrition) and over 15 years of clinical experience. She is the founder and director JCN Clinic, published author and established recipe developer. Jessica is well respected within health and wellness space for her no fad approach and use of evidence-based nutrition.