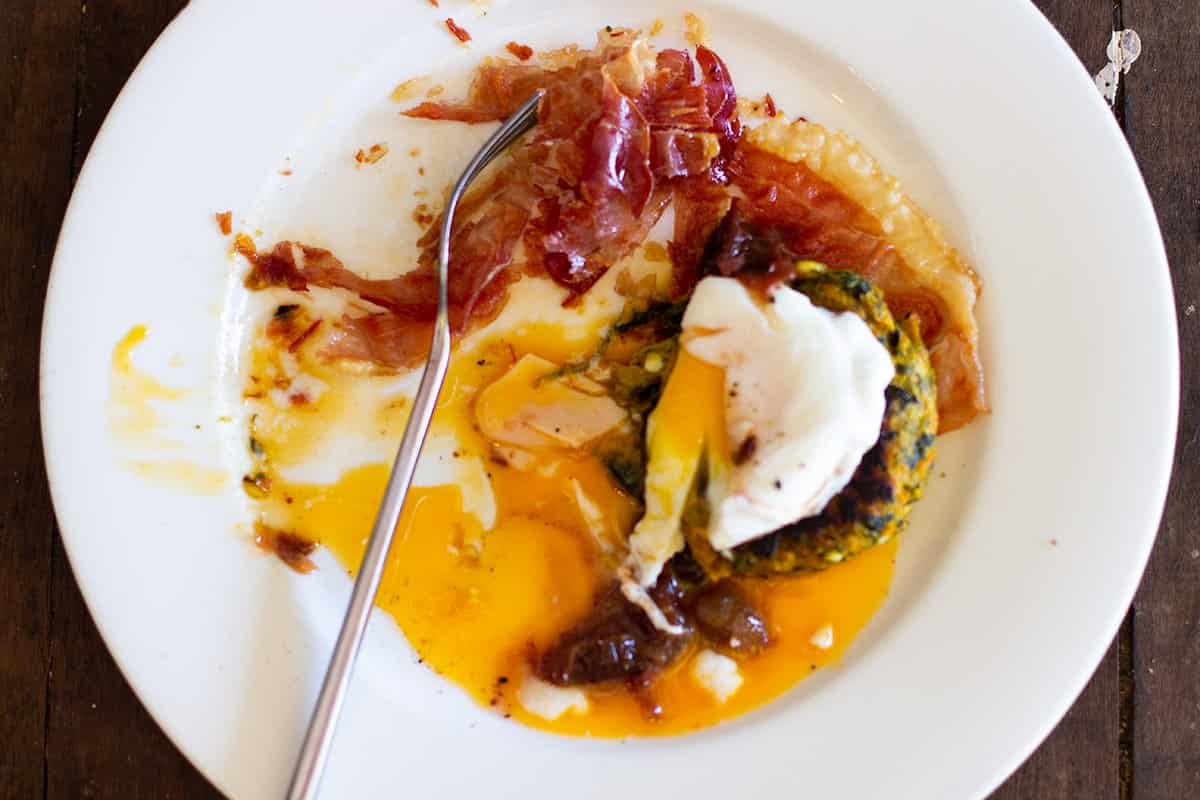 These pumpkin, spinach and cheese fritters are great for a weekend brunch, or late breaky after a well deserved sleep in. When I make these at home its often done in two different ways, one diary free and one with cheese. My husband has them with cheese then topped with poached eggs and prosciutto while I have a dairy free version with smoked salmon and chutney.
Breakfast fritters are a great alternative to bread and bring so much more flavour to a savoury start to the day. When cooked right they are lovely and crunchy on the outside and all soft on the inside. The cheese inside these fritters melts creating little pockets of molten feta or pecorino.
If you wanted to change this up these pumpkin, spinach and cheese fritters would work well with other vegetables such as grated zucchini or carrot. You could also add nutritional yeast for a dairy free 'cheesy' flavour.
The recipe here gives both options so feel free to try both and see which works for you.
pumpkin, spinach and cheese fritters recipe
serves

2 hungry people

preparation time

10 minutes

cooking time

10 minutes
ingredients
1 1/2 cups grated pumpkin
1/3 cup of tightly packed fresh spinach, finely chopped
3 heaped tablespoons besan flour
1/3 cup crumbled goat feta or grated pecorino (optional)
salt and pepper to taste
For serving:
smoked salmon, avocado n chutney
prosciutto and poached eggs
method
In a bowl combine all the ingredients and mix well. Heat a fry pan and add a dash of unrefined rice brain oil or coconut oil. Add a good 2 dessertspoons of the mixture into the pan. Repeat until all the mixture has been used up.
Cook the fritters till bubbling and browning underneath then flip over and repeat. You may need to turn the heat down after a little so the pumpkin has time to soften without the fritters burning.
Serve the fritters topped with your choice of the above toppings whilst still warm.
nutritional information for pumpkin, spinach and cheese fritters
Spinach in these fritters provides a vegetarian source of iron along with the addition of poached eggs as a chosen serving side.
Besan flour is ground chickpeas. It is naturally gluten free, low in simple carbohydrates and a good source of fibre.
These fritters are egg free and when topped with smoked salmon and chutney complete a delicious egg free weekend breakfast.
Jessica Cox is a qualified practicing Nutritionist with a Bachelor Health Science (Nutrition) and over 15 years of clinical experience. She is the founder and director JCN Clinic, published author and established recipe developer. Jessica is well respected within health and wellness space for her no fad approach and use of evidence-based nutrition.